Sunday, July 31, 2005
Breakfast With The Arts
This morning we go on location to the West Indies to discover the arts and culture of the Caribbean islands of St. Vincent & the Grenadines. Featured in today's special program are a fifty-member strong local dance company, steel drum and soca musicians and singers, artists, model boat builders, plus an inside look at Vincy Mas, the colorful carnival that captivates the entire country each year.(from www.aetv.com/breakfast)

It was good-even if I say so myself.The island looked breathtakingly beautiful and my boy Bomani and my mas band Digicel Nelson Bloc represented well.I was kinda surprised Kevin Lyttle did not even feature,maybe he not in some body good books.One slight criticism was the fact that they did not showcase more local Vincentian artists-too much emphasis on artists who have made SVG their home.But all in all a good feature.If you missed it a repeat programme will air on A&E on Sept 3rd.

Friday, July 29, 2005
Ouch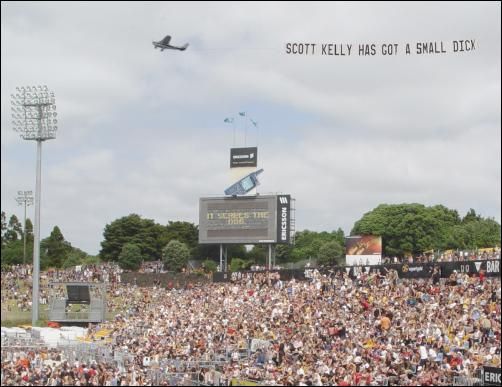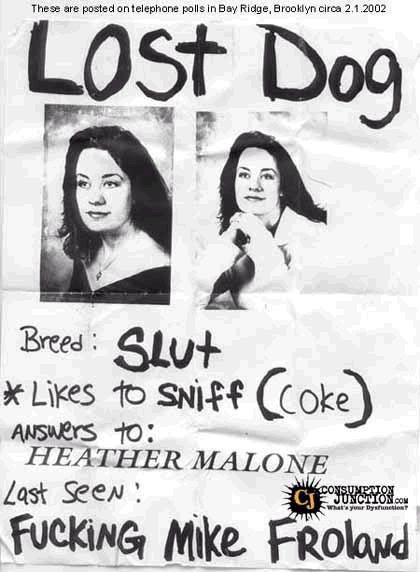 Cheat on your girl at your own risk aka as Break ups from Hell
Wednesday, July 27, 2005
Church and Carnival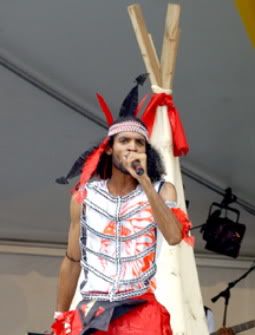 Wherever the twos or threes are gathered in My name, there I shall be also.

With this biblical text in mind, Party Monarch first-timer Sean Apache Carter said he had just as much right to be at the Calypso Bowl for this year's Party Monarch Finals as anyone else.

"If Jesus was around today, He would be down here because this is where the people are. This is a world down here in itself. We are seeking to control every arena. There is no place on earth that Christians shouldn't be," he said yesterday.

"Obviously we wouldn't go into a nightclub and say that we are going to minister. This is part of our culture and we have just as much right being in anything in relation to culture as anybody else," he said.

He also dismissed those naysayers who said The Experience tent had no right in the Pic-O-De-Crop competition and were only in it for the money.

"If people really understood how much money we [performers] have to spend just to put our songs out, they wouldn't say that. To start with, it's $1 000 to get our songs arranged and scored and then it is $2 500 per song to get them recorded," he said.

Singing High Praise, he said he enjoyed himself and so did his supporters who wore red T-shirts with the words: These Are My Church Clothes, written across the front.

"It is not a money-making thing. Really and truly it is not about making money. It's all about the message. I mean you can go down the East Coast, enjoy yourself in a clean wholesome way without jucks and stabs, and you don't have to wuk-up on nobody. We enjoyed ourselves just like anybody."

Some of his tent members said they came to support him and to show people could have fun without behaving bad.

They said the fact that Apache was in the finals was "history in the making" and they wanted to be a part of it.

Psychologist and Anglican priest Dr Marcus Lashley, who was among the crowd, spoke of the quality of the music of The Experience tent performers. He said it would be interesting if De Announcer or Sammy Jane placed in the top three spots in the Pic-O-De-Crop finals.

"There is room in the festival for the broadest possible expression once it is all in the parametres of the guidelines of the music," he said.

Meanwhile, Jamaican Charlene Forbes, who said this was her first Party Monarch event, expressed some reservations.

"I enjoyed myself but it seemed strange in the setting for someone to be singing about God. The guy that sang about 'praising 'im', me didn't know if to kneel down and pray or dance to 'im song," she said, referring to Apache. She said he seemed out of place.

Maybe am old fashioned but this don't seem too right to me.I doubt that many people would even get whatever message he was delivering as it is basically a fete.I know I have listened to some gospel songs and would have been none the wiser if the announcer had not proclaimed it to be such.What are your thoughts?
Monday, July 25, 2005
What's in a name
Well,according to who you ask it doesn't really matter what your parents call you.After all they say a rose by any name would smell just as sweet.But seriously don't you just feel sorry for some children and the names that their parents saddle them with? There are some names that I just dislike and here am talking mainly of the ghettofabulous ones like the Laquentas,Lashaundrias,Brashondas etc.When I hear some of these names I wonder what ever happened to the simple less exotic sounding names.

Anyway,Saturday am watching VH1 and they are doing this feature on weird celebrity baby names.I had to wonder what drug these celebrities were on when they came up the following names for their newborns.Toni Braxton called her sons Denim and Diesel which proves she has a jeans fetish.Ving Rhames tried to be extra cute and called his daughter Reign Beau,Lil Mo's daughter is God'iss Love-somehow I think that child will need some serious therapy.Forest Whitaker came up with True Isabella Summer.MJ,we all know is a nut case so Prince Michael and Prince Michael the 2nd fits right in with his Royal Weirdness.But,what was Jermaine thinking of to come up with Jermajesty for his son?

If like me you were thinking it couldn't get worse-hold the thought for a second.You are about to enter the awesomely silly area.Jason Lee's son is Pilot Inspektor,David Duchovny came up with Kyd as if changing the spelling makes it any more appealing,Robert Rodriquez called his four sons Rebel,Rocket,Racer and Rogue.Can you imagine trying to ask a child named Rebel why he did something wrong? But,the award goes to Rob Morrow who decided to call his baby Tu.Now,put the first and last names together and you end up with Tu Morrow!.You know these names are horrible when even the Laquentas et al begin to look appealing.

Sunday, July 24, 2005
Happy Birthday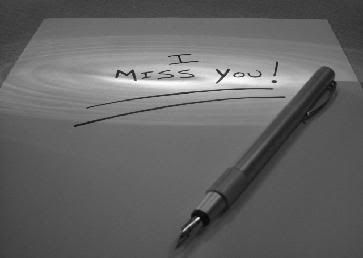 Today would have been my Grandmother's birthday and therefore am thinking about her a little bit more than I usually do.It is on occasions like these that memories both happy and sad come flooding back and you just wish they were still around.
Friday, July 22, 2005
Forwards
Am not a big fan of them because persons tend to use them in place of dropping a few lines. Therefore, I generally ask my friends to be very selective in what they send to my email. In other words, only forward me something that is very interesting/humorous and for the most part I don't have a grouse with the few I receive.

However,lately I have been receiving a lot of spiritual based ones.Well,am not a heathen or anything and some of them are actually quite uplifting and inspiring.But the ones that irritate me are those that end by saying "If you love God forward to 5 persons and receive a blessing etc".How different is this from those chain letters that used to terrify you with death threats or some horrible disaster if you don't send a certain amount at a specific time?

I call it spiritual blackmail because God's love is unconditional and these emails force you to operate out of guilt or fear.Well,I just read and delete so no blessings for me and probably hell is waiting for me for my disobedient acts.Somehow,I doubt it

Wednesday, July 20, 2005
Moon Landing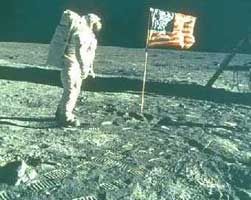 On July 20 ( July 21 GMT ) 1969 the first man stepped on the moon.Everyone who watched from Earth as Neil Armstrong stepped out of the capsule and on to the Moon remembers where they were at the time. It was one of the defining moments of the twentieth century, and one of man's greatest achievements.During the next 3 years 6 missions to the moon were made and a total of 12 astronauts walked on the moon.Up to this day many still believe the moon landing was a hoax probably because of the scope of the achievement.Even though I have grown up in a world where space missions etc have become second place it is still mindboggling to think of that 1969 feat.So I can well imagine the awe of those who watched or listened as the event occurred.

However,this day/event should be remembered as symbol of man's quest to explore the unknown.
Tuesday, July 19, 2005
Congrats,Bomani
I must "big up" Bomani for winning the OECS Soca Monarch 2005 in St Lucia on the weekend.Dorna,were you there? Last year Bomani hit it big with his wonderfully written and performed tribute to soca music entitled "Who Am I".I happen to think the song is close to perfection because it is so strong lyrically,vocally and the rhythm is to die for."Who am I" was a surprise hit last year as almost out of no where the song caught the nation's imagination and catapulted Bomani to winning both the Soca Monarch and Road March competitions of 2004.On the basis of his 2004 win he was eligible to take part in the 2005 OECS competition and am sure he did not disappoint the Lucian crew with the performance of his masterpiece.To listen Click here.Congrats my boy and hopefully some international label will sign you up a la Kevin Lyttle and the Nookie man Jamesy P.

On another note flash floods caused havoc in Kingstown after heavy rains caused some of the rivers leading into the city to overflow.Several business places had to hurriedly begin mop up operations while the lower wards of the main hospital had to be evacuated.Even though I knew there was considerable rain just after midday it was a shock seeing just how high the water levels were.But the good news is that nobody died and today it is back to bright skies.
Monday, July 18, 2005
Dead men tell no tales
A casket sent from St Vincent and the Grenadines is apparently causing much concern to law enforcement authorities in Grenada.

Reports from Grenada suggest that when authorities there did checks on the casket which was intransit there from this country,they found much more than the body of the deceased.There was apparently a quantity of cocaine stashed away inside the casket.

The deceased-a German national died on the Grenadine island of Union Island and his body was attended to by undertakers here and prepared for shipping back to Germany.However,checks by the Grenadian authorities discovered the drug in the casket's lining.

Investigations are currently underway in both islands to discover at what point the drug may have been placed in the coffin.But even though there was a body and the drug, investigation of the crime is proving not to be too simple,since,afterall,"dead men tell no tales"

Sunday, July 17, 2005
How strong is your love?
This morning at church the theme of the service was centred around love and loving one another as God himself loved us.Following up on this the minister asked for a show of hands from those who were willing to die for someone.Not a hand went up.The minister asked in what sounded like disbelief if none of us were willing to die for another person and still the hands stayed down.Then she expressed surprised that not even one person demonstrated a willingness to try.

From my view point we were just being brutally honest.Sure,some of us try to be our brother's keeper and to be caring to those we come into contact with.Then,there are people within our inner circle that we love very much and would do almost anything for.The death of some of those persons may even make one not want to go on.But,if asked to make the ultimate sacrifice I don't think many of us would.Maybe it is selfishness,just the way we are made or that we value our own life more.

In any event,would any of you die for someone?

Saturday, July 16, 2005
Am It
I've been tagged by
Soli
.Here goes
Ten years ago
I had just entered my final year of High School.Dreaded the upcoming CXC's so much that I was sick for most of the year.I was certain I was going to grow up and marry this certain young man.Me and my best friend were inseparable
5 years ago
The year of personal loss and heartbreak.That's all am going to say
One year ago
Got called up for my present job
Yesterday
Had to convince my friend there was no storm aftermath so she ought to go to work.My longtime friend came in from NY
Today
Had a doctor's appt.Then I went for lunch with my best male friend and then we idled around Kingstown
Tomorrow
May go to see Mr and Mrs Smith.
Five snacks I enjoy
Corn chips
Corn curls
Chocolate
Honey Roasted Peanuts
Popcorn
Five Bands/singers that I know the lyrics of most of their songs
Bob Marley
Whitney Houston
Alicia Keys
R kelly
Brian McKnight
Ok I just put anything that came to my mind.
Things I would do with 1000.000.000
Buy my own house
Travel
Help some displaced children
Of course those close to me will share my fortune
Five Locations I'd like to run away to
Paris
Palm Island in the Grenadines
Morocco
Italy
Australia
Five Bad habits I have
Always sucking my teeth
Buying shoes I do not need
Procrastination
I don't want y'all to laugh at me so the others will remain unmentioned
Five things I like doing
Reading
Writing my thoughts
Watching Tv
Going to the beach
Dancing
Five things I would never wear
This is kinda hard but lemme try
1.pants with writing on the back e.g bootylicious or some such crap
2.earring in my nose, navel etc
3.those skimpy tops..at least not in public
That's all I can think of now
Five tv shows I like
Queer as Folk
Six feet Under
Law and Order
Cold Case
Gilmore Girls
Five Movies I like
Lion King
Shrek
Color Purple
Usual Suspects
A Few Good Men
Five famous people I'd like to meet
Honestly I cannot come up with five as am generally not starstruck
Nelson Mandela
Orlando Bloom
Maya Angelou
Five biggest joys at the moment
My job.It is frustrating most of the times but its my passion
Love of friends and family
Just being back in SVG
OK ,so I couldn't find 5
Five favorite toys
can only think of 3
Dvd player
The computer
cellphone..for the games and ringtones
Tag,you're it!
Anyone of you who wanna run with it.
Thursday, July 14, 2005
Sorry,Grenada
The growing storm, with 90 mph (145 kph) winds, pounded nearby Grenada, where residents were still trying to rebuild from the devastation of Hurricane Ivan last September.
Emily's passage near Grenada piled on the misery for the 90,000 residents of the spice island, where Ivan caused about $2.2 billion in damage last September, more than double Grenada's annual economic output.The storm damaged or destroyed 90 percent of the housing stock and many people are still doing repairs.
I gather that most of the damage done by Emily was mainly in the northern part of the island(Sauteurs etc).Thankfully,this storm did not leave the devastation that Ivan did.But,am sure Grenadians will agree that even the mildest of storms is too much for them to cope with.
Keep the faith my southern neighbours and know you are in our thoughts and prayers.
Wednesday, July 13, 2005
Wanted: Caribbean Live 8
Just recently the world watched a series of concerts that mobilised millons of people worldwide to focus on the poverty and deprivation that is taking part in the African continent.The Live 8 grouping hoped to get the world Leaders to realise the urgency needed to address the problems that continue to cripple Africa.

The African problem is simply not one of poverty but includes unfair trade practices,mounting debts as well as climate changes.And this is where the big guns that control the financial institutions can make their big impact.The Caribbean situation,while not wracked by civil war nor the the levels of poverty accompanied by starving images that we have come to associate with Africa has much in common with the African nations.

Let's not forget that as a region we are second only to the Sub Saharan region in HIV infection rates.Then there are the looming problems especially in the light of globalisation and removal of trade protection.The truth is our situation is fragile at best with an increasing dependence on the tourist sector.

All it takes is one hurricane to set back the struggling economies by decades.With this year's hurricane season already off to a busy start and the memories of last year's devastation still very fresh our fragility will be further exposed.We need to let the world know that the market for banana farmers is fast disappearing and our national debts are rising.We need to let them know that the traditional industries of sugar etc are struggling for survival and that we too are at the whim and fancies of the World powers.

Bob Geldof and company focus on us next.

Tuesday, July 12, 2005
Secrets
Thanks to
Blah Bloh Blog
I discovered
Post Secret
.On this site persons are asked to anonymously submit a post card with a secret they have never shared before.
Here's a sample of one of the secrets shared.They range from funny to poignant and each tell a story.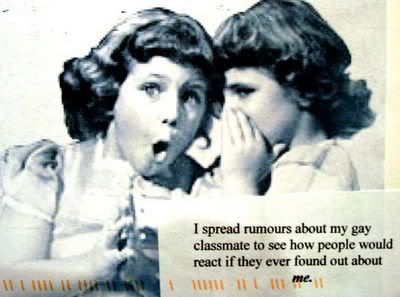 Go check out the site.Who knows,you may be moved to get your secret off your chest.
Sunday, July 10, 2005
Joke.Job Application
Deer Sir,

I waunt to apply for the secritary job what I saw in the paper. I can Type real quik wit one finggar and do sum a counting.

I think I am good on the phone and no I am a pepole person, Pepole really seam to respond to me well.

I´m lookin for a Jobb as a secritary but it musent be to complicaited.

I no my spelling is not to good but find that I Offen can get a job thru my persinalety. My salerery is open so we ! can discus wat you want to pay me and wat you think that I am werth,

I can start imeditely. Thank you in advanse fore yore anser. ..

hopifuly Yore best aplicant so farr.

Sinseerly,

Peggy May Starlings

PS : Because my resimay is a bit short - below is a pickture of me taken at my last job! b.

Employer's response:......

Dear Peggy May,

It's OK honey, we've got spell check

Friday, July 08, 2005
Natasha's fall from grace
"I think persons who take drugs….you know…..should be banned….because that is cheating….you know," said St. Vincent and the Grenadines' premier female sprinter and Olympian, Natasha Mayers.This was in an interview, just minutes before boarding a flight at the E. T Joshua Airport at the end of a one-week visit home, a few months ago.

During the short trip, Mayers visited schools where reports said she spoke to children about the dangers of using illegal drugs and the need to work hard to achieve.

Reports say months after making these statements, the St. Vincent and the Grenadines Sports Personality for 2004, has been tested positive for a banned substance in out- of- competition testing, at her home in California.

For her transgression, Mayers has been slapped with a mandatory two-year suspension, by Team Athletics St. Vincent and the Grenadines.Keith Joseph, President of SVG Athletics said the world ranked sprinter tested positive for the banned drug, Testosterone on 21 April 2005 and the IAAF informed Team Athletics SVG on May 31st

Ms Mayers responded to the IAAF through Team Athletics SVG indicating that she understood the Rules and the implications of her violation. She claimed that it is my desire to learn from this incident and serve an appropriate suspension. I apologise for allowing this to happen and look forward to returning to competition in the future", he added.

Joseph said following receipt of Mayers' response, Team Athletics SVG immediately suspended her, provisionally, under the Rules of its Constitution that are the same as those of the IAAF in respect of Doping Control. He said the IAAF will rule on the matter shortly.

Reports say Mayers had a level of close to nine - more than twice the legal amount of testosterone permitted in the body.

Mayers 24, secured the coveted title, Sports Personality of the Year based on her outstanding performances on the international circuit last year. Reports say Mayers, who became a professional athlete in 2004, was able to compete against and out-performed some of the world renowned names in the 100 Metres event for 2004, to the point where she was ranked in the top ten women by the IAAF.

She also made it to the Quarter- final round in the 100 meters at the 28th edition of the Olympic Games, held in Athens, 2004. She was however forced out of the Games because of an injury, which she sustained.

Natasha Mayers who is currently based in the USA is expected to return to action in June 2007.

Glenford Prescott,writing in this week's newspaper.







Thursday, July 07, 2005
Skin,everywhere
Yesterday,I went into Kingstown to do some shopping.As I was walking up the street I saw this young girl coming towards me dressed in a micro mini and a top that was a little longer in length than a bra.Now,she looked fine and everything but she definitely was not more than 13 years old.You know am actually beginning to feel old because 12 years ago when I was 13 my style of dress did not go beyond jeans and tshirts.

It makes me wonder where are the parents/adults that allowed their young daughter/charge to leave the house dressed like that.I am aware that some parents/guardians wear very little themselves but they are supposed to be in a better position to deal with the advances/comments their style of dress will attract.

And that young lady surely attracted many looks and comments as she went about her business.Some people will look at her as a sexy young thing while on the other end she may be viewed as sluttish for her choice of dress.Call me old fashioned but either way it is not a characterisation that should be used to describe an early teen.Mind you am aware of the societal pressures to conform and the dress trend as seen in the media etc is an emphasis on skin.It must be pretty confusing growing up in these times which is why the role of adults should not be compromised.

Tuesday, July 05, 2005
Sluts
Take the case of Natalee Holloway,who some one referred to as a slut for going off with three young men.While I don't think she is as perfect as the media are making her out to be I don't consider her to be a slut.It was'nt very smart of her to go off with three strangers but I can understand how it could have possibly happened.I remember going to a party in St Lucia and leaving to walk on the beach with a young man.Now,I had met him prior to the party but I really did not know him well enough to be going off any place with him.But of course there was this false illusion(in my 17 yr old brain) that having met him before that I knew him somewhat and was therefore safe.Who is to say that I couldn't have had a tragic end? The fact is I would have made a gamble and survived without the situation getting out of my control.She,on the other hand for displaying similarly poor judgement probably paid the ultimate price.

So what is it about a woman that contributes to her being called a slut? Is it a specific type of behaviour or is it just something that you cannot put your finger on? For some people a slut is a woman who has had "too many" sexual partners although of course you won't get many people agreeing on what is the acceptable figure.On the other side of the coin the man with many conquests is considered a stud.Even though there is this big sexual revolution where men and women are encouraged to be open about their sexuality,the woman still runs the risk of being labelled.For others a slut is someone who dresses a particular way and the descriptions go on and on.Somehow,it seems to me that we are too quick to characterise persons as being sluts when for the most part their only sin is having different sexual mores than ours.

Saturday, July 02, 2005
R.I.P Luther V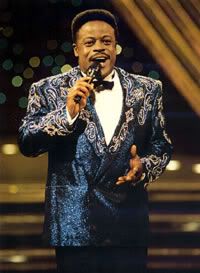 Despite the fluctuations in weight one thing that was constant was the sound that was unmistakably Luther.Silky smooth voice that seemed to churn out endless hits about love,life and relationships in his own unique way.At one point it seemed like the wedding song for every wedding I attended was "Here and Now".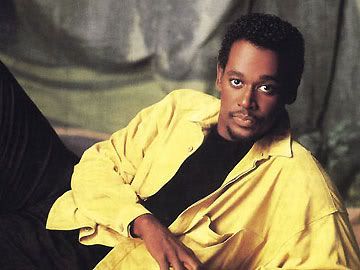 Nowadays,my favourites are "If I didn't know better" and "Dance with my Father".But I really can't think of any song by him that I hate.RIP Luther,you lived your life on your terms and now the music will live on.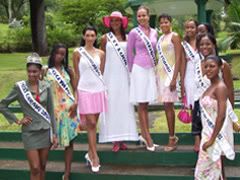 On another note,Miss SVG 2005 Casynella Ollivierre won the Miss Carival Show(a regional pageant) last night at Carnival City.I did not go so I don't know if it was a fair decision or the home girl won as has happened previously.I hope it was the former though but congrats are in order to her.
Friday, July 01, 2005
Hurrahhhhhhhh
Term ends officially today and you can tell am a happy camper.The marks remain their usual disappointing selves while the promotion pass mark keeps getting lower and lower.God help us with these students we are turning out as part of the Ministry of Education's "In,Up Out" Programme.

Carnival will climax these wkend with the more popular shows and fetes beginning this Friday night.Wednesday night was the Glow Fete at the Park and one of my good friends went and I went to a Graduation dinner/ball.Anyway,Thursday morning Miss Thing walks into my house all bleary eyed,wild hair and looking more dead than alive.It turns out that she got so drunk at the show that she had to be brought home although she has no recollection of walking out the gates.Later on she found out that she was carried out by two guys her friend had to recruit to get her out of there.Now she dying of embarrassment because as rule she does not drink but in her defense claims that the guys were buying her drinks which she did not want to refuse.Even in our mid to late twenties peer pressure is still a helluva thing.

Am sorry I missed her "performance" as it would have been good for months/years of teasing.But,she got to count her lucky stars that she happened to be with friends who were decent enough to not take advantage of her drunkenness.It sure won't have been funny had she woken up in some strange place a victim of rape.As young women we really have to guard against putting ourselves in situations where we are not in control.Have a good time but know your limits wrt to alcohol and whatever else suits your fancy.Enjoy the wkend,peeps.