Wednesday, May 30, 2007
To kill or not to kill
New week, another double murder and pretty soon this kinda news will be commonplace. In a way it already is so on to other business.
Tonight, I caught a bit of news where St Vincent and the Grenadines was granted licence to kill four whales annually. For those who don't know whale catching is a big thing on the Grenadine island of Bequia. The whale catching debate from the little I know seems to be centred around whale preservation and/or the method of killing which is seen as inhumane.
Another view is whale watching rather than killing for commercial purposes should be explored. I've never done whale watching but have eaten the meat and quite enjoyed it too. Everytime, I mention that I have eaten whale meat I get some disgusted looks and a lecture about the evil of eating mammals. Needless to say I laugh them off so all sensitive readers be warned.
But seriously what are your views on this?
Labels: commercial whaling
Monday, May 28, 2007
Miss Universe 07
Tonight,from Mexico a new Miss Universe will be crowned. Generally, the concept of beauty shows is kinda silly but I watch them still. Anyway, I've taken a liking to Miss Tanzania for being bold enough to enter a beauty pageant sans hair. We women know how much importance society places on having preferably long hair so having none is really going against the grain. I have also noticed the majority of the girls that participate in beauty shows here invariably add extensions to their hair.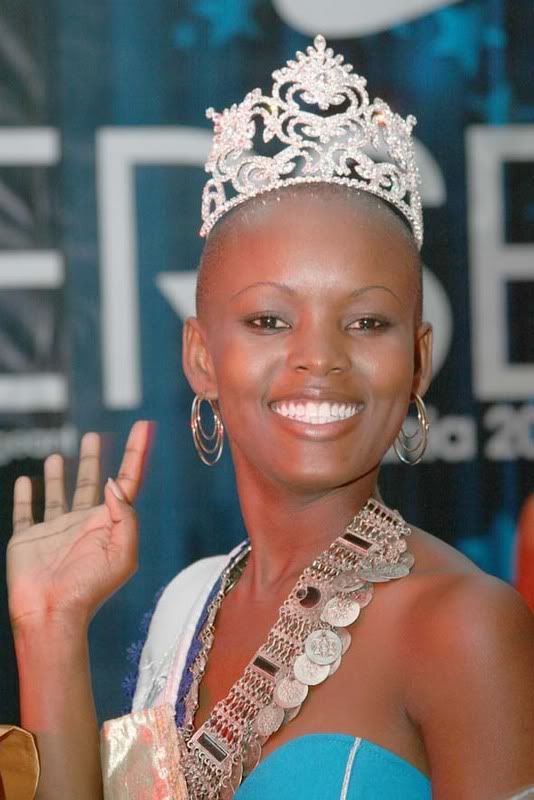 In Flaviana Matata's own words 'I never let anyone define me, neither by hair nor clothing, as I believe God made me perfect as a pure, natural African woman.' That's confidence,way to go girl. Beautiful,isn't she?
Labels: Flaviana Matata, Miss Universe 07
Thursday, May 24, 2007
Love is
Teaching your little son to swim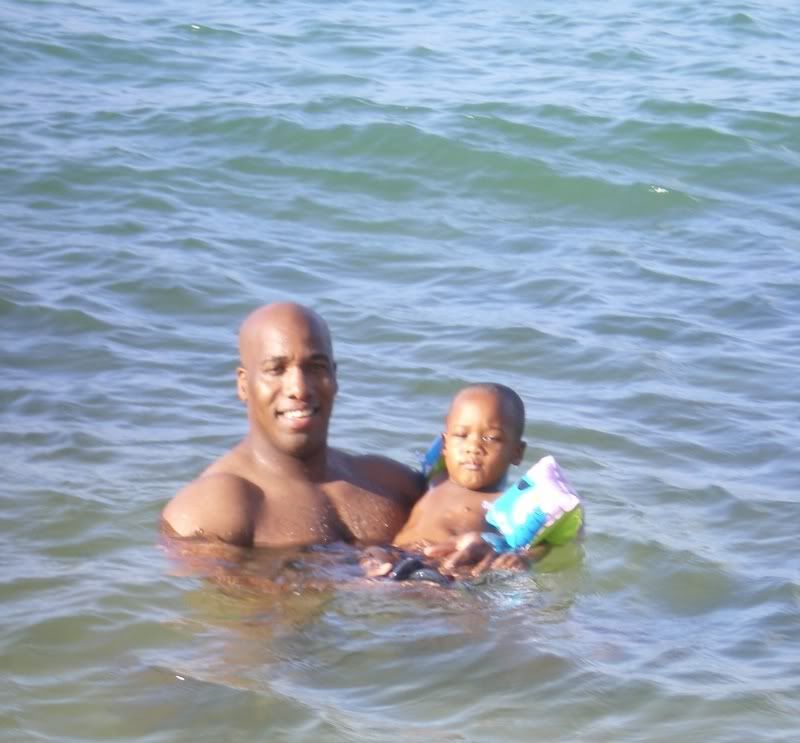 Wednesday, May 23, 2007
We gone clear
At the time of writing this I still do not know their names. All I know is the two little girls,six and nine years old respectively were picked up from the Sandy Bay Govt school by their father. He then took them to the beach and shot them both in the presence of other children before turning the gun on himself. One little girl died and the other fights for her life in the ICU.

Yet another domestic situation gone sour and appalling violence is perpetrated on the innocents. I am having so much difficulty dealing with the fact that a father could open fire on the little precious ones that he was supposed to protect. When did it become okay to kill our children,when?

Tonight, my heart breaks not only for my island that seems to be losing its way more and more but for the the little ones that suffered such fear, hurt and confusion . One more mother prepares to bury her young way too soon. Something is terribly, terribly wrong in this place. If only I knew how to make it better.

Sunday, May 20, 2007
Changes
Yesterday, I was walking through the village and probably because I was in a melancholy mood it dawned on me how many faces are no longer around. Every house I passed had lost at least one family member to death and in some cases whole families had migrated. I coudn't help but noticing too how people have aged seemingly overnight.

Suddenly, you look at them and realise they are not as young as you remembered and soon they too would die. I felt a bit nostalgic for what it used to be and the missing characters who were very much a part of the fabric of life. In many ways it is so different now with very little of the camaraderie I recalled while growing up.

It was just a few short years ago that as children we used to roam freely and treat the neighbour's house like our own. Not so anymore, the trust is all but gone and there are too many gadgets at home to keep you inside. Pretty soon people will start addresing me as Miss or Maam because am now the grown up in the eyes of many. Still can't figure out when exactly did I become this grown up person though. Time sure flies and it is quite sobering if you think about it a little.

Thursday, May 17, 2007
Love is
Tying the knot at your very own dream spot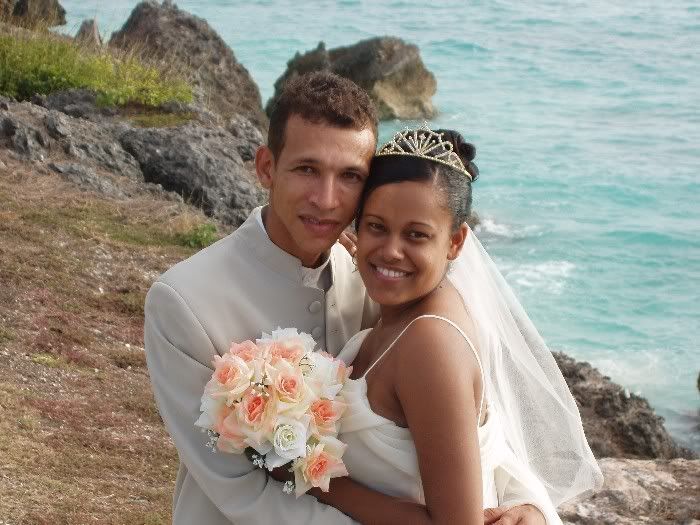 Monday, May 14, 2007
Caribbean facts
According to a voluntary survey cited in the report, 48% of Caribbean adolescent girls surveyed described their own "sexual initiation" as forced.
That is from "Cost of Caribbean Crime Grows," 4 May 2007, The Wall Street Journal.
This from WHO
The statistics related to child sexual abuse around the world paint a horrific state of affairs. The World Health Organisation (WHO) has called child sexual abuse "a silent emergency." WHO says it often goes unnoticed and is grossly surrounded by "a culture of silence and stigma". One in 10 children is abused in the Caribbean: 40% of children are abused by parents or step-parents; 25% by relatives and 10% by strangers.
I know it's an ugly topic that many shy away from but in the light of these reports am forced to wonder how many of these cases are incestuous. A part of Vincentian culture/tradition was to perform mock hangings of persons suspected or known to be perpetrators of that particular crime. As a child I found it amusing but as I got older I realised it was society's way of showing moral outrage at the deviance.
Along with the possible incestuous aspect it paints a disturbing picture of sexual violence. How do parents protect children from their own relatives and how do we teach the young to value themselves? I suspect the answer or part of it lies in building self esteem and being really open in handling sex education. Then hope you have done enough to equip them with the tools for making informed decisions or reducing the instances.
Of course there are many other factors such as ignorance and poverty at play.How often have we heard about the belief that sex with a virgin will cure STD'S? What happens is that the very young are targeted as a result. Then, there is the economic reality that encourages the young to seek out the "sugar daddies" to supply their material needs. Whatever the reasons the bottom line is somewhow behaviour change must be effected or risk losing more of the young to HIV.
Labels: sexual abuse
Sunday, May 13, 2007
Happy Mother's Day
To all the wonderful females out there who do this job of child rearing....Happy Mother's day. Those who do it by themselves,an even more special Happy Mother's Day greeting to you.
In my case when I think of Mother's Day I remember my grandmother-the woman who truly mothered me. I suspect for many their mothering figure is not necessarily their biological mother. I don't know if it is a sad thing or not I just know it's what it is.
Ever thought that Mother's day is somewhat like Valentine's Day? By that I mean if you have no partner then Vday can make some real grouchy. On the other hand if your Mother is dead then the day is bittersweet or God forbid if you are at a certain age and not a mother. In the latter case everybody takes the opportunity to offer advice or just unconsciously make you guilty for not being a mother.
Be that as it may, whether or not you think it's commercialised drivel- a day that appreciates the mother in your life can't be all that bad.
Labels: Mother's day
Wednesday, May 09, 2007
Celebrating life
By Rose Arce
CNN
BLOOMFIELD HILLS, Michigan (CNN) -- From Miles Levin's big smile, you'd think he was just another happy teenager. He nods supportively when his pals brag about their college acceptances and throws a gentle arm around a girlfriend who has ringlets of long, brown hair. But at night, this 18-year-old blogs from a world as sobering as his chalk-white skin and shiny bald head.
"All that stressing about which Ivy League they'd be going to while I'm stressing about whether those suspicious scans meant cancer and The End or not," he writes. "That everyone would be moving on to the next stage of life ... the whole College Experience ... onwards to young rising professionals and newly weds and fathers and mothers and grandfathers and grandmothers and retirees ... but my life ends here; this is my stop, a couple months short of graduating high school."
His bloggings, posted on his hospital Web site at
register then type levin story
have reached well beyond the world of high school. He e-mailed with a woman in the Philippines, then another in Brazil, with teens dying in the Midwest and mothers losing children in the Northeast. His thoughts were aired on the radio, and on the cover of the Detroit News. He has become a magnet for people searching for ways to relish the simplicity of a single good day.
Chemotherapy has made him gaunt, even sallow, though he smiles from ear to ear and his baldness has given him a Dalai Lama look. Even the Dalai Lama himself might be brought down by something as mundane as cancer or a fire from a worn-out extension cord, Levin muses on his blog. And in the randomness of life, firefighters would race in to rescue him, "not just because he's the Dalai Lama, they would do the same for you." (Read more from Miles on living with cancer on the 360 Blog)
If we're all the same, why can't a kid from suburban Detroit say a few deep things on his way out? So Levin, all striped pajamas and socks with treads, settled down in a recliner one day and declared that perhaps he was put on Earth "to get Stage 4 alveolar rhabdomyosarcoma. Why? So that I could show the world how to have stage 4 alveolar rhabdomyosarcoma. Or rather how to handle what is close to the worst thing that could possibly happen to me, with as much strength and grace as I could manage."
He got his diagnosis in 2005 after seeing a doctor for belly pain. It ruined his plans for a movie date, he says. Since then he's been in and out of Beaumont Hospital in Michigan. Numerous doctors and tests haven't provided anything other than a terminal diagnosis.
Then cancer stole him away from school. In late 2006, he ended up at Ronald McDonald House near New York's Memorial Sloan-Kettering Cancer Hospital, forced to take the ACT while fighting nausea, any faint hopes of making the Cranbrook football team pretty much dashed. The blog started as his way of keeping touch with the teen world while fighting cancer in chemo world.
Kids he didn't even know started to write back. He felt he had a connection to home, so why not provide a connection to his world, to the alphabet soup of medications, the weird medical scene, the strange sight of kids fighting illness in a place so alien to children.
His mom blogged, then his dad. Time passed, and his cat got cancer too -- irony not lost on Levin. He lost a lot of weight while the chemo attacked the cancer cells running amok in his muscle tissues, bones and tendons. His voice became light and breathy from the cancer, but he still could blog. He wrote an essay that earned him an admission to Kalamazoo College.
At some point, his words pushed past the pen-pal stage. He began to write about the deeper questions he faced and the meaning of life. "He's ageless. He has no malice. He doesn't seem to have the kind of human conflicts internally," says his mother, Nancy, of the son she fears she may lose before his scheduled June graduation. As a child, he was like a "space alien," exhibiting early signs of attention deficit disorder, focusing on simple pleasures and showing an early talent for writing. She wonders aloud how a kid like that could die so soon.
In late April, Levin came home from Sloan-Kettering to Bloomfield Hills. The kids at the Cranbrook School did a "Miles for Miles" walkathon fundraiser and wore T-shirts with his slogan: "Keep Fighting. Stop Struggling." Oddly, he kept comforting them.
And he kept blogging: "So often we use lazy words which fall to the ground and never get up, but those can change the world, or at least a person.
"I've been at my computer too long now. It's a beautiful day outside and I don't have time to miss it."
So beautifully sad. Not ashamed to say it made me cry.
Labels: Cancer...life....., Miles Levin
Monday, May 07, 2007
Go away VAT
Who knew that there would come a time when I would be mortally afraid of going to the supermarket and stores? Well, the arrival of VAT on May 1st to these shores has effectively caused this to happen. For months we were hearing about consumption tax,it's removal and the new tax rates on items with the introduction of VAT. It became more real when the stores went on massive pre VAT sales which the public thoroughly enjoyed. By May 2nd word had quickly spread regarding the new prices in the shops.

With a brave mind I walked into the Cable office on Thursday only to hear that I had to pay 15% on both cable and internet service. There went an extra $ 21 from my purse. I got a reprieve from the phone company but word is come June we will pay up. Cell providers are also in on the act but they take their pound of flesh from your talk time. So,if you but a $10 card your talk time is $8.50.

Friday was supermarket day and I would say 95% of the items showed an increase. I was literally scared to pick up items for fear I won't have enough money at the cash register. I did great -thanks in part to buying the basics only but I swear I have to get into back yard planting.

They tell us that the prices will level off but they also told us that some items would be cheaper. Am yet to see anything cheaper and who knows when the levelling off will happen.Meantime,the public frets as the disposable income gets smaller and smaller. LIAT fares are so ridiculously high that we practically grounded and now VAT tryimg its best to slowly starve us. What a life!

Saturday, May 05, 2007
Still I Rise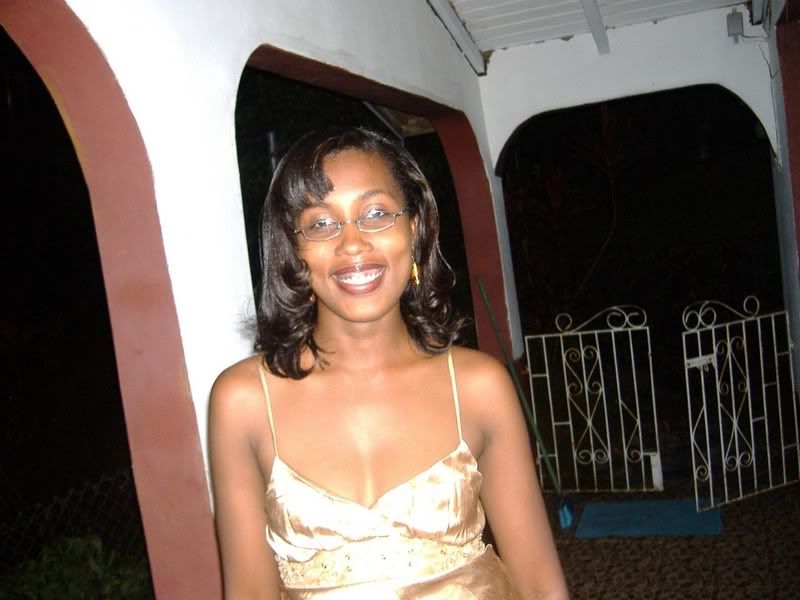 Did you want to see me broken?
Bowed head and lowered eyes?
Shoulders falling down like teardrops.
Weakened by my soulful cries.

Does my haughtiness offend you?
Don't you take it awful hard
'Cause I laugh like I've got gold mines
Diggin' in my own back yard.

You may shoot me with your words,
You may cut me with your eyes,
You may kill me with your hatefulness,
But still, like air, I'll rise.

Does my sexiness upset you?
Does it come as a surprise
That I dance like I've got diamonds
At the meeting of my thighs?

Up from a past that's rooted in pain
I rise.I'm a black ocean, leaping and wide,
Welling and swelling I bear in the tide.
Leaving behind nights of terror and fear
I rise
Into a daybreak that's wondrously clear
I rise

Maya Angelou.
Labels: personal
Thursday, May 03, 2007
Apologies
Sorry for no Love Thursday posts but stupid photobucket is acting up and I do not like posting pictures from Flickr. Hopefully,next week I'll be able to post an image.
Meantime,show some love
to my new friend