Monday, April 30, 2007
Goodbye
You were supposed to be 47 days of fun. You weren't. Instead you seemed to go on forever and ever and to make matters worse the matches were lacklustre.The LOC's marketed you as being for tourists and in the process priced out the locals. It took the sight of empty stadiums for the organisers to realise that us locals were somewhat important. So,they made some concessions and even gave away tickets to entice spectators to come through the gates. Long before this though you were marred by the death of Pakistan's coach.

You did bring some huge upsets with the minnows performing some giant slaying acts. All now am sure India and Pakistan are still smarting over being beaten by Ireland and Bangladesh. South Africa got their share of blushes too when Bangladesh beat them easily in Guyana. In between there were a few exciting matches like Eng vs WI,SA vs Lanka and Lanka vs England.

I think in hindsight you deserved to be billed as the Goodbye Cup. Several teams were left having to recruit new coaches and two of the world's greatest players Brian Lara and Glen Mcgrath made their exits in contrasting styles. I won't remind you of the way you ended because after all who likes to be reminded of mistakes.

So you gone and I am still wondering about the legacy word. We made some pretty stadiums and fix up the place nice nice for you. To add insult to injury the home team didn't even make a semi final spot. Now we wonder if even in the long-run we will be able to recoup the costs or at least a significant part. It kinda looking as if was a debt legacy we had to look forward too all along. Not to worry though them Ozzies loved you bad bad and who can blame them.

Hopefully, you enjoyed the Caribbean hospitality and may just visit us again. But for now it's bye, bye CWC 07.

Friday, April 27, 2007
Drew Barrymore..Most Beautiful?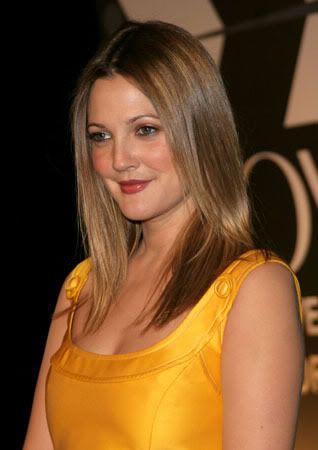 According to People Magazine Drew Barrymore has been named Most Beautiful for 2007. I knew she was the most adorable little human in ET but I admit not noticing her adult looks. In an interview with the magazine, Barrymore, who has been included on People's most beautiful list on four previous occasions, credits her success to inner happiness. "I just think happiness is what makes you pretty. Period," she says, "Happy people are beautiful. They become like a mirror and they reflect that happiness."

Being named top of People's most-beautiful list "made my peacock feathers shine in the golden-hour light and extend to the heavens," Barrymore tells the magazine.

Others on the "Beautiful People" list include Brad Pitt, George Clooney, Oprah Winfrey, Leonardo DiCaprio, Scarlett Johansson, Jennifer Aniston, Reese Witherspoon, Halle Berry and Jennifer Lopez. - AFP/sf

Most beautiful? My jury is still deliberating.
Labels: Drew Barrymore
Wednesday, April 25, 2007
Letter writing
Is letter writing a lost art? I would say it's on its way out in this technological age. It wasn't that many years ago when I would await letters from friends who for one reason or the other had migrated. For a while in the preteens and early teens there was the penpal fever where the cool thing was to have penpals in far away countries. Gradually, everyone that was important got on line and emails and MSN replaced the letters.

Imagine my surprise when on Monday I saw a woman sitting on the steps of a business place totally engrossed in a letter.I looked at her and thought how very unusual to actually see someone reading a letter. For a moment it seemed so archaic and not in step with the technological age-kinda like seeing an analog camera. However, the happiness on the woman's face maybe due in part to the visible US dollars made me smile. Who knew that money was still sent in letters given the advent of Western Union and Moneygram. Ok, so am exaggerating a bit but really it made me pause and think.

Guess what? I won't mind receiving a letter. Am always taking issue with friends who keep sending forwards and never take time to write a couple lines. MSN takes care of that you say but there are some you rarely meet online but are the FWD fans. So yes I want a letter where I can recapture the joy of seeing a familiar handwriting and eagerly ripping open the envelope. I even promise to write back.

Monday, April 23, 2007
Cyber crimes
Lately, there has been a host of pornographic emails featuring Vincentian young ladies travelling through cyberspace. The latest feature a young lady with a caption that proclaims she is HIV positive and willing to have sex with anyone since her time is limited. Another's pic was posted on a porn site and then the said link was distributed to relatives and friends.

In the past week there was a news item from the Police Force which said the young ladies had filed complaints that their photographs were doctored and subsequently misrepresented. Interestingly, enough was the willingness of the Police Force to treat it as the crime it really is. It's about time someone was charged for the sick practice of either abusing one's trust or maliciously setting out to damage someone's reputation as some sick kinda payback.

Kudos to the Police Force for this move and for seeking help from the professionals in tracking IP's etc. I look forward to the culprits being severely dealt with if it is proven that they were indeed guilty as charged. Apparently, there is a pornographic ring(for want of a better word) in a neighbouring island that involves school girls posing in the nude for money. Some of these pictures are also making the email rounds as well. All I will say is some people need a jail sentence for dealing with these minors. Won't hold my breath because even though there are laws it's another story with respect to implementation. So I'll just keep my ears to the ground and hope the news is good.

Thursday, April 19, 2007
Love is
Hugging your little cousin despite her best efforts to escape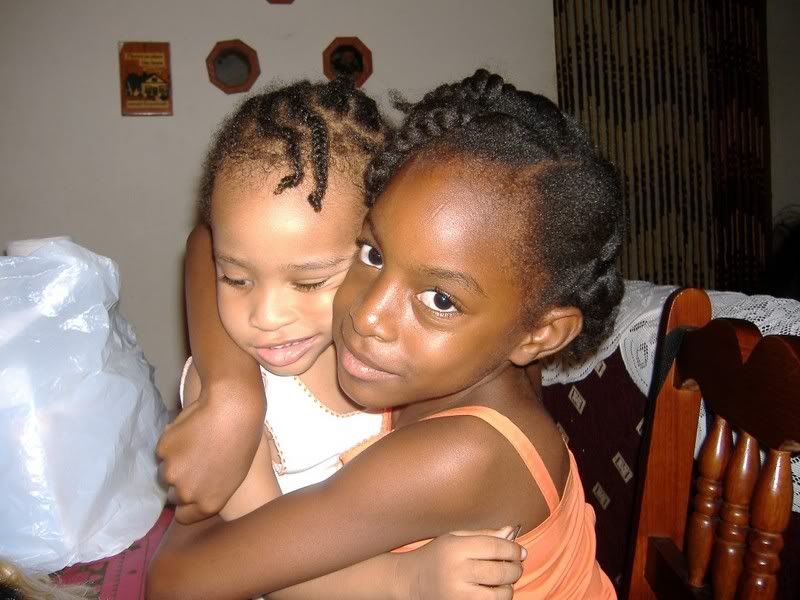 Monday, April 16, 2007
I love new york..not
For somebody who detests Reality Shows I find myself watching far too many. I can't seem to get enough of Flavor of Love reruns nor the silly I love New York show.I found New York's show to be too similar to Flav's but minus the quirky charm of the clock wearing man.

Last night I eagerly awaited the New York reunion show to find out whether or not Tango and NY found true love. Of course, I didn't expect a happy ending-who finds love on a scripted show? Still,I didn't expect all the drama that occurred on last night's show. What I envisaged was Tango and New York telling the audience that their romance didn't work out but they are still friends etc etc. Instead,Tango was the one telling the seemingly stunned New York and us that it was over.

I wish I could say I felt bad for New York. But the New York melt downs are legendary and such fun that I invariably end up laughing. I guess next up is I love New York part 2 especially if the ratings were good from part 1. Hopefully, NY's histrionics have been played out and there won't be any sequel but I won't hold my breath.

And then there was Charm school featuring the women from Flavor of Love. I watched it(still don't know why) but don't ask me to tell you what it was all about. All I know one of the girls will be 50k richer when the show wraps and soome extra minutes will be added to their fame. That's what you call a win win for all concerned. Meantime, Celebrity Fit club is due to return and I cannot wait for the action. COuld you imagine if I really loved Reality Shows?

Thursday, April 12, 2007
Love is
That bond between a little girl and her daddy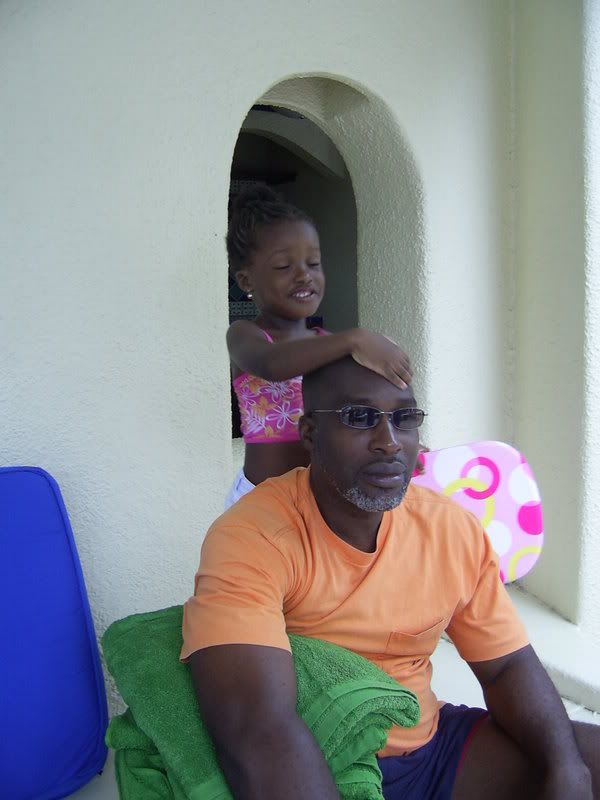 Tuesday, April 10, 2007
Get well Comrade
From around 6 p.m yesterday afternoon my phone was ringing off the hook as persons tried to ascertain whether or not PM Gonsalves was really injured in a vehicular accident. News was sketchy but gradually we learnt that that the PM's vehicle was hit by a truck in the Peruvian Vale area. The driver, we learnt was seriously hurt but the reports about the PM were not so clear. According to who you listened to he either had a broken jaw or had sustained a serious head injury.
This morning CMC news reported that he was not that seriously injured and only required some dental work and stitches to his upper lip. Already, people are speculating as to whether or not it was an assassination attempt. I would want to think it was just an accident and that type of behaviour has not yet graced our shores. Hopefully, that idle talk will soon die down but in the meantime get well wishes go out to PM Gonsalves and his driver.
Labels: PM Gonsalves
Friday, April 06, 2007
It's Good Friday
With thoughts of serious illnesses swirling around in my head I was very tempted to set an egg this Good Friday morning. Just for once it would be so nice to see a future that doesn't involve doctors, medications, freak illnesses, deaths and the like.
Mentally, I demanded that the egg show me good things like trips to exotic places, friends showing up unexpectedly,winning the lotto or some sweepstake. In the end I didn't because although I don't consider myself a superstitious person I could do without letting things play on my mind. After all I may see a coffin.
Instead, I focused on the present-some non homemade but just as delicious crossbuns. With visions of mackerel dancing in my head it was off to church service. They say for Good Friday service one should wear sombre colors with white, black or purple being the dominant colours. Am so ignoring that so it's brighter colours for me today and of course I'll ignore any inquiring looks that come my way.
I ain't tempting fate by going to the beach either so I'll just laze around the house and watch mindless television or some other distraction for the lazy. Happy Easter all
Labels: Good Friday traditions
Thursday, April 05, 2007
Betrayed
Prime Minister, Dr Ralph Gonsalves has come out swinging aganst the poor performance displayed by the West Indies cricket team in the the current ICC Cricket World Cup being played in the West indies.
Speaking to members of the media last Monday, Dr Gonsalves said the team's performance had amounted to to a betrayal of the Caribbean people whom he said have done so much to to make the World Cup in the Caribbean possible.
"I like speaking on these terms and I know when I speak this way, I will be criticized as a politician for putting my mouth in the business of cricket," Dr Gonsalves said
"But I am speaking here not so much as Prime Minister, certainly not as Chairman of Caricom, I am speaking as Ralph Gonsalves, a Caricom citizen and a cricket follower and lover."
Dr Gonsalves said everyone in the region have organised themselves for the big occasion, except the players.
"The media have mobilized themselves and the people of the region. The police and defense services have done an excellent job. The immigration authorities, the health personnel, the civil society, and ordinary citizens who have volunteered have been of a high quality throughout the region." Dr Gonsalves said.
He said these were done to make the ICC Cricket World Cup a first class affair, the best ever, "and we are playing at home and the cricketers seem to be performing with no sense of commitment or even dignity."
According to Dr Gonsalves, over US$750 million were spent by the governments in the region to make the ICC cricket world cup a reality in the Caribbean.
"That is why I used the word that the people of the region feel betrayed and there must be a corrective by these players," Dr Gonsalves said.
Dr Gonsalves said his criticism was not aimed at any of the players,the coaches, selectors or the West Indies Cricket Board, but he was making a plea for the players to lift their game.
"I think that the players are professional persons of quality and I am sure that they are playing for more than money. But if they are playing for more than money they must show us on the field that is what is happening. I am not making any statement to to them in any individual way, save and except to say this, and frankly speaking we deserve better from our team, we expected much more" Dr Gonsalves said.
"To tell you that I am let down is to put it mildly"
Dr Gonsalves,however, said he is still hopeful the team would make it to the semi final stage, even though it was doubtful but still possible.
"All I am asking, I am pleading for those involved to lift their game" Dr Gonsalves said.
Labels: Dr Gonsalves, West Indies cricket team
Monday, April 02, 2007
Who said