Tuesday, October 30, 2007
And then there were three
Digicel Rising Stars is now down to three and for the first time since the show started there is no Vincy in the final three. I must say that while I didn't think our contestant deserved to win I was a little surprised he didn't make it. Still, I think it's a good thing because it shows you have to be really outstanding to get the Vincentians overwhelming support.
Am crowning Dominica's Tarina Simon as the 2007 winner. She is cute, vivacious and could belt out a mean song. You go girl,you rock and should win easily despite the Antiguan challenge.
I got a gripe against the organisers though. Why is it that only former Bajan contestants have been invited as guest artistes thus far? I really not buying the line that it's because the show is hosted there. As far as I know LIAT still flies the friendly skies. Season 1 singing cowboy from St Lucia was a big hit with the voting public but no invite. I am watching to see who else will grace the stage for the two remaining shows.
Labels: Digicel Rising Stars, Tarina Simon
Saturday, October 27, 2007
28 Reasons to love SVG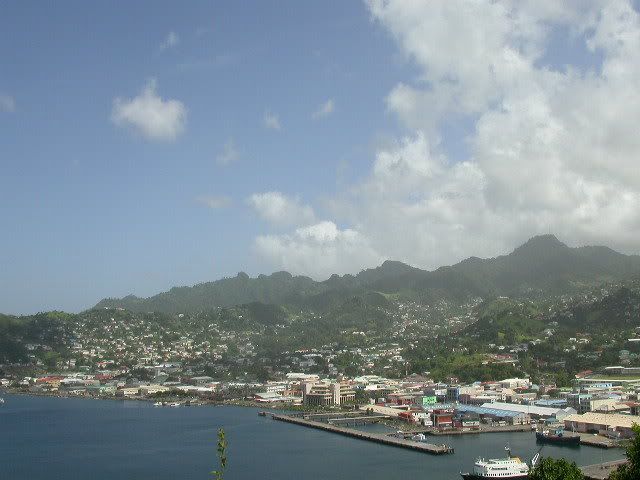 1.Blackfish crisps

2. Breadfruit and saltfish

3. Madongo bakes

4. The greenness of the island

5. The smallness which is a curse and a blessing

6. The Grenadines are breathtaking

7. Nine Mornings

8. Community singing outside NCB

9. Vincy Mas

10.Vincy Music

11.Lighting up graves on Nov 2nd

12. Tri Tri cakes

13. steamed tri tri

14. Montreal and Botanic gardens

15. River cooks

16. Black sand beaches

17. An abundance of fruits

18. The main hospital is near the cemetery

19. The jail is behind the courthouse

20. The madhouse is a stone throw away from the Community College

21. Sunset Strong Rum

22. Gonsalves Black wine

23. Red Ju-C

24. La Soufriere volcano towering above us

25.Falls of Baleine

26.Trinity Falls

27.Annual Blues Fest

28. Still a friendly people


Happy 28th Independence!
Tuesday, October 23, 2007
Cali burning
Every year, there are warnings on the radio about starting brush or bush fires. Am still not sure if they start spontaneously or people light them for kicks. Anyway, after watching the fires that are consuming California I can tell you I have more than a healthy respect for those fires.
Can't help thinking that must be how hell looks or close enough. Actually, some the scenes are reminiscent of volcanic lava that I saw from Montserrat's volcano. Seriously though, I shudder to think what would happen if some of our fires got out of control. Maybe, we would start to see hurricanes as just a little rain assuming we survive.
Stay safe..
Cali J
, stay safe.
Saturday, October 20, 2007
RIP Lucky Dube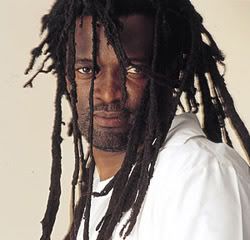 I rode a minibus into Kingstown this morning and the radio was blasting tributes to Lucky Dube. Many of the passengers on the van were singing along in a way that was almost spiritual. Mixed with the singing was murmurs of regret that one so gifted was taken away from them. I couldn't help being moved by the genuine outpourings of grief coming from people who only knew him by his music. However, that's the sorta emotion that comes out when some one you identify with dies. It's even more poignant when the person is young and the death is sudden. However, I still can't escape the irony of how much he sounded like Peter Tosh and that both died by the gun.
Wednesday, October 17, 2007
Robber gone mad
I didn't make this up,ok?. A would be robber found his victim short of the cash he demanded. Instead, the victim or almost victim offered the robber his ATM card,an offer which the robber refused. Mr robber does the unimaginable and offers the victim his cell number so that he could call him when he has procured the money.

Later the same night,the man calls the number and gets the location of the would be robber. As you can imagine instead of Santa Claus it was the cops who turned up bearing their special gifts. Our not too bright robber is now a five year guest at Her Majesty's Prisons. I think he real lucky not to get an additional five years for his lack of smarts but maybe the judge was too busy laughing. I sure was when I read it in one the weekend papers.

I've been a lil busy but promise to catch up with the blogs soon.

Sunday, October 14, 2007
Eediat thing
The Minister of the Public service goes into the National Commercial Bank,jumps the line because he would be late for Parliament and expects to be served. The teller reminds him that he has to join the line and he retorts "do you know who I am?" The teller sticks to his guns and repeats he has to go in line. The irate Minister tells the bank management that he doesn't want to see said teller again on front line. Management obliges and teller is transferred to an out-district branch.

The same minister is driving to Kingstown when he comes upon a situation where traffic is being diverted. He then asks for permission to drive on the main road and was ignored. Minister disobeys the order and continues driving. Amazingly,the Minister uses the opening of Public Service week to cite these examples as poor service being offered by public officers.

Never mind that he showed a lack of respect for the policeman,never mind that a simple request for help directed to a supervisor at the bank would have gotten him the help. No,it's the fault of the officers for being highhanded. What a thing!

Then came the apologies,no doubt pushed by the PM who thankfully,pointed out that on both occasions the minister was wrong. Will the teller be returned to his former station? Will politicians wise up and realise they are servants of the people?

Thursday, October 11, 2007
Love is
Brother and sister getting dressed and posing for the camera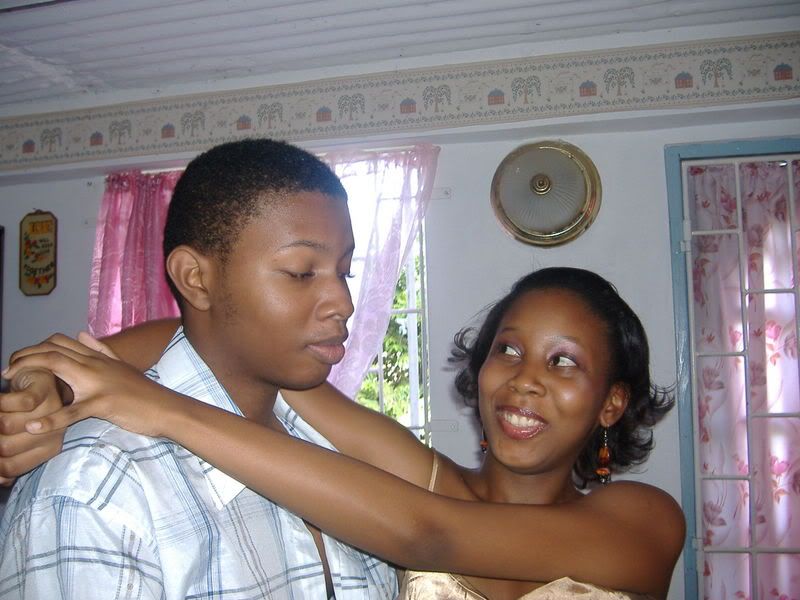 Wednesday, October 10, 2007
Work hazards
Picture this: You are in a classroom when a six year old announces he hates you and next thing you know is you are short of breath. Then you realise the child has head butted you right in the stomach.

Fast forward, your stomach begins to cramp and horror of horrors you begin to bleed. Much later and there is the visit to the doctor, the tests to be conducted and a big medical bill staring at you.

Then, you hear the child's parent is below the poverty line and frankly you couldn't care less. Surely,some entity(the parent,school.Min of Education etc) other than the person affected is responsible for the bills,right?

And you wonder about the rage in a six yr old that would drive him to such behaviour. You wonder if at six he has seen so much pain that lashing out is his only resort. Sadly,you know the system is such that there is little or no help available to him.

Monday, October 08, 2007
Help needed
More and more these reality shows are becoming so predictable. Last night I watched the Rock of Love reunion and surprise,surprise, Brett Michaels and Jess didn't hit it off. Everytime it happens I suck my teeth and grumble about VH1 insulting our intelligence. Yet, when season two is announced am right there like some coke addict....sigh. So,here I go again with I love New York 2..somebody please shoot me!


On another note the Rising stars judges are being to irritate me. Now that the competition has begun in earnest am finding the critiques to be shallow. A little more constructive criticism on matters like pitch, voice control etc are needed as well as acknowledging what the contestants got right. I want to hear more than "you sound good", arrite?

It's early days yet but the Dominicans look like the ones to beat. C'mon Vincies,up your game :)

Saturday, October 06, 2007
My Grenadines
I had forgotten just how beautiful Bequia is. I'll be going back soon.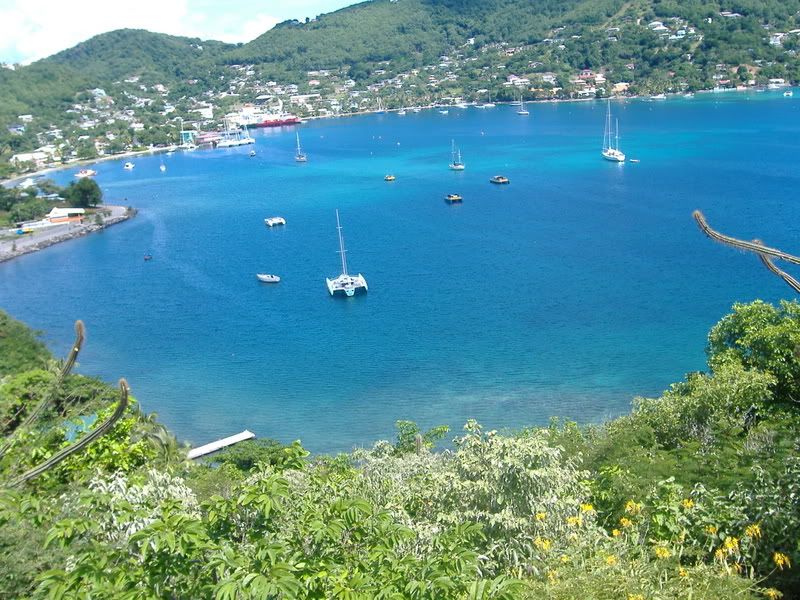 Thursday, October 04, 2007
Madness
Just when I thought I had heard it all something pops up to further astound me. The latest thing is news that the petroglyphs (rock carvings done by the Caribs) situated in Argyle will be destroyed to accomodate the International airport.

Many times I have longed for an international airport especially when waiting for a connecting flight home. Still,am saddened that we are paying so high a cultural price for it.

Back in High school we were made aware that St Vincent is the only caribbean country in which petroglyphs can be found. You are excused for thinking that for that reason alone we would be hell bent on preserving them. I myself, made the same mistake of thinking that any country would love to preserve a vital part of its history. Making replicas and housing them elsewhere as suggested is nonsense.

I wonder what next we will lose in the name of development. Hopefully, the other petroglyphs won't be sacrificed but one never knows.

Wednesday, October 03, 2007
Role of Hospitals
A debate is heating up the airwaves re homeless people who are kept in the General hospital as wards of the state. Apparently, there is a situation where people take their aged parents, predominantly men to the institution and then abandon them. From my understanding it seems too that when known street people are admitted to the hospital they remain longer than is necessary.

According to a Health authority the persons remain on the ward until a space becomes available in the home for the aged and indigent. I often wonder about the circumstances that would lead to persons in the twilight of their years being without a home. Am sure it's not as simple as squandering everything in their youth. For all I know these persons probably spent all their earnings raising their children only to be neglected in their time of need. On the other hand many draw a relation to the fact that many children were abandoned by fathers hence the high prevalance of abandoned men to women.

Whatever the case is the matter is a serious one. Hospitals, for the obvious reasons are not meant to cater for the sick not the indigent. For humanitarian reasons the Hospital administration may decide to be caregivers but what happens when there is a need for the beds occupied by the indigent? Won't they then be sent back to the streets? If nothing the whole situation is screaming out for us to take another look at our social services and the measures we have in place to care for the helpless.