Sunday, August 28, 2011
Daegu 2011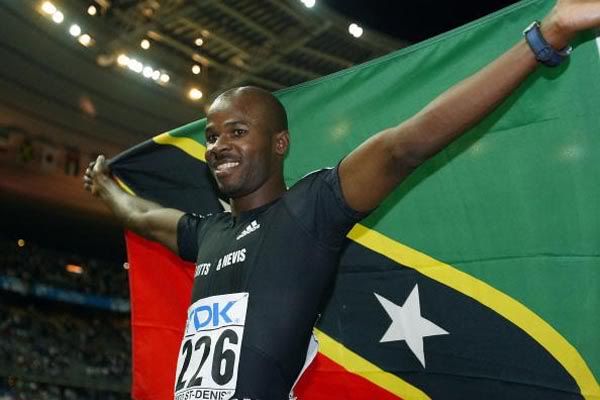 The big news from the IAAF
World Championships in Daegu was Usain Bolt's shock exit from the 100 metres. I always thought that the new false start rule which immediately disqualified the offender was stupid. Nothing was wrong with charging the first offence to the field then to the person if there was a second infringement.So thanks to the "wisdom" of the IAAF the biggest star of the games could not defend his crown. Johan
Blake,the eventual winner who ran brilliantly found his golden moment overshadowed by Bolt's mishap.
However,the main purpose of this post is to give props to Kim Collins the bronze medallist.Under rated but with big game temperament the old man of sprinting showed he was far from being a spent force. I like athletes like Kim Collins;the ones who perform better that expected and force you to take notice. They remind me of those people who are under the radar but nevertheless get their stuff done.
Nuff respect Kim Collins for doing yourself proud. So far the region is looking good and I think greater things are in store.
Thursday, August 25, 2011
New Link
Check out this aspiring writer over at
The Abeng
. His specialty is Caribbean themed prose and poetry so give the brother a look in.
Monday, August 22, 2011
No Kamla No
Desperate times they say call for desperate measures. And so Trinidad's Prime Minister Kamla Bissessar has announced a limited state of emergency in crime "hot spots". This limited state of emergency, a response to Trinidad's rising crime rate took effect from midnight (sun 21st). There is still no indication as to when it will end or the hours of this limited state of emergency. I have never heard of

1) a limited state of emergency or

2) a state of emergency not brought on by national disasters,war etc-unless Trinidad has decided it's warring against itself.

While I agree that escalating violence in the region is cause for great concern this move strikes me as being panicky, ill thought out and silly. It may be that there will be some short term gain but when this limited emergency is lifted I am sure it will be business as usual. So rather than place limited state of emergencies and interfere with people's basic rights Caribbean leaders better sit down and identify what is driving this upsurge of violence in their respective islands. Having done this they can/should put programmes in place to arrest this situation. It is quite possible that we have lost a significant portion of our youths to organized crime but surely the aim is to prevent their ranks from swelling. Limited states of emergencies may sound good, they may look as if Government has balls but its really a limited response to a dire situation.

Monday, August 15, 2011
No 18
Another day and news of yet another female homicide assaults the airwaves. Only 25 years old, her neck slashed by her lover. Murder #18 they say. Somehow I find it hard to believe.

I listen and a weariness fills my soul. Tired of saying the same old things. Tired of reading the many inane comments that populate the social networks like Facebook. Sickened by the pictures of the deceased lying in her life's blood making the email rounds.

Then I happen to over hear parts of NBC's call in show and more weariness as I listen to women express sorrow at a system that continues to fail them. To hear them tell it, the Police seem uncertain or lackadaisical in treating domestic disturbances. Meantime, these women live in constant fear harassed by ex-lovers bent on establishing their dominance.

And so it continues and within my weariness is a growing despair that we are a long way from turning around this situation. Sometimes it is hard being a woman.

Monday, August 08, 2011
Belated 7th anniversary
If it were not for my friend
Jdid
I would not have realized that my blog turned 7 on August 2Nd. It seems like just yesterday when I followed two of my friends and started this blogging journey. They have since quit.
Back then I had no idea where I was heading but it seemed a pretty cool thing to do. In retrospect writing down thoughts had always been a feature of my life since I was about 9 years old. In my teenage years I wrote numerous angst filled "feeling letters" and kept diary after diary. Diaries a medium to make sense of my often troubled life continued up to my early twenties. So transferring thoughts to an Internet audience seemed a natural progression.
And so I write but now the focus is less personal. After all I am a Sally Jesse Raphael type of girl living in an Oprah world. From interacting with commenters s (many of whom have become friends), travelling to Jamaica in 2006 for the Bloggers meetup it's been quite the ride. In a strange way I felt "honored" when a fellow blogger "borrowed" 2 of my posts and made them his. Likewise it is an honor when Global Voices considers my scribblings worthy of a wider audience.
So here I am 7 years later still writing not as often as before but writing nonetheless. The burning issues of sexual and domestic violence, HIV /AIDS and its prevention still dominate my space as I feel these are issues that need constant attention. Even though I have neglected my spot drawn by the lure of Facebook, Twitter or plain old lack of motivation I have invariably found my way back. You see I love the freedom to be me, all me. Many thanks to you who have passed by,commented or given me some word of encouragement. The journey continues.
Tuesday, August 02, 2011
Farewell elders
In recent weeks the village where I grew up has lost several of its senior members. Referred as "salt of the earth" by one of my relatives these people were simple, hardworking folks who mainly made their living off the land. Yet they carried with them an aura of dignity that commanded respect.

As children and young adults we accepted their reprimands with grace because it was unthinkable to answer back. In fact most of us felt we had let them down with our bad behaviour. To complain to your household was futile since your relatives seemed to have complete trust in the disciplinary methods of Miss Mattie and company.However, they were not only disciplinarians but gave willingly from choice fruits, to remedies for aches and pains to just plain advice for healthy living. "Study your book" was drummed incessantly in our ears which meant that our academic successes in particular were met with great pleasure.

These people were of a generation who understood that it took the whole village to raise a child; a concept they wholeheartedly embraced. Nowadays, sadly the village's role in child raising is fast disappearing. Nevertheless, I would like to salute the stalwart men and women who impacted on our lives during our formative years. Our lives were enriched by knowing them, by their genuine concern and love.