Thursday, November 29, 2007
When the earth shook
They told me it shook for what seemed like an eternity. Buildings swayed like palm trees and frightened occupants scurried for cover. Some wept, others prayed fearing judgement was upon them and there was no way of escaping God's wrath. Living under the shadow of La Soufriere meant almost everyone feared the mountain was awaking from its slumber.

Meantime, blissfully unaware of the proceedings I was making my way to Kingstown and laughing at my relatives horror stories. When I finally got into my house the number of books that had fallen off the shelf told their own story.

Should I feel a bit cheated? Most definitely since I won't be able to tell the children and grandchildren about the day the earth shook.

Tuesday, November 27, 2007
Those Social network sites
By now we all have heard of My space, Hi5, Facebook etc where all the cool people hang out. Being the curious person that I am it means I have checked out many profiles on HI 5 in particular.

I have noticed that many persons I know have posted very suggestive pictures in their albums. What bugs me is that some the very persons they supervise or teach are right there commenting away in an equally suggestive manner. They often tell me am guilty of over analysis but I can't help wondering about the implications for carrying out their supervisory duties.

As the saying goes familiarity breeds contempt.

Sunday, November 25, 2007
Making the right waves
In 2004 Kamal Wood was the region's top performer at CXC. In keeping with his feat Halimah Deshong and Shermalon Kirby were the valedictorians at Cave Hill and Mona respectively. Our young people were making the region sit up and take note of our scholarship.

This year am offering hearty congratulations to Luke Browne on being named the 2008 Rhodes Scholar. It's the first time a Vincentian has been awarded this scholarship which will take him to Oxford University in October next year. Not only has Luke been blazing a trail of academic brilliance but he was also good enough to make the Windwards u19 and u15 cricket teams. Continue excelling and know that we are so incredibly proud of you.

Thursday, November 22, 2007
Curiouser and Curiouser
Last night I did a post on Thanksgiving but it seems to have vanished into thin air.

Anyway, I was saying that many times we focus on what is wrong in our lives and fail to see what is right. So for my version of Thanksgiving am saying;

Thanks for the rough waves on the sea of my life. They have helped me to appreciate the smooth.

Thanks for friends who encourage and love

Thanks for family that support

Thanks for the job that pays the bills

Thanks for the little things we take for granted like being able to walk, talk, see the sun rise and set

Thanks for good health..well not so good in my case but it could have been worse

Am grateful that I was born and raised in the Caribbean-won't have wanted it any other way.

Sunday, November 18, 2007
The nights are getting cooler

The days are getting shorter

The odd Christmas barrel is being transported to homes

Stores are tempting us with tales of bargains

Banks are enticing us with Christmas loans

Road workers are beautifying the neighbourhoods

Christmas carols and songs are getting airplay

Most importantly though

I see nuff peas on my neighbour's trees

Thursday, November 15, 2007
Cost of living summit
Dr Keith Mitchell, the Grenadian Prime Minister is calling for a regional summit to address the rising cost of living in the region. According to him there is need for Finance Ministers and Prime Ministers to tackle this problem which is eroding the quality of life.

Call me cynical because I don't expect anything to come out of this proposed summit. How many times have we heard politicians glowingly promise us the world only to end up being disappointed? Yes, these men and women are masters and mistresses of talk but things remain the same.

So, yes Dr Mitchell it sounds real nice in theory because plenty of us feeling the squeeze. I can't say all since the ministers sitting pretty with their fat salaries and allowances. Go ahead and have the summit but am betting we will be told that the global situation is responsible for price hikes. What then can our poor governments do? Not much as we will see .

Here's the deal; instead of waiting on the summit we have to devise our own ways of dealing with the high cost of living. Start planting some vegetables in the backyard garden, carpool, conserve electricity and spend wisely. Remember, the politicians do not have the answers.

Tuesday, November 13, 2007
Of cyber friendships
The Internet is a wonderful tool. You log in and there is the whole world beckoning you to take a look. Then there are the friendships that are struck up with people who you most likely will never meet. So, you shoot the breeze, discuss politics, and sometimes seek advice on personal matters. Yet, for the most part when you turn off your monitors these cyber friends are forgotten until it's time to sign on again.
However, since Saturday I can't get one cyber friend and his grief off my mind. I met this cyber friend on
the Cricket MB
and later interacted with him on his now defunct "Letters from the West Village" blog. He was quirky, funny, smart and prone to be dramatic but on Saturday I saw grief. The grief of a father for his son Taiwo Mckenzie who along with his girlfriend was slain in Jamaica. Am realising that just maybe friendship needs no definition, no qualifiers.
Sunday, November 11, 2007
Tarina rules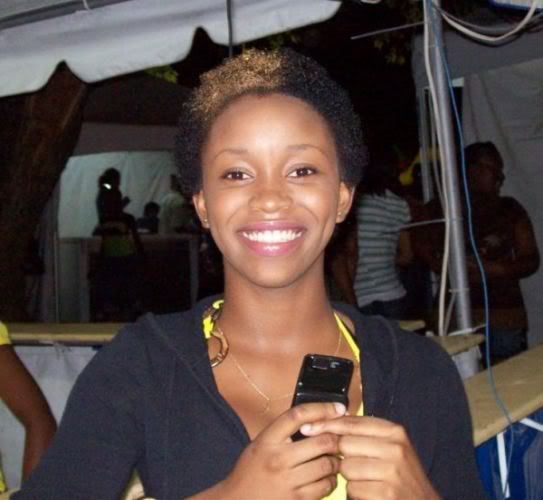 Congratulations to Dominica's Tarina Simon on being crowned the Digicel Rising Star, 2007. Tough luck Antigua for being the runners up once again but Tarina was simply the best. Maybe, the third time would be the charm but I suspect the other islands would have something to say about that. For sure Dominica would love to repeat(which I think they can) while the Vincies would be keen to get back to their winning ways. I enjoyed Kyron Baptiste and Peter Ram's performance of "Woman by my Side" towards the end of the show. As an aside am still confused as to why Kyron didn't see it appropriate to perform his single "love at first wine". However, the rendition was really spirited with the two finalists dancing along on stage with them. Then there was Tarina singing, what else but "Simply the best" after she was announced as the winner. I will miss my regular Sunday night dose of Rising stars but before I blink Season 4 will be right at my door.
Labels: Digicel Rising Stars, Tarina Simon
Thursday, November 08, 2007
Sweetest mango
I wanted to write about Kern Spencer's tears in the parliament but my Jamaican friends have already done a wonderful job. So, instead I will tell you all about the Sweetest Mango, a film made and produced in Antigua.

Last night, Caribvision brought the film,which is about 6 years old to our television screens. According to their promo it was the first time a film was being showcased on their channel. I wonder why it took them so long to feature Caribbean films but better late than never. By the way, Caribvision if you listening am yet to see "The harder they come."

Fans of Digicel Rising Star should have recognised last year's runner up Omar Mathurin in his leading man role. I saw this other actor and thought that he had a strong resemblance to Viv Richards. Lo and behold, he turned out to be the Master Blaster's brother Mervyn.

Since am not a movie critic I can't break down the film for you. I'll say though that it's a sorta romantic comedy and that I enjoyed it. Thanks Caribvision, keep them coming.

Monday, November 05, 2007
Fireworks night
Later tonight we will know which party in Trinidad exploded and which one fizzled out like some the rockets, starlights etc that are part of celebrating Guy Fawkes night.

During the Jamaican elections I noted the clever use of the web to promote party views. This time around I've been enjoying the not so secret blogs/spoofs of Panday and Manning. I almost can't wait to see what will happen when the next Vincy election takes place. One thing for sure is campaigning as we know it is fast changing.

Like one party in Trindad, I will be celebrating the passing of Guy Fawkes night. Yesss! no more annoying bamboo joints exploding all hours of the day and night. No doubt they are preferable to the occasional gunshots but that's not enough to gain them a free pass. In the distance I can hear "pop...pop" but soon it will all be over.

Friday, November 02, 2007
Lighting up the Cemeteries
A peep of what the graves look like on Nov 2nd aka All Saints Day, aka Jumbie Leggo Day.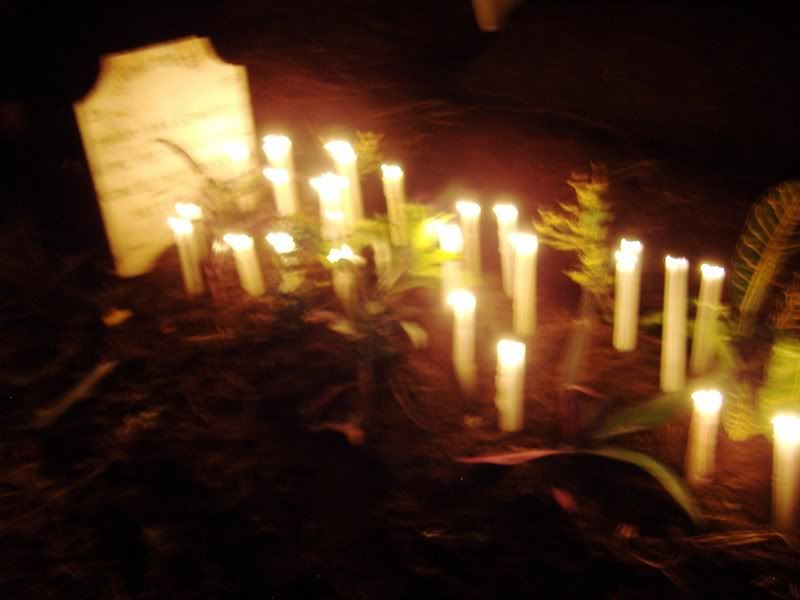 Always a bitter sweet experience being at the burial ground on Nov 2nd. On one hand you are keeping the memory of the departed alive whilst missing them like crazy. Yet, you do it year after year because among other things you just cannot afford to forget them.