Tuesday, May 30, 2006
Condoms in schools
20%of live births recorded here are to teen mothers.Recently a survey indicated that by age 15 about 63% of boys had already engaged in sexual intercourse.I don't recall the statistics for the girls but it is not far from those of the boys.Kinda alarming,right?

Against that backdrop I was a bit surprised to hear the Minister of Education vehemently opposing the idea of condoms being distributed in schools.At least it deserves some thought rather than a blanket refusal.The fact is the children are having sex even though most parents hope they would wait until they are emotionally and mentally ready to deal with the consequences.The preferred message of abstinence is clearly not reaching the majority,so what do we do about them? Asking them to stop is unrealistic and unlikely which means they have to be channelled towards some form of birth control.Why not meet them where they are i.e in the nation's schools?

Mind you am not advocating condoms be distributed indiscriminately.But more a situation where youngsters can have access to them if needed.Of course they will be given counsel as well in an effort to point out the need for responsible behaviour.I figure it is a bit too revolutionary for some in our societies but these are desperate times.

What are your thoughts?

Saturday, May 27, 2006
Nose picking gets good press
Picking your nose and eating it is one of the best ways to stay healthy, according to a top Austrian doctor.

Innsbruck-based lung specialist Prof Dr Friedrich Bischinger said people who pick their noses with their fingers were healthy, happier and probably better in tune with their bodies.

He says society should adopt a new approach to nose-picking and encourage children to take it up.

Who thinks this recommendation will be adopted?

Dr Bischinger said: "With the finger you can get to places you just can't reach with a handkerchief, keeping your nose far cleaner.

"And eating the dry remains of what you pull out is a great way of strengthening the body's immune system.

"Medically it makes great sense and is a perfectly natural thing to do. In terms of the immune system the nose is a filter in which a great deal of bacteria are collected, and when this mixture arrives in the intestines it works just like a medicine.

"Modern medicine is constantly trying to do the same thing through far more complicated methods, people who pick their nose and eat it get a natural boost to their immune system for free. "

He pointed out that children happily pick their noses, yet by the time they have become adults they have stopped under pressure from a society that has branded it disgusting and anti social.

He said: "I would recommend a new approach where children are encouraged to pick their nose. It is a completely natural response and medically a good idea as well."

And he pointed out that if anyone was really worried about what their neighbour was thinking, they could still enjoy picking their nose in private if they still wanted to get the benefits it offered.

Thursday, May 25, 2006
Newborns
Remember when I said that one friend was dying and another was expecting a baby? Well,baby is here all 7lbs 13 ozs of him.I like newborns and what they represent and no I don't mean waking up at nights and the dirty diapers.For me newborns are associated with wonderful things like:

Unconditional love

Being the centre of the universe-at least for a while

Seeing everything as if for the first

Being warm,contented and protected

Most of all I like to look at a baby and see all the promise on its little face.I better stop before I get jealous:)

On another note some one in the workplace is getting on my last nerves.So far I have restrained my self but my patience is being stretched really thin.I wish I could give the details but self preservation is also an issue.Anyway,am heading out to fight my battles.

Tuesday, May 23, 2006
Self esteem test
People who have healthy self-esteem cope with life's problems better than people whose self-esteem is poor. Furthermore, they don't tend to get themselves into situations that are damaging or difficult.
In fact, many of society's pressing problems - such as alcohol or drug abuse, unhappy marriages and violent relationships - would be vastly improved if more adults rated themselves more highly.
Interestingly, a lot of men and women who appear confident actually have quite low self-esteem. For example, the recent Celebrity Big Brother demonstrated only too clearly how 'stars' who have the confidence to present television shows often feel unsure - deep down - about who they are, and what their value is.
And of course the late Princess of Wales who appeared poised and confident on the outside clearly had dreadful self-esteem - even though she was globally adored.
Self-esteem is all about how you estimate yourself. And the fact is that if you don't rate yourself very highly, others won't either.
So have a go at testing your own self-esteem - and if it's not too good, vow to do something about it.
Take the test
I got 65.

What your scoring means

You have excellent self-esteem. You may well have had problems with valuing yourself in the past, but you have become a confident person with a proper appreciation of yourself. You are almost certainly someone who other people like and admire, and your belief in yourself helps you to make good friendships and relationships. However,your inner confidence also enables you to feel happy and relaxed when you are alone
Saturday, May 20, 2006
Montserrat, am sorry
Earlier today while watching cricket I saw a "Breaking News" ticker on the bottom of the screen.Instantly,my attention was aroused and I read some very chilling news.Montserrat's Soufriere Hills volcano had belched gas and ashes causing the authorities to issue a directive that residents stay in doors.

Apparently,the dome has collapsed and nearby villages have been covered with ash fall of up to 2 to 3 inches.They say when your neighbour's house is on fire you must wet yours.Living in St Vincent and the Grenadines under the shadow of an active volcano the saying rings even truer.Therefore,this news fills me with dread especially since the images of Montserrat's destruction are still very fresh in my mind.

Anyway,take heart my Monsterrat brethren,take heart!

Wednesday, May 17, 2006
World's Worst Pick-Up Lines
I don't feel like writing anything so here's something I came across.Am happy to say that though I've had my fair share of bad pickup lines these are new to me-thankfully.

Your eyes meet across a crowded room... the atmosphere is charged with desire... you approach, cool and composed... and knock 'em dead with a line like...

1. Can I buy you a drink, or do you just want the money?

2. I'm new in town, could I have directions to your house?

3. You have to tell me your name, because last night in my dreams, I could only call you 'baby'...

4. I may not be Fred Flintstone, but I bet I can make your Bed Rock...

5. Do you believe in love at first sight or should I walk by again?

6. At the office copy machine "Reproducing eh? Can I help?"

7. Hi I'm conducting a feel test of how many women have pierced nipples...

8. Hi, the voices in my head told me to come and talk to you...

9. I may not be the best looking guy here, but I'm the only one talking to you...

10. Have you ever played naked leap frog?

Tuesday, May 16, 2006
Daring Bank robbery
RBTT bank (SVG branch)was recently at the receiving end of a bank robbery.Apparently,a female employee walked out the bank with thousands of dollars(87 of them according to reports) and calmly returned to work the next day.Somehow,the bank caught on and the money was returned.The teller has since skipped the country before the Financial Intelligence Unit could complete its investigation.

I wonder why young people fall victim to these kind of thefts.I would assume the the temptation is great but more than likely you are going to be caught,face public embarrassment and loss of reputation.It just isn't worth it.

Guess what? The girl at the centre of the scandal is from the GHS alumnni.See what I mean about some causing the old lady nuff anguish.

Sunday, May 14, 2006
Happy Mother's Day
Today is the day we pay tribute to those persons we call mothers.Like most relationships that of mother/child can be rocky especially when we enter the teen years and start challenging everything.Then,nothing ever seems fair and you swear your mother is the "wickedest" person to ever walk this earth.But,you grow up and you appreciate your mother was setting boundaries for you as was her right.

When I think of Mother's day I think primarily of my grandmother who truly mothered me.When I was a child she had the warmest lap and I always felt she could make any problem right.It didn't matter if it was a bee sting or soothing some emotional hurt she always knew how to make me feel better.She taught me so many of life's lessons and for which am eternally grateful.She made me believe I was special and nothing was beyond my reach.She taught me it was okay to fall but that with each fall I must get up,dust myself off and continue.She taught me about love,forgiveness and not to harbour hatred.She taught me to share and to be aware of the less fortunate.I don't always get the lessons right but she always told me that one day I would.

And how can I forget the little things we do in our grown up life that were exactly like what Mom did.You know,things like putting Vicks on our chest as a cold remedy,or soaking meat in vinegar etc etc.These are the little lessons/legacies that make us remember our mothers no matter where we are.Happy Mother's Day to all the Moms out there.

Friday, May 12, 2006
Singing the blues
"We Host"
Sometimes Death knocks/waiting patient & polite/We gather our things/and go ready unafraid/Sometimes Death intrudes/kicking down the doors/we put up barricades & fight/going angry unprepared/But Life/Life just comes upon us/and visits/only long enough/to invite Death. Courtesy
Free
The last few days I've been kinda down because am missing my friend so much.She's not here and it just isn't the same.I keep having these overwhelming urges to pick up the telephone for the customary talks.I know she said she would always be with us and in a way she is.But,selfish me wants her here physically-the healthy her i.e.I miss hearing her laugh and watching her eyes crinkle.I miss all the fun times we shared and God knows there were many.I miss the constant motivations,the letting me know that I was stronger than I thought when I was on the verge of giving up.I miss all the arguments and the endless chatter about any and everything.I suppose the finality is just setting in and am not liking it very much.What can a girl do anyway,but find some way of going on?
Thursday, May 11, 2006
Exams,Exams
It is that time of year when students are busy with examinations.CXC examinations are in full swing and prior to their commencement students celebrated their "last" school day.I observed the happy smiling faces and the shirts with colorful writings that adorned the backs of hundreds of this nation's students.

I smiled with them as it brought back fond memories of the excitement that I felt on acheiving the landmark.Many of those that started with us would for one reason or the other not have finished.Those of us who did felt relief and the thrill of moving on to a next chapter of our lives.Of course there was a bit of sadness too at leaving behind what was familiar for the past 5 or so years of our lives.

Now,that am a little bit wiser I feel a little bit of sadness for all the graduates whose hopes will soon be dashed.I want to tell them that contrary to popular belief there is no guarantee that doing well in exams will translate into employment.I want to tell them that the unemployment figures which they say are 20% but really feels like much more will soon be a part of their vocabulary.Still,I want to wish them all success in their exams and encourage then not to get disheartened when life is not as smooth as we would have envisaged back in secondary school.

Monday, May 08, 2006
Happy Birthday GHS
It was 95 years ago on May 8th 1911 that the Girls' High School opened its doors to its first batch of eager students.Now,the GHS uniform is the most coveted on the island.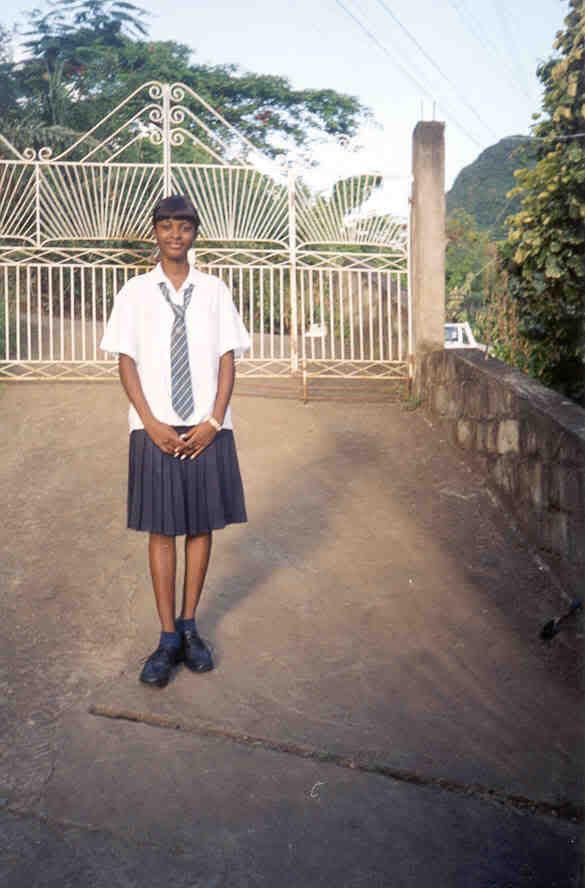 Like most little girls I dreamt of donning the blue skirt,white shirt and the all important tie that set us apart from the Intermediate High.I think I knew the school song before I even walked through the school gates which highlights how badly I wanted to go there.

I still remember the joy I felt on beholding the Common Entrance slip which told me I was successful in my quest.It still ranks as the happiest day of my life.Truth is if I could bottle that day and walk around with it I'd be floating on air.

Today,I think of my alma mater as a grand old lady surrounded by thousands of her adoring offspring.Am sure she,like most parents would have watched us grow and wept for the many of us who strayed from her teachings.However,like most good parents she would have forgiven and welcomed us back to the fold.On the other hand am positive her children have brought her way more joy than pain.

Happy Birthday and continue doing what you do best.
Sunday, May 07, 2006
Lost for words
Four HIV positive mothers, who were aware of their status,have become pregnant again this year.This is according to the HIV/AIDS director who made the disclosure at a press conference on Thursday.Of the seven pregnant women who were tested HIV positive between January 1 and the end of March this year,the four had known of their status before becoming pregnant.

Pretty sobering isn't it? I don't know what to say-maybe just that we know we are losing the war when you hear of stories like this.

Friday, May 05, 2006
128 years?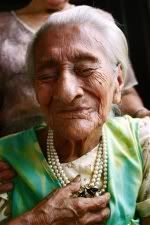 SAN AGUSTIN, El Salvador (Reuters) - Friends and relatives of Cruz Hernandez gathered on Wednesday to celebrate her 128th birthday, a milestone that might make her the world's oldest person.

Hernandez, who relatives say spends most of her time dozing and no longer speaks, was surrounded by some 200 people at her party, some bearing a cake and others dressed as Salvadoran mythological heroes.

According to national records, Hernandez was born on May 3, 1878, in one of the country's central provinces, where she gave birth to 13 children. She now has 60 grandchildren, 80 great-grandchildren and 25 great-great grandchildren.

National birth registry officials sent Hernandez's documents to the Guinness World Records organisation last year but have yet to hear whether the case was accepted.

Guinness claims Ecuadorean Maria Esther de Capovilla is the world's oldest living woman at age 116.

According to the organisation, the longest any woman has ever lived is 122 years. The oldest man was 120 when he died in 1986.

In St Vincent we speak of persons turning into stone,a reference to long life.I think this woman gives new meaning to the saying.
Wednesday, May 03, 2006
Finally
Hundreds of Vincentians flocked to the Court House yesterday hoping to catch a glimpse of the man charged for the murder of Press Secretary,Glen Jackson.It was on March 6 that Jackson's nude and lifeless body was found in the backseat of his vehicle aparently killed by a single gun shot.

Since then the nation has remained in a state of uneasiness hoping and praying justice would be served.Colour me cynical,but I never held out much hope that anyone would even be charged notwithstanding the presence of the much touted Scotland Yard. I suspect far too may unsolved crimes were the factor that led to this mistrust.

Therefore,am happy that we are about to get some closure.However,I can't help but wonder if the accused who already has been tried and found guilty in the court of public opinion will get a "fair" trial.Given the smallness of our island I can safely surmise most of the potential jurors would have already formed their respective opinions.

The trial can get pretty embarrassing too if one is to believe all the stories circulating about the sexuality of the deceased.As for me am looking forward to knowing the reasons why it all came down to murder.It is also a bit sad to see a 23 yr old being charged.What another tragic waste of life if found guilty.Most of all I hope justice is served.

Monday, May 01, 2006
Who knew
That blogging would translate into a job offer? Certainly,not me when I started this thing one year and 9 mths ago.Back then it was merely following a friend who announced to me that he was starting one.Seeing that I always had an opinion I figured why not give it a try and so the blog was born.

To my great shock and more than a bit of amusement I have been asked to write something for a local newspaper.I,however have declined partly because I feel it is out of my league seeing that am constantly in awe of all the beautiful writers around.On the other hand I don't want writing to feel like a chore.

So there you have it boys and girls.I could have been famous-well almost:)