Tuesday, August 31, 2004
Things that make you go hmmmmm
This morning on my way to Kingstown I heard there was some excitement at the Kingstown Cemetery on Saturday evening. Would you believe that the coffin apparently split and the corpse came tumbling out ! I heard there was a mass exodus from the cemetery as people quickly fled. I don't think I would have run if I were at that funeral..but then am a kinda morbid person when am ready. Anyways they took the body back to the funeral home for a new coffin. The story making the rounds is that the deceased had said that he wanted to be buried in his hometown and because his wishes were not obeyed he decided to protest:) Well, the first part is true.

Item no 2. At prayer meeting in church a lady's prayer request was for Brooke. Who Brooke you ask ? None other than Brooke Logan of the Bold and Beautiful. Ok now you have heard it all and in the words of my friend "people really dark yes". As for me I dunno if to laugh or cry


Monday, August 30, 2004
Relationships
Today was one of those days when I had to listen to a friend complaining about her break up or soon to be break up. I wanted to say am not exactly surprised its over but it was not the friend thing to do. I wanted to say everybody knew it would come to this and somehow I suspect you did too..so why the tears. But rather than rub salt into some very fresh wounds I kept my mouth shut..

Now, I am not going to pretend am this totally wise person regarding relationships because I have made my share of mistakes too. One thing I am growing to learn is that rejection does not mean there is anything wrong with me. Its all too common when the "love of your life" becomes involved with someone else for you to conclude that something must be wrong with you. In some instances even if the other person gives you a reason for moving on somehow you still manage to see it as a failing on your part. Well the truth is that people have a right to change their minds, not that you want them to, or that you are going to like it when it happens. But, the bottom line is there ain't anything you can do about it. So brush yourself off and move on. For all you know you saving yourself from a lot more pain further down the road.




Sunday, August 29, 2004
Higher,Faster,Stronger
Finally, the Summer Olympics is over.Despite all the fears that Greece would not be ready they proved that they had what was necessary to prepare for an event as huge as the Olympics. Caribbean people could do well to learn for WC 2007. Anyway, I found the Olympics to be somewhat boring. Maybe I no longer look at it with innocent eyes in the light of all those drug stories making the news. This Olympics was kinda flat too in that I could not really identify the one athlete that really stood out..the one who had this little extra spark. In Sydney we had Marion Jones and Cathy Freeman who were kinda larger than life as well as Ian Thorpe in the swimming pool. The standout person for me in Atlanta was Marie Jose Perec so I guess I have been a bit spoilt and probably expected too much.

Anyway, the Caribbean performed creditably gaining 36 medals and for the second Olympics in a row we have some Golden Girls. I don't know how many people would have looked at the marathon today but that incident where a man dragged the Brazilian frontrunner off the course and into the crowd was pretty disturbing. All I was thinking about was the Monica Seles incident but thankfully he was not hurt. The next question is where were the organisers who were apparently caught off guard as it was the crowd who freed the Brazilian.By the way what happened to the Kenyans and Ethiopians? Not one finished in the top three.

Then there were the silly comments made by the NBC commentator who was so positive that his medal hopes were not damaged by the incident.I still do not see how he could be so certain because clearly the man was unsettled. Anyway am happy he still was able to come in third. Generally, NBC stunk with their lopsided coverage and not going to the action live.Luckily I was able to catch some of the action live but the days I did not I was stuck with NBC nonsense.

Off to Beijing for the 2008 and version and if am alive I will still tune in and watch as the world's best go head to head while hoping that the cleanest person wins.


Saturday, August 28, 2004
Lyttle makes it Big
I forgot to enter that Kevin Lyttle got red carpet welcome when he flew into Vincyland on Sunday.Hundreds of people were lining the fence outside the airport and on the balcony to welcome him home.(I will post some pictures next week). Then Monday night was cocktail at the PM's residence. I gather it was open invitation....not sure though.

So this weekend all the newspapers filled with Kevin, his sidekick Spragga Benz and his adoring fans. For the record Kevin sounds more Jamaican than Spragga yet he supposedly keeping it real. But I digress:). Apparently, Turn me on gone platinum and the self titled album gone gold.

According to my friend J there are some rumblings in the Trinidad media over Kevin's King of Soca title. I can understand where they coming from as Tnt is the soca mecca and they have produced the greats. But, for this one little moment its Kevin's time in the spotlight.


Friday, August 27, 2004
Mothers and Daughters
The mother-daughter relationship tests,like no other the limits of their dreams, fears, ideals and ultimately love. I saw this quote in a magazine and I must say its a sentiment I totally agree with especially in the light of some struggles I have been having with my mother recently. There are just so many hurdles to overcome that it just is not funny and when you are an adult daughter its even worse.

There is the mother's opinion that she passes of as fact and the daughter's opinion.On the other side the mother fears that the daughter will not succeed because she just is not smart or tough enough. The daughter complains of never being supported in what she wants to do. The mother stresses doing things the right way.The daughter wants to do it her way and does not understand why she can't be given the opportunity to make her own mistakes.

So where is all this coming from? Is it that mothers are very reluctant to admit that their daughters have grown up and they are trying to impose their will to keep us close? And why do you end up feeling guilty for sticking to your point of view..surely that cannot be fair. But , mothers have this way of conciously or subconsciously playing the guilt card and you can end up feeling like its not such a bad thing to give in. After all its your mother..right?

I have also heard it said that mothers and daughters reflect each other, repel each other but despite it all they love each other. Truth be told we would all love to have our mothers' support and unconditional love. Maybe, just maybe if we focused on how many similiarities we possess then the relationship could be less testing.


Wednesday, August 25, 2004
The Breast Debate
Today I went to buy a top and the saleslady told me that I need bigger breasts to carry it off. Needless to say I was not very amused. However, it got me thinking about the obsession with breasts. Yeah, I know they are the visible sign of womanhood and its compounded by seeing all those full breasted women gracing the magazines in swimsuits or low cut tops revealing cleavage and more cleavage. I must admit that growing up I used to be quite conscious of my smallness so much so that I could not wait to grow up and get some implants. Well, am all grown up now, still have a small chest but no longer harbouring any thoughts of implants.It turns out my mother was correct when she said I would appreciate small breasts better when I grow up.

Small breasted women have a lot (no pun intended) to shout about. For starters we defy gravity longer and you can go without a bra which means that you can wear all the halter tops and backless fashions quite easily if you are so inclined. I may be a tad biased but I think small bosoms are easier to dress. So why was this woman trying to rain on my parade again?

By the way I bought the top and am gonna wear it tomorrow.




Monday, August 23, 2004
CXC Results
Only one of my students passed Maths.Depressing isn't it? None of my fifth formers made it and my only pass was a 4th former I thought could succeed. That's the only bright spot because the other teachers thought it was a crazy thing to do. But, all the extra attention paid off so at least I feel good about that.

But the fifth formers were awful or is it me who is at fault? Well my school does not get the cream of the crop ..more like the bottom of the barrel but these students did not even pass the Basic Proficiency. I knew I was up against it when I saw the math skill or lack of it but still how does one get a Basic 6? I did not even know those numbers existed...sigh

So, do I quit or do like Lara and say I leave the decision up to my employers? Just kidding but I feel blue about it. Suggestions anyone?


Saturday, August 21, 2004
More Olympics
My girl Lauryn Williams did great today. Youngest medalist since 1972 in the event. Its a pity she couldn't win the gold but I can live with the silver. There is just something about her that captured my attention from the time I saw her in the US trials. I thought she was one to watch in the Olympics and she did not disappoint. She is such a bubbly character..can't help rooting for her.

One thing though this Olympics has had its share of upsets thus far. Can't believe Stacy Dragila miss out of the pole vault finals and that US basketball team is more like a nightmare than a dream team. Tomorrow I have a feeling Mo Greene may not even medal and what a surprise that will be if he fails given all the pre race hype. Ah well,tomorrow is another day.




Friday, August 20, 2004
Bad Boy appeal
Wednesday, August 18, 2004
Whitewash on the horizon
If England wins the 4th test they would have joined Sa,Pak,Nz,Oz and Lanka as the teams who have accomplished this feat over the West Indies since 1997. Pakistan has the distinction of being the only one in the group to have administered the whitewash twice. I think the smart money will be riding on the English team as they have recorded six wins in their last seven games against the West Indies. Their confidence level is therefore quite high and with the series all sewn up they have nothing to lose.

West Indies had their best chance of saving the third test when a full day's play was abandoned due to rain. Indeed,the West Indians had their noses ahead of the English for most of the game until it all went awry in the second innings and the familiar collapse followed. It was probably too big an ask to expect the English to be knocked over for less than 231 and they went on to duly record an emphatic win.

So off to the Oval we go hoping to salvage some pride but the forecast looks bleak


Tuesday, August 17, 2004
Another year older
Am all of 25 years old today. Wow! It seems like just yesterday I was 16 years old and graduating from Girls High School. It sure has been a tumultuous 25 year ride filled with upheavals like moving from country to country, house to house all within the first 8 years of my life. Yes, life has had its share of pain and incidents that made me leave my childhood long before I should have. Sure, I have often questioned why my journey has been this painful but am recognising that all my experiences have contributed to making the person I am today. But despite it all I survived and have come out somewhat stronger for all that life has thrown at me. Am a lot more in control of me now and life doesn't look too bad at all . Finally am coming around to loving me, forgiving myself for all the mistakes I made and learning to cope with the new challenges. Am happy to be alive and I thank God for bringing me thus far and for all the blessings he has given me.




Monday, August 16, 2004
Cell Phone craze
With the liberalisation of the Telecom industry cell phones have become very affordable in this country. The result is that to the naked eye it seems as if almost everyone is mobile with some people having two or three. The thing that is annoying is that some people show really bad manners with the use of these phones. Yeah, they are really supposed to allow people to reach you at any given time and vice versa. But, I can't help but wonder what could be so important to cause someone to take out their phone in church and proceed to make a call. Recently, I was at a funeral where a cell rang and the person proceeded to have a conversation totally oblivious to the occasion. Indeed the minister had to ask the offender to take the convo outside. Have you ever gone to watch a play and hear the MC ask patrons to turn off phones as a courtesy to other patrons and actors only to hear the annoying beep minutes after? Makes you just feel like hitting the person over the head. I know the phone is useful as in my case it doubles as watch since am one of those persons who do not wear any.But is it really asking too much to expect people to be considerate of others with the use?




Saturday, August 14, 2004
Death
It is always hard losing a loved one. No matter how old they were,the fact is that they are just not going to be there anymore.It is just intolerably painful. You think you could die without that person in the beginning. The thing is you have lost all that is familiar, all that matters, everything that really counts. You would have lost the person who knows so many things about you like the way you laugh,how you cry,your worst fears etc. Suddenly, all that is taken from you and you really do feel at the moment as if no one will ever understand again.

Dev, take heart in knowing that your Granny lived a full life. I know it was hard watching her suffer but the consolation is that now she is free from pain. I am going to tell you that your sadness is not going to last forever.You don't have to believe it now or even agree with me but just keep it tucked away until you are ready for it. Finally, remember we got your back.


Friday, August 13, 2004
Off to Athens we go
Summer Olympics begin today and while am looking forward to it am also adopting a somewhat cynical view. The thing is with all the stories of doping floating around it makes one wonder who is clean. When an athlete mounts the winners podium I know in the back of my head questions will be swirling as to whether or not it was a legal win.

The lure for using banned substances is becoming increasingly stronger and perhaps understandable. The bottom line is that there is considerable fame and fortune attached to those who finish first. Can we really say that given an opportunity to gain a competitve edge that most won't? In today's world I would say most would.

Cheating has almost become a way of life. Just turn on the tv and we get bombarded with the Martha Stewarts and the Enrons. The story is bigger than just some athletes cheating. Unfortunately, it seems as if it is fast becoming a part of our culture.

Anyway, good luck to the Cuban Olympic team, Natasha Mayers of SVG and all the other athletes taking part in the event.




Thursday, August 12, 2004
Pssssssst
If you are female and anything like me then that sound is one the most annoying in the world. Picture this..you walking down the street and a bunch of guys suddenly sounding as if they losing air. Then they also have this annoying way of addressing you as smallie, darkie,baby or some other words that they think are so endearing. Or in some cases they indulge in the crotch grabbing rituals complete with gyrations and wolf whistles.

Personally, I don't find it flattering. I have a name and if you don't know it a simple hello will do.I also don't like the references to my body by a bunch of strangers sitting on some sidewalk.Do they really think that they will score by telling me my breasts look so good and what they will do for me in bed? Take it from me that is so much of a turn off

I wish to make a few things plain to my"brothers". I look good and I know it. Mirrors are not exactly a new invention. No, am not bragging just pointing out that I don't need you to tell me that when your objective is to get me in your bed. It won't work,try another line.

I reserve the right to decide whether or not am going to acknowledge you. So, if I respond to a hello its not open season but merely manners. On the other hand if I don't respond it does not make me a bitch or give you a license to tell me all about my conception,birth and things my mother don't even know about herself. Grow up guys!

In short, if you really want to capture my attention cut out the lewd comments. Its guaranteed to get you nowhere fast. I would much prefer to be treated with respect and capable of relating to you on a level that is beyond the sexual references.


Wednesday, August 11, 2004
Welcome to Paradise
Tuesday, August 10, 2004
Tom Cruise and St Vincent
Will the Tourism Minister please get over the fact that Cruise did not go to Dimanche Gras and by extension endorse Vincy Mas! Seems like everytime we turn on the radio or tv we see her beating this tired line. What makes it even worse in her eyes is that Cruise endorsed Crop over..So big deal!

Apparently, Mr Cruise was on his way to Dimanche Gras when the taxi driver made a comment about the cruise ship he came in on. So, Mr Cruise turned around and went back to his cabin. While, I agree that hospitality workers must be sensitive when dealing with tourists I find all the talk overdone. I can't help but ask myself why would Cruise even be going to Dimanche Gras? Miss Baptiste would be well advised to look at that show and get the CDC to put out a better organised event. Disappointments are for good because I somehow can't see Cruise endorsing Vincy Mas after watching that long drawn out boring show.


Monday, August 09, 2004
Family
We love them with that compulsory family love. But, geeze they can irritate the hell outta of u! The bad thing about being first born is you are expected to set an example for the younger ones. Kinda strange when you barely older than them. But that's family logic at work. There's my brother who is just 2 yrs younger than I am but he acts as if he is my senior by about 12 years. About 6 weeks ago someone told him am pregnant and instead of even asking if it was true he proceeded to go into a lecture detailing how stupid I am etc etc. The thing with family is that they know all your mistakes and weaknesses and they never let you forget them. So, you may be at a function and your mother or someone will make a reference to something Kami did 7 years ago. Annoying isn't it? They make no allowances for the fact that you might have changed..no sirree!

Anyway on Sunday I had my cousins over and these kids were all over everything. Mind you they are teens! I simply adore the middle one but sad to say the older one irritates me. Anyway the good part is they eventually go home and you get to enjoy your peace, blessed peace.


Sunday, August 08, 2004
Sunday Morning Service
Went to church this morning and would you believe the sermon was based on unbelief?All the thoughts on my yesterday post were explored. Interestingly, the minister said she has had reason to question God's existence and asked how many of us had. You could see people in church feeling uncomfortable to admit it.Actually, they only did when pressed. I guess I know why I went to church after all.


Saturday, August 07, 2004
Does God Exist?
I admit to having asked myself that question especially in moments when am experiencing terrible things. I would say if there is a God why would he stand by and allow all these bad things to happen or was it that I was being punished. Then, I would hear my granny saying "Child, God never gives us more than we can bear". Small comfort because at the moment it is unbearable to you and worse you don't know when its going to end. Yes, I have had my faith badly shaken but for what it is worth I still believe in him.

The way I see it is that I have three choices 1.There is no God. 2. There is a God who really does not care about us and our sufferings .3 There is a God to whom am willing to give the benefit of the doubt. I choose the third option



Friday, August 06, 2004
Breadfruit Festival
As part of Vincentian Emancipation Month celebrations a Breadfruit Festival will be held on Aug,21 in Chateaubelair. Breadfruit came to these shores in 1793 courtesy of Captain Bligh as a staple intended for slaves. Indeed, St Vincent was the first Caribbean Country where it was introduced. If you were to pay a visit to the Botanical Gardens( the oldest established Gardens in the Western Hemisphere) in Kingstown you would see a sucker from the original tree that Captain Bligh planted.

In St Vincent the breadfruit holds pride of place. So much so that roast breadfruit and jackfish or saltfish (depending on the person you talk to) is the national dish. While, it is reported that the slaves apparently did not take a liking to breadfruit their descendants are now singing its praises . Breadfruit is so much a part of the national psyche that it has found its way into everyday language. Vincentians were once accused by the former PM Mitchell as having "breadfruit mentality" which probably meant they only remember their last meal. To cut down one's breadfruit tree is to take away their livelihood and people talk about getting a breadfruit box (coffin) if they can't afford one from the funeral homes. Of course many a home has been constructed from the wood gained from the tree which further reinforces the versatility of this plant.




Thursday, August 05, 2004
Angela Shelton story
Ever wondered how many persons share the identical name?Angela's idea was to hit the road in a rented RV, and try to meet as many women as she could who were also named Angela Shelton. Why? She had a hunch that many of those women would share something else besides just a name – something much more personal. Angela knew about the subject of sexual abuse well, because that was her dark secret. As a child, she says, her father molested her. "Abuse like this affects you forever. I was really close to my dad. I'm daddy's little girl," says Angela. "But yet my dad is a child molester. So it's like…it's a very twisted thing." This takes me to a next question.Ever wondered how many women out there are victims of sexual abuse or violence?
Angela says her worst fears were confirmed when she discovered how many of these women had been abused: "They're, like, 'Oh well, I was raped. I was almost raped. I've been beaten." In fact, 50 percent of the Angela Sheltons tracked down by Angela had been abused in some way. And because these Angela Sheltons also shared feelings of guilt and shame, they, too, had learned long ago to keep quiet about it. "I think it's important that you talk about it. I think it's important that you know that you're not alone," says Angela. "You don't have a stamp on your forehead, like rape victim or incest survivor. That you're all of a sudden stamped as dirty and horrible and worthless and unlovable
http://www.cbsnews.com/stories/2004/03/09/48hours/main604910.shtml
Wednesday, August 04, 2004
Lemme tell you about Beauty
AIDS Epidemic
The statistics are startling with the Caribbean recording the second highest infection rate behind Sub Saharan Africa.The implications are grave for small island nations like ours as the most productive age groups fall prey to this disease.Unfortunately, the reaction to this crisis is lackadaisical. Governments seem clueless as to how to tackle this epidemic. No, its not enough neither is it realistic to preach the message of abstinence. A strong educational drive must begin in order to reduce the spread.

On the other hand too many young people and older ones as well indulge in irresponsible behaviours. I have already watched friends die of AIDS..scary isn't it? People, AIDS is more than just an acronym. Its a deadly disease. Get the facts and act on them. Protect yourselves.


Tuesday, August 03, 2004
Vincy Mas 2004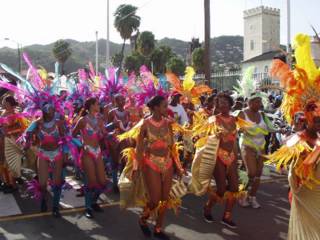 Nelson Bloc Mas Band
Well, my Mas Band lost and I must admit am still annoyed! Nevertheless, I had me a blast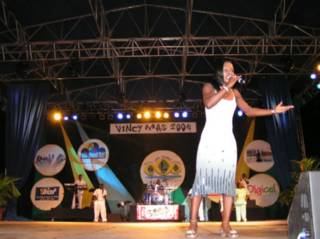 Calypso Monarch 2004...Princess Monique
Kevin Lyttle
Turn me on is creating waves in the US. Would you believe this song is three years old? It just refuses to die. Its been an exciting journey for Kevin thus far. I remember him,Sean and Addie as members of Suede a group they formed in Grammar school. Those concerts were quite the highlights of our lives as GHS students. Kevin was not even the best singer of that crew but he is the one out there making a name.Nuff respect bro. Read more
Congrats Kevin
http://www.thesituation.co.uk/us_interviews/kevin_lyttle/kevin_lyttle.html
Elian Gonzales
Ever wondered how Elian is doing? Well,if you were tuned into NBC's Dateline on Sunday night you would have had a tiny glimpse into his life.Its been 4 years since Elian left Miami and the constant media attention/circus.Life sure is not that "normal"...how many Cuban kids have El Comandante show up at their birthday party? We did not hear him speak(apparently Elian refused) but we saw a tape done by his father.
Anyway,he appears to be a healthy,happy 10 yr old enjoying his family life as much as is possible under the circumstances.According to daddy the world is not going to get another look at Elian for another 10 years. Good luck Elian and God bless.
http://www.msnbc.msn.com/id/5540113
Monday, August 02, 2004
Hello
Welcome to my world! Stay tuned for some ramblings as I try to make sense of this life.