Sunday, July 29, 2012
Females on every Olympic team
For the first time in Olympic history every country participating in the games will have a female athlete. For someone who considers herself fairly up to date on gender issues this was a news item that took me by surprise. However, the more I think of it it's not so surprising at all. I've always felt that despite the strides made by women there are still many frontiers to be conquered.

For instance, Saudi Arabia has the unenviable record of being the only country in the world where women are not allowed to drive. According to some Muslim scholars allowing women to drive will be the "end of virginity" as driving will tempt them into sex and pornography. Who knew! Not only are women not allowed to drive but neither can they vote nor offer themselves as candidates in local elections. Lest we forget the United Nations has declared India the most dangerous place to be a girl given the rate at which female babies are aborted or killed as infants. A female child is simply not as valuable as a boy.

So, I am overjoyed that the Kingdom of Saudi Arabia has bowed to pressure and along with Qatar and Brunei will allow females to compete. Although the athletes did not meet the Olympic qualifying requirements for their respective events they were accepted under the Olympics "universality clause". This clause makes provision for athletes to compete when their participation is deemed important for reasons of equality. We won't see them on the podium but even in the absence of medals they are winners all.

Wednesday, July 11, 2012
Big Up Empress
In Bump-I's 2012 calypso he sang about women taking over St Vincent and the Grenadines. His calypso, which almost sounded angry highlighted the leading roles of women in all spheres of Vincentian life. As if to further strengthen his point a woman walked away with three of the big prizes of Vincy Mas 2012. This is no mean feat given the male dominance in calypso/soca fields.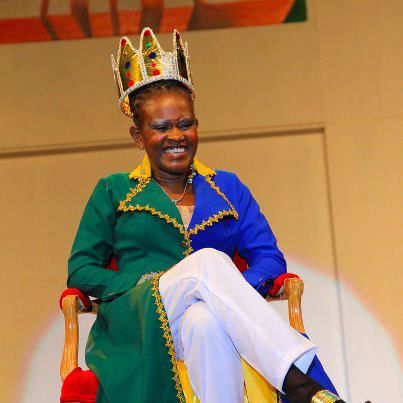 Lornette "Fya Empress" Nedd wrote her name in the records book by becoming the first person to win the Ragga Soca , Calypso Monarch and Road March crowns. For all I know this is probably the first time a woman has won the ragga soca and road march titles. All of this after being crowned earlier in the year as Trinidad's Queen of Calypso. In the Soca Monarch competition she placed second behind Skinny Fabulous with former Junior Calypso Monarch Shaunelle Mckenzie placing third making it the best showing ever for women . In recent years the Soca Monarch crown has gone to either Fireman or Skinny and though the Empress gave a spirited performance it was not enough to buck the trend.
2013 promises to be exciting. The women have served notice that they are a force to be reckoned with and the singers have to take note.Congrats to Fya Empress for cracking the glass ceiling
Thursday, July 05, 2012
Putting the Gold in Golden Years
Lately, I.'ve had occasion to spend time with some senior citizens. These octogenarians were folks who had made immense contributions to nation building. Yet, from speaking with them it was obvious that deep seated loneliness was another common thread in their lives. Many of them live alone, seemingly forgotten by society and dependent on the kindness of strangers to help with basic tasks. For me it was a stark glimpse of how harsh the aging process could be.

When we are young we hardly think of the challenges of growing old. Our bodies will slow down, eyesight will dim, hearing would not be as sharp as it once was and the list goes on. As if it's not bad enough that our bodies will betray us the aging process will also rob us of much that is familiar. Children will grow up and move away to start their own lives. Loved ones and friends will die reducing the connections we once held dear. Loneliness becomes acute with the lack of close companionship and with a dwindling pool of contemporaries it is easy to feel isolated.

How then do we put the golden our senior citizens golden years? I thought long and hard about it and I believe we have to start by acknowledging their worth and treating them like the precious jewels they are. Listen to them, even though you have heard the story one hundred times before. Be patient, there is nothing I hate more than to see people shouting at or tugging the aged. We should remember they are neither as agile as we are nor their hearing as sharp. Talk to them like the adults they are not in the patronizing tones some of us use. Seek their advice, they have a wealth of experience from which others can learn. Organise social activities where a group of seniors can gather and mingle with their peers. Are you willing for the challenge? I am.