Thursday, July 27, 2006
Blogger linkup
Just a quick note to say last night was great.It was so nice putting faces to the persons I've interacted with over the last 2 years. I must say you guys are HOTT.Stunner,you definitely don't need the gym.Marc,you haven't gotten out of the doghouse as yet and soon we will need an annulment.You have a couple hours to make it right:)

Cool Destiny,didn't you promise faithfully to show up? I hope your excuse has to do with someone dying since nothing else would do.

Remember,the 2007 linkup will be in St Vincent and the Grenadines around Vincy Mas time.Y'all have been warned so start saving early!(no visa required)I promise to treat y'all like the princes you are except you know who.Well,that is providing the atonement is good.

Finally,luggage got here but that's a whole nother blog for when I get home.

Thursday, July 20, 2006
I need a Bush Bath!
In Caribbean/Vincentian jargon it means using indigenous plants for healing purposes.If I were to chronicle my ailments am sure you all would declare I need not one but two bush baths.

Would you believe that on the eve of my departure to Jamaica the sickness bug has reared its annoying head again? This time it is some pretty serious stomach problems which translates into my having to eat bland foods for some time.So here am I going to the land of authentic jerk chicken and not being able to eat any.The gods not showing me any love at all!

Am most likely not going to update for the 2 weeks am abroad.So when I get back I should have many a story to tell.Be good until then.

Tuesday, July 18, 2006
60 word story.
From
Madbull's Blog
comes this meme that I decided to take a shot at.The idea is to come up with a 60 word story.It was quite a challenge to get it down to the required length. I'd like to see
Jdid
take a shot at it.:)
In the distance was a strange light."How unusual" he remarked as he set off to investigate.His jaw dropped at what appeared to be a spaceship lying on the ground.Suddenly,the door opened and he felt himself being sucked into the ship.His last memory was the click of the door before he slumped lifeless to the floor.
Saturday, July 15, 2006
Miss Universe 2006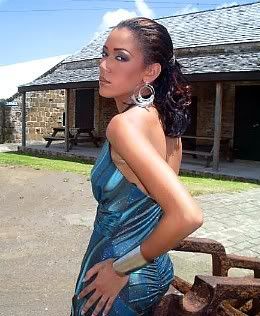 Next Sunday will see the hosting of Miss Universe 2006 in Los Angeles. Shivern Peters was the first person from the Grenadines to capture a Miss SVG title when she won in 2003.Since then she has won the Miss Carival show held in the same year and will now cary the hopes and dreams of the Vincentian public to the Miss Universe Show.Beauty Shows must be really hard to judge eh? After all different cultures have differing views on what defines beauty.In shows like Miss Universe etc you have a process of elimination until it comes down to the final 3.I often wonder how the decisions are made especially when you see some gorgeous women not making the cut.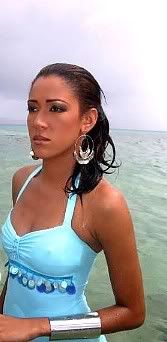 Finally,I caught this extract from an interview where Shivern was responding to how she would define the title if she were to be crowned. This is what she had to say "Other than for the obvious selfish reasons I would want to be crowned Mis Universe because I would like the people of the world to know that small countries of the world such as mine could compete on the world stage.I would define the title in my own terms by bringing awareness to the plight of persons with HIV/AIDS in the developing world especially the West Indies,it is a serious problem that can never have too much attention."Y'all know how I feel about HIV/AIDS education already so those words sound just fine to me.Anyway,Good luck Shivern from the And Still I Rise blog.Give it your best shot and represent SVG to the best of your abilities
Tuesday, July 11, 2006
Mardi Gras
Carnival is colour,Carnival is Mas.Most of these pics are from Nelson Bloc,my Mas Band.I felt really jealous of the masqueraders so come next year am going to be back in costume.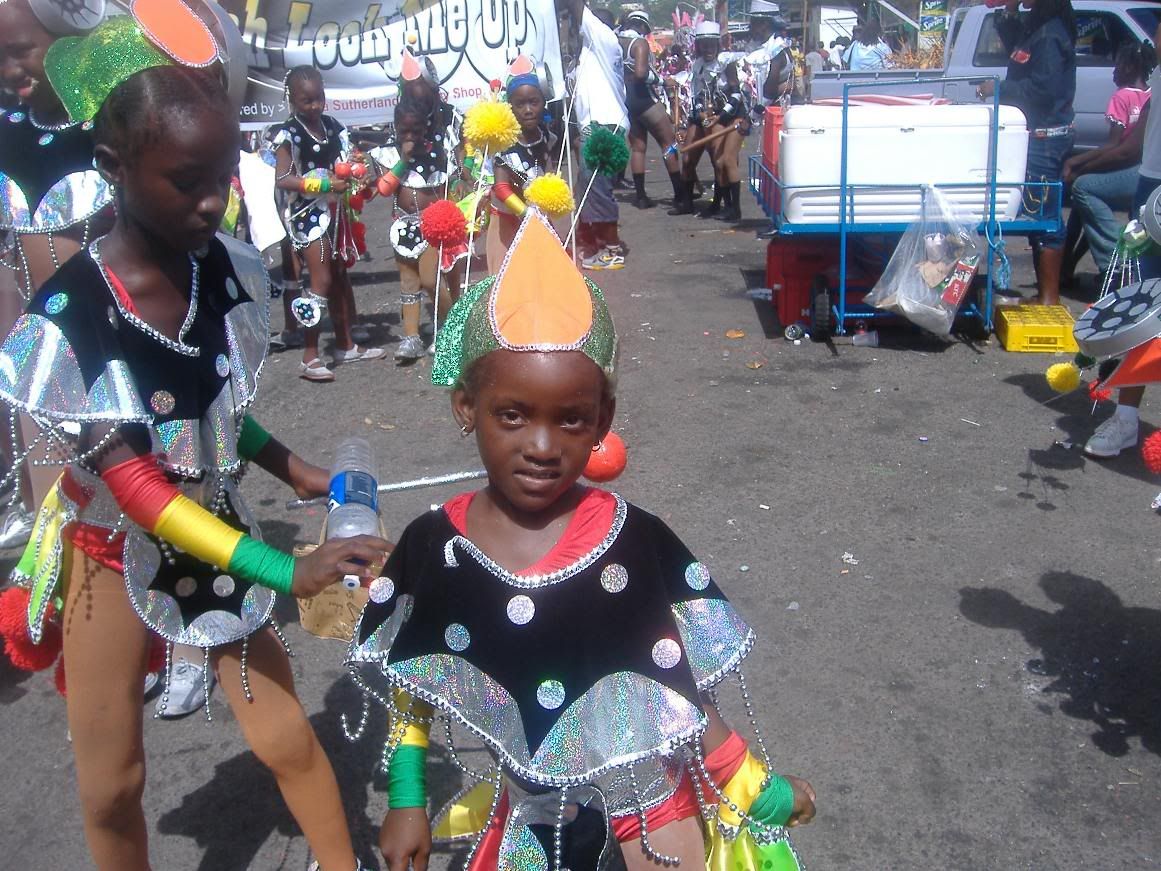 From Blondie Bird's Kings of the Road.My little girlfriends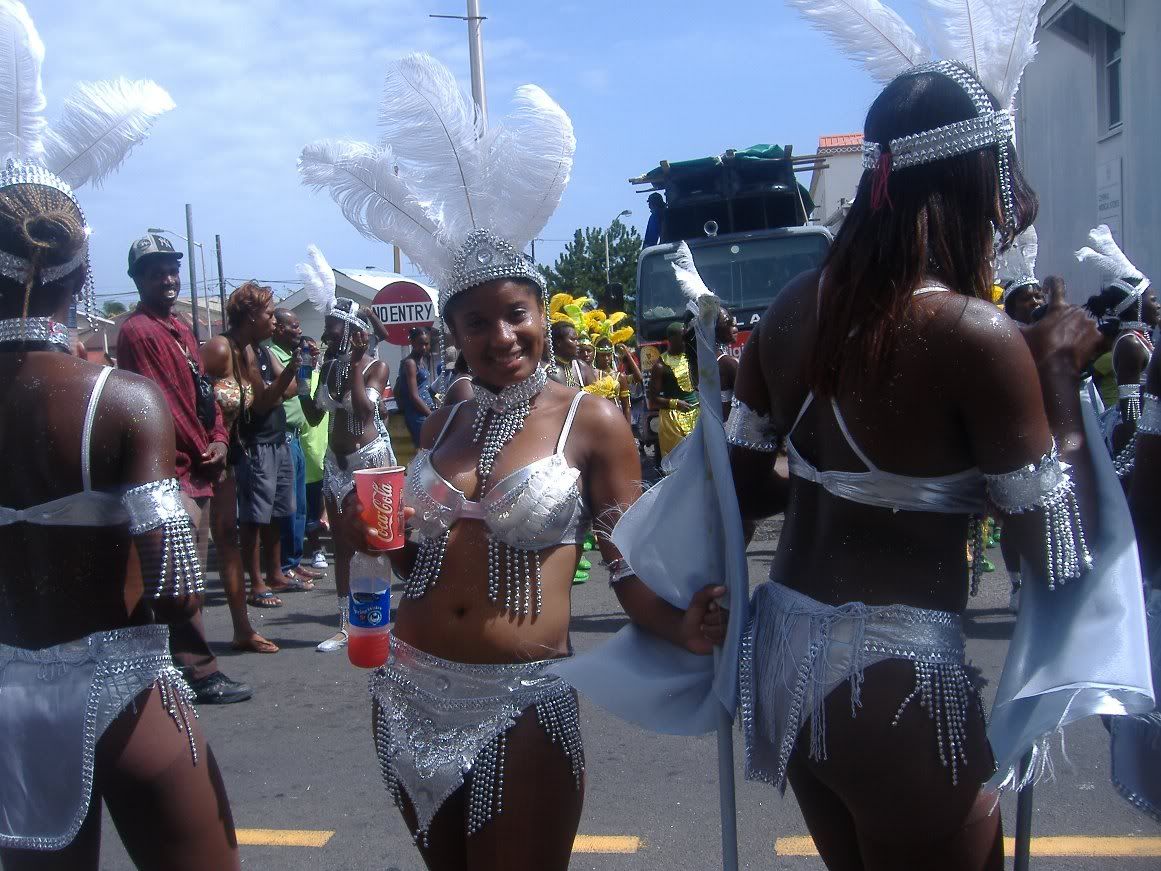 Can't remember which band this section is from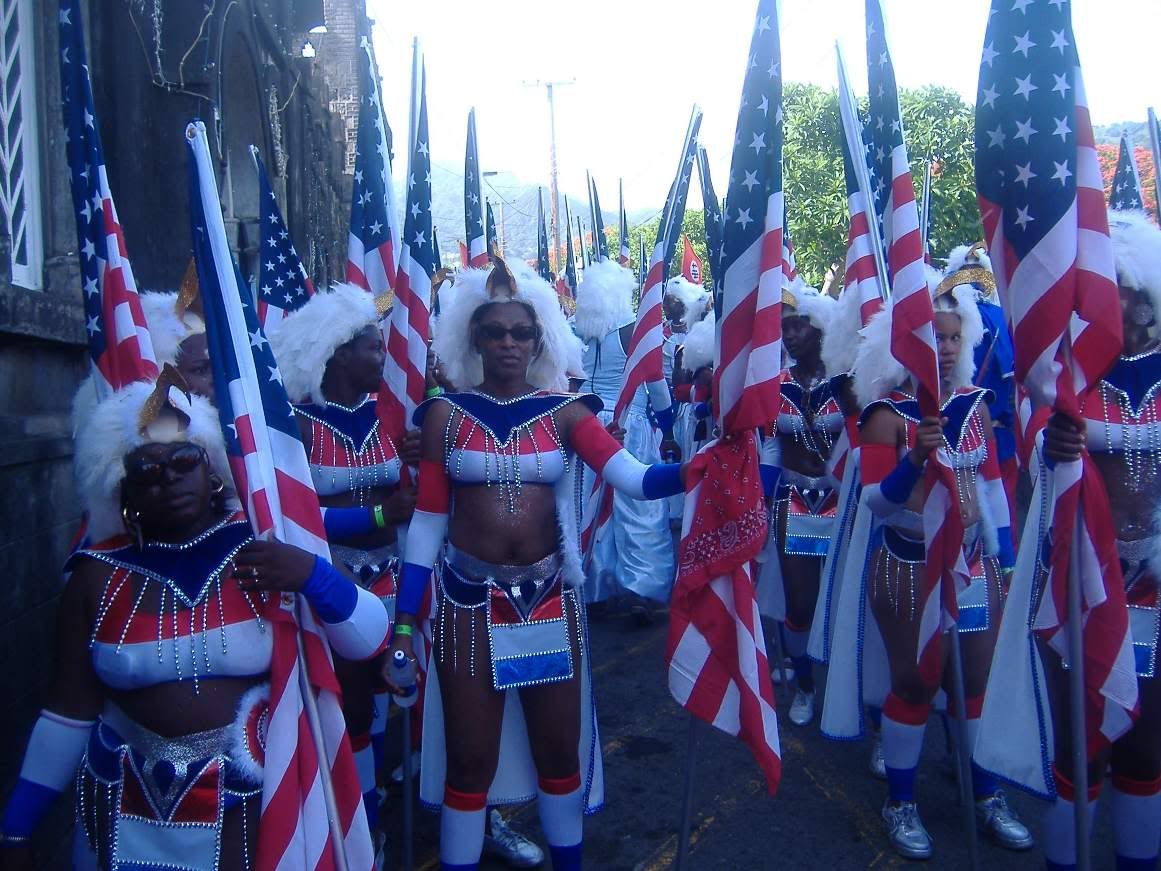 From Nelson Bloc Conquerors.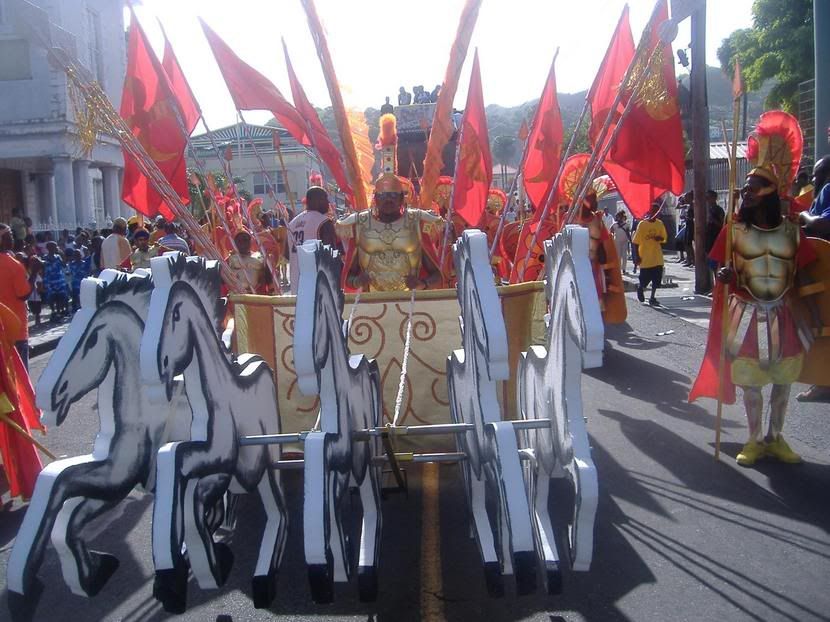 Nelson Bloc.Who else?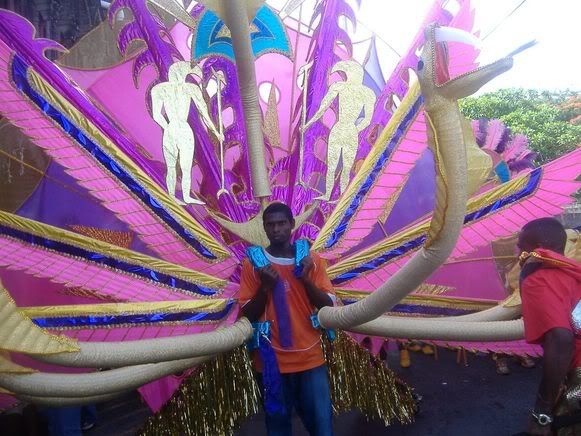 Nelson Bloc again..I did say I was biased.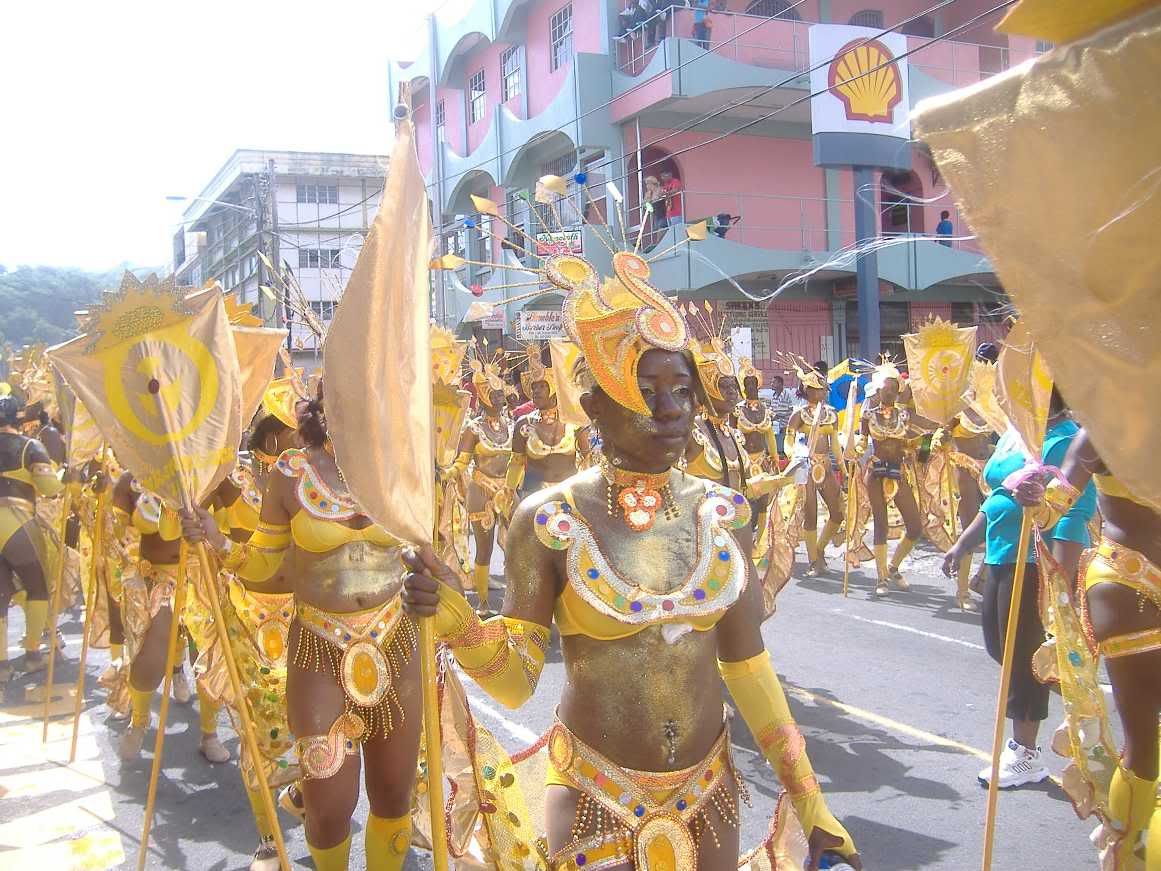 Riches of the Earth(Gold)from Nelson Bloc's 91 Presentation as portrayed by SVG Players.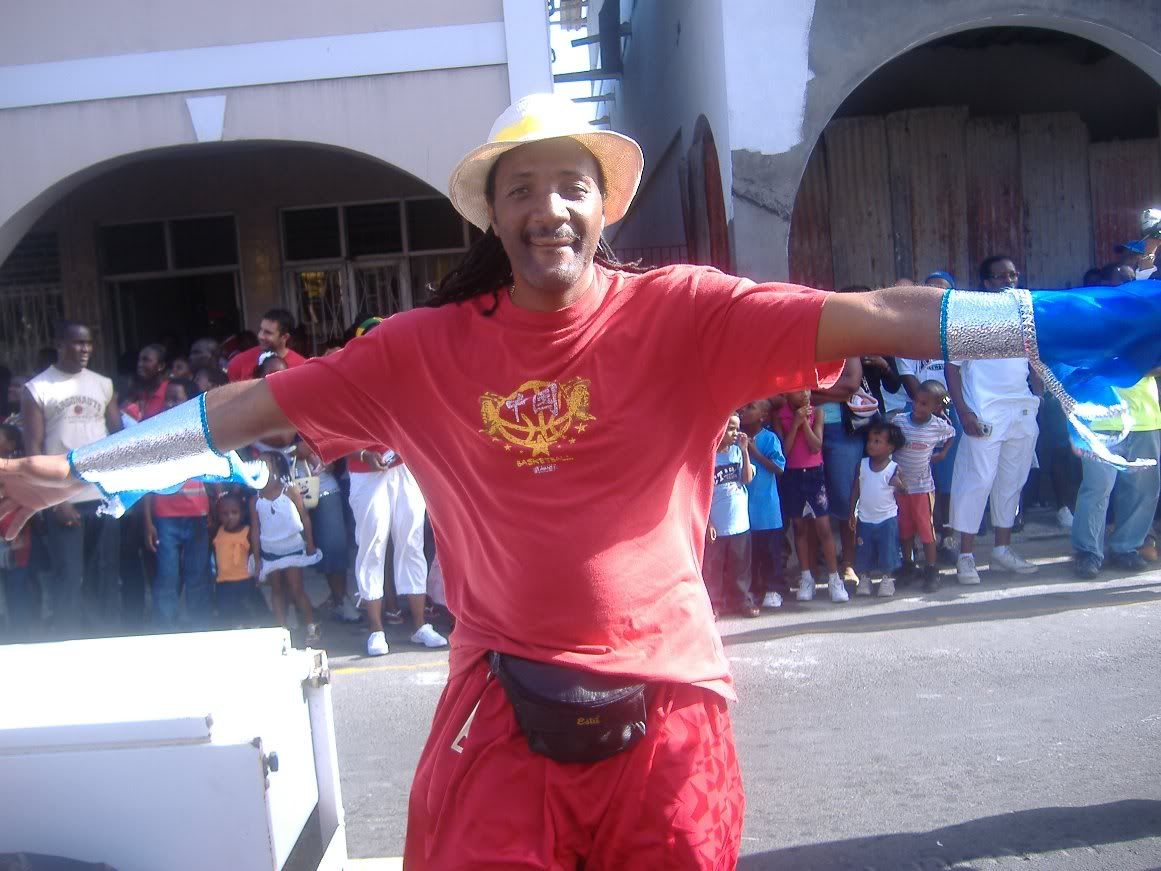 Calypso Monarch 2006.Grantley "Ipa" Constance also a member of the Bloc
Monday, July 10, 2006
Carnival,Carnival
.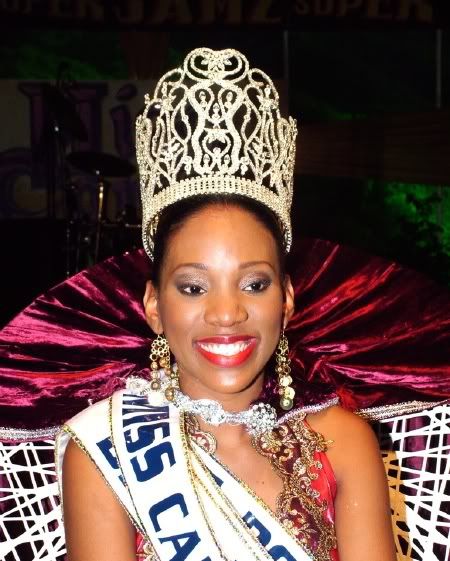 "
It's Carnival time in St Vincent and for the longest while I've been meaning to blog something about it.Well,today is the day I talk about the shows at Victoria Park and Miss Carival in particular.The show,which is really a Caribbean Queen Show debuted in 1985 and was won by the late Donna Young of SVG.
Since then the show has become one of the more popular attractions on the Carnival Calender.It has also had its own bit of controversy with patrons registering some disgust at what was perceived as bias for the home town girl.Thankfuly,this year the panel was not dominated by local judges.Congratulations to Nakita Bruno of Dominica(pictured above) for winning this year's Miss Carival.
I toyed with going to the show,mainly because I had some guests but decided against it.The next morning I heard that the show was 8 hrs long and I remembered exactly why I have grown to hate the shows at Victoria Park.Isn't it madness for persons to go into the Park for an eight o clock show and be awaiting results at 3 am? About 2 years ago it was past 4am and we were still waiting for Dimanche Gras to finish
In the case of Miss Carival there were 14 contestants making appearances in swim wear,evening wear,talent and interview.That alone would take probably about 3 hrs but yet the organisers saw it fit to include Sections of the Bands on the programme.I love Mas and for many years I was a masquerader but it's about time the Mas Bands get their houses in order.
They get to the park and there is no urgency shown to get the costumes across the stage.Sometimes,it is almost as if the costumes are being built in the very park.I think the time has come to give the bands a specific time in which to cross the stage failing which they just get disqualified.Fankly, there is just too much arrogance emanating from the Mas Bands and too little respect for the public.
Hopefully,some thought will be put into packaging these shows so that they finish in a timely manner.It just cannot go on as business as usual or the crowds will just continue to stay away from the park.
Thursday, July 06, 2006
Another letter from jail
This time the letter didn't request that I pay the inmate a visit.Instead,it was to inform that he had found Jesus and was now a changed man.Actually, am wrong because towards the end he did express a longing to see me or hear from me.

Why do prisoners more often than not claim to find God? You hear it so often that you begin to question if it is genuine or simply the fashionable thing to do.The reality probably is that religion just serves to give the prisoners a refuge from the harsh environment that is prison.

Locked away from all that is familiar and feeling unwanted by society the need for forgiveness and redemption may make religion more attractive.So effectively it may just be a coping method since quite a lot who profess Christianity while behind bars soon lose it when released.

Am thinking I just may respond to him after all.Not because I buy his religion story but because I was feeling a little bit uncomfortable for closing him out totally.I can't see myself doing the visitation anytime soon so I will take the easier route and drop a note.Can't hurt,right?

Tuesday, July 04, 2006
Graduations
It's that time of the year when everyone including preschoolers are graduating.For some reason,I always find the idea of preschoolers decked out in gowns and mortarboards comical but I digress.

Graduation was always an event on the school calender that was eagerly anticipated.More than just finishing school it was an opportunity to don your finest and be escorted by a smartly dressed young man to the Ball.Oh,the efforts that went into getting the perfect outfit,hairstyle and crossing your fingers that the escort met parental approval.

The preceding graduation ceremony was just to be endured while visions of the Ball danced in one's head.Actually,it wasn't that bad since there's really nothing like being the centre of attraction.

Additionally,stealing a glance at your parents and seeing the pride in their eyes just lifts you up.If you were fortunate to be receiving an award or giving the valedictory speech it heightened the moment.Nevertheless,the thrill of arriving at one's journey's end was reward enough.

From what I have seen the excitement in today's students remains the same.Enjoy your day people.Soon you will have to worry about other matters.