Wednesday, June 27, 2007
From 17 to 10
By Linda Straker
ASSOCIATED PRESS

ST. GEORGE'S, Grenada – A judge ordered the immediate release Wednesday of three of 13 imprisoned leaders of the 1983 coup that led to U.S. invasion of Grenada and he said the remainder will serve less than two more years behind bars. All 13 were originally sentenced to death in 1986 for the killings of former socialist leader Maurice Bishop, four Cabinet members and six supporters.

Supreme Court Judge Francis Bell said he showed leniency because the defendants behaved well in prison and demonstrated remorse by inviting the victims' relatives to prison so they could apologize in person. During the 1986 trial, prosecutors said that hard-line members of the Marxist government sent soldiers to kill Bishop on Oct. 19, 1983, considering him too moderate.

Six days after the killings, thousands of U.S. troops stormed the Caribbean island on a mission that President Reagan said would restore order, protect American medical students and prevent a buildup of Cuban military advisers and weapons.

Some relatives of those killed in the coup on the Caribbean island protested the ruling, shouting "Murders! Murderers!" as they stormed out of the courtroom.

Hundreds of spectators turned out for the weeklong resentencing mandated by a February ruling by the Privy Council, which threw out the death sentences against the prisoners. The London-based panel is the court of last appeal for the former British territory.

Three prisoners – Lester Redhead, Christopher Stroude and Cecil Prime – deserved go free as soon as possible because they played a minor role in the coup, Bell said.

The judge did not address a request to immediately release former Deputy Prime Minister Bernard Coard, whose attorneys argued he needs eye surgery.

Two other prisoners with health problems, John Ventour and Colville McBarnette, were ordered to appear before a review board within a year.

Defense attorneys argued that the defendants experienced a "spiritual transformation" in prison, tutoring fellow inmates and earning a total of 10 university degrees by correspondence in law, economics, sociology and theology.

But prosecutors said their expressions of remorse were not sincere and requested life sentences for all 13 prisoners.

The bodies of Bishop and the other victims have never been found. Prime Minister Keith Mitchell asked for help from the United States last week to recover them and close a bitter chapter in the island's history.

Four others convicted in 1986 were spared death sentences. They included Coard's wife, who was freed in 2000 to undergo cancer treatment.

Associated Press writer Michael Bascombe contributed to this report

Tuesday, June 26, 2007
Pigs and Condoms
I was watching Fox News a few nights ago and saw an item about a condom ad that was pulled.

In a nutshell the ad featured some pigs at a bar trying to pick up ladies without much success. One smart pig went to a vending machine to get a condom and promptly turned into a gorgeous man.

I must be mixing up my animals or I need to be socialised anew. Somehow,I thought men were dogs but seems there is quite a bit of pig in the mix too.

However,if a pig that was hitting on you turned out to be a man then it's a bonus..right? Or should it have been a man turning into a pig? Some of my friends say the second scenario is truer to the real thing.

According to Fox "Contraceptive advertising must stress health-related uses rather than the prevention of pregnancy." As if the piece of latex can't serve a dual purpose. I would have been more sympathetic if they said it was reinforcing a gender stereotype.If you picking up somebody in a bar who's thinking about using a condom to prevent a pregnancy? Much ado about nothing.

Friday, June 22, 2007
Ah Blaming Digicel
Once upon a time cell phones were rare like Granny's teeth. The price per handset and the costs associated with making and receiving a call conspired to keep them out the hands of the average man.

Then Digicel popped up and transformed the whole scene. Handsets got cheap,cheap cheap and costs for calls got cheaper too.Suddenly,every man jack and his dog were the proud owners of handsets. Some of us even handed in our fixed lines as cellular was the way to go.

Almost overnight it seemed as if we couldn't live without the phones. Soon,the basic phone was no longer enough so we went for the camera phones and all the other jazzy features.

School children annoyed teachers by having phones on during instructional time and supposedly texting answers to each other. Worse was to happen when students began passing around nude pics of themselves. Right now a sex scene allegedly filmed in a classroom is making the rounds.

Moral decay, exhibitionism, poor parental guidance, lax school supervision etc have all surfaced as reasons for the behaviour. I find the fingers pointing in the predictable areas so I looking for a new entity to blame. So,ah blaming Digi and you gotta admit they make as good a scapegoat as any

Tuesday, June 19, 2007
Grenada 13
Over in Grenada a hearing is currently taking place to resentence the 13 charged with the killing of PM Maurice Bishop and others in 1983.

Earlier this year, the Privy Council ruled that the death sentences originally imposed on the men were unconstitutional and that this also invalidated the process by which those sentences were later commuted to life imprisonment.

From all I have read the events of October 1983 were quite horrific. In small societies like ours the bloodbath that happened would have left many scars on the Grenadian psyche. Up to today families still do not know where the remains of their loved ones can be found and that must hurt and badly too.

No doubt the perpetrators of the violence needed to be punished. Back in 1983 am sure death and as quickly as possible was what most wanted for them. Despite protestations of an unfair and illegal trial their punishments were meted out. 24 years on and there is a possibilty they could be freed like the four before them.

Frankly, I feel they should be released since I hardly think they constitute a threat to the country. For starters, these men are no longer the idealistic young men they were and the brand of politics that they practiced before being incarcerated is all but dead. Secondly, I could see them wanting to migrate to see if it is possible to salvage some sorta life. Maybe, it's easy for me to say but all I keep thinking is 24 years are a practically a lifetime and long enough for old wounds to not hurt as much.

Monday, June 18, 2007
Tagged.
Madbull tagged me and here are the rules.

Players start with 8 random facts about themselves
Those who are tagged should post these rules and 8 random facts about themselves
Then tag 8 other people and notify them that they have been tagged

1.Am the first born child. However,it never entitled me to any special favours

2.I don't like jewellery...many find that weird

3.I don't wear a watch....they find that weirder

4.I hate stockings with a passion

5.I cry easily

6.I laugh a lot

7.Domino Pizza is one my better friends

8.Am a huge fan of animated movies.

Can't think of 8 persons to tag so anyone can do it if the mood hits them

Friday, June 15, 2007
Go away LIAT
Today, June 15th was to be the grand merger of LIAT and Caribbean Star. Surprise, Surprise, the merger has been delayed but we have been promised that it is still forthcoming. When is anybody's guess but seems like the parties are aiming for an end of month merger.

LIAT has been getting on my last nerve with their ridiculously high fares. Once upon a time you could purchase a ticket to let's say Trinidad and be able to make a stay over in Grenada. Not so anymore even though both are on the same route. Now, you have to pay an additional 200ECD to enable you to make the stop. Real madness!

I wish they would just disappear or hopefully realise that their price structure is making them even less relevant. Merger or non merger is not the news we want to hear since most are long past caring. Address the fares is the cry on everyone's lips but it's falling on deaf ears. Good on you St Lucia for looking for alternatives to LIAT

Wednesday, June 13, 2007
Time to share
Religiously every Monday morning my friends and I check into the
Post Secrets site.
Without fail we always find something humourous, poignant or plain ridiculous but that's all part of the Post Secret journey.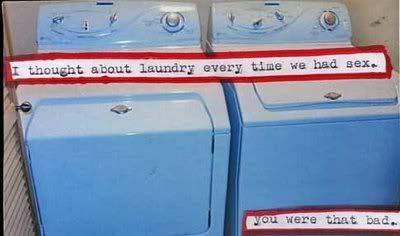 Anybody wants to post a secret? Feel free to do it in the comments-anonymously of course.
Labels: Post Secrets
Sunday, June 10, 2007
Those Beauty Shows
Some years ago Paul Keens Douglas did a brilliant parody on Beauty Shows. His story featured the mishaps of one Boopsie and her fellow contestants as they attempted to win the coveted crown.
Not surprisingly, the more humourous excerpts dealt with the dreaded interview sections. Boopsie or some other contestant gleefully told the audience that Neal and Massey discovered Trinidad.
The just concluded Miss SVG 2007 certainly made me feel as if Boopsie and her crew were centre stage. It's about time the Beauty show Committee get its act together and give a show that lives up to its billing.
How on earth can you promote a show as beauty and brains and then subject the audience to some the most inane answers imaginable.To add insult to injury the winners prize is a university scholarship. Therefore, we would expect at least a little bit of awareness on current affairs.
Instead we learnt from one contestant that global warming is a good thing for any country in the world. Another seemed to not understand the meaning of the word extracurricular. Thank God for the eventual winner Melisa Yorke who injected some sanity. Sorry, but am not buying the official stage fright line. Seems like some young people are sadly bent on living up to the shallow label. Maybe, the education system needs a little tweaking or the contestants need extensive screening. Meanwhile, the spirit of Boopsie lives on.
Labels: Miss SVG 2007, Paul Keens Douglas
Thursday, June 07, 2007
Blasts from the Past
The creators of Love Thursday have called it a day.However, from time to time I will still post some pictures. Take a look at when life was much simpler. Wasn't she just the cutest little thing:) It may take a while to load cos at times Photobucket has a few issues.



Monday, June 04, 2007
Struck out
When a distinguished local lawyer was disbarred last week for witholding monies awarded to his client it sent shock waves throughout the island. Nothwithstanding the belief held by many that lawyers are by nature dishonest few felt the lawyer in question would be made to pay.
Not only was this man one of the more senior members of the local bar but he was also the first to be awarded the title of Queen's Counsel. He also served as a judge on the OECS High Court and was part of the panel that appointed judges to the Caribbean Court of Justice.
The contentious issue was centred around the Danish Foundation seeking to recover over 5 million ECD which was allegedly expended for purchase of lands at Orange Hill. As far back as 1984 the Danes through their lawyer purchased the lands. However, the land was acquired by the Govt after its sale was protested by locals. A settlement was subsequently made but the Danes maintained they were not given the total sum.
On one hand I feel sorry that it came down to this. On the other am pleased that the judgement is sending the message that none is above the law. Too often justice is not seen to be done and many believe certain professionals will never lose in court assuming it gets that far.Unfortunately,it strenghtens the belief that all lawyers are thieves but more importantly faith in the justice system is strengthened.
Labels: CCJ, Danish Foundation
Friday, June 01, 2007
Hurricane Season
Today,the season opens and according to the experts it should be a very intense one. According to William Gray there is an expectation for 17 named storms and nine hurricanes, five of them intense. Gray, based at Colorado State University, described it as a very active season. He said there was a 74 percent chance of a major hurricane making landfall somewhere on the U.S. coast.

Of course some of us in the Caribbean can bear witness to the devastation of these hurricanes. I've heard the view that a Hurricane might be just what we in St Vincent need to wash away some of the evil that's sweeping us. I'll reserve comments,anyway buckle dowm people.