Wednesday, March 29, 2006
An observation
Life can really have extremes.This evening I spent a couple hours with two of my friends.One is terminally ill and as I sat on her bed and talked to her I just wanted it to be over.From her house I went to pick up a pregnant friend so that we could do some baby shopping.This time the air was one of expectancy as we looked forward to the new life.It just struck me that by the time this baby is born my friend may not be around.There is a lesson somewhere in this-can't put it in words,but am sure you get it.

Monday, March 27, 2006
The Dialect thing
A couple years ago the then Prime Minister Sir James Mitchell accused Vincentians of having a breadfruit mentality.To this day am still not fully clear exactly what he meant by this pronouncement but suffice it to say it was not complimentary.Not to be outdone the current Deputy Prime Minister speaking at the National Awards ceremony referred to local dialect as breadfruit talk.

If the breadfruit could talk am sure it would voice its displeasure at how ungrateful we are to make it synonymous with something bad.After all breadfruit is the national dish and for centuries has been a source of sustenance for thousands of Vincentians.It has even made its way into local language with the term "cutting down one's breadfruit tree" which means loss of livelihood.

The Deputy PM went on to say that local dialect will not get the students anywhere and upheld Standard English as the way to go.Hmmm,Paul Keens Douglas and the countless other Caribbean artistes may have a thing or two to say about this.I contend that dialect is our own authentic cultural expression.Its rich,beautiful,born out of our history and is our unique way of expressing ourselves.Why then can't it coexist with Standard English? Next thing I know St Luicans and Dominicans will be discouraged from speaking French patois.See how silly it can get? By all means teach Standard English but for heaven's sake do not uphold it as better.

Thursday, March 23, 2006
Scary street
It's that time of year when school tends to be overwhelming as I struggle to meet deadlines.Yes,procrastination is my name.Anyway,I promise to catch up on the blogs this weekend.Until then I hope y'all stay far from this street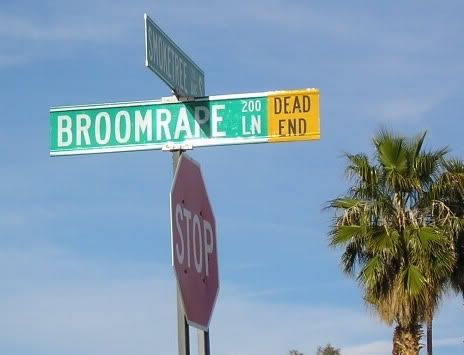 Monday, March 20, 2006
CWC-07
With the West Indies cricket team having joined Zimbabwe and Bangladesh as the teams to have lost eight consecutive test matches it is understandable if cricket is the last thing you want to hear about.However,Cricket World Cup 2007 is almost upon us and the buzz is getting louder and louder.Here,in St Vincent and the Grenadines we lost out on our bid to host group games but as consolation we were granted some warm up games.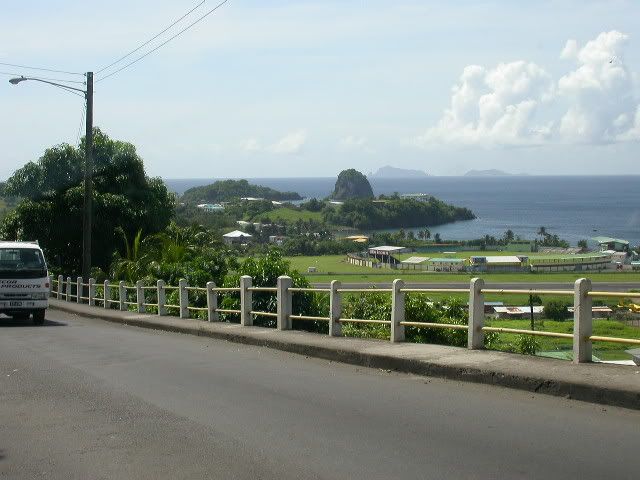 In preparation for these games the main Arnos Vale Playing Field is being reconstructed as well as some upgrading done to the other grounds where games will also be played.I've heard figures as high as 57 mil(EC I hope)being bandied around as the cost for this renovation/upgrading effort.I think that's way too much money but that's a whole nother post.

Saturday night saw the Local Organising Committee's(LOC) official launch of the CWC-07 campaign at Govt House.Coming out of this launch was a call for volunteers to come forward to help make the Vincy leg a resounding success.I did a quick check and am articulate,know a little about cricket,police record is clean and I got a megawatt smile.CWC Vibes,here I come.
Saturday, March 18, 2006
What Type of Shoe Are You?
A fun quiz that is geared for the ladies.
I'm a Fun Flip flop!
Much like the must-have flip-flop, you're laid-back, casual, and comfortably chic in style and substance. Always ready to head out on the fly, you have a grab-and-go approach for everyday excursions yet never disappoint when it comes to whipping up effortlessly fashionable alternatives for life's snappier occasions. In all, your life's-a-beach outlook keeps you always prepared for fun in the sun—whether it's sandal season or not
Go on,try it
Wednesday, March 15, 2006
Saying Goodbye
Thousands of Vincentians today filed past the body of the late Glen jackson as he lay at the Peace Memorial Hall,Kingstown.Some wept openly as the reality that he was no more sank in,while others questioned who could have done something so evil.In a service that was carried live on radio and television the nation said goodbye to one of its favourite sons and mourned how much poorer we are for his absence.

The one thing that struck me was how much living he packed into his 44 years.With my friend being terminally ill thoughts of mortality have been swirling around in my head more than ever and I am forced to wonder what would be my legacy when I depart this life.I think I would be happy if it would simply say "she made this world a little better place".As I listened to the poignant tributes given to Glen I wondered if he even knew how much he meant to us or was it another case of giving praise after death.Somehow,I think he would have been taken aback at the very public show of grief.

I just hope we take the time to tell those we love how much they mean to us.I confess to being guilty of taking persons for granted and assuming they know how much I appreciate them.If you are anything like me,we got some work to do.

Monday, March 13, 2006
The Beauty Trip
A couple Sundays ago I was watching an old episode of 60 mins and one the features re plastic surgery caught my eye.Apparently,Thailand is becoming the place to go for all kinds of medical procedures as they along with India boast of top notch doctors at third world fares.So persons all over the world are combining their vacation time with a little scalpel time.

One part of the feature that caught my eye(no pun intended) showed a woman with very red upper eye lids and redness below and at the sides of her eyes.As I was carrying on a convo with a family member I was not sure if that was normal or was surgery complications.But either way it is not a side of surgery that is often shown since the tendency is to simply focus on the end results.

One time I saw an Extreme makeover where a woman dissatisfied with her large nose went in for corrective surgery.By the time the episode was finished the woman had about 10 other things done ranging from lipo,tummy tuck,breast augmentation etc.In short they decided to make her as close to perfect as possible.And therein lies the problem,the pressure is on to be perfect.

But what made it even more disturbing was seeing the woman's children in the audience sporting the same large noses.What must be going through their heads? I can almost hear them thinking that having noses that are not a certain size is the worst thing that can happen to a person whilewondering if Mommy will take them to have theirs done too.Or,even questioning if Mommy loves them the way they are.Seriously,in a position like that I would have serious self esteem issues.

True,we all want to look our best but at what cost?

Saturday, March 11, 2006
Child rapists
Just Wednesday I mentioned that women in some parts of the world still face honor killings and today I found this terrible story.Won't it have been more appropriate for the relatives to strangle the perpetrators of the crime if they felt someone had to die? But nooooooo,the little girl had to go-too sick!

Two boys aged 10 and 13 have been arrested in Muzaffarnagar on the charge of raping a 5-year-old after watching a pornographic film and police have launched a hunt for their father and uncle who allegedly murdered the girl.

The boys Vikrant, 10, and Pawan Kumar, 13, allegedly dragged the girl into a field near Bharsi village in the district after being incited by watching a pornographic film and raped her, Senior Superintendent of Police A K Sanger said on Wednesday.

He said they left the girl lying in an unconscious state and informed their father Chanderpal and uncle Baburam, who then went to the field and allegedly strangulated her.

The SSP said the boys had been arrested but Chanderpal and Baburam were absconding.

A case of rape and murder has been registered against the four under the relevent sections of the Indian Penal Code.

Wednesday, March 08, 2006
International Women's Day
Today March 8 is the day when women's organisations celebrate women and their achievements.We have come a long way from the days when women were denied to vote but there are still many issues that need addressing.It is easy for us who enjoy relative security to forget that in other parts of the world thousands of women face unimaginable horrors.Many are forced to undergo female circumcision and honor killings to preserve family reputation when they themselves were the victims of rape.

Anyway,I want to thank the strong women who helped to shape me.I speak of the women who showed me that it it was okay to fall as long as I got myself back up,the ones who believed in me when I doubted myself and the ones who loved me even when I was unlovable.I also hope that you honor and support the phenomenal women in your lives.

Happy Women's Day to all my sisters.

Monday, March 06, 2006
Year's first murder
Today,a long shadow was cast on the nation as the news of the murder of Press Secretary to the Prime Minister,Glen Jackson filtered into our consciousness.To say am stunned is to put it very mildly,infact I was moved to tears by the seeming senselessness of it all. A very popular media person who began his career in the early 80's at the Government owned radio station he went on to become one of this country's best media workers.

I am finding it difficult to come to terms with the fact that he is no more.As a child/teenager I grew up with Glen Jackson on the morning show on NBC Radio and then as host of WE FM's popular mid morning talk show Shake Up.Always a fearless and forceful advocate for social issues whether it was organising marches against Cable and Wireless or petitioning Bob Dole re bananas he was a master at whipping up public support.

He used his Shake Up programme to endorse the United Labour Party and when the Ralph Gonsalves administration took office in 2001 he was named Press Secretary.As was to be expected he became more vocal in selling the party's policies and used his talk show to good effect.

So far rumours abound as to the possible reason for his death.I hope to God that it was not politically motivated as that is too dangerous a precedent for a little island like ours.Most of all I worry for the continuing disregard we are showing for human life and the way murders are greeted with a weary indifference.It is almost as if we are too tired to even feel outrage and instead accept them as part of living.

I hope the perpetrator/s are found and brought to justice but with the large amount of unsolved crimes still on the books it may not be a reality.Rest in peace,Glen.We will miss you.

Oscar Night
Last night the curtains came down on the 78th Academy Awards.The much talked about Brokeback mountain won three awards but failed to come away with the Picture of the Year.Crash,the story of racial tension walked away with the best picture award to complement their two earlier wins.
Major winners were Phiilp Seymour Hoffman for Capote-no surprise there.Reese Witherspoon almost did a Tom Hanks with her acceptance speech for Best Actress.George Clooney won Best supporting Actor for Syrianna and Rachel Weisz Best Supporting actress for The Constant Gardener.Ang Lee took the Director's award for Brokeback Mountain.
Jon Stewart had me in stitches with this quip."For those of you keeping score Martin Scorcese 0 oscars, 3-6-Mafia...one." Poor Martin
And what is Oscar minus fashion? To tell the truth everybody I saw looked great but Jessica Alba and Keira Knightley were my standouts.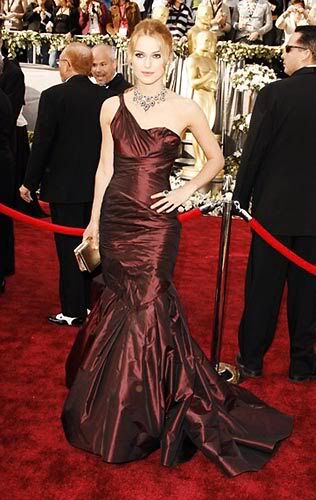 Keira,keeping the standard high .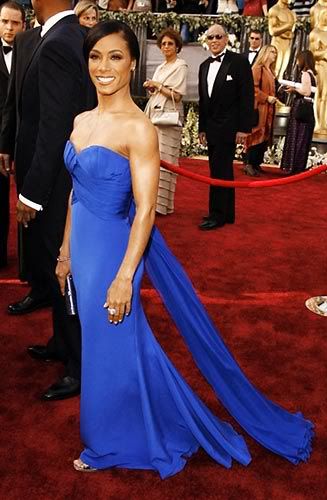 Not a Jada fan but she looked lovely here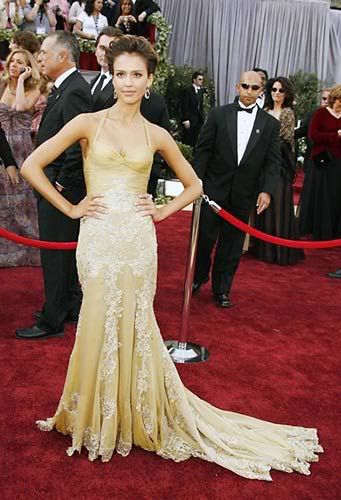 Jessica.It looked way better on the screen.
Anyway,its late and I should really be sleeping so am out for now.
Thursday, March 02, 2006
Airline woes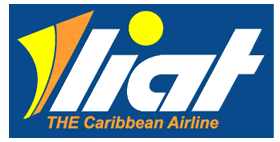 There was much drama on Wednesday as LIAT ground to a halt when all its pilots simultaneously came down with the same illness.The strike,"sick out" or whatever is the correct term was just another twist in the life of the embattled airline. The sickout is said to have stemmed from a LIAT proposed timeframe for disbursements which extended over too long a period plus outstanding payments due to pilots. Earlier this year we were greeted with the news that Barbados was now the biggest shareholder and that plans were afoot to restructure the airline to make it profitable.Now,as if to make a mockery of the situation a meeting in Barbados late Tuesday night which ended around midnight, apparently yielded the actions of the pilots.

As was to be expected there were scores of disgruntled passengers at the ET Joshua airport in St Vincent and most likely in the many airports around the region.Those persons who were booked to depart Trinidad following that island's carnival would have found themselves in quite a jam.Could you imagine if some persons had taken 2 sick days(aka unofficial leave)only to find themselves stuck in Trinidad indefinitely? They would have had some explaining to do to their supervisors.

Meantime, salary negotiations are set to commence soon and passengers can only hope that there won't be any more repeats of what transpired on Wednesday.As for me am so sick of lIAT and its general poor service that sometimes I wish they would just shut down for good.That would have saved the governments from continuously pumping money into a dying entity.Thankfully,for us in SVG who relied almost exclusively on LIAT there is now Caribbean Star complete with attractive fares to give us a little respite from LIAT woes.