Sunday, October 31, 2010
Hurricane Tomas
Like a thief in the night Tomas made his appearance;catching most if not all of us unawares. On Friday afternoon We heard we were under a storm watch but early Saturday morning news broke that we were under threat from Hurricane Tomas. Still there were those skeptics who chose to ignore the warnings preferring to remain in Kingstown to continue their vending. I guess they believed we would once again be spared the brunt of a tropical storm/hurricane.

He huffed and he puffed but couldn't blow my house down or remove one sheet of galvanize. From the safety of my bedroom I watched as the great trees in the yard swayed and dipped to Tomas's Latin beats.I hoped that the trees would withstand his fury and they did. Some of my neighbours were not so lucky as a walk through the village revealed houses with partial roofs,uprooted trees lining walkways or resting on roofs.Breadfruit trees seemed particularly hard hit looking every bit as forlorn as discarded rag dolls.

Nation wide, stories of destruction continue to flood the airwaves.At one point they were reporting that 514 persons were in shelters with approximately 300 in Mustique. Twenty one shelters were active. Areas like Georgetown, have reported extensive damage to personal property as well as schools. Elsewhere, the damage seems just as grim with many reporting loss of property,landslides and road blocks caused by fallen trees. The utilities seem not to want to be around at the same time which I consider really bothersome.. Despite all this I enjoyed my first hurricane. It was simply awesome watching nature at work. I'd do it again but for the loss of my electricity and water-things I don't wish to live without for more than 2 hours.

Saturday, October 23, 2010
RIP David Thompson
At around 9 a.m my friend called to tell me that the Hon David Thompson,Prime Minister of Barbados had died. Even though I knew he was fighting the batttle of his life against an unyielding competitor the news of his demise still caught me by surprise. For close to half an hour I sat quietly and thought about David Thompson, his family, his political journey, his illness and his death.

I didn't know David Thompson beyond a chance meeting in Kingstown where we discussed cricket and Brian Lara in particular. At that time he was not PM Thompson and Brian Lara was going through a barrage of attacks from seemingly every one. It was a tough time to publicly declare your loyalty to the cricketing ability that Lara possesed so it was a pleasure interacting with one who shared similiar views. The thing that struck me most about that encounter was his approachable, no frills, down to earth manner. A couple years later I was to meet him at my uncle's house in Barbados and again the same character traits were present. Like the earlier meeting he was not yet PM Thompson.

Slowly the tears came. Tears of anger that cancer had once more wreaked havoc and taken yet another life. Tears of dismay that a cure still seems so distant.Tears that a young vibrant man had been cut down just when he had finally attained his dream of leading his country. Tears of longing for my aunt and friend who had fought valiantly only to lose their battles as well. Through this medium I wish to express my heartfelt sympathies to his family, close friends and the nation of Barbados who must be quite disconcerted and grief filled.

May the soul of David Thompson rest in peace.

Wednesday, October 13, 2010
Miracle in Chile
I wish I could stay home and watch as the Chilean miners are pulled from the earth to the arms of their loved ones. "Breaking news" is usually followed by stories of death and human suffering. So it is such a joy to be following a story that is filled with the triumph of the human spirit. I have no time reference for momentous world events save Mandela's walk to freedom and the fall of the Berlin wall which I was too young to understand. However, watching the emotionally charged scenes in the early hours of this morning were enough to bring goosebumps on my arm and tears to my eyes. I can't begin to comprehend what it was like for those 33 men trapped in the bowels of the earth, unsure if they would ever see daylight again and the horrors that they may never reveal to the world. That long nightmare is now ending and by time I get home my hope is all 33 would be above earth. Much respect to the entire rescue team and all family members who rallied with their men to the end.

Sunday, October 10, 2010
Congratulations Natasha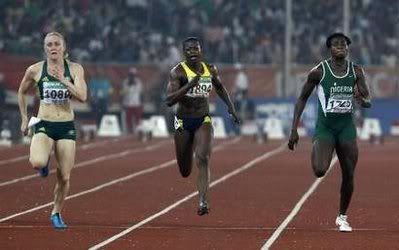 In the middle of this frame is St Vincent's very own Natasha Mayers en route to winning this country's first ever medal at the Commonwealth Games. This is a tale of redemption since in 2005 Miss Mayers was slapped with a two year ban after testing positive for banned substances in out of competition testing at her home in California.

Back then she was remorseful about the incident and looked forward to returning to competition after serving her sentence. She showed that she was back with a bang when she recorded the fastest time in the 100 metres heats.In the finals ran on Thursday 7th October she finished third behind Sally Pearson of Australia and Osayemi Oladumola of Nigeria. However, an appeal launched by the English saw Pearson being disqualified which meant Natasha was now the silver medalist. I would have thought this achievement would have generated more excitement but then again it's the season of red or yellow.

Nevertheless, I want to take this medium to say congratulations to Natasha for making yourself and your country proud.
Tuesday, October 05, 2010
Little people big problems
Eleven year old Aldan Richards became this country's mst recent suicide after ingesting gramoxone, following an altercation involving him and another student. Richards consumed the toxic substance last Wednesday, Sept 29, following an incident at school. He died at the Milton Cato Memorial Hospital, Saturday October 2nd shortly before 7 pm. (Excerpt from Searchlight's mid week paper). A week or so ago, a thirteen year old girl was also admitted to the hospital after a botched suicide attempt. In that instance the young lady tied a belt around her neck and attempted to hang herself. Little people, big problems. Problems that appeared more than their little beings could bear.

A further reading of the Searchlight's article highlights a tale of a child being bullied by students, deathly scared of a teacher who was too liberal with the belt, terrified of a father who he thought would beat him after the school summoned him to highlight an altercation he was involved in. The story did not delve into the fact that the child was unsuccesful in the Common Entrance Examinations but I feel it impacted on his sense of self. I also believe that failure was also a source of ridicule, given that practically every child gets a place at a secondary school.

I feel gutted that an eleven year old was so overwhelmed by life that he felt suicide was the only answer. Likewise, I worry about a thirteen year old child facing adult problems, most likely not of her making but ones she still has to try and figure out. While these are just two cases I worry about the countless others whose cries for help go unnoticed. Too often, children battle abandonment, sexual molestations, emotional and physical abuse in a period of their development that should be carefree. Little or no attention is paid to the deviant behaviour of our children preferring instead to pass it off as "rude","womanish" or "mannish". Instead, those who are supposed to be their caregivers have become their abusers leaving behind damaged little ones. How many more children must we fail?