Thursday, November 30, 2006
Love is
Holding your baby brother for the first time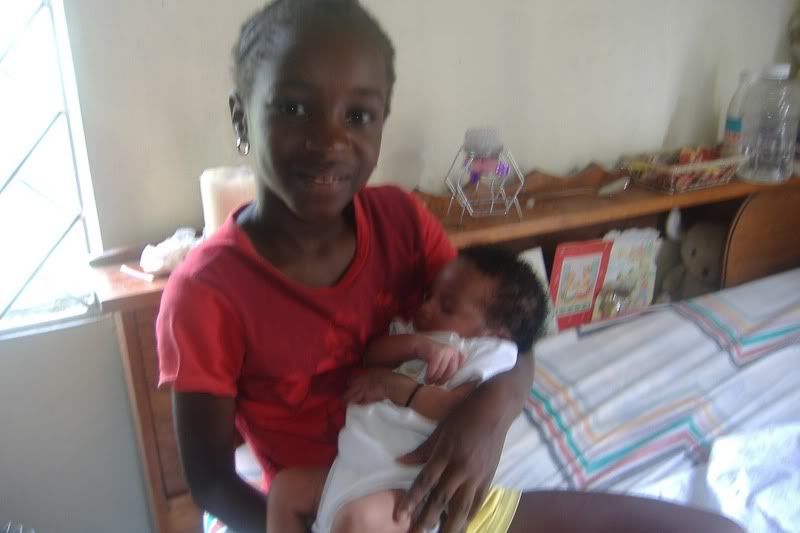 Wednesday, November 29, 2006
Goodbye Fidel?
Will we ever see Fidel Castro leading Cuba again? It looks like that hope is fading fast fast. Four months after his stomach surgery Fidel still is unable to take back up the reins of power. Now, he has admitted to being not well enough to attend his official birthday celebrations. Things to make you go hmmmmmmmmmm

Am not willing to write his epitaph as yet but it looks like the end of the road for one of the most controversial world figures. Sometimes, I have even woondered if he has not already died and the state of Cuba has been keeping a tight lid on it.

Stranger things have happened, right?

Monday, November 27, 2006
It did happen
Today,I went to the doctor for a Breast Examination and a follow up check on some other problems I've been having. I explained the problem am having with my right breast and he says to take off my shirt and bra to be examined.

I know the drill, have been here before so no worries. So he does his prodding and poking,tells me nothing seems to be out of the ordinary and recommends a blood test.Then it gets weird as the touching begins to feel like a caress and some alarm bells begin ringing in my head. As am beginning to get decidedly uncomfortable the touching stops with a request to get dressed.

Heading to the car I tell my friend something weird happened in the doctor's office. "What do you mean?" she says. I reply " Some inappropriate touching took place in there". "Are you sure?" she says. "Yup,I am positive".

Then she hits me with the million dollar question "Why didn't you say something?"

Still can't answer. Maybe it was the shock or plain disbelief but it really did happen.

Thursday, November 23, 2006
Love is
Meeting Ayana for the first time and completely falling under her spell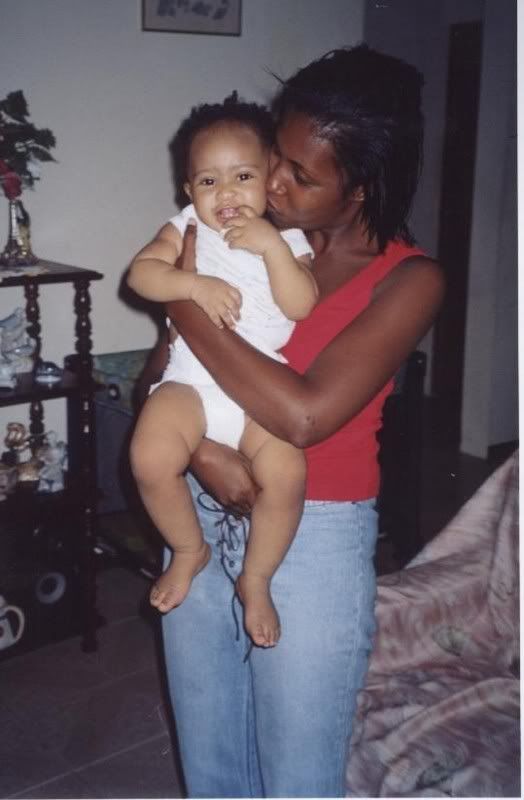 Show some love today and Happy Thanksgiving to my NA friends
Wednesday, November 22, 2006
Spreading the message
Are we winning the HIV war? Sometimes, I think not especially when one hears the statistics. However,recently something happened that gave me hope. A little seven year old girl was shown a man sitting on the steps of a building. Noticing the sores on his hands and face she asked what was wrong with him. On being told he had AIDS she sighed and said "He didn't know he had to wear a condom?"

You have no idea how unbelievably happy I was to hear her response. Maybe the war is not lost after all.

Monday, November 20, 2006
Congrats Kyron
How many times have you heard the saying "What is for a man he must get?" I cannot think of anything more applicable to describe the Digicel East caribbean 2006 Rising stars winner Kyron Baptiste.

Hailing from the dispossessed area of Sandy Bay, home to the indigeneous Caribs he had little or no visibilty in the public's eye. Migration to the Grenadine isle of Bequia in his adult years only served to make him even less visible.

Therefore, in the local leg of the Rising stars competition it was small wonder he placed fourth behind three hugely popular young ladies.At this point he must have been focusing on rentering the 2007 competition.

Then Patrice died, Danielle migrated leaving an opening for the 4th placed Kyron to make it through to the last sixteen. And what a fairytale journey it has been. From being ignored in the initial voting to totally captivating the hearts of Vincentians and the studio audience in Barbados to emerge eventual winner.

I was looking forward to hear his tribute to Patrice but for whatever reason it didn't happen.It would have added a nice touch but at the end of the day am thrilled for Kyron. Somewhere in his story is a lesson about life handing you opportunities and being prepared to grasp them.

Congrats!

Saturday, November 18, 2006
New Blogger alert
Thursday, November 16, 2006
love is
A hug and some wide smiles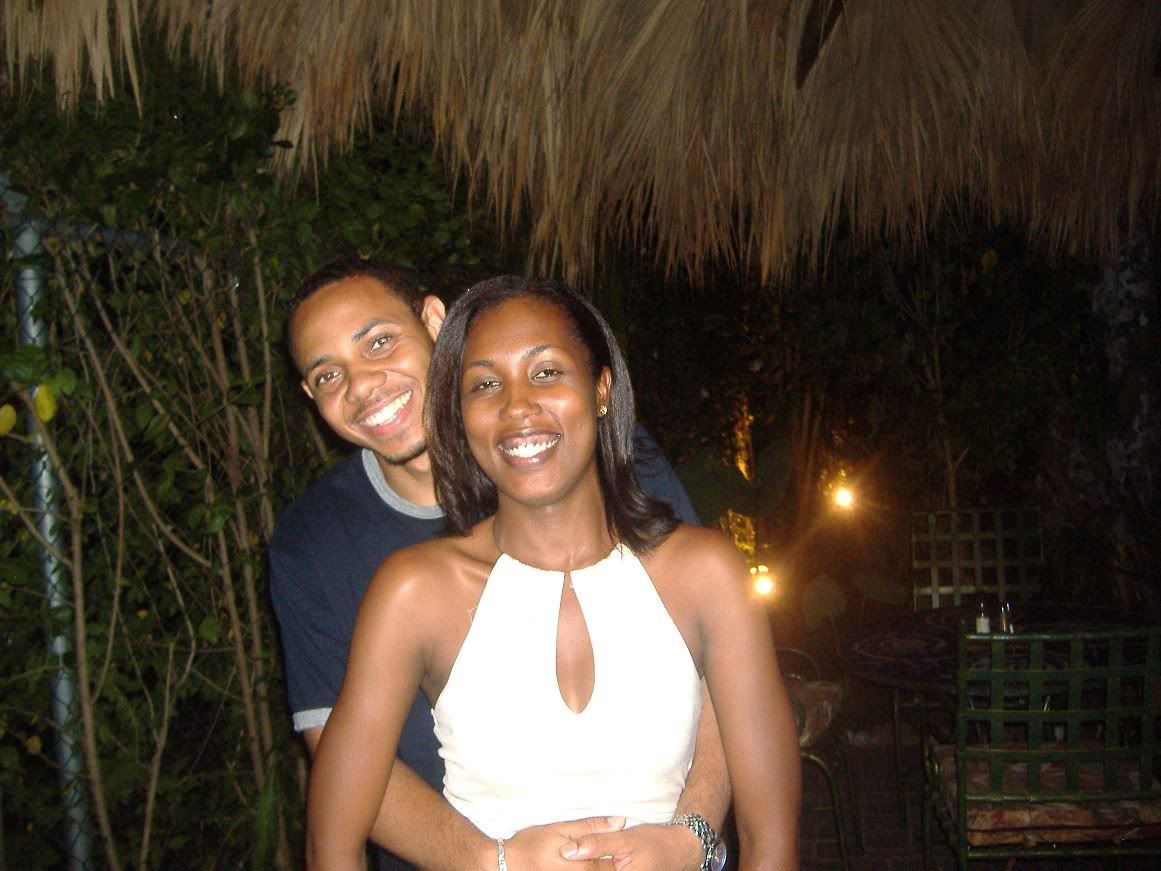 Happy Love Thursday y'all
Tuesday, November 14, 2006
Those Digi pics
Since I started posting Love Thursday pictures I've been going through the numerous pictures on my computer.The majority of these pictures are digital with the remainder being some analog ones that I scanned.

Truth is the digital pics are sharper, picture taking is much easier and downloading is a charm. However, lately I find myself being nostalgic for the almost extinct analog camera. Among other things the cost of transferring digital pics into hard copies is quite high.That must explain why I have only converted about three pics.Let's not forget also the constant recharging of batteries and the annoyance when the batteries just give up on you.

Ever so often I identify the ones I want to convert to wallet size,regular size,etc but it never gets done. Before digicams were the rage I would have had all my photos processed and at a much cheaper rate too.I also find the analog pics to be more true to life in that we don't have the option of deleting until we get the pefect picture.

Yet,I still can't see myself reverting to the dinosaur camera assuming I even remember how to use it. So to satisfy my love for traditional photo albums I would have to start the process rolling and soon.

Monday, November 13, 2006
Yo mash it up
That's what the judges had to say in response to Kyron Baptiste's performances on Sunday night.Tania Clarke who in my opinion possessed the best voice took the third place. Next Sunday will reveal whether Omar Mathurin or Kyron Baptiste will win.

There is a story making the rounds that Allen Stanford has contributed financially to ensure that Omar made it to the final stage.Already,most of the feedback centres around it being unfair assuming the story is true. Now, I can't see why a billionaire would spend a lot of money to ensure that a person gets a 10,000USD prize. But,I don't see what's unfair about it since voting is open to the general public and one can vote as many times as he/she likes.

Last year's winner Kiokya Cruickshank and runner up Kimberley Innis lit up the stage with their guest performances.It brought home the fact that those girls are a couple notches above this year's finalists.Meantime,East Caribbean people keep voting for your favourite candidate.

Friday, November 10, 2006
Godspeed Ed Bradley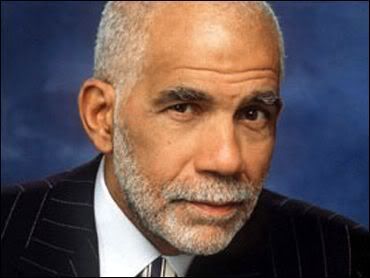 Sunday nights at 8 pm has long been 60 Minutes time at my house.Which 60 minutes junkie doesn't remember this? I'm Mike Wallace, I'm Morley Safer. I'm Ed Bradley, I'm Steve Kroft, I'm Lesley Stahl. Those stories and Andy Rooney, tonight on 60 Mins.Yes, here is where I got my first glimpse of the tall distinguished looking bearded man that was Ed Bradley.As I grew older I began to appreciate how much of a trailblazer he really was. Over the years I saw him conduct some memorable interviews but my favourite was one where he interviewed Muhammad Ali in Cuba.

In that interview Ali aided by his wife and others plays a pratical joke on Bradley.Ali's wife informs Bradley that he sometimes falls asleep and gets violent and starts punching in his sleep. Next thing you know Ali begins to doze off and we hear some light snoring. Suddenly, he throws a punch at Bradley who jumps back in surprise and ALi immediately breaks out in laughter. I can tell you Bradley wasn't the only one caught by ALi that day.

RIP,Ed Bradley.You'll be sorely missed.
Thursday, November 09, 2006
Love is
the first date. Never mind the parents were around there was still time for a little hand holding:)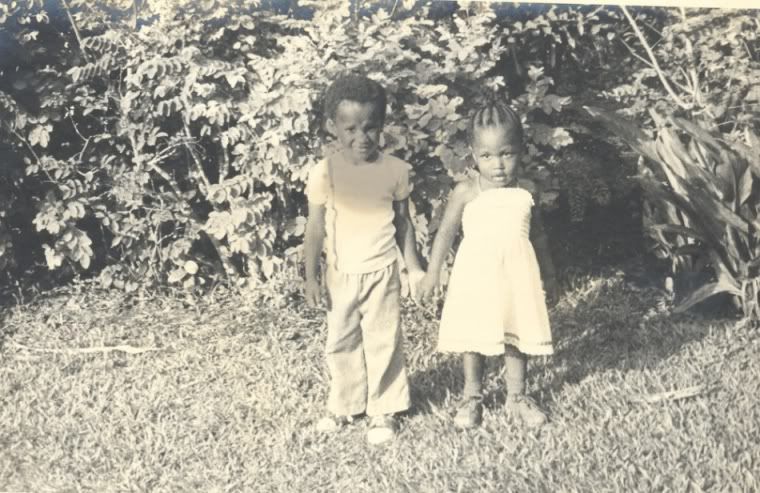 Happy Love Thursday
Update, in reference to questions in the comments: The boy in the pic died earlier this year.But,long before that mental illness had already killed him. That's why I love this pic because it reminds of when life was so much simpler.
Wednesday, November 08, 2006
Rising Star Fever
The temperature is definitely rising as the Eastern Caribbean Rising Stars Competition enters its final stages. It's amazing the way this competition continues to capture the public's interest. With two weeks left to go and three contestants remaining Vincentians are pulling out all stops to ensure that their contestant Kyron Baptiste is the last one standing. From collection boxes displayed in business places,radio announcers whipping up support and the average man on the street soliciting contributions the support is overwhelming. Who said Vincentians don't support their own?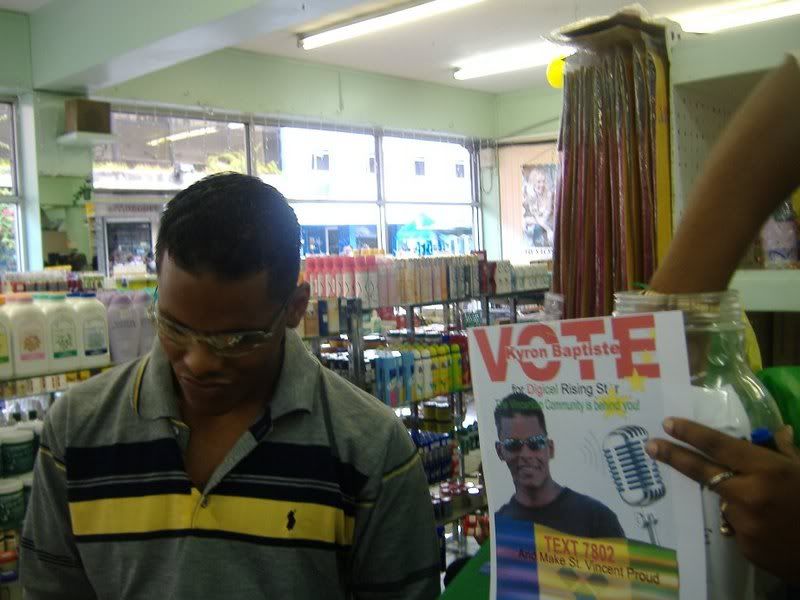 Today at midday I passed by Coreas Dept store only to see a big promotional event involving Kyron himself taking place. Kyron, who was not even supposed to be a Country finalist must be still thanking his lucky stars for getting this far. The death of Patrice Bascombe and the migration of the 3rd place winner opened the door for him. Since then he has made the most of his opportunity although he had a hiccup in the first round of last week's competition. Let me not be nice and admit he sounded terrible in his struggle to stay on key. Luckily,the following two rounds compensated and the race is on for the two final spots. Who from Tania Clarke of Bdos, Omar Mathurin of Antigua and Kyron Baptiste will return next week? I can't say which one will miss out but as the promo goes "it's the votes that count"
Monday, November 06, 2006
My favorite book
Am currently doing a paper on "To Kill a Mockingbird" for my Communications Class. I've said before on this blog that the book is one of my all time favourites. I want to share the following excerpt that just resonates with me.

Neighbours bring food with death and flowers with sickness and
little things in between. Boo was our neighbour. He gave us two soap
dolls, a broken watch and chain, a pair of good-luck pennies, and our
lives. But neighbors give in return. We never put back into the tree what we took out of it: we had given him nothing, and it made me sad.

One time Atticus said you never really knew a man until you stood in his shoes and walked around in them. Just standin' on the Radley porch was enough

Profound,isn't it? Those of you who have not read the book,go get it.

Thursday, November 02, 2006
Love is
Watching High School sweethearts tie the knot. Love you guys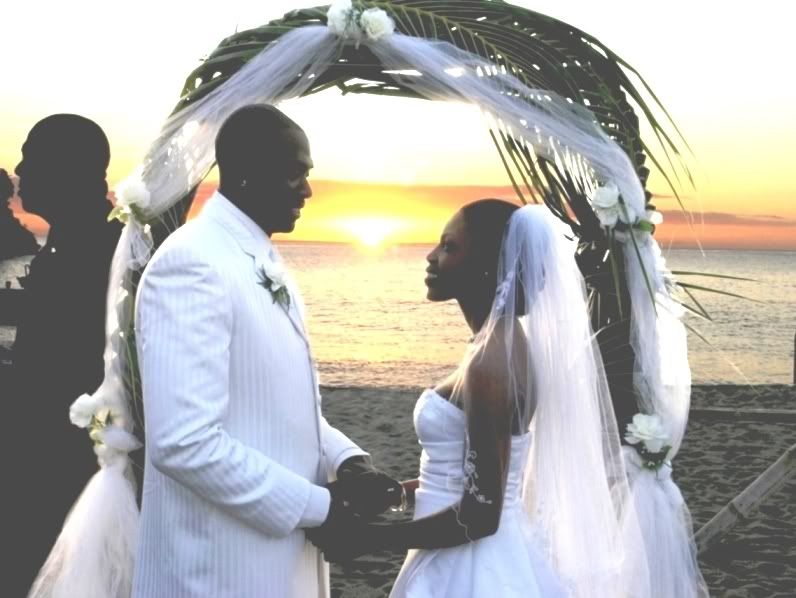 Wednesday, November 01, 2006
Jumbie Leggo
Growing up,every November 1st and second was met with some trepidation.After all ,this was the time when all you heard was the dreaded phrase "Jumbie leggo" used in reference to All Saints and All Souls day. On the 2nd the burial grounds would be transformed to a place of lights as relatives went out to "light up" the graves of their loved ones.

As a child one felt scared at the thought of hundreds of jumbies roaming the area on those two days. Even worse, my grandmother would place a lighted candle on the steps in memory of her deceased relatives. I used to wish she wouldn't since I interpreted it as a light to guide the jumbies home.


Nowadays, am grown and I realise that jumbies do not walk the earth on designated days.The lighted candles do not guide them home but serves instead to keep their memories alive. Not only do I put a candle on the front porch but I make my journey to the burial ground to do my duty.

However, I find myself wishing there was some truth to the old tale. It would be so nice to see the dearly departed if only for two days.