Sunday, December 30, 2007
Windies win..
"Brother, we finally win ah test match. Dem boys make mi heart nearly buss wid joy. Is nearly eight years yuh know dat we ent win a real team overseas. Bro, Ah dunno how I ent dead from di shock and joy". Words, spoken in church by one elderly gentleman to another in the wake of West Indies historic win over South Africa.

From where I was sitting, I smiled and thought how much cricket must mean to men of that generation. I thought their joy must really be unbridled seeing it was the first test win on South African soil, first away win to "real" opposition since 2000 and first test win since 2005. That translates to serious drought and despair for many a fan with precious little to be happy about.

This victory is so huge given the history of South African tours. Lest we forget,the rebel cricketers broke the hearts of many when they followed the lure of money to then apartheid South Africa. Years later, the first official tour by a West Indies team ended with an ignominous 5 nil drubbing. It's often said cricket is a game of glorious uncertainties although with West Indies the outcomes are usually certain. However,this time the saying lived up to its billing and thirsty fans are savoring the moment.

Wednesday, December 26, 2007
Christmas images
Opening of Gifts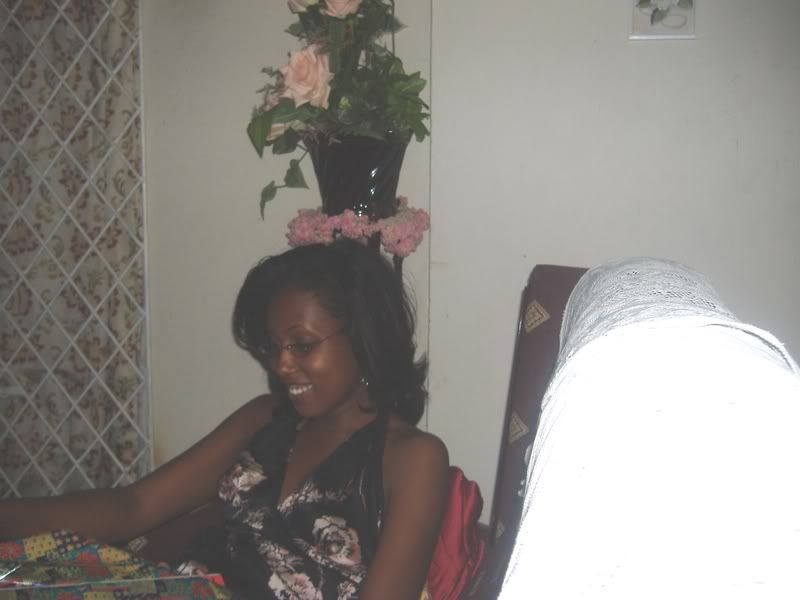 Christmas food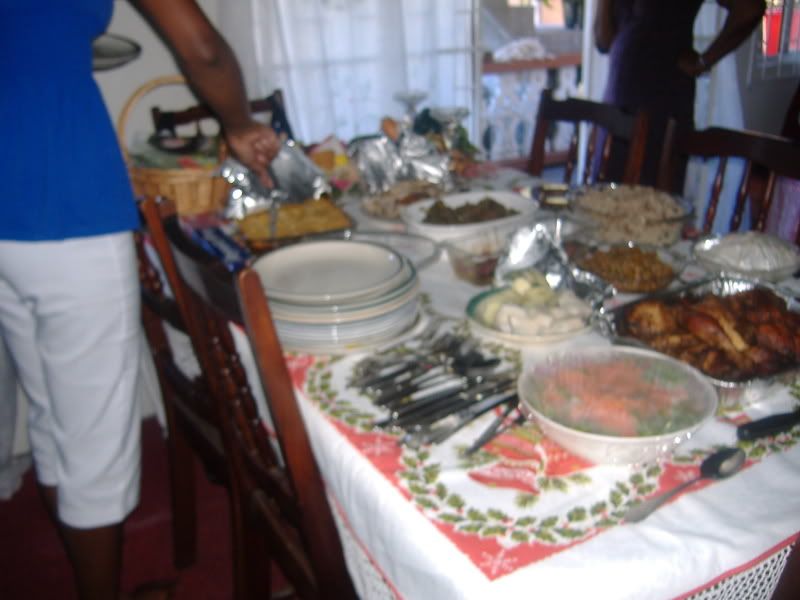 Ethnic behaviour after consuming said food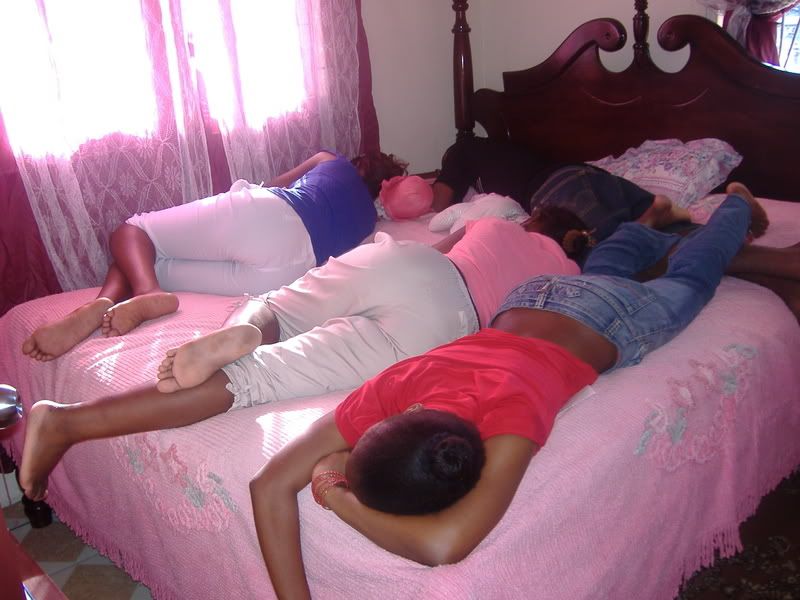 Monday, December 24, 2007
Try a little kindness
It's Christmas Eve and all through the land people are busy getting last minute shopping done or beautifying their homes. Today, on my way to the bus stop I saw something that touched my heart. Sitting under a gallery was an old man dressed in some filthy clothes and no doubt homeless. As I approached where he was sitting I heard a young girl probably about nineteen ask him if he wanted some. I didn't hear or see his response but I saw her pass over the cup of soup she had most likely bought a few minutes ago.

As I mentally applauded her for her act of loving kindness I felt good about us as a people. She gave me hope that all is not lost, despite the growing gun violence and the individualistic tendencies we are adopting more and more. That act of kindness is what it's all about especially at this Christmastime.

Sunday, December 23, 2007
You know you getting old
When at 4 am you prefer the warmth of the bed than going Nine Mornings

When you prefer to clean the house rather than go hanging with friends

When said cleaning leaves you so tired that you had to miss out on a Cmas fete

When shopping leaves you so exhausted that you stay home and watch tv rather than go to Victoria Park for Carolling

When Christmas doesn't fill you with eagerness as before

When you are more concerned with gift giving than receiving

Still not too old to say Merry Christmas to all my blogging buddies

Merry Christmas y'all

Wednesday, December 19, 2007
Technostress
Since around last Friday I've been having problems with my monitor and you won't believe the level of stress it caused. First, there was mild panic when the screen started flickering which quickly escalated when the screen began shrinking.

Even though I've had access to other computers the idea of mine not working is almost unbearable. I know, I know I need help. As my friend pointed out yesterday we have grown too accustomed to technology. I couldn't even disagree because am always irritable when the television or the net is down. Weeks would pass and I won't even feel the urge to turn the television on. However, the minute I step foot in the house the tv is switched on. The funny thing is that even if am not paying attention(which is most times) it still has to be on.

There used to be a time when I was madly in love with books.It wasn't uncommon for me to read two or three per week but these days am lucky if I read two per mth. I still love books, would still take my last dollar and buy that must have novel or text but the restlesness I used to feel when there is nothing new to read is gone.

Anyway, service is back to normal and happy days are here again.

Sunday, December 16, 2007
Windies win
While idly flipping channels I ended up on Sportsmax and saw the most amazing score. I had to do a double to ensure that the score was really 7 for 4 and the west Indies were not batting. So, instead of watching American Gangster we ended up watching the drama that was the Twenty20 or Thirteen13 game.

I must say some bets were on South Africa to bowl out Windies for 30. However, despite some hiccups the West Indies knocked off the 59 needed for the win. Wins, especially against higher rated opponents are so rare that they are celebrated with much gusto as was the case in my neigbhbourhood. One could be forgiven for thinking that Christmas came a few days earlier.

Tuesday, December 11, 2007
Feeling more Christmassy
It's definitely beginning to feel like Christmas. The streets of Kingstown are crowded, Money Gram and Western Union have long lines of grumbling patrons who are frustrated at the wait.

On the street,every vendor is promoting the deal of the lifetime. As for the Customs, it's sweet madness as persons go through the process of clearing their barrels,boxes etc.

Mentally, I've already spent far too much money so hopefully I will be more restrained in the actual buying. If not, I can at least console myself that it is the season or that I really needed the stuff, can't I?

Saturday morning the Nine Mornings festival begins. I can't promise my self to be outta bed for 4 am or thereabouts but I know am checking out a couple mornings.

Despite all the Christmas feelings, am a little sombre this morning. Today, Dec 11th is the the day that Stacy Wilson met her gruesome end. The evil and senselessness of it all still boggles the mind. Spare a thought for her relatives who must be so distressed this time of year.

Saturday, December 08, 2007
Early Cmas present
Today, while in Kingstown I happened upon a most pleasant sight. Right on Halifax St and directly opposite the National Commercial Bank; a new restaurant, specialising in Jamaican patties had opened its doors to business. Naturally, being a lover of the authentic stuff I had to go check out the offerings and make a purchase.

No longer would I be at the whims and fancies of returning UWI students to get my fix. No longer would I have to bug my relatives to send me some if they know of anyone coming to SVG. On second thoughts, I would still want my relativs to send me a box but you get the drift. Life is good, so good that I had to excitedly share the news to some fellow "pattieholics".

Now,if only I could find a way to get a regular supply of Walkerwood seasonings.

Thursday, December 06, 2007
My reality show
What happens when e-harmony fails to find you a match? You start thinking of your own reality show. How does I luv Abeni, Everybody luvs Abeni,
Abeni's flava of luv(apologies to Flava Flav), Abeni's kaiso of love(sorry Bret Michaels) sound?

I think I've watched enough "dating" based reality shows to be able to adapt the necessary diva attitude. Note to self: Start practicing the pouts, the head tossing, the swearing, the crying on cue. On second thoughts the divas lost out so I guess I'll have to tone down on the "divatude". However,toning down won't make for good tv so am betting I will have egg on my face by the time the show ends.

Now,all I got to do is pitch the show to Digicel.With the public texting and or calling to vote off contestants they can't lose. That way too I can trust the audience a la "Who wants to be a millionaire".

CaliJ, Marc, Stunner,Leon et al "Do you have mad love for Abeni"? Then crowd around your woman and start sending in the applications.

Tuesday, December 04, 2007
UWI sucks
I hate to admit it but really they do. Imagine a month has already passed and a student cannot get a response to a query? No one in the administrative department is even courteous enough to acknowledge receipt of several queries. This is very unacceptable and contemptuous behaviour from the premier educational institute in the Caribbean.


And,what's the deal with putting some courses online yet students still have to go to a classroom to do the exams? Methinks,either you are online or you are not. I just wish all the students could go off to full time universities since distance students are treated like step children.

Saturday, December 01, 2007
Another World AIDS Day
According to UNAIDS estimates, there are now 33.2 million people living with HIV, including 2.5 million children. During 2007 some 2.5 million people became newly infected with the virus. Around half of all people who become infected with HIV do so before they are 25 and are killed by AIDS before they are 35.

What to do? I think the leadership theme chosen for 2007 is spot on. Leadership, highlights the need for innovation, vision and perseverance in the face of the AIDS challenge. The campaign calls on all sectors of society such as families, communities and civil society organisations - rather than just governments - to take the initiative and provide leadership on AIDS.

Is it enough? we can only hope.

From Avert.org