Friday, June 30, 2006
Pirates
From time to time you can hear recording artistes complain to any who would listen about the way in which their material is pirated.Wednesday,the artistes stepped it up a notch by picketing outside the Court House as part of an anti piracy public awareness.

According to music producer Adrian Bailey,"the issue is that we are not collecting any revenue at all because the pirates are collecting the stuff and selling them even before we could get the chance to put them on the street," Even more dammning was his claim that employees of the radio stations leak promotional copies to pirates who then are in a position to sell cheaper on the streets.

I agree that these artistes make their product at a significant cost and of such would love to reap the monetary rewards.On the other hand each sale by the pirate represents a loss of legitimate sale which deprives everyone of profits.However,it would be very hard to eradicate piracy despite the best efforts of the authorities who have begun to clamp down on vendors.

Am not convinced that many think buying a bootleg CD is wrong per se.If it can be obtained at a cheaper price,why not?.Even better if you can obtain a CD with music from various artistes and it begins to look like good business sense. Furthermore,at the moment of money exchange nobody is thinking that Artiste X is losing a sale here.I expect a few vendors to be prosecuted but ultimately I don't see the problem going away.

And now a little World Cup news.Once more Argentina has dashed my hopes with another quarter final loss.And that's all am gonna say.Have a good weekend,bloggers.

Wednesday, June 28, 2006
Football fans healed
From
ananova.com
comes this amusing(to me anyway)story.
Three Argentinian football fans were thrown out of their team's World Cup clash with Holland for pretending to be disabled.
The fans bought wheelchairs and then bought special cheap tickets reserved for disabled fans to get into the match.
But their ruse was discovered when one of the trio got carried away by the game and started jumping up and down.
One of the three, who gave his name as only Gustavo, told Folha de SP: "Our friend couldn't stop jumping and a person near us thought there was a miracle happening."
Another of the group, Claudio, added: "We are embarrassed by what we did, but we had no alternative. We did not have the money to pay for a ticket."
Monday, June 26, 2006
Calling Jamaican bloggers
On July 24th,yours truly will be touching down in Jamaica and departing on Aug 7th.Naturally,I wanna link up with y'all in similar fashion to the last link up.So take this space to start planning which day and where we are gonna to have the hangout.Women bloggers you got to show up this time! MB,RI and Trouble am giving you enuff notice to fly over:)
On another note as part of a friendly wager I have to concede to Googly 1961(a blog reader and fellow member of
Caribbean Cricket.Com
) that he knows more football than me.The thing is I wagered that Holland would win Portugal but I ended up on the losing side.Not even sure I can call Sunday's game football since it was more like a war zone.Hmmm.should I really be held to the bargain?...lol
Thursday, June 22, 2006
24 hrs left
verseone
tagged me and here goes.If you had 24 hours to live what would you do?
1.Ask the Man above for some extended time.If he says no then I'll
2.Tell my loved ones how much I love them and how much they meant to me
3.Make a will
4.Plan my funeral.Make a detailed list of all the songs,scripture readings,choose my eulogist etc.
5.Make my peace with God
6.Log into MSN etc and explain my soon to be absence
7.Try skydiving or something along that line since it doesn't matter if the parachute fails.
In reality I probably would be too spooked out to do anything:).On another note,anybody knows what has happened to Shotta Marc? No goodbyes,nutten,just pull one big disappearing act
Tuesday, June 20, 2006
Cry the beloved country
Many years ago the Caribs called this island Hairoun which means Home of the Blessed.Since then we have spoken of ourselves as blessed or the natural place to be.

Mother Nature has been kind sparing us from direct hits by hurricanes and catastrophic volcanic eruptions.However,the tide of violent crimes and general lawlessness pervading the island seems intent on making a mockery of our billing.

There used to be a time when I heard of a crime that the perpetrators would be strangers.Nowadays,am finding out that too many of the perps are people I grew up with,went to school with or are passing acquaintances.Just this past weekend,a girlfriend has had to move from her home fearing reprisals over a shooting incident that supposedly involved some of her family members.I have resigned myself to the possibility that pretty soon these gangsters lives will be over unless they experience some sort of epiphany.

I long for the island where,not so long ago doors could remain unlocked,where burglar bars were a rarity and there was a strong sense of community.Now,we hear of drive by shootings,execution type killings and gang warfare.Nobody seems to know where it started and how it will end.In the meantime news of killings are increasingly met with a weary resignation.What to do?

Sunday, June 18, 2006
Happy Father's Day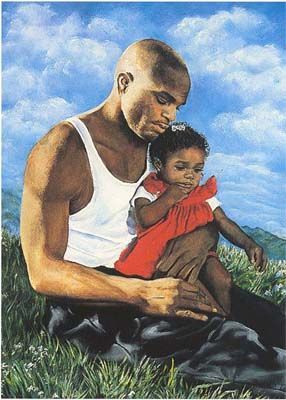 We all know this day does not get as much press as Mother's day.We also know many children grow up without the presence of a father in their lives and of such the day can awaken feelings of bitterness or just plain nonchalance.On the flip side there are many wonderful fathers who do not shirk their responsibility and are totally involved in the lives of their children.To the latter,I say congratulations for the wonderful job you do and to the absentees it is not too late to mend some fences.Happy Father's day to all in Blogland.
Friday, June 16, 2006
Safe Sex dress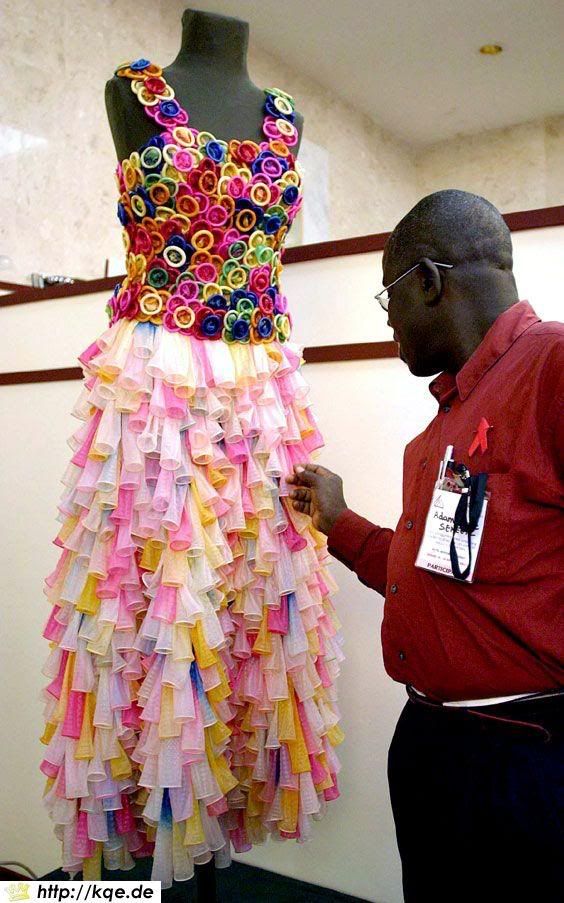 Got this via email and just had to share.Who knew condoms came in so many colours?
Wednesday, June 14, 2006
Hellbound
Am going straight to hell.Not only did I go to see BrokeBack Mountain but I also argued for tolerance.Secondly,against the urgings of the pastor I still went to see DaVinci code.To tell the truth I was disgusted when I heard him announce that we should not view the movie.Why can't I use my own judgement and decide what I should or shouldn't see?

Anyway,the minister needn't have worried since Christianity has not collapsed based on the reaction of the movie goers.There were several loud "no's" mixed with "I can't take this" when it was revealed/suggested that Jesus was married and had an offspring.There were some quips too but for the most part the tone was of disbelief.As the movie rightly said it's simply a matter of what you believe.

Overall,after having the read the book the movie was flat.I won't go as far as calling it boring but I expected more.Tom Hanks didn't light up the screen and neither did his costar.But,for Ian Mckellen(Gandalf of LOTR) who played Sir Leigh Teabing the acting was generally lifeless.

In other news,am a happy camper.My cable company has apparently yielded to pressure or grown a heart.Whatever the reason coverage of all WC football games is on my television from tomorrow.Now,if only I could find a way to skip work I'd be even happier.

Monday, June 12, 2006
Hallelujah
Excerpts from article by Gardiner Harris of the New York Times.

Federal drug officials on Thursday announced the approval of a vaccine against cervical cancer that could eventually save thousands of lives each year in the United States and hundreds of thousands in the rest of the world.

The vaccine, called Gardasil, guards against cancer and genital warts caused by the human papillomavirus, the most common sexually transmitted disease. It is the culmination of a 15-year effort that began at the National Cancer Institute and a research center in Australia, and health officials described the vaccine as a landmark.

Federal vaccine experts are widely expected to recommend that all 11- to 12-year-old girls get the vaccine, but its reach could be limited by its high price and religious objections to its use.

Merck, Gardasil's maker, said a full, three-shot course would cost $360, making Gardasil among the most expensive vaccines ever made.

"This is a huge advance," said Dr. Jesse Goodman, director of the Food and Drug Administration's biologics center. "It demonstrates that vaccines can work beyond childhood diseases to protect the health of adults."

The vaccine prevents lasting infections with two human papillomavirus strains that cause 70 percent of cancers and another two strains that cause 90 percent of genital warts. But if girls have already been exposed to those strains, the vaccine has no effect, so health experts want the vaccine given before girls have sex. The median age at which girls have sex is 15.

Cervical cancer is the second-leading cause of death in women across the globe, affecting an estimated 470,000 women and killing 233,000 each year. Widespread use of Pap smears has reduced its toll in richer nations. In the United States, about 9,710 women contract cervical cancer each year, and some 3,700 die.

Hopefully,soon a day will dawn when cancer can be cured.Well,a girl can dream for a second,right?

Saturday, June 10, 2006
World Cup Fever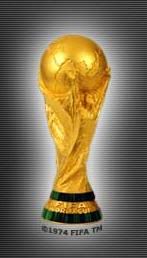 As everybody knows the FIFA Football World Cup kicked off yesterday in Germany.I used to be a big football fan but lately my interest has waned.Nevertheless,am still aware of who's who in the football world even though I don't follow them as fanatically as I once did.So,the big day dawns and I,of course am looking forward to the opening game.I switch the channel to 9(local broadcasting) and nothing.Ok,no need to panic let's just try another channel.Espn has tennis and ESPN2 is not part of regular cable package.What's a girl supposed to do? All is not lost yet,there is channel 68 which covers everything ranging from Intl cricket to beach volleyball.Surely,they must be carrying WC football.

Bingo!Game on,never mind the commentary is not in English it's all good.Then midway through the first half coverage suddenly disappears.The Gods of television programming are waging war against me and winning.So the bald facts are if I(and any other Vincy in this predicament) want to see WC football I got to purchase the box and the sports programme package from the local cable company.And herein lies the dilemna seeing that I have on a point of "principle" never intended to buy any more of the additional programming.But as I type,I can feel my resolve waning.Damn you,SVG TV!

BTW,Go Argentina. Update,ABC currently showing Eng and Paraguay so I may yet not have to succumb.
Wednesday, June 07, 2006
The Rapes Continue.
In recent times this country has received more than its fair share of negative publicity in the international press.First there was the Fletcher case where well to do Americans were charged with the murder of a water taxi operator in Bequia.Ted Koppel of Nightline did a number on the island and Greta Van Susteren put the icing on the cake.Next was the Heath murder case where a South African woman met her death aboard a yacht at Cumberland.The husband,who most felt was the perpetrator waged an internet battle against the island.

Now,we appear poised to feel more backlash following the rape of two American teenagers and the physical attack of their mother enroute to the La Soufriere volcano.With the US Embassy already making noise we stand a chance of being "Arubanised" This annoys me on two counts.First,this country spends considerable amount of monies on Tourism.The Tourism Dept declares "we are the natural place to be" in an effort to entice visitors to our shores.So,when we attract a few we want them to go back with glowing tales of their visit and not with horror stories.

Secondly,in a previous blog entry I had expressed concern about the growing incidences of rape in this country.Something must be seriously wrong with us as a people when rapes are becoming so commonplace.Am beginning to think that penalties for rape should be revisited.If I had my way anyone found guilty would get nothing less than a life sentence.Some people argue for castration but I feel perpetrators would have forfeited their right to remain in society.And if there is any justice in this world hopefully they would be subjected to a taste of their own medicine while incarcerated.

Monday, June 05, 2006
The thing called service
Friday night I decided to take my guests along with some other girlfriends for a night on the town.After some deliberations we decided to visit Restaurant X which is relatively new but fast gaining a reputation for serving good food.

We get there around 8.45 pm and by 9.00 our orders were placed.Nothing left to do now but enjoy the drinks and chat while we waited for the food.And what a wait it turned out to be! Alarm bells started to ring when 45 minutes passed and still no sign of food.One hour went by,still no food and even worse the waitress didn't see it fit to explain the delay.

To add insult to injury we notice a table where the persons came in about an hr after us being served.At this point it was necessary to have an audience with the manager.He expressed shock that we weren't all served as yet and went to the kitchen area to find out what the problem was.He came back offered some apologies and as a compromise/peace offering decided those of us who got late service would not pay for the food.It makes one wonder what constitutes late service seeing nobody got their early.Actually,it was 11.15 when the last person got their food,a wait of 2 hrs and fifteen minutes.But there wasn't any way he was going to let the entire table get away without paying.

The last bit of angst was when we received the bill.After assuring us that there was no service charge and three meals were free the bill was exorbitant.It turned out that three meals that we didnt even get were on the bill.I had to wonder if they didn't expect us to check it.

Needless,to say that's it for me and that place.I keep saying service in this place and I daresay region sucks and invariably am proven correct.As one my friends put it "They wanna charge first world prices while giving third world service".Would you believe one the girls wanted to leave a tip? Tipping,really must be the fashionable thing but am I happy to be outdated.

Friday, June 02, 2006
Common Entrance Day
It's Common Entrance day in st Vincent and the Grenadines-one of the more nerve racking days in the lives of both parents and children.Thousands of nervous boys and girls will march into one of the island's examination centres and hope they do well enough to enter a top school.

Thankfully,we have moved towards universal secondary education which means each child is assured of a place in a secondary school.This is in stark contrast to when the life of the child that failed Common entrance was effectively over.A fortunate few would be succesful in the School Leaving exam and gain entry to a secondary school while the remainder would just fade away.

The universal education while excellent is not foolproof nor is it a cure all. Frankly, many of these children are really not up to the standard required for secondary education.You'd be surprised how many children get to Grade 6 and cannot read.My hope is that the remedial aspect be given a lot of attention as well as pointing children who are not academically inclined to attaining a skill.

Good luck little ones