Thursday, March 29, 2007
Bridge over troubled water
Yesterday,saw the opening of the Rabacca bridge a project done in collaboration with the Taiwanese and Vincentian governments. It was realisation of a dream that many including myself thought was impossible and rightly opened with much fanfare.
Legend has it that the Rabacca river was a mighty flowing body of water until an eruption dried it up. Not sure how true it is but the Dry River has always been a fascinating bit of Vincy history. From time to time the river comes down rendering it impassable and preventing persons from crossing. Therefore in times of natural disasters it is a nightmare to move the persons living above the river to safety. When you factor in that the mainly Carib population literally lives below the active Soufriere volcano then you understand how important this bridge is. I've also heard stories of how hundreds died in the 1902 eruption because lava flows in the river prevented crossings.
I welcome the bridge and trust that the doom and gloom predictions of it being washed away does not happen.I just don't get why it was a public half holiday for it's opening. Ok,I understand that the Govt wants to get some mileage and show their strength especially in the wake of the Opposition's protest march. That would explain the mobilisation of supporters decked out in party colours. I guess am just hopeful that governments will one day understand the difference between party and Government events.
Labels: La Soufriere, Rabacca bridge
Sunday, March 25, 2007
Redemption Songs
I didn't want to go to church this morning but I was happy I went. I didn't even remember the anniversary of the Abolition of the Slave Trade until I saw the pamphlets that were given out at the door. The service dealt with the steps leading up to its abolition as well as the idea of freedom.
During the moment's silence I couldn't help but wonder what it was like for the millions ripped from their homes and transported to the New World. The only comparable thing I could think of was if a spaceship were to land on Earth,gather us humans and take us to some unknown planet to be ruled by aliens. That was one harrowing journey across the Atlantic to begin the dehumanising life that was slavery.
It's strange how we have grown up with little or no knowledge of our history. Nobody really pays any attention to milestones like these and if it were not a bicentenary it would have passed unnoticed. I guess many just want to forget slavery ever existed or they just don't feel connected to the events which is a real pity.
Funny how after all these years we still believe much of what our masters fed us. We still talk of good hair,raising our color etc etc. Fittingly, due to the foresight of the vibrant young minister Bob Marley's Redemption song was sung by the congregation. Got to commend the older folks who willingly sang along because it wasn't always like that. Bob would have been so proud as one my friends remarked. As for the enslaved what else did they have but Redemption Songs..these songs of freedom.
Labels: Bob Marley, Slavery
Friday, March 23, 2007
Bloody Murder
From CNN to the BBC to Caribvision all the talk is about Bob Woolmer's murder. Yes,it's official that the man's died of asphyxiation caused by strangulation. Thank God he not American or it would have been Natalie Holloway all over gain. By now Greta Van Susteren and crew would have already swarmed Jamaica interviewing anyone who was within three ft of the man. Thank God for small mercies unless the South African equivalent plans to launch a media assault.

Then there was Andrew Flintoff drinking way too much and almost going to a watery grave in St Lucia. One entrepreneur(the owner of the bar where Freddie did his drinking) has capitalised on the drinking binge and now in his honour has a new drink called "rock the boat". Way to go dude, nice sense of humour and a novel way to cash in on the events. Who knows the boat owners may soon market the "Daredevil ride". Freddie must be somewhere smiling wryly at his notoriety.

Wednesday, March 21, 2007
Net woes
There are times when I literally hate my ISP. It's not that you don't expect down time but when it lasts for four and five days it's a whole different ball game.

And what about those customer reps with their robotic and condescending manner of speech. Did you reset the modem, maam? Yes, after all by now you the drill. I'll have one of our technicians call you and of course it doesn't happen. Worst of all is when the ISP doesn't think you deserve a rebate for the "down time".

I really didn't mind the absence on the weekend since I had school deadlines to meet and won't have been online much. I resented the brush-offs from from Monday morning and waiting on the call that never came. For now,all is well Internet wise but I not holding my breath because the "down times" seem to be getting more and more frequent. Hmmmm, come to think of it maybethe Internet God is helping me cut down on my bad net habits or do I just need a new Provider?

Tuesday, March 20, 2007
Upsets
What a day of upsets Saturday was .I couldn't believe my ears when I heard that Ireland,yes Ireland had beaten the mighty Pakistanis.Even worse Pakistan the number 4 ranked ODI team is out of the tourney..Who woulda thunk it! Not me for sure even given the fact that Pakistan is as much an inconsistent team as West Indies.
Additionally, Bangladesh played out of their skins to beat India by 5 wickets. Gotta love the way Bangladesh is slowly getting a giant killer reputation by beating big teams like the Australians,Pakistanis and now the Indians.No wonder their grouping was called the Group of death because right now India is under some pressure to qualify.
I wonder what other upsets are in store in this upcoming week or even for the entire tourney. I bet some big name teams are all of a sudden much more cautious.It should make for some interesting times ahead. Won't it be cool if say Bangladesh were to lift the cup on April 28th? Okay, I may be getting ahead of myself but Saturday's games prove that the seemingly impossible can and do happen.
Side note..Really sad to hear of the death of Pakistan's coach Bob Woolmer. I'll always remember when he was South Africa's coach and he came up with the idea of having Hansie Cronje wear an ear piece so they could communicate.May his soul rest in peace.
Labels: Bob Woolmer.Ireland.Bangladesh, CWC 07
Thursday, March 15, 2007
Love is
A tender moment between a father and son
Monday, March 12, 2007
Kassav and Blues Fest
For as long as I could remember I've been preaching the gospel of Kassav to anyone who would listen. So,when they were featured as one of the acts on last weekend's Blues Festival I knew only death or serious illness would keep me away. It's been a long time I've been this excited over anyone not named David Rudder performing live.

And the creators of Zouk music out of Martinique did not disappoint all. I tell you even though there was a language barrier the rapport they enjoyed with the audience would be the envy of many English speaking acts. Very few if any understood the lyrics but that was secondary as we gyrated to the infectious beats which was well worth the 75ECD tab. There was a small scare when Kassav left the stage without playing their signature song "Zouk la sé sèl médickaman nou ni" (Zouk is our only medicine). But,it was only temporary as they came back to bring down the house with the Zoukla song.

Only problem was Kassav ignored all the shouts of encore,encore. Hopefully,they come back soon to thrill us . One bit of sourness was the cool reception Kyron Baptiste got from the public but that's a whole nother story for a different blog. Y'all should give Kassav a listen and report the experience to me.

Friday, March 09, 2007
That Windies team
The West Indies cricket team is like the little girl with the curl. When they are good, they are very good and when they are bad they are horrid. Today,was another in the horrid themes we have become so well acquainted with.
Playing their last warm up game they were skittled for 85 in just 25 overs. India, then proceeded to knock off the measly total with consumnate ease. It couldn't have happened at a worse time seeing that in a few days time the real games begin. It's not so much that they lost but more the way that they were steamrolled. More than likely they would have wanted a confidence booster going into Tuesday's game and not this sloppy performance.
Now, the onus is on them to put today's game behind them and come out fighting. Not sure how easy it will be to do but somehow they have to raise their game. We wait with bated breath to see which West Indies team will show up on Tuesday.
Labels: CWC 07, West Indies cricket team
Wednesday, March 07, 2007
It's here
This week CWC 07 finally came to the Caribbean. Here in St Vincent our warm up games got underway on Monday with the very one-sided England/ Bermuda clash.
I am still a bit worried, however, about the wisdom of spending so much money on mere warm up games given the state of our economy, but that is what cynics like myself do. We wonder if even in the long-run we will be able to recoup the costs or at least a significant part. $40 millon or $57 million ECD, depending on the source is an awful lot of money spent on a sport that seems to be in its death throes. In addition, Regional Limited Overs semis and final were played to virtually empty stands.
So far,not surprisingly the crowds have been sparse but all that should change when England and Australia play on Friday. Well,that is if the restrictions do not serve to turn off patrons. Judging by callers to the talk shows many are turned off by the restrictions on iceboxes, security details, permission to take conch shells and the quietness of the ground.This morning I even heard a woman complaining bitterly that she won't be able to celebrate 6's and 4's the West Indian way. Somehow,I don't think even the ICC is strong enough to prevent the jumping up etc but she remains convinced.
As for me, I'll hear how it all went or see from the comfort of my house.
Labels: CWC 07, St Vincent
Monday, March 05, 2007
Oh Geez
Friday night am watching the local news and I hear that the Police has made a breakthrough in an unsolved crime. I silently give them some props since a few hours ago I had read in a newspaper that an arrest was made in a one year old murder. Then,I hear some jaw dropping news. The person arrested for a double murder in late 2005 is none other than a Policeman.
Oh yeah,the person who is supposed to be protecting us is now the criminal. The hierarchy of the Police Force expressed their shock and disgust and I felt uncomfortable for them. Policing, in these times is difficult enough without having to deal with this PR nightmare. At best we have a love/hate relationship with our law enforcement officers and am sure this incident is not going to improve matters.
It won't be fair but we all know the tendency to paint everyone with the same brush. One can expect to hear "them killers" added on to all the less than complimentary names that the Police are called daily. As for the disgraced policeman with the dubious distinction of being the first officer charged with murder his main worry was whether or not he was going to lose his job. Somehow,I think he won't be on the beat again regardless of the trial's outcome so that's one less worry. Lawyer fees,sentencing and reflection on his decision should be more than enough to occupy him.
Labels: law enforcement, murders
Friday, March 02, 2007
Protest time
It was Carnival Monday last Wednesday in Kingstown. Dressed in yellow t-shirts the supporters of the Opposition New Democratic Party took to the street to demonstrate against crime,corruption and victimisation amongst other things.
All it needed was some loud amplified music to go with the traffic diversions to really make it similar to a Monday jump up. Interestingly,the demonstration took place in the hot noonday sun but still many justified by their cause braved the weather.
At the heart of the demonstration was the release from prison-under the guise of national security of a convicted drug dealer a few months before his 22 mth sentence was up. The Prime Minister subsequently said that the ex con gave information that was able to prevent the murder of a second prosecution witness. Apparently, there was also collusion between prison officers and convicts involving use of cell phones etc. I don't think the demonstration should have come as any surprise. Opposition parties worth their salt have always capitalised on what they see as Governmental mistakes.
Lately,demonstrations have become a huge part of our culture. Sometimes,it seems the only way things get resolved is when there is a strike,go slow or some picketing. That's not to say demonstrations are necessarily bad since it's all part of a healthy democracy. Learning the lessons from the demonstrations is what seems to be difficult for our Leaders on either sides of the fence.
Labels: demonstrations
Thursday, March 01, 2007
Love is
Rocking your little niece to sleep.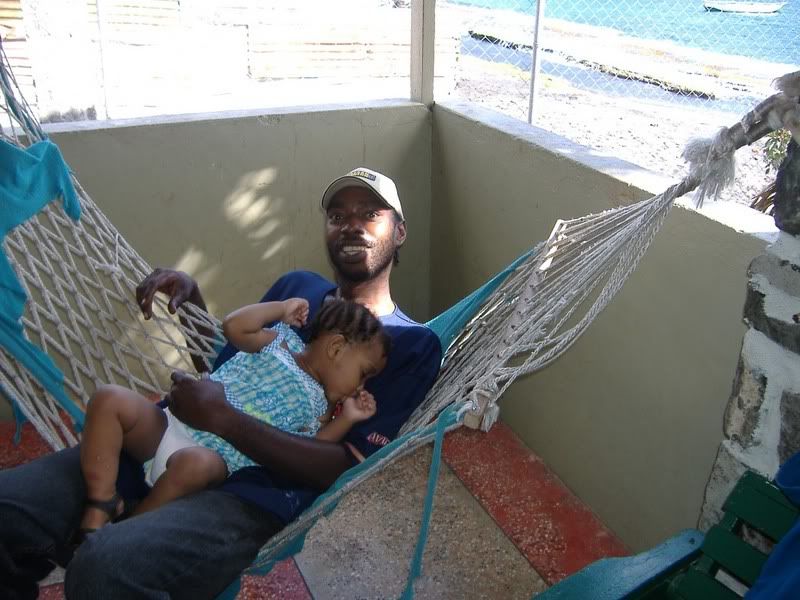 Happy Love Thursday