Thursday, August 31, 2006
President Bush's iPod:
The Complete Playlist
Got this in my inbox and thought I'd share.Speaking of Ipods I had some heart stopping moments this morning when I couldn't find mine.In a few short weeks we have become inseparable so you can imagine the relief when I found it.Now,the love affair can continue.
Tuesday, August 29, 2006
The joys of teaching
Teaching can be frustrating,stressful and at times may seem unrewarding.It's even worse when the school is looked down upon, by the society, as a 'no good','waste of time'institution. However,occasionally you experience some moments that make it so worthwhile that you forget all about the negatives.

One of those moments is the joy of seeing a student from a disadvantaged background excel.When Omar Brown joined the school it was apparent that he was an intelligent young man.It was also quite obvious that he needed financial help if he was to remain in school.

A willing alumni stepped into the breach and provided the funds that were needed to keep him in school.Graduation Day and his boy-proving that the efforts were not wasted was the Student of the Year.A couple months later and this time the prize was being the school's top performer at CXC.

Congratulations from an unbelievably happy teacher who is proud to have been part of the team.Keep striving for the best.

Saturday, August 26, 2006
The dark side of the Internet
There is an email making the rounds depicting a young, supposedly Vincentian woman in various states of undress as well as engaged in some sexual acts.In the pictures that show penetrative sex there are no visible faces but the presence of consecutive pics showing the young lady fully and partially dressed suggests they are one and the same.I see a possible line of defence but she will have a helluva time convincing others.

Having seen the pictures I cannot say I know her neither does any of my friends who were recipients of said mail.I must admit to breathing a sigh of relief that it is not a friend or anyone I know in passing.I don't know how I would face a friend or relative who was unfortunate enough to have something so private plastered all over the Net.

Maybe,my old fashioned self is kicking in again but I can't see the rationale for taking pics like that.And if you were adventurous enough to do so won't common sense dictate that you be the sole possessor? How many times must young women be made aware that there are unsavory pictures of them in circulation before they wise up? The word on this latest episode is that the young lady's boyfriend/sex partner was the one who unknown to her decided to make them public.No doubt he will think he acted with good reason.

I know this is an increasingly open world in which we live.However,I still think there are some things that are sacred or highly personal.I swear I would die of shame if something like that were to happen to me.The thought that parents,family members,friends and enemies could be privy to such intimate acts makes me cringe.It's just so wrong.Sure,parents know their children grow up,get sexually involved and sometimes give them grandchildren.Do they wish to see their children engaged in sex acts? Hell no,they don't.

I feel so embarrased for this girl that I have already deleted the mail much to the annoyance of a friend who wanted to get his kicks.Perhaps,it will end up in his mailbox but my view is she has been humiliated enough so why perpetuate it further?

Wednesday, August 23, 2006
Bus strike
Gas price is now $11.50 a gallon an increase of S2.50(I think).On announcing the increase the PM outlined a plan for subsiding the cost to minibus operators as a measure against another hike in bus fares.From the little I overheard it seems as if the bus operators will have to use their receipts to collect the offered subsidies.

Seemingly angered by the Govt's insistence that fees should not be raised the Minibus Assoc decided to park its buses today.I got some problems with the Minibus Assoc starting with the way they come up with these transportation rates.Every time there is an increase in gas they demand an increased rate which is somewhat understandable.However,their rates are always 50% and in one particular village it went up by a 100% which seems exorbitant given their increase never crosses 50%.

Don't even get me started on their service.If users are expected to pay up then at least they should be guaranteed some decent service.Too often the buses are jampacked with the conductors hanging over passengers and forget about asking some drivers to lower the music.Then,there is the crude manner in which some operators treat school children simply because they are not paying a full fare.Actually,I just remembered why I only take buses if I absolutely must.

It's about time too that the Govt develops its own transport system rather than allowing the privately operated buses to close down the country at will.As I type am not even sure if the strike is continuing tomorrow or some resolution has been met.I won't be surprised if tomorrow I hear a news release saying a meeting will be held to discuss concerns etc etc.Maybe,it's time for the travelling public to have a strike of its own.

Monday, August 21, 2006
Digicel Rising Stars Part 2
Last year Kiokya Cruickshank of SVG walked away with the top price after competing against hopefuls from Barbados,St Lucia and Grenada.This year's edition-with an increased purse will consist of seven OECS countries and Barbados.

Last night I looked at the local auditions and couldn't decide which was funnier-the judges caustic comments or some of the below par performances. Eventually,the judges chose ten persons from which will come 2 finalists who will then move on to the regional/subregional competition.

All that has whetted my appetite for the real competition.It's loads of fun critiquing the performers and the added nationalistic aspect all adds to the excitement.Can SVG do the double is the question on most lips? I also noticed a lot of the finalists sang gospel probably influenced by Kiokya's success. Time will tell whether SVG can repeat but right now none of the finalists has really captured my imagination like say Jamaica's One Third or Kiokya and Kellis from last competition.

Maybe I'll sit out this voting round until the real games begin.Or,I'll make Digi happy by voting for a few of them.One certainty is Sunday nights will be a lot more interesting with Flavor of Love and now Rising Stars.

Saturday, August 19, 2006
Goodbye Marion?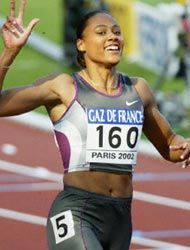 Last night I heard that Marion Jones had reportedly tested positive for banned substances.I couldn't even find the energy to be stunned but accepted it with a weary resignation.After all the sports world recently had a bombshell dropped on it with the news of Gatlin and Landis positive tests.Call me naive but Gatlin's test stunned me probably because I wanted to believe this was a new dawn in athletics after all the scandals.

Nevertheless,I have always loved Marion Jones from the time she burst on the scene.With her big bright smile she lit up the circuit and her running was fantastic too.Presence,the girl had it and with enough to spare.I watched the 2000 Olympics and hoped she would win the five gold medals that she was after.She didn't get the five golds but walked away with 5 medals to crown a brilliant year.

Since then she has been plagued with accusations of being on drugs-a charge which she stoutly denied.Fast forward to 2004 where she left the field in tears after a botched hand over in the relays.Now,it seems to be the end of the road if the second sample also tests positive.

I can't even bring myself to be condemnatory-not that I think drugging up is the way to go.It's more like understanding that with so much at stake why athletes will be willing to risk it all for the extra edge.Sad,but the reality of life for too many of these top athletes.

Unfortunately,for me at least I cannot watch Track now without being cynical.In the back of mind is a little voice forever wondering if that was a brilliant race or drug assisted.Who's next-Jeremy Wariner,Tonique Williams,Allyson Felix,Sanya Richards,Asafa Powell etc etc? I'd hope they are all clean but news of a positive test will be met with a shrug at best.
Thursday, August 17, 2006
Let there be light
That's the cry from disgruntled Vincentians over the ongoing power cuts.The last couple days have seen power outages lasting up to ten hours at a stretch.Initially,persons thought the problem was specific to their area only to realise that it was island wide.As it stands there are different down times for specific areas with some seemingly on the night shift.
So far I have been on the receiving end of both shifts and not liking it one bit.The most annoying thing though is having to speak to a machine when making reports of the power cuts.No,you do not wish to have your problem dealt with electronically.You'd much prefer getting an explanation from a person rather than the standard response of the recording.
Then,finally on the 7 o clock news I hear a release from VINLEC saying that the planned outages will continue for 10 more days.10 whole more days because there is some problem with a generator which they are working feverishly to correct.Sure,they are!
I am wondering if during routine maintenances they never picked up the problem before it got to be this bad.I guess I'll never know but meantime we all are suffering the inconveniences and I doubt very much there will be any difference in the bills this end of month.Meantime,I hope my electricity loss remains on the day shift since a girl just has to get her fix of television.
On another note break out the champagne and blow the horns.There is a girl named Abeni who's one year older and hopefully wiser today.She's accepting all gifts-virtual or otherwise so don't be shy now.
PS.I met
yamfoot
yesterday so one by one am meeting all the bloggers.
Tuesday, August 15, 2006
Poor Bush
Saturday, August 12, 2006
Welcome Back
Melody
is back people.I recall me and Scratchie wondering what became of her at the blog linkup and I discover she's back and posting.
This may sound silly but after interacting with persons via blogging I tend to "worry" when they suddenly disappear.The thing is you have no way of knowing if they are sick,dead or life is just overwhelming them.Somehow,I always assume the worst when it could really be a simple matter of being tired of blogging.
Am glad to see Miss Piggy is alive and well.Y'all can go give her some love.
Thursday, August 10, 2006
Travel woes
One thing I have learnt from my recent trip is a new appreciation for luggage that shows up on time.You board an aircraft and you expect your luggage to follow,right? Well,it doesn't always work like that as I found out to my disgust.

It didn't help that we had to transfer from Bridgetown and the LIAT flight out of St Vincent was about 30 mins late.With one piece of luggage recovered we headed to BWEE's counter only to hear the flight was already closed.However,an agent was kind enough to relax the ruling and allow us to board.

We get to Jamaica and as expected(sorta) the one piece that we checked in at Bwee's counter was missing.We then had to go through the process of filling out missing luggage forms etc.From then it was a story of daily trips to the airport until Thursday when the second piece was finally recovered.

My beef though centred around the attitude that was given firstly by the LIAT officials in Bdos.Without taking any responsibility for a flight that was late they immediately focused on what they called an illegal connection.

Of course,nobody pointed out to us that 2 hrs were needed between flights when the tickets were being bought.But,I suppose anything would do to shift responsibility.Then,they wanted faxed permission to allow a relative to act on our behalf as if vacationers are expected to have fax machines at their disposal.

Am guessing my relative pulled rank because Wednesday morning LIAT called to inform us that the luggage was arriving on Air J's evening flight.Thursday morning was another set of frustration being pushed from one counter to the next.BWEE,went into another tale about having problems with Caribbean star and LIAt's luggage as if it mattered at that moment.

Finally,they realised that the responsibilty was theirs to collect the bag from AirJ and deliver to the passenger.Next time,I travel my luggage will be stored in the overhead compartment.

Tuesday, August 08, 2006
Good to be home
Am back home after 2 weeks in Jamaica.Got as far as Ocho Rios after partying the night before at the Quad.Folks,Marc atoned by taking me to the nightclub and giving me his undivided attention.I was in love with the Quad but I noticed that the party goers on our floor seemed to be more enamored with the hip hop than the dancehall.I was pleasantly surprised to hear Kevin Lyttle and the nookie man JamesyP getting some airplay.
Am a notoriously poor traveller so by the time I got to Ochi my stomach was quite queasy.First stop was Dolphin Cove where I would have loved to gone swimming with the dolphins.After the dolphin observation it was off to the jungle trail where I got up close and personal with a snake,a metallic looking iguana and some parrots.
Then,it was fall climbing time and I am pleased to say I climbed without any problems at all.Yes sirree,I conquered Dunns River and I got the pictures to prove.Now,Stunner what were you saying again about slippery rocks?
Came back home sick like the proverbial dog and wondering if I could even contemplate Sunsplash.Much as I would have loved to have gone good sense prevailed in the end and I stayed put in Kingston.I think the tour of the Marley Museum was definitely a standout.How I wish I could have taken pics of the inside.
Anyway,am back here trying to readjust to a life where no one spoils me or wait on me hand and foot.Yeah,I know y'all very sorry for me but life goes on;).
On another note I think I saw a trini blogger
Karen
on the flight from Ja.She is yet to confirm if I was right