Wednesday, August 31, 2005
Katrina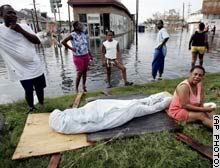 Sometimes a picture says it best.This one sums up the real loss after Katrina,i.e the death of loved ones.Watching the devastation on television makes one realise how truly helpless we are in the face of Nature.Its actually quite sobering too as it serves to remind us that all we have can be taken away in a flash.Am at the stage where am wary of looking at any more coverage,not because it is overkill but rather the scale of devastation is a bit too much to handle.

And then there is the looting.I don't know what it is about people that would make looting take priority at times like these.Browsing through some news sites I found this little gem which made me smile: "At a drug store in the French Quarter, people were running out with grocery baskets and coolers full of soft drinks, chips and diapers. One looter shot and wounded a fellow looter, who was taken to a hospital and survived." Maybe the wounded looter infringed on the unspoken rules of looting.

Meanwhile,as the task of cleaning up continues the least we can do is keep the affected people in our thoughts.
Monday, August 29, 2005
Brock Peters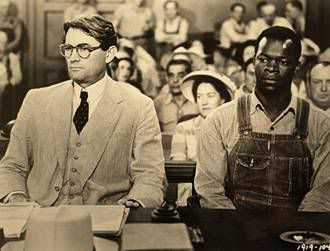 A few days back I saw on CNN home page a news item which spoke of the death of actor Brock Peters.The name meant nothing to me so I didn't even click on it.Much later,to my embarrassment I realised Brock Peters was none other than the actor who played Tom Robinson in the film adaptation of Harper Lee's masterpiece To Kill a Mockingbird.

NY Times had this to say "A towering figure, with a rich, booming voice, he provided backing vocals for Harry Belafonte's Banana Boat Song (Day-O) and played the Star Wars villain Darth Vader on radio. But he could display dignity as readily as menace: when asked by the defence lawyer Atticus Finch (Gregory Peck) if he raped the girl in To Kill a Mockingbird he delivered the line "I did not, sir", with tears in his eyes. There was enough integrity and suppressed anger to convince of his innocence and elicit sympathy at his plight and the injustices prevalent in Alabama in the 1930s, when the story was set."And to think after watching that movie(countless times)and his stirring portrayal I still never took time to find out his name.

Mockingbird has always been a favourite of mine for the way it looks at prejudice,racism, conscience,coming of age, all seen through the eyes of a child.For me the biggest lesson of that book is tolerance and Scout summed it up best with this quote."Atticus was right.One time he said you really never know a man until you stand in his shoes and walk around in them.Just standing on the Radley porch was enough."
Sunday, August 28, 2005
Admit it

You get the urge to do this sometimes, don't you?
Saturday, August 27, 2005
Investments
On their wedding night, the young bride approached her new husband and asked for $20.00 for their first lovemaking encounter. In his highly aroused state her husband readily agreed. This scenario was repeated each time they made love, for the next 30 years, with him thinking that it was a cute way for her to afford new clothes and other incidentals that she
needed.

Arriving home around noon one day, she was surprised to find her husband in a very drunken state. During the next few minutes, he explained that his employer was going through a process of corporate downsizing, and he had been let go. It was unlikely that at the age of 55, he'd be able to find another position that paid anywhere near what he'd been earning, and
therefore, they were financially ruined.


Calmly, his wife handed him a bank book which showed thirty years of deposits and interest totaling nearly $1 million. Then she showed him certificates of deposits issued by the bank which were worth over $2 million, and informed him that they were one of the largest depositors in
the bank. She explained that for the 30 years she had charged him for sex, these holdings had multiplied and these were the results of her savings and investments.


Faced with evidence of cash and investments worth over $3 million, her husband was so astounded he could barely speak, but finally he found his voice and blurted out, "If I'd had any idea what you were doing, I would have given you all my business!"


THAT'S WHEN SHE SHOT HIM!

Sometimes men just don't know when to keep their mouths shut!



Friday, August 26, 2005
Child sex-Mother of abused girl wants 'justice'
by Kenton Chance
2005/08/26

A Central Kingstown woman, who says three men sexually molested her daughter, wants "justice". Even though the matter has been disposed of in the Court, the mother is still not satisfied.

"I will like them [the authorities] to jail them [the abusers of her child]. 'Cause they done the child tha' thing dey," the 33-year-old mother of seven told THE VINCENTIAN during an interview last week Tuesday, August 16.

She was referring to a series of incidents in which she said a man and his son had anal sex with and otherwise sexually and physically abused her nine-year-old daughter. She said another man, associated with the others, had deep kissed her young daughter.

She said seeing the men jailed will give her a sense of satisfaction, causing her to feel "justice" has indeed been served.

The woman said the youngest of the men allegedly involved was charged with the crime and, since he is a minor, his father was ordered to pay the court $800.

The woman, who is pregnant with her eighth child, related her story to THE VINCENTIAN during an interview last week Tuesday.

She said she became worried about her daughter's well-being last December after the Grade-three-student began to faint regularly and lost her appetite.

The woman said she asked her daughter what was wrong and the daughter said she wanted to be transferred to another school.

"When ah aint sen' she school, nothin' aint hap'nin'. When ah sen' she school, she comin' home beat up," The woman told THE VINCENTIAN.

The woman said she subsequently found stool and blood in her daughter's underwear and went to the
school to speak with her class teacher.

Discussion with her daughter's class teacher and parents of other students at the school revealed that two men, one of whom pretended to be the child's stepfather, picked her up after school and had had anal sex with the minor inside the school washroom.

She also found out that the men were her neighbours, with whom she had a good relationship. "We aint livin' in no war thing," the woman told THE VINCENTIAN.

This, according to her account, changed after the woman met the man's son and her daughter naked in her house in February this year.

This incident was reported to the police and a case was filed, at the conclusion of which the young boy's father was fined.

When THE VINCENTIAN asked the girl, if anyone had done anything out of the ordinary to her or had done her anything that made her uncomfortable, she initially said "No".

She subsequently said that two men, whom she identified by name and whom she said she met during a visit to her father's house, "raped" her in the bathroom at her school. She said that the man wanted her to remove her underwear and when she refused he told his son to get a stone and the man struck her in her head with it.

She could not remember how many times the men had sexually abused her. The girl also told THE VINCENTIAN that she did not want to go back to that primary school. Her mother is in the process of transferring her to another school.

When asked why she did not tell anyone about what had happened, the girl said the men had told that that they would have killed her and her mother if she had told anyone about what was happening.

The woman also had photocopies of two related handwritten letters addressed to "The Honourable President" [of the Family Court] and a medical certificate from a private medical centre here.

The medical certificate, dated March 11th, signed by a local doctor and referring to the child in question by name, age and address, stated:

"This young girl was seen by me on March 11th 2005 with a history of sexual abuse (as stated by the mother).
"Examination at the time revealed that the hymen was intact although entrance with a little finger was possible."

The letters to the family court, dated August 2, 2005, sought to explain the incidents and to plead for "justice".

When will these stories end ?

Thursday, August 25, 2005
And now an apology-sorta
Pat Robertson again:

"Is it right to call for assassination? No, and I apologize for that statement," Robertson said. "I spoke in frustration that we should accommodate the man who thinks the U.S. is out to kill him

Followed by this:

"I didn't say 'assassination.' I said our special forces should 'take him out.' And 'take him out' can be a number of things, including kidnapping; there are a number of ways to take out a dictator from power besides killing him. I was misinterpreted by the AP [Associated Press], but that happens all the time," Robertson said on "The 700 Club.

Arrite Sir,you have already demonstrated a lack of intelligence.Please don't assume we all are similarly lacking and attempt to hide behind semantics,okay? I would have preferred if you had said it was the devil that took control rather than this spin job.


Wednesday, August 24, 2005
Foot in mouth award
A few days back
Sable Dawn
came up with the first monthly Negro Please Award.Loved the winner and the idea and so this morning am giving out my own award.I say with all confidence that its highly unlikely anybody will ever top my winner.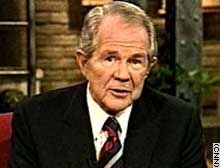 And the award goes to the 700 club President,Pat Robertson for this gem.Calling The Venezuelan President "a terrific danger" bent on exporting Communism and Islamic extremism across the Americas the Jesus lover came up this solution."If he thinks we're trying to assassinate him, I think that we really ought to go ahead and do it," Robertson told viewers on his "The 700 Club" show Monday. "It's a whole lot cheaper than starting a war" This is insanely stupid even for Robertson who is known for making some eye brow raising comments.

Caucasian please! How does a country that's at least 95% Catholic export Islamic extremism.Seems to me they have a huge task on their hands of converting their citizens before bothering with the rest of the world.I say Mr Robertson head done gone(senile)

At least in a lucid moment he touched on the crux of the matter that was bothering him-the oil that Venezuela controls.But seriously what kind of flawed message is Mr Robertson sending here.So,we don't like some one or their politics and our recourse is to take them out? That doesn't sound like words that should be coming from a man who lives by the Ten Commandments but more like Tony Soprano or one of those Islam extremists calling for a fatwa.Jesus must be so proud.
Monday, August 22, 2005
But God.....
Sometimes,things happen that make you just have to question God as you wonder how much suffering any one person is supposed to take.It is said that God never gives us more than we can bear but in the midst of the trials it surely does not feel that way.

Last night I had to tell a 16 yr old it was okay to die and it fills me with so much anger and sadness.Here is a young man who endured an abusive childhood and was finally finding peace with his new family.Then,he was diagnosed with leukemia and finally taken off chemo about six weeks ago.He was so happy to have beaten it,every little victory such as hair beginning to grow out was a cause for celebration.Life was looking up and all his dreams of going to college etc once more took centre stage.But,the joy was shortlived because doctors have just found out the cancer has moved to his spine.And I cannot help but ask why.

For the first time since all this stuff began am scared for him.Although he has not given up he is seeing the possibility that he could die and that terrifies him.No 16 year old should have to ask anyone if its okay to give up if he gets too tired.That is just so wrong but if the person gets to be too tired then we who love them would just have to let go.And letting go is the hardest part.


Saturday, August 20, 2005
Forget Sex-Watch TV
Trinidad Express
2005/08/19

Forget sex and watch television to control the number of children you have.

That was the personal advice Prime Minister Patrick Manning had for residents of Thompson Gardens, Tarouba, who last week protested for better living conditions.

Our view is that you should only have the number of children you could support,he told the residents, mainly relocated squatters, at a cottage meeting in the area on Monday night.

Manning shared with residents the fact that he was the father of two boys and they are costing me a fortune to upkeep.

He warned them not to have more children than they could afford to maintain.

Manning said that one way to practise effective birth control was to buy a television and instead of doing other things, keep looking at the programmes until you fall asleep.

Manning's comments were in obvious reference to the spiralling increase in births in squatting areas.

Alluding to the increase in the number of houses required as part of the growing population, Manning said the Government's policy was to build houses in areas where people have been squatting.

You have a lot of squatting in San Fernando East,he said. Thompson Gardens is in San Fernando East which is Manning's constituency.

Manning said Government recognised that the majority of squatters occupy State lands because they have no other choice.

He said a backlog of some 100,000 houses were needed and Government planned to deal with that situation over a ten-year period. He announced that already the public sector had built 7,950 houses and the private sector 2,000."

Friday, August 19, 2005
Ras Noah and the Hawk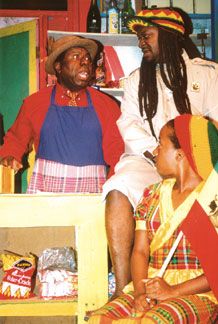 That's the name of the Oliver Samuels play that I went to see last night.The play,which begins with looting during the passage of Hurricane Ivan is a modern day tale of Noah and the Ark.Butcha (played by Oliver Samuels),dreams of a better life when his son Noah returns to Jamaica after completing his medical training.To his great surprise Noah returns with dreadlocks after spending the last five years in Blue Mountain.

To make matters worse Noah is convinced that he is the chosen one with a divine mission to save his people.Naturally,he is ridiculed and eventually cast out of the the villager after a run in with the local don.While in exile he receives a visit from God who sends him back to the village with a command to build the ark.

Well,some of the acting was not particularly strong but other parts were fall down funny.The audience was used as the source for collecting the animals and that brought the house down as persons were encouraged to moo,crow etc as Oliver analysed each in his inimitable way.

Of course some idiots had to keep their cell phones on despite being asked quite nicely to turn them off.So during the singing of the national anthem couple phones accompanied the rendition and two rows behind us an extended convo took place.Some people are really inconsiderate because she seemed oblivious to the fact that she was preventing others from hearing properly.Eventually,the growing murmurs of disapproval got to her and quiet reigned once more.Anyway,if the play comes to your part of the world you'd be guaranteed nuff laughs.
Wednesday, August 17, 2005
Bday Girl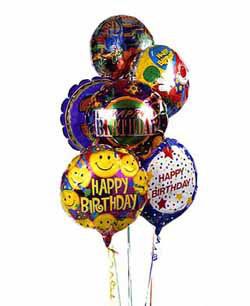 Another year of life.So much to be thankful for and despite all the bumps in the road am still here and still rising.
PS.Arrangements can be made to collect presents
Tuesday, August 16, 2005
American Idol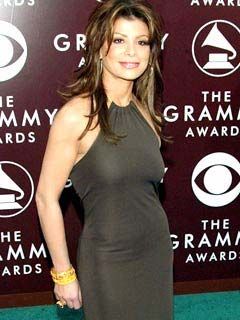 Anybody remembers the "big" news that Paula Abdul supposedly slept with a contestant on American idol? Well, Fox after completing an investigation that they actually called independent has determined that there was no evidence that she had an affair with the contestant. So Paula is back as a judge and all is well with the world.

I was never really sure whether most people cared whether or not they did sleep together.But,its tv and nothing is better than a good old scandal to spice up and keep interest in a show.Fox network,am sure is not complaining at all while Corey Clark got his moment in the sun.

Meanwhile, Paula is breathing a sigh of relief."I'm grateful this ordeal is over, and I'm so looking forward to getting back to the job I love," Abdul said in a statement to the Associated Press. "Once again, I thank my fans from throughout the world for their undying love and support." It may however be temporary as Clarke has written a tell all e-book.

Before I forget Fox as a safeguard against more scandal has promised to build a bigger wall between judges and contestants, beefing up the show's "non-fraternization policy.So hopefully no more juicy scandals,right?
Monday, August 15, 2005
A day in Hell
One day a guy dies and finds himself in hell. As he is wallowing in despair he has his first meeting with a demon...

Demon: Why so glum chum?
Guy: What do you think? I'm in hell.
Demon: Hell's not so bad. We actually have a lot of fun down here...you a drinkin' man?
Guy: Sure, I love to drink. Love the drinks.
Demon: Well you're gonna love Mondays then. On Mondays that's all we do is drink. Whiskey, tequila, Guinness, wine coolers, diet tab, and fresca...we drink till we throw up and then we drink some more!
Guy: Gee that sounds great.

Demon: You a smoker?
Guy: You better believe it! Love the smoking.
Demon: Alright! You're gonna love Tuesdays. We get the finest cigars from all over the world and smoke our lungs out. If you get cancer - no biggie - you're already dead remember?
Guy: Wow...that's...awesome!

Demon: I bet you like to gamble.
Guy: Why yes as a matter of fact I do. Love the gambling.
Demon: Cause Wednesday you can gamble all you want. Craps, Blackjack, Roulette, Poker, Slots, whatever... If you go Bankrupt...well you're dead anyhow.

Demon: You into drugs?
Guy: Are you kidding? Love drugs! You don't mean...
Demon: That's right! Thursday is drug day. Help yourself to a great big bowl of crack. or smack. Smoke a doobie the size of a submarine. You can do all the drugs you want and if ya overdose - that's right - you're dead - who cares! O.D.!!
Guy: Yowza! I never realized Hell was such a swingin' place!!

Demon: You gay?
Guy: Uh no.

Demon: Ooooh (grimaces) you're really gonna hate Fridays."

Friday, August 12, 2005
BBQ
Barbecuing is the only type of cooking a real man will do. When man declares he will BBQ the following chain of events is put into motion:

1) The woman goes to the store and buys everything.
2) The woman makes the salad, vegetables, and dessert.
3) The woman prepares the meat for cooking, places it on a tray along with the necessary cooking utensils and sauces, and takes it to the man, who is lounging beside the grill, malta in hand.
4) The man places the meat on the grill.
5) The woman goes inside to organize the plates and cutlery.
6) The woman comes out to tell the man that the meat is burning. He thanks her and asks if she will bring another malta while he deals with the situation.
7) The man takes the meat off the grill and hands it to the woman.
8) The woman prepares the plates and brings them to the table.
9) After eating, the woman clears the table and does the dishes.
10) Everyone praises man and thanks him for his cooking efforts.
11) The man asks the woman how she enjoyed; her night off. And, upon seeing her annoyed reaction, concludes that there's just no pleasing a woman
PS.Taken from my inbox

Wednesday, August 10, 2005
Yawn
Two of the jurors who voted to acquit singer Michael Jackson of child molestation and other charges say they regret their decisions.

Jurors Eleanor Cook and Ray Hultman, who both have pending book deals, said in a televised interview Monday night that they believed the singer's young accuser was sexually assaulted.
'No doubt in my mind whatsoever, that boy was molested, and I also think he enjoyed to some degree being Michael Jackson's toy,' Cook said on MSNBC's 'Rita Cosby: Live and Direct.'

Jackson defense attorney Tom Mesereau dismissed the jurors' comments as 'embarrassing and outrageous.' ""These people voted not guilty," Mesereau said. "Now almost two months after being discharged from their responsibilities as jurors, they're now changing their tune. I think it's laughable."

Cook and Hultman said they agreed to go along with the other jurors when it became apparent that they would never convict the pop star.

So why the sudden conscience attacks? These people had a chance to stand by their convictions yet allowed themselves to be swayed.Laughable indeed but more than likely they will laugh their way to the bank

Monday, August 08, 2005
Blog Etiquette
Assuming you are prone to be idle as me then at some point you would wonder what constitutes blogging etiquette.For example:

1.Is it impolite not to link (blogroll) those who have linked you?

2.If someone visits your site and leaves a comment-do you return the visit and do same?

3.On the other hand is it polite to lurk and not leave a comment? Ps,we wanna hear from you.

4.Is it rude to disable comments?

5.Should one try not to offend in the comments box?NB,not saying there should not be dissent

6.Are things like spell check,grammar and punctuation a big deal?

7.How often should you update?



Friday, August 05, 2005
Goodbye AJ And Free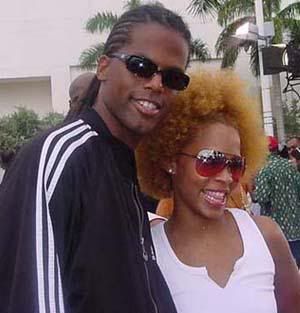 I can't believe I forgot to mention that AJ and Free have left BET's 106 and Park.Last Thursday was supposed to be the final show but Free was MIA and it was rumored that she had actually quit before.So it was left to AJ to announce that this was the end of the road for them.
I remember when they first started they weren't that good but over time they got better.And in the process the show became the spot to market music to black audiences.Even my homeboy Kevin Lyttle was a guest causing almost all of Vincy Land to tune in.Am gonna miss them but maybe it was time for them to branch out given all the rumours that were circulating.
Wednesday, August 03, 2005
The thing called Life
Ever felt like you were finally getting your life on track only to have it derail again?If yes,then you would understand what am getting at.The frustrating thing is when it is a replay of earlier parts of your life that you thought you won't have to face again. Even scarier is the thought that one day you may just not have the energy to fight anymore.Then what?

Tuesday, August 02, 2005
Analyse this
Father Kills Son, 3, for Being "Gay"

The Tampa, Florida, murder trial of Ronnie Paris, Jr., 21, has begun for the January murder of his 3-year old son, also named Ronnie.

Nysheerah Paris, the child's mother, testified that his father didn't want the little boy to grow up to be a "sissy."

Shanita Powell, Nysheerah's sister, told the court, "He was trying to teach him how to fight. He was worried that the child might be gay."

Sheldon Bostic, a Bible-study friend of the alleged perpetrator said that he had warned him not to play so rough with his son, the Tampa Tribune reported.

"He really did what other fathers do—slap box," Bostic said. "He always said he didn't want his son growing up to be pushed around. He didn't want him to be a sissy."

www.gaycitynews.com

What behaviour from a 3 yr old demonstrates gay tendencies? This story beyond sick

Monday, August 01, 2005
Emancipation Day
Today,Aug 1st ,marks 167 years of Emancipation and although the event was monumental the day has almost become just another meaningless holiday.By that I mean that we ( or most of us) do not see the day as having any direct bearing or relevance to us.None of us were enslaved-we know no one who endured the horrors of slavery hence the disconnected feelings.
This year there is an effort to organise rallies etc at a national level to sensitise persons to the African struggle.It has been long in coming but I suppose it is a case of better late than never since generally we pay lip service to these events.We do not lift up our victories (and there are many)neither do we use the experience of an enslaved race as blocks on which to build.Instead slavery is often used a crutch-the explanation to why we don't achieve what we ought to.
Then,there are the self image issues that needs to be corrected.167 years after Emancipation too many people still believe in the concept of "good hair" and that the lighter the skin the prettier you are.Shouldn't we have a better sense of self by now? There is still a ways to go before we free our selves of all the negative labels and accept ourselves for who we are. In the words of Marley there is a need for emancipation from mental slavery as well.Nevertheless,
when I reflect
on the horrors the foreparents underwent how can I not be thankful for Aug 1