Tuesday, May 31, 2005
Where are all the young men
I had reason to visit the Mental Health Centre on Thursday night and one thing that stood out was the large number of young men in the institution.Between the prison and the Mental Health Centre over 300 young men(my estimate) who should have been making a contribution to society have all lost their way.What a sad state of affairs!

A lot of the young men at the Mental Health Centre are there because of abuse of drugs like cocaine,marijuana etc.It makes me wonder why do seemingly intelligent young men allow themselves to be reduced to this state.I look at my relative-who I went to visit at the institution and the question resonates louder in my mind.His story is the story of a love affair with alcohol whose usage got worse as life got bumpy.As if the alcohol usage was not bad enough other drugs were added to it making a bad situation even worse.

I am under no illusions about the dangers of alcohol(Kyle,are you reading?)and the havoc it wreaks on the body,and in the lives of loved ones.That does not mean I have to agree with decrimininalising marijuana.But I digress-anyway I still do not understand how his life slipped out of control so fast.But,when I think about it I realise that it was a gradual process to get to the point to where he is.There must have been signs that something was not right which would have gone unheeded.

As a person who has often been on the slippery course, I know how easy it is to put up a public face while inside there is endless turmoil.But despite the very public signs that he is not in control my relative remains adamant that he is fine.How do you help someone who is unwilling to acknowledge they have a problem? I don't know and I suppose there isn't anything you can do but be there.

Saturday, May 28, 2005
Sunday Smile
A ten-year-old boy was failing math. His parents tried everything from tutors to hypnosis; but to no avail. Finally, at the insistence of a family friend, they decided to enroll their son in a private Catholic school. After the first day, the boy's parents were surprised when he walked in after school with a stern, focused and very determined expression on his face.

He went straight past them, right to his room and quietly closed the door. For nearly two hours he toiled away in his room with math books strewn about his desk and the surrounding floor. He emerged long enough to eat, and after quickly cleaning his plate, went straight back to his room, closed the door and worked feverishly at his studies until bedtime.

This pattern of behavior continued until it was time for the first quarter's report card. The boy walked in with it unopened, laid it on the dinner table and went straight to his room.
Cautiously, his mother opened it and, to her amazement, she saw a large red 'A' under the subject of Math. Overjoyed, she and her husband rushed into their son's room, thrilled at His remarkable progress.

'Was it the nuns that did it?' the father asked. The boy shook his head and said 'No.'

'Was it the one-to-one tutoring? The peer-mentoring?' 'No.'

'The textbooks? The teachers? The curriculum?'

'No', said the son. 'On that first day, when I walked in the front door and saw that guy nailed to the plus sign, I KNEW they were serious! "

Thursday, May 26, 2005
What's love got to do with it?
Suppose a man/woman is crazy about you but you don't feel the same way.The catch is that the person does not mind-and will be happy once you are with them(or so they claim).
Do you go along because there is a saying that goes "you pick the person who loves you and not necessarily the one you love" ? If you do,will you regret giving up the idea of love for "security".

Let's hear your thoughts.

Tuesday, May 24, 2005
Miss SVG 2005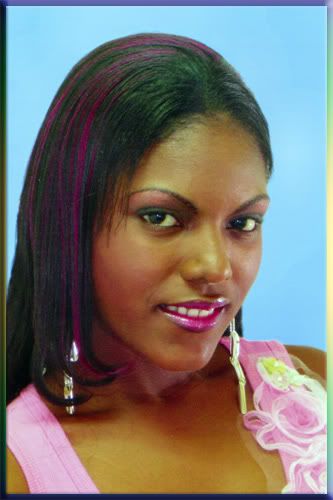 Soon it is going to be Carnival time in Vincy Land (June 24th-July 5th)But come Saturday a new Miss SVG 2005 will be crowned and I can bet after the show (as has become the norm) there will be nuff disgruntled supporters claiming so and so was robbed.Never a dull moment with these shows.Anyway,my pick is Miss Casynella Ollivierre(seen above)-her height may work against her but for me she comes over as being the most poised in her interviews etc. To see the others go here go here. You can make whatever comments you want..I won't be offended:)

I may go to the show-have never gone to one and a friend is bugging me to go along with her.Still not sure I want to though but if she convincing enough I may just go along.Am just here thinking once upon a time when I was much younger I used to dream of entering these shows.What a difference growing up makes.
Monday, May 23, 2005
And the winner is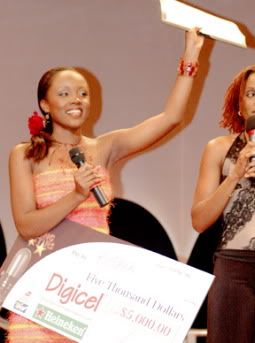 Eighteen year old Kioyka Cruickshank of St Vincent and the Grenadines who defeated Kimberley Innis of Barbados to win the inaugural Eastern Caribbean leg of the Digicel Rising Stars competition.The final show held at the Frank Collymore Hall in Barbados opened with a rendition of "Lean on Me" done by some of the finalists.Then the final two-Kiokya and Kimberley gave a rendition of Mariah Carey's "Miracle" before doing solo acts of their choice.
Kimberley's performance was way better than when final judging was done.This week her voice was at its best-no problems at all with hoarseness.We will never know how the voting would have gone had her voice been at its best last week.Both girls were fantastic and really highlighted how much talent is present in our part of the world.
Anyway,congrats to Kiokya.Now grab your chance to make a name for yourself internationally!
Saturday, May 21, 2005
Thank you,Sister Pat
Last night this country lost one of its premier educators in the person of Sister Patricia Ann Douglas.The Principal of the St Joseph's Convent Marriaqua-one of the island's leading schools had gone to Barbados to visit her sister only to die tragically in a road accident.The 59 year old Sister Pat,sister of the late Dominican Prime Minister Rosie Douglas died instantly while her two sisters remain in a critical condition at the Queen Elizabeth Hospital,Barbados.

Sister Pat headed the St Joseph's Convent Marriaqua for 24 years and earned a reputation as a firm, no nonsense yet compassionate Head Teacher.Never afraid to speak her mind she was quite vocal on issues affecting school children and ways to improve the educational system.She had a vision for her school which included acquiring science laboratories-and accomplished it was.Two years ago the top performer at local level hailed from the St Joseph's Convent Marriaqua-no mean feat for a rural school to beat out the more accomplished schools like the Girls' High School and the St Vincent Grammar School.

Sister Pat dared to defy the long held tradition that girls who got pregnant while at school had to be expelled.She believed in the concept of second chances and in the education of young women.So she created history by allowing students to return to school after delivery.Am still not sure if any other schools have followed her lead-definitely not the Govt ones.But who knows,maybe it is not too far off.

Rest in Peace Sister Pat.We will miss you



Thursday, May 19, 2005
If you were brave enough
What would you do? I'd get a tattoo.Yup,have always thought about getting one but just too coward to get it done.One time I had already picked out what I wanted and was on my way to the parlour to get it done.The mistake I made was going with this friend who kept telling me that it was painful nothwithstanding he had several.That was enough for my cold feet to set in again.By now you would realise I have a low threshold for pain.

Anyway,my friend returned from UWI over the weekend and guess what-she has a tattoo right across her lower back.It not going down too well with her mother who thinks that only skettels(bad girls) get tattoos.We had a laugh explaining to her that in today's world a tattoo is very conservative.Needless to say she remain unconvinced but she will get over it.A couple months ago she was all upset when my friend got an anklet(same skettel reasons).Now,she is wearing one so a tattoo may be next.

So here I am with tattoo thoughts running around my mind again.One with my name across my lower back,a heart on my shoulder or upper back or a little rose or something on my chest.Nothing too big or outlandish and certainly not more not one if I ever get the courage to go through with it.

Wednesday, May 18, 2005
Violence in Schools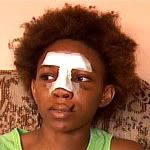 The face of violence in schools-20 yr old Keba Charlery who was attacked by a student after she tried to discipline him.
General Secretary of the Saint Lucia Teacher's Union Wayne Cumberbatch says it is time to follow through on a provision by the Education Act that allows for students with behavioural issues leading to violence against themselves, other students and teachers to be housed in an institution designed to adequately respond to their special needs.
Cumberbatch was responding to last Friday's assault by a fourteen year old male student on his twenty year old female teacher which resulted in her sustaining injuries including a fractured nose.
The student has since been arrested and charged with assault. He says the Teacher's union is never pleased when these incidents occur and that they have worked with the Ministry of Education to ensure that there are counselors available to effectively deal with such troubled students.
Meanwhile, leader of the Organization for National Empowerment Sarah Flood-Beaubrun says such problems in the schools are directly linked to the decay of social and moral fiber in the country.
The SLTU says their monthly meeting with the Ministry of Education will examine some more suggestions and solutions to curbing future incidents of school violence.
Nothing left to say besides schools are fast becoming a war zone.Students turn up with their weapons(knives,icepicks etc) and a bottle or two make quite handy ones.There was an incident at my former school where a teacher spoke to a student about the use of a cell phone during classes only to have the gun toting boyfriend turn up to defend his girl.Very crazy times to be in a classrom.
Sunday, May 15, 2005
And there were two
Am referring to the Digicel Rising Stars Competition that has been dominating the airvawes for the past couple months.
Now it is down to Kiokya Cruickshank of St Vincent and the Grenadines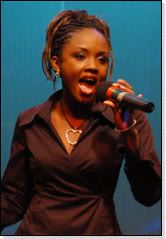 and Kimberley Innis of Barbados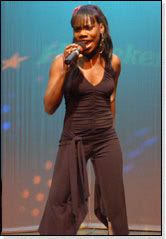 At stake is an international recording contract,5000USD and a trip for two to London.Kimberley got Kiokya beat on performance-she definitely knows how to use the stage.But Kiokya got the sweeter voice of the two and I'd go as far as saying she had the best voice in the entire competition.No,am not biased because she is Vincentian and I thought I'd mention that TC and Admiral the two Bajan studio judges agree with me.(that is for Jdid and Camp)
I found it amusing that each week Kimberley would complain of being hoarse but would sing with no audible signs of hoarseness.Tonight,unfortunately for her the voice was not at its best-definite sound of hoarseness.Come Sunday night after all the voting has been done(via a Digi Phone) the first Digi Rising Star of the East Caribbean version will be announced.Am sure going to miss my weekly fix of Rising Stars and the sometimes brutal comments from Admiral in particular.
Anyhow am gonna predict Kiokya will win it all.
Friday, May 13, 2005
Beer Feud
Another cricket storm is brewing as Wednesday's One Day Intl match between West Indies and Pakistan nears.Carib Brewery- a Trinidad and Tobago company, brewers of Carib Beer, sponsor of the regional four day cricket tournament has been granted 'pouring rights' for Wednesday's match.

The situation has sparked off heated discusion around the island with a group calling itself "Supporters of local Vincentian products" issuing a statement calling the action "wrong" and a "travesty of unfair play".

However, President of the SVGCA Julian Jack, said the granting of pouring rights is a contractual arrangement between Carib Brewery and the WICB.Jack summed up the situation as "unfortunate" but said the rights of the sponsors must be respected.

Linked to the granting of exclusive rights to companies, Jack said the WICB is aware of the possibility of ambush marketing, that advertising of rival beer companies will not be permitted at the Arnos Vale Playing Field. This he said extended to the wearing of jerseys and other paraphernalia of opposing brewers.

Other repercussions from the granting of pouring rights to Carib means that the St Vincent Brewery will not be able to operate its usual party stand.The stand has now been renamed the Carib Party Stand and apparently non alcoholic drinks made by the Brewery will not be sold at the ground unless permission is granted.This is because Bottlers StV Ltd are local distributors of Carib and Pepsi,the official soft drink of West Indies cricket.

The ever popular word-boycott is even making the rounds.But,I don't expect anything to come of it given the cheap ticket prices.Finally,somebody matching prices relative to the product.

Thursday, May 12, 2005
Are you Afraid of the Dark?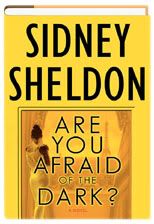 I just finished reading Sidney Sheldon's latest and am wondering what happened to the man who brought us "The Other Side Of Midnight","Rage of Angels","If Tomorrow Comes" etc.This one is about four people who die violently and mysteriously in four cities across the world.Tying them together is the fact that they all worked for an environmental think tank-Kingsley International Group.Two of the widows are drawn together to find out the truth about their husbands' demise and find themselves in situation where they are fleeing for their lives as they unearth a conspiracy that robbed them of the men they loved.
Sounds okay so far,right? But even though the book starts out quite promising it quickly became too much like a soap opera.Personally,I found the characters to be very weak and uninteresting and even though it is fictional some of their escapes were just too good to be true.Definitely,not Sidney Sheldon at his best but I suppose its passable as light entertainment and not the usually gripping stuff of some of his previous books.To be honest the last set of books I read by him were not that good but I keep going back hoping he will redeem himself.Come on Mr Sheldon,more books like "The Other side of Midnight".
Wednesday, May 11, 2005
On Dying
Any of you ever wondered when and how you will die? Not exactly the best conversation piece but I have thought about it from time to time.Given a choice I do not wish to die suddenly like in a road accident or from a heart attack etc.That is just too heartbreaking for those who remain so I'd prefer a few days notice to get them "accustomed" to the idea that I am dying.

I like the way my grandmother did it-about 5 weeks notice to gather everybody together and say goodbyes.That is the kind of scenario I would like in my ideal world.But then one really does not know what will be dealt to them.

By the way I never thought I would live to see 25 so it is really a wonder to me that am still here.It is not that I have life threatening ailments-moreso ongoing bothersome ones.Me and hospital walls are well acquainted espcially the ER rooms.Well,off to the doctor I go as this has been another sick week.Y'all think I will make it to 30?


Tuesday, May 10, 2005
Man's Best Friend
Sunday, May 08, 2005
Mother's Day
Before I was myself you made me, me
With love and patience, discipline and tears,
Then bit by bit stepped back to set me free,
Allowing me to sail upon my sea,
Though well within the headlands of your fears.
Before I was myself you made me, me

With dreams enough of what I was to be
And hopes that would be sculpted by the years,
Then bit by bit stepped back to set me free,

Relinquishing your powers gradually
To let me shape myself among my peers.
Before I was myself you made me, me,

And being good and wise, you gracefully
As dancers when the last sweet cadence nears
Bit by bit stepped back to set me free.

For love inspires learning naturally:
The mind assents to what the heart reveres.
And so it was through love you made me, me
By slowly stepping back to set me free

Happy Mother's Day to the three women who made me,me-My mother,grandmother and aunt or my three mothers as I like to think of them.Today is kinda bittersweet because my grandmother is not here and I owe her a debt of gratitude for being there for me and always encouraging me to keep striving for better.I wish I could have done more for her or that she were here to see me now that my life is finally getting some sort of order.But for what its worth,I know I made her more happy than sad so I can hold on to that.Still miss her a whole lot though.

Friday, May 06, 2005
Real Life Cold Case Solved
Kansas City authorities have identified "Precious Doe" as Erica Michelle Maria Green, age 3: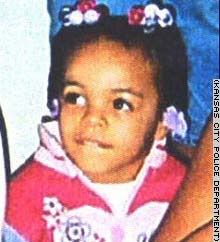 Her naked body was found lying in weeds alongside a dirt road in a wooded area on April 28, 2001.
Three days later, her head was found nearby, wrapped in a trash bag. She had been dead between 12 and 48 hours, police said at the time.
She was identified by her grandfather:
The break in the case came after a man who said he hadn't seen his granddaughter for several years responded to a newspaper ad placed by Alonzo Washington, a Kansas City-based missing child advocate and community activist, said Kansas City police Capt. Rich Lockhart.
Her mother admitted taking part in her death, but her stepfather is the main suspect:
Police said it was the girl's stepfather who actually killed her with a kick to the head and then used hedge clippers to sever her head. He was being questioned in Muskogee, Okla.
According to police, Johnson and her husband were with Erica in Kansas City when he delivered the fatal kick. Police said Johnson told them the couple let the girl lay motionless for two days, deciding not to seek medical care because there were warrants out for their arrests.
The mother told police her husband later used hedge clippers to cut off the girl's head. They discarded the pieces in a wooded area and a trash bin, according to a probable cause statement.
She was THREE YEARS OLD. They stripped her naked and beheaded her.
Why are so many children killed by their own parents? What has happened in our society when so many people view their children as not deserving of life.Wicked, simply wicked.Rest in peace little Erica.
Wednesday, May 04, 2005
Thought for Today
You are first of all a human. That gives you a ceratin amount of power.You are not limited in how you express your humanness; you are limited by the labels you choose to describe it. Men do this;Women do that.....Blacks like one thing, Asians like the other....Native Americans are proud,Latinos are rowdy.These views and labels limit the self and set up expectations from others.

You are never too old or too young,rich or poor,too much of a man or woman to think.You can be anything and everything you think you can be when you don't think yourself into a book.You must keep reminding yourself that you are more than a body.You are more than an image.You are more than the things you have told yourself about yourself. You are a spirit expressing as a human being. And that, my dear is unlimited.

Iyanla Vanzant:Acts of Faith

Tuesday, May 03, 2005
Rest In Peace
It is always painful when someone dies tragically and even more so when the person is so very young.When I returned from Barbados the first bit of news I got was that 19 year old Jason Punnett(of my community)had lost his life when his jeep ran off the road in Kingstown.Jason died on the spot and the other 4 occupants of the jeep-his cousins,girlfriend and a friend remain in critical condition.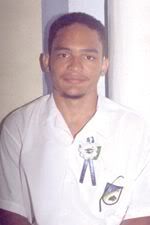 The accident is considered to be one of the worst in recent times and people are still amazed that they all did not die on the spot.One individual, who happened to witness the incident, searched for words to describe what he had seen. He said that what transpired was like an "action movie".
"I saw the jeep from the time it came around the corner; it was travelling real fast; it hit a bump on the road and ride the bank on the left side, then over-turned two more times before it stopped," the man, who prefers to remain unidentified, told The Vincentian.
According to the eyewitness, the occupants of the vehicle went flying through the air when the vehicle overturned.
"I saw two of the occupants rolling over crying in the street shortly after they overturned," the eyewitness said.
By this time, he said, persons travelling on the road and those awoken by the loud impact gathered at the scene and took the occupants to the hospital
Friends and relatives paying respects at the scene of the accident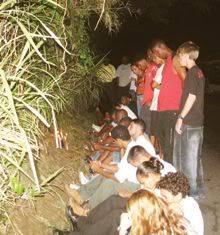 Jason was laid to rest yesterday but I could not make it to the funeral.I hope his soul is at rest and his parents find some sort of comfort.
Sunday, May 01, 2005
Runaway Bride
It was supposed to be Jennifer Wilbanks' wedding day — an elaborate affair in suburban Georgia with 600 invited guests and 14 bridesmaids and 14 groomsmen.

Instead, the bride-to-be was sobbing into a pay phone outside an Albuquerque 7-Eleven, alone and broke, as she concocted a story about kidnappers and a blue van. She later admitted that pre-wedding jitters led her to leave home without her keys and wallet, creating a mystery that left her family in anguish for days.

Wilbanks, 32, was picked up by police after a cross-country bus trip that took her through Las Vegas to Albuquerque, where she eventually admitted her disappearance was voluntary.(Assoc Press Report)

I have heard of pre wedding jitters but was it really necessary to go to those lengths?First of all you create havoc in the minds of your loved ones who would be at their wits end trying to come to grips with the situation. Not to mention wasting the police time following up on a non existent kidnapping case.How irresponsible and self centred!

Then she identifies her "kidnappers" as a Hispanic man and a white woman.God alone knows how many Hispanics were pulled over.It makes me remember the Susan Smith case where she claimed her children were abducted by a black man only to later confess to drowning them herself. Why for once it can't be a non minority cast as a felon? I suppose it is outside the realms of possibility to contemplate that a non minority will be involved in something so heinous.

Not sure what the law is but I hope they charge her for misrepresenting facts.Maybe,it will make others think twice about doing something similar.If you have cold feet talk about it instead of running.