Friday, April 29, 2005
50 Pretty People
Thursday, April 28, 2005
Physical abuse
I was having a conversation recently with one of friends and she told me that her ex boyfriend had hit her.It actually happened a few years back but she never told anyone besides her older brother and sister as she was too embarrassed to let any of her friends know.

I must that admit to being shocked/startled that something like that had happened to her.After all she is a strong, no nonsense type of person and not the type who in my mind's eye would tolerate abuse.She had actually sworn it would not happen to her after watching her sister being abused time after time by her husband.Just goes to prove how even our best laid plans can get messed up!

Generally,people are prone to associate docile women as the type more likely to suffer abuse.And if truth be told in the recesses of our mind we think they must be stupid to tolerate it.But my friend does not fit that profile so it means that any woman can be abused.It has been quite an eye opener to me as I am now forced to re evaluate my thoughts.

The funny thing is she was not even the one to leave the relationship.Makes me wonder what would make a young woman who is independent, has no ties such as kids still stick around.When I questioned her she said it was because you would have invested your time,love etc into the relationship and it makes walking away that much harder.Added to that is the fact that the person would have been all attentive and loving prior to the incident and so you would think the abuse is an aberration.In other words you wait around hoping the person would revert to the sweet person you once knew.

I got to hand it to men at how skilled they are in the way they make women feel it is their fault. In my friend's case the fault was hers for making his friends tease him about this long time friend of hers.Yes, the old guilt trip will always do it.Maybe I deserved it for not doing what was expected and once that thinking takes over then the men would always be in a position to manipulate.Am saying all this to say that rather than be judgemental we should try to understand the reasons people put up with it.Hopefully, there will come a breaking point when you just get up and say enough.

Monday, April 25, 2005
Back in SVG
Got in about 8.15 this morning and instead of going to school I headed straight home.I already miss Barbados, well my uncle and his friends who treated me as if I were royalty by catering to my every little whim and fancy.Unfortunately, it is back home to run of the mill life but I will survive:).West indies lost but that is a whole nother blog by itself.

Kensington had a streaker and the courts charged the man 3000 $Bds for exposing his "person". I think that is really excessive for something I consider rather harmless. So he took off his clothes and ran across the pitch and that becomes a big deal worthy of such a heavy fine? I know of offences much more serious which were handed lesser fines. By all means fine the man if he breaks your country laws but temper it with some sense as I think the punishment should correspond to the crime.Am thinking at least 500 max would be enough but not 3000 at all.At the end of the day the man only committed a "crime" against himself.

Coming out of a discussion we had Friday night on the same matter I learnt that if a woman streaks she would be charged with indecent exposure since she does not have a "person".So I suppose the trauma of seeing a naked woman is less hence the lesser fine.Stupidity, if you ask me.If the whole idea is not to expose your body publicly then it should not matter whether or not you have a "person".By the way interesting name for a penis,isn't it? Probably comes from having a mind all its own.I was so amused by the term because somehow I always thought person referred to your entire body. Everyday you learn something more.

Saturday, April 23, 2005
In Barbados
Got in yesterday around 5.35-nice smooth flight but had to wait a while before I got picked up.After I got picked up was non stop activity.First stop was home to get some food, then to pay my aunt a visit.On our way home we drove through St lawrence Gap and then went to Oistins and spent about 30 mins before heading off to hang out with some of my uncle's friends.

To my greatest surprise Beenie Man/Buju show was next and even though I tried to get home to shower and put on clean clothes it was to no avail.So I had to go in the clothes I was wearing from around 2.30 pm which was not so cool at all although I was reassured I would not stick out.Everybody was dressed in their little sexy and in some cases ridiculous outfits and I looked as if I was going to church in a long skirt and a top with sphagetti strips.Got to the stadium midway through Buju performance and he was quite good.Beenie on the other hand was rather irritating with his insistence on talking,talking rather than performing.Got back home around 2.10 am and went straight to bed.

Thi smorning all roads lead to Kensington to watch South Africa continue their dominance.Dunno what I will be doing tonight but more than likely will hang out with some friends after the game.As you all can tell am having a ball.Out for now,

Friday, April 22, 2005
Academy
St Vincent and the Grenadines can now boast of its own cricket academy, the first of its kind on the island.The Academy,under the guidance of Alfred Bynoe and Neil Williams,former Windwards and England bowler was launched at the Arnos Vale Playing Field on the 9th of April and cites as its aim the development of young cricketers in a holistic manner.To mark the occasion a 20 overs game was played between the NCA and a Richland Park X1 which the former won by 9 wickets.

The realisation of the National Academy has been a dream come true for pioneer Alfred Bynoe. Bynoe,a Development Officer of the WICB said the idea of the academy came from his involvement with Kiddy cricket,some four years ago. Back then there were only 8 participants but the number has now grown to 50 including three females between 7 and 15 years old.The Academy which will operate on Saturday mornings and during the Easter and August vacations is expected to show a steady growth in enrolment and development.However,the Academy is in need of sponsorship to aid in meeting its administrative costs since the major funding comes from monthly fees paid by students.

Speaking at the launch Michael Seepersad, Chief Development Officer of the WICB listed Technical and Tactical, Education, Fitness and Conditioning, and Mental Development as pillars on which the Academy must stand. He also urged the management to "concentrate not on winning but on development".The other addressees were Lennox John,president of the Windwards Cricket Board, Julian Jack,president of the SVGCA and Chairman of the National Academy's Steering Committee,Garth Saunders `

Although,still very much in its infancy the Academy is already proving itself to be a nursery for emerging talent.Four of its members were called to the National Under 15 trials and eight were part of a St Vincent representative team to Trinidad last month.Plans are also afoot to enter an Academy team in the second Division of the National Cricket Championship in 2006.Assisting Bynoe and Williams are Ian Allen, current coach of the Windwards team and current players Kenroy Peters and Olanzo Jackson.

Thursday, April 21, 2005
CCJ
Just a few days after its launch the Caribbean Court of Justice finds itself having to investigate one of its members.At the centre is a lawsuit brought against Othneil Sylvester for swindling a Danish foundation of 12 million dollars.Am going to reserve comment because one never knows who is reading and the man in question is a member of my church.Let's just say I have a strong opinion on who is guilty.
Read more about it
Tuesday, April 19, 2005
Have passport,will travel
Today,I get my passport i.e if there are no more hitches.Who knows that to take out a simple thing like a passport would be so stressful.According to the rules it takes three weeks to get one processed but Friday when I went to check on it I was told it was not ready.Okay,so naturally I wanted to know when I would get it as am due to travel on Friday this week.The reply, in a very rude manner was that they don't know and if I needed to travel I should take an emergency document.Did I ever tell you customer service stinks in this island? Of course that was out the question because I had already met the three weeks regulation.

To add insult to injury my application could not be found.So I ended up spending close to an hour trying to convince the Immigration officers that I did indeed bring in the form.Eventually,they found the proof that I had submitted it and told me to come back on Tuesday.

Am not sure if there are worst things than dealing with Government offices.It takes forever to get something done and most of the times you are treated as if you are an unwelcomed visitor.You better be prepared to dedicate a substantial portion of your time if you want to get something done.Thank God I won't have to deal with Immigration Dept for another 10 years.

Saturday, April 16, 2005
Big up to Sancho Lyttle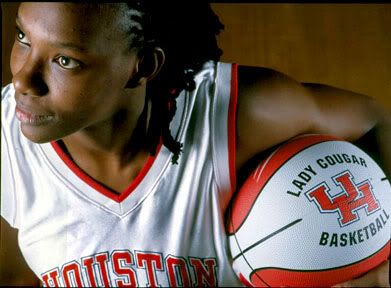 Senior Sancho Lyttle was picked Fifth in the 2005 WNBA Draft by the Houston Comets with their first pick of the draft.
Senior Sancho Lyttle became the second Lady Cougar in school history to be taken in the first round. The fifth pick is the highest a Lady Cougar has ever been selected. In 2004, Chandi Jones was drafted in the first round at the eighth pick.
Lyttle who finished the season leading the nation in rebounds. was chosen with the Comets first pick behind Janel McCarvel (Charlotte Sting), Tan White (Indiana Fever), Sanodra Irvin (Phoenix, Mercury), and Kendra Wecker (San Antonio Silver Stars) respectively.
While her classmates were crowding all-star camps and AAU tournaments in high school, Lyttle was running track and playing netball -- a game that resembles basketball in few ways, but the fact that one scores by putting a ball in a basket --in her native St. Vincent in the West Indies. A standout sprinter from the time she was 9 -- she once ran a blistering 54.55 in the 400 meters -- and a star defender on the national netball team as a 18-year-old, Lyttle didn't play basketball until her senior year of high school. Her track coach told her a scholarship from Wichita State was in the works, but an offer to play basketball at Clarendon Junior College in Texas came in first
Coach Joe Curl who was on hand at the Comets Draft party offering commentary on the draft picks with Cheryl Swoops said, "We are so glad that Sancho can stay close to home. We love that her fans from the University of Houston will get to see her play at the next level, where she will continue to grow as player."
Thursday, April 14, 2005
Britney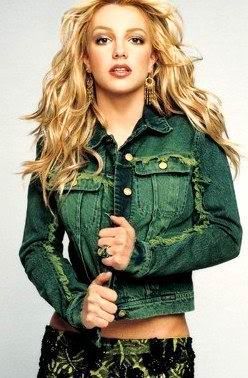 While watching E last night I heard them say "Breaking News".So am thinking it is something dramatic like MJ admits he guilty only to hear that Britney's pregnant.Am I the only one who couldn't care less? Actually,I should start a watch to see how long Daddy stays around because his track record not too good.
Tuesday, April 12, 2005
Pet Peeve
Lately, on my MSN I have been attracting some people with nuff attitude.Here's a short sample:

caribdude: you on and wont speak to me man
caribdude: you done with me now
caribdude: anyway bye

All of that before I could type a reply because he promptly went offline.The thing that irritates me is that MSN is a two way street and nowhere is it written in stone that person x must initiate the conversation.Then I get questions like "what did I do you?" and people cross examining you as if you on a witness stand.I can understand if it is done lightheartedly but not in those accusing ways.

The point is sometimes you don't even see when some people log in or they have "away" next to their screen name.So,if you respecting the "away" sign then I would think that person should say hello when they change their status as you may not even be aware of the change. Instead, it seems easier for them to dump on you as if you have comitted a crime.Well,since I can't take the drama a few of them are a fingertip away from being deleted.

Anyone else has any MSN peeves?

Saturday, April 09, 2005
Royal Wedding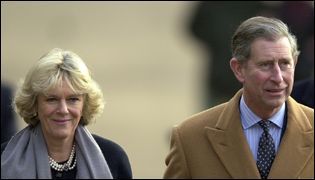 Well,today is the wedding of Prince Charles and Camilla Bowles,the woman who has been part of his life for the last 34 years.As a rule,I hardly ever pay any attention to the Royal family(was not even a Princess Di fan).But,there is one aspect of this coverage that has attracted my attention and that is the comments on Camilla's looks.
So what if she does not look like Princess Diana? Are we saying that every woman has to look like a model or her worth is somewhat less? That seems to be the message that is coming through loud and clear with all the comments about horsy looks and the inevitable references to the beautiful Diana.But,for all of Diana's good looks her marriage crashed and this "unlovely" woman still managed to hold Prince Charles's attention.It suggests then that he and Camilla were way more compatible than he and Diana ever were.And isnt that what any relationship is all about?
While am on it Prince Charles is no Prince Charming himself but you don't see the media,mainstream or else obsessing over his looks.But,Camilla who looks the way I think the average 50 something woman does is being put under a microscope and compared to a woman several years her junior.It is almost as if it is a sin for a man like Prince Charles to choose a woman who is not a beauty queen.If he had chosen a gorgeous thirty something,she would probably have been called a gold digger.
I tell you being a woman is a real tough job.No matter what you have achieved it always comes back to the way you look.Condoleeza Rice gets her share of comments with respect to her looks.Small wonder so many of us are so screwed up in the way we look at ourselves all because we don't fit society's standards.The bottom line is that looks matter,regardless what people say.We women have always known this.
Friday, April 08, 2005
End of vacation
Monday,it is back to work i.e if the transportation strike is not resolved.For months now this strike over proposed increase in bus fares has been in the pipeline.As is usual in these parts there is always resolution at the ninth hour.However,according to the Transport Assoc the Government has refused their demands for increased bus fare thereby forcing them to call a strike on Friday and Monday.

The thing that irritates me about these strikes is that the vans block strategic points and in the process prevent private transportation from going about their business.Up to now I still can't figure out why private transportation is made to suffer.The overwhelming majority of commuters use public transportation so it is not even a case of their strike being affected.Anyway, it is high time the Govt runs a transport system to alleviate these inconveniences which are becoming far too regular for my liking.Not that I won't mind an extra day off but I expect some deal will be struck for Monday and put an end to my dreams.

Anyway,this term is short with Cxc's beginning in May.That means I only have three weeks of teaching time with the fifth formers before they go home.Hopefully,this time around results will be better but I don't have high hopes.But I may be pleasantly surprised,who knows.Anyway,have a good weekend all

Wednesday, April 06, 2005
Sophia Young and Baylor

Young, a first team All-American by the U.S. Basketball Writers Association of America, who grew up playing the no-backboard game of netball on St. Vincent in the West Indies, scored a game-high 26 points and was the Final Four's most outstanding player as Baylor won their first championship last night in the RCA Dome."We're just trying to be the shining light of Baylor and the community in Waco (Texas)," Young said.
The 6-foot-1 junior forward clearly showed the way for the Bears in their 68-57 victory over No. 1 overall seed LSU Sunday night as she scored 21 points with 10 rebounds and six assists.
"I thought I had to step up really big for my teammates," said Young, who is a native of St. Vincent in the West Indies and went to Evangel as an exchange student having never played basketball before.Over her last three games, Young is averaging 22 points, 9.3 rebounds and 4.6 assists for the Lady Bears. Young's mother, Annie Christopher, never saw her play in person until three games ago. Christopher was one of the hundreds of raucous Baylor fans at the game Sunday who easily outnumbered and outshouted LSU's contingent.
Congrats Sophie and Baylor.Oh,one more thing Sophie,SVG's population is 105,000 not 17,000.
Tuesday, April 05, 2005
Strange Sayings
Ever noticed all the sayings we use that really do not have any meaning? Yet,they have become part of our everyday conversation.When we want to ward off bad luck we say knock on wood and accompany it with a knock for good measure. How did we get the term crocodile tears?Any body can prove a crocodile really cries or that its grief is fake?

A piece of cake is a term for something that you do with ease.When something rings a bell your memory gets jogged by an incident.Ever had an adult tell you that a particular person born with a silver spoon in his/her mouth so you must not waste time idling with them? Here,we even have our version of silver spoon which is "well done seven and naked back eleven"

Or how about the term out like a light? That one I can follow because it implies you would have fallen asleep in about the time it takes to switch off a light.In the doghouse means you have fallen out of favour but most dogs get treated very well so I am not so sure I understand that one.

I have been guilty of counting my chickens before they were hatched.So many times I have heard that I should take my head out the clouds.But life without dreams is dull,right?

Now that I have started the ball rolling the invitation is open for fellow bloggers to jump on the bandwagon and share some strange or silly sayings.

Monday, April 04, 2005
Martin Luther King Jnr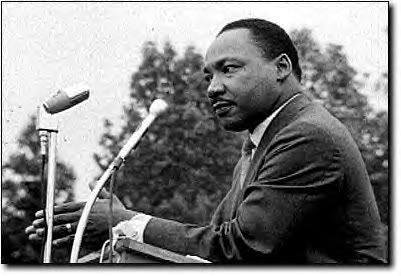 Jan 15th 1929 to April 4 1968.
Here's the text of his famous "I have a dream speech" Wonder what he would think today.
Five score years ago, a great American, in whose symbolic shadow we stand today, signed the Emancipation Proclamation. This momentous decree came as a great beacon light of hope to millions of Negro slaves who had been seared in the flames of withering injustice. It came as a joyous daybreak to end the long night of their captivity.
But one hundred years later, the Negro still is not free. One hundred years later, the life of the Negro is still sadly crippled by the manacles of segregation and the chains of discrimination. One hundred years later, the Negro lives on a lonely island of poverty in the midst of a vast ocean of material prosperity. One hundred years later, the Negro is still languishing in the corners of American society and finds himself an exile in his own land. So we have come here today to dramatize a shameful condition.
In a sense we have come to our nation's capital to cash a check. When the architects of our republic wrote the magnificent words of the Constitution and the Declaration of Independence, they were signing a promissory note to which every American was to fall heir. This note was a promise that all men, yes, black men as well as white men, would be guaranteed the unalienable rights of life, liberty, and the pursuit of happiness.
It is obvious today that America has defaulted on this promissory note insofar as her citizens of color are concerned. Instead of honoring this sacred obligation, America has given the Negro people a bad check, a check which has come back marked "insufficient funds." But we refuse to believe that the bank of justice is bankrupt. We refuse to believe that there are insufficient funds in the great vaults of opportunity of this nation. So we have come to cash this check -- a check that will give us upon demand the riches of freedom and the security of justice. We have also come to this hallowed spot to remind America of the fierce urgency of now. This is no time to engage in the luxury of cooling off or to take the tranquilizing drug of gradualism. Now is the time to make real the promises of democracy. Now is the time to rise from the dark and desolate valley of segregation to the sunlit path of racial justice. Now is the time to lift our nation from the quick sands of racial injustice to the solid rock of brotherhood. Now is the time to make justice a reality for all of God's children.
It would be fatal for the nation to overlook the urgency of the moment. This sweltering summer of the Negro's legitimate discontent will not pass until there is an invigorating autumn of freedom and equality. Nineteen sixty-three is not an end, but a beginning. Those who hope that the Negro needed to blow off steam and will now be content will have a rude awakening if the nation returns to business as usual. There will be neither rest nor tranquility in America until the Negro is granted his citizenship rights. The whirlwinds of revolt will continue to shake the foundations of our nation until the bright day of justice emerges.
But there is something that I must say to my people who stand on the warm threshold which leads into the palace of justice. In the process of gaining our rightful place we must not be guilty of wrongful deeds. Let us not seek to satisfy our thirst for freedom by drinking from the cup of bitterness and hatred.
We must forever conduct our struggle on the high plane of dignity and discipline. We must not allow our creative protest to degenerate into physical violence. Again and again we must rise to the majestic heights of meeting physical force with soul force. The marvelous new militancy which has engulfed the Negro community must not lead us to distrust of all white people, for many of our white brothers, as evidenced by their presence here today, have come to realize that their destiny is tied up with our destiny and their freedom is inextricably bound to our freedom. We cannot walk alone.
As we walk, we must make the pledge that we shall march ahead. We cannot turn back. There are those who are asking the devotees of civil rights, "When will you be satisfied?" We can never be satisfied as long as the Negro is the victim of the unspeakable horrors of police brutality. We can never be satisfied, as long as our bodies, heavy with the fatigue of travel, cannot gain lodging in the motels of the highways and the hotels of the cities. We can never be satisfied as long as a Negro in Mississippi cannot vote and a Negro in New York believes he has nothing for which to vote. No, no, we are not satisfied, and we will not be satisfied until justice rolls down like waters and righteousness like a mighty stream.
I am not unmindful that some of you have come here out of great trials and tribulations. Some of you have come fresh from narrow jail cells. Some of you have come from areas where your quest for freedom left you battered by the storms of persecution and staggered by the winds of police brutality. You have been the veterans of creative suffering. Continue to work with the faith that unearned suffering is redemptive.
Go back to Mississippi, go back to Alabama, go back to South Carolina, go back to Georgia, go back to Louisiana, go back to the slums and ghettos of our northern cities, knowing that somehow this situation can and will be changed. Let us not wallow in the valley of despair.
I say to you today, my friends, so even though we face the difficulties of today and tomorrow, I still have a dream. It is a dream deeply rooted in the American dream.
I have a dream that one day this nation will rise up and live out the true meaning of its creed: "We hold these truths to be self-evident: that all men are created equal."
I have a dream that one day on the red hills of Georgia the sons of former slaves and the sons of former slave owners will be able to sit down together at the table of brotherhood.
I have a dream that one day even the state of Mississippi, a state sweltering with the heat of injustice, sweltering with the heat of oppression, will be transformed into an oasis of freedom and justice.
I have a dream that my four little children will one day live in a nation where they will not be judged by the color of their skin but by the content of their character.
I have a dream today.
I have a dream that one day, down in Alabama, with its vicious racists, with its governor having his lips dripping with the words of interposition and nullification; one day right there in Alabama, little black boys and black girls will be able to join hands with little white boys and white girls as sisters and brothers.
I have a dream today.
I have a dream that one day every valley shall be exalted, every hill and mountain shall be made low, the rough places will be made plain, and the crooked places will be made straight, and the glory of the Lord shall be revealed, and all flesh shall see it together.
This is our hope. This is the faith that I go back to the South with. With this faith we will be able to hew out of the mountain of despair a stone of hope. With this faith we will be able to transform the jangling discords of our nation into a beautiful symphony of brotherhood. With this faith we will be able to work together, to pray together, to struggle together, to go to jail together, to stand up for freedom together, knowing that we will be free one day.
This will be the day when all of God's children will be able to sing with a new meaning, "My country, 'tis of thee, sweet land of liberty, of thee I sing. Land where my fathers died, land of the pilgrim's pride, from every mountainside, let freedom ring."
And if America is to be a great nation this must become true. So let freedom ring from the prodigious hilltops of New Hampshire. Let freedom ring from the mighty mountains of New York. Let freedom ring from the heightening Alleghenies of Pennsylvania!
Let freedom ring from the snowcapped Rockies of Colorado!
Let freedom ring from the curvaceous slopes of California!
But not only that; let freedom ring from Stone Mountain of Georgia!
Let freedom ring from Lookout Mountain of Tennessee!
Let freedom ring from every hill and molehill of Mississippi. From every mountainside, let freedom ring.
And when this happens, When we allow freedom to ring, when we let it ring from every village and every hamlet, from every state and every city, we will be able to speed up that day when all of God's children, black men and white men, Jews and Gentiles, Protestants and Catholics, will be able to join hands and sing in the words of the old Negro spiritual, "Free at last! free at last! thank God Almighty, we are free at last!"
Sunday, April 03, 2005
Rest in Peace
Pope John Paul II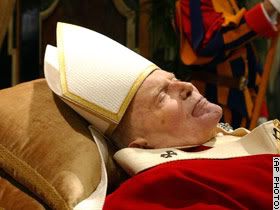 Much will be said about your Papacy and your uncompromising views on controversial issues such as abortion,contraception etc.But none will forget your humanity and your strength in face of adversity
Saturday, April 02, 2005
Pope John Paul II(Repost)
Love him or hate him there is no denying that the man is a fighter.Some people view the Pope as an antichrist or just something evil that hides behind religion.For others he is almost a God like figure to be revered and worshipped.Either way he is a man who evokes strong emotions.I can't say that I have had any strong view points or any view points for that matter with respect to him.

All I knew was that he was the Head of the Catholic Church and one of the world's premier spiritual leaders.I also knew that he was firmly against contraception,abortion,homosexuality and the ordination of women as priests.Occasionally,I would catch a glimpse of this frail old man,obviously in poor health but still conducting mass or delivering a particular message.And I would wonder if the Catholic Church has any provisions that would allow a Pope to step down from office because it seemed a bit "cruel" to have him continue in his condition.

But today am suddenly realising that the Pope possesses great strength.The strength that makes you go on when all you really want to do is probably just walk away from it all.Many of us would have probably given up a long time ago but this man despite his very public illnesses found enough strength to perform the duties of his office.I think it is a lesson that we can overcome many of the barriers we place on our selves.

Addendum.Well,the long fight is finally coming to an end.It has been a valiant fight but when one cannot fight anymore it is okay to give up.May he rest in peace.

Have a good weekend everyone.

Friday, April 01, 2005
More disrespect.
Forgive me for thinking that after the disrespect shown to Alf Valentine that this time around the West Indies team would get it right.Maybe,it was too much to hope that when the team took to the field they would wear some armbands in memory of the late Allan Rae.When one considers that for many years he headed the then WICBC and was considered in some quarters to have been the best leader it is surprising that he was forgotten.

Then this morning almost as if it was an afterthought there was a moment of silence for the late Allan Rae,Robert Christiani and Charlie Stayers.So why am I upset over the lack of armbands? Well, West Indies team set the standard by wearing them for the late Uncle Les,how then can the likes of Allan Rae and others not merit the same honour?

Well,I suppose not many would even care. After all this is a region that is very ignorant of much of its history.Small wonder then that Uncle Les who did not fight in the trenches takes precedence over our warriors.