Thursday, August 28, 2008
News from Carifesta
Remember when I blogged about the late Dr Bernard Marshall's book launch in St Vincent? You don't? Well, the book is Slavery, Law & Society in the British Windward Islands 1763-1823: A Comparative Study and it was part of St Vincent's literary display at Carifesta.

Due to the exposure the book will be translated in Spanish and used in Cuba.I think this is just fantastic but then I did say am a nerd so bear with me. Also ,it is soo good to be writing a positive post about St Vincent given the grimness that surrounds us. It's a pity the author didn't live to see his work bloom but he left a gem that will live on.

Monday, August 25, 2008
It's tough being a woman
A serial rapist is terrorising the women of St Vincent and the Grenadines. I listened with horror as a Police Inspector (via the evening news) reported that 12 women in the Calliaqua and surrounding areas have so far been victims. As part of the broadcast he gave some welcomed tips on how to secure one's self from harm.

Since then,I have been very uneasy about the whole scenario. I am not comforted that the rapes are taking place in area where I do not live as St Vincent is a very small island with not much distance to cover. Tuesday night,I was home alone and around 11.45 I heard some pounding sounds coming from the laundry room area. I immediately rang my neighbour who came over to investigate and found nothing wrong. I felt a bit stupid to have called them out on a wild goose chase but they reassured me that it was no trouble at all.

I have now developed an intense hatred for the rapist or rapists who have turned women into prisoners in their own homes. I hate the jumpy person I have become; seeing danger in every corner. I hate the restless sleep that is now a feature of my life and causes me to be perpetually tired. I hate constantly planning escape routes should this rapist invade my space. Is it too much to want my life back?

Tuesday, August 19, 2008
Lawsuit for UWI
Rhodes Scholar Luke Brown is suing or is about to sue The University of the west Indies. According to the Searchlight,Browne will challenge the fact that he has been awarded his degree with Upper second class honours instead of the first class honours he expected.

Browne said he is illegitimately being deprived of the class of degree he deserves and is defending his academic record from being tarnished. I hav eno degree from the University and I do not intend to accept a degree that says anything other than first class.

His complaint is based on four specific matters which he said caused his grades to be affected.

1. The exam was set on material that was not taught,was not in the recommended text and did not appear on any other examination past exam paper

2. In another the questions made "impossible demands based on the time allowed"

3. "There was subjective and injudicious marking" which resulted in him getting "just about zero" for one question

4.Exam regulations were breached when he and his classmates were given less than one week's notice of an assignment's due date and not the minimum two weeks stipulated by the University regulations,

Four serious acts he asserts,all of which he claims compromise the integrity of the processes of examinations at the University of the West Indies. To attain a first class honours, one must have aminimun GPA of 3.60. Browne's stands at 3.56

Meanwhile, Principal of UWI,Cave Hill told Searchlight that the University has looked into the matter and found no evidence whatever to support the allegations.

I really do not know what to make of this.

Sunday, August 17, 2008
WOW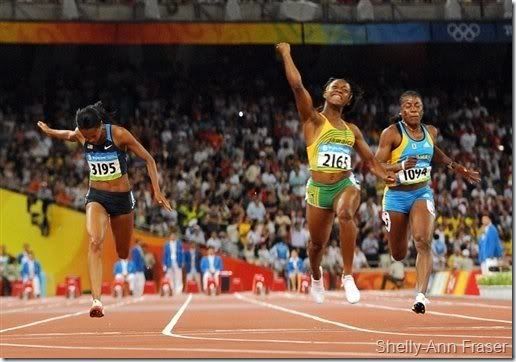 Pretty much speechless after watching the Jamaican trio demolish the 100 metres final. For several moments, I just stared at the screen after watching Shelly Ann Fraser and her supporting staff demolish the field. It took a phone call to snap me out of my "trance" and to realise that yes it did happen.
Something tells me the awe inspiring moments are not yet over.
Happy Bday
Thursday, August 14, 2008
Too ugly to sing
Imagine being seven years old and with the ability to sing like an angel. Imagine the preparations and the excitement when you realise you are chosen to sing at the opening ceremony of the Olympics. Then, at the last moment you are withdrawn because the authorities have decided you are just not pretty enough for primetime.
You would almost think the child was auditioning for Miss China kids since "beauty" was the issue. Instead, the child was discarded because she did not fit the image that China considers perfect. How messed up is that! Note to self: I must pay close attention to the Chinese athletes to see how perfect they all are.
I hope the little girl's self esteem is not irreparably damaged. Too many wounded children are already walking around all because of the calloussness and indifference of adults who should know better. It is true that the world judges on beauty. Little Yang Peiyi(who by the way is not ugly) as she grew would have discovered this but to shatter her innocence like this is just plain wrong.
On another note let's welcome
Another new Vincy Blog
Monday, August 11, 2008
Reaping the whirlwind
Today, I paid a visit to the Serious Offences Court and felt sick to my stomach at the number of youths facing charges. One after the other,they stood up to be remanded for murder,given bail for drugs,wounding and gun possession. As we say in St Vincent,some of these young men still have their mother's features and are already guilty of some heinous crimes.

It appears we have too many angry youths out there who seem to know only one way of resolving conflicts. Even worse, was the presence of several middle aged men answering to charges. So, while we cry down the youths the older ones are busy giving them a wonderful example to follow.

I saw several mothers crying for their sons and I felt some sympathy for them. Noticeably absent were the fathers which suggests their roles if any is minimal. I wondered about the discipline taught in these homes and if warning signs were ignored because the parent/s could not recognise them or simply looked the other way.

We are truly reaping the whirlwind and it is quite disheartening.

Sunday, August 10, 2008
Those goodbyes
Tuesday night,I learnt of the death of a close friend and since then I have been out of sorts. It is easy to say "God knows best","They are gone to better place", They are out of pain" and all the other consoling words but still there is the dreadful finality of death to deal with.

Despite our knowing that death is inevitable and we can literally be here today and gone tomorrow it still takes much adjusting to. It's a bit sobering given that I have lost another close friend recently so it feels as if death is picking us off one by one. As another friend remarked,"we just have to appreciate one another more since we never know who is next".

To borrow a line from Fro....On that melancholy note,I take my exit.

Tuesday, August 05, 2008
Oh for 20 20 vision
Choosing a pair of glasses can be a nightmare. Today, I strolled into the optician's office expecting to identify a pair I liked in about 10 mins max. Of course, I had already convinced myself that I knew exactly what I wanted hence it would be a stroll in the park. Was I ever wrong! from the moment I placed the first pair on my face it was the cue for all the persons in the office to start a running commentary.

No,that one is not you.

Try this.

Not enough edge.

That one doesn't bring out your beauty.

Oooh nice,but too blingy.

No,that one makes you look like my grandmother.

Perrrrfect...brings out the real you.

By now, I have tried on much more than I bargained for and the ones that got the rave reviews did nothing for me and vice versa. At the end of it all I still don't have a new pair of glasses and sometime soon I must go through the procedure all over again. There's nothing like a couple of fellow shoppers and one assistant to shatter one's confidence. I just wish I had eaten my vegetables.

Saturday, August 02, 2008
Still Rising
Today is my blogversary. I can't believe that it has been 4 years since I started blogging but I guess time really does fly when you are having fun. When I started blogging,I didn't think there would be a four year anniversary but here we are still going strong.
Many thanks to all the readers and commenters who let me know that am not talking to the wind. I truly appreciate hearing from you and look forward to your continued support. Special thanks to my bredrin
Jdid
for being here almost from the beginning and for always reminding me of my blogversary. According to him we should have a party so I guess he is hosting and all we have to do is show up and look pretty.
In the event he chickens out,let's just raise a glass to "And Still I rise".
Friday, August 01, 2008
Happy Emancipation Day
My friend asked me this morning why do we still have this holiday. In a way she is right because I knew she was getting at the way the day is treated like just another random day. This is why we shoud celebrate:

Old pirates, yes, they rob I;
Sold I to the merchant ships,
Minutes after they took I
From the bottomless pit.

Bob Marley

Out of the huts of history's shame
I rise
Up from a past that's rooted in pain
I rise
I'm a black ocean, leaping and wide,
Welling and swelling I bear in the tide.
Leaving behind nights of terror and fear
I rise
Into a daybreak that's wondrously clear
I rise
Bringing the gifts that my ancestors gave,
I am the dream and the hope of the slave.
I rise
I rise
I rise.

Maya Angelou

Wont you help to sing
These songs of freedom? -
cause all I ever have:
Redemption songs;
Redemption songs

Bob Marley


Happy Emancipation Day.