Tuesday, July 31, 2007
Emancipation Day
Happy Emancipation Day. At least we no longer celebrate the holiday the first Monday in August to avoid breaking up the week. Instead,we have reverted to recognising the original day. That is something noteworthy since at least we now say Emancipation Day holiday and not August Monday.


Sometimes,I feel that we can safely cancel this holiday because generally we don't have a collective consciousness about the significance of the day. For the most part it is just another holiday, another day to lime without any serious reflection or thanksgiving. It's a pity really but when one is so far removed from the actual horrors of slavery and not nurtured in your history then it's not surprising at all.

I think the challenge is to do something meaningful with the day. Rallies and exhibitions are fine but it must go beyond that and get to a point where the little children will have an understanding of why there is an Aug 1. Maybe even in the same way the Garifuna people of Belize do pilgrimages to St Vincent there can be linkages with West African countries. Many people hate to talk about slavery but it did happen and the race survived. Right there we have a lot to celebrate.

Sunday, July 29, 2007
I like this
The Adonal Foyle Island Basketball Camps 2007 series,scheduled July 30th to August 2nd will bounce off tomorrow at Keartons.Then the camp moves to Calliaqua on Tuesday,Bequia on Wednesday, Union Island on Thursday and wraps up in Canouan on Aug 3rd.
Three NBA players and a retired Chicago Bulls/Warriors player will accompany Adonal, along with a staff of 23 health education and sports professionals, targeting over 1000 children aged 7 to 17. Not only are the camps coordinated locally by basketball administrator Sabrina Mitchell and the LOC's in each venue but they have attracted some high profile sponsors. Partnering Adonal in his efforts are American Airlines, Nike, Young Island Resorts, Grenadine Airways, Clico Insurance, Karib Cable, Frangipani Hotel, Tamarind Beach Hotel, Aunt Jobe's supermarket and Hairoun Duma Water.
The camps are designed to provide the kids with a fun and comprehensive experience covering the basic fundamentals of basketball, with in depth instruction in shooting, rebounding, passing and dribbling while also promoting teamwork, discipline, healthy living, and involvement in sports. Apart from sports there will be a special emphasis on HIV/AIDS awareness and prevention as well as emphasising the importance of education.
It may be a tired old cliche but it really is heartwarming to hear of sportsmen giving back to the land of their birth. Kudos Adonal for trying to make a difference.
Credit to Searchlight newspaper for details.
Labels: Adonal Foyle
Wednesday, July 25, 2007
Rising Stars again
I got a text on my phone tonight that advertised the auditions for Digicel Rising Star on Saturday the 28th,July. I can hardly believe that it's competition time again.

Looking forward to see what new talent this year will unearth. Last year saw Kyron Baptiste become a household name as he sang his way to top spot. Now,the stakes are higher with Vincentians setting their sights on doing the hattrick. From the moment Kyron won people in St Vincent were already identifying potential winners. Others wondered where the next representative would pop up from but most were confident of another win. No doubt the other islands would be hoping to end the Vincy winning streak so I suspect voting will be frantic. On the other hand if Vincy can come up with another representative to capture the public then easy sailing.

So, all you talented Vincy people out there please check out the auditions and remember we have a crown to defend.

Monday, July 23, 2007
Birthday musings
Saturday I went to my godmother's birthday celebration. At the party there was a mixture of all different age groups ranging from 70's to those not even in double figures. As I listened to the toasts and celebration of my Godmother's life it struck me that for her and her generation it was for the most part lives of service. I thought about myself and my peer group and for the most part it was not a satisfactory picture. The truth is by the time Godmother was my age she and her closest circle were already making their mark.

Is it that their generation were imbued with a community and national spirit while we are more individualistic? Not sure that I know the answer totally but I do know when we get together most of our conversations centre around the places we've been, the vacations we are planning on taking, the tv shows, the clothes and new gadgets we want. Sometimes, we don't even bother to physically meet but prefer to make phone calls or text each other to get online and while away time on MSN. Sure, we talk about things that affect our island but for the most part we do not seem to realise that we can actively seek to make a difference. In short the picture I saw was one of selfishness/self centredness and it was quite sobering.

Thursday, July 19, 2007
Better late than never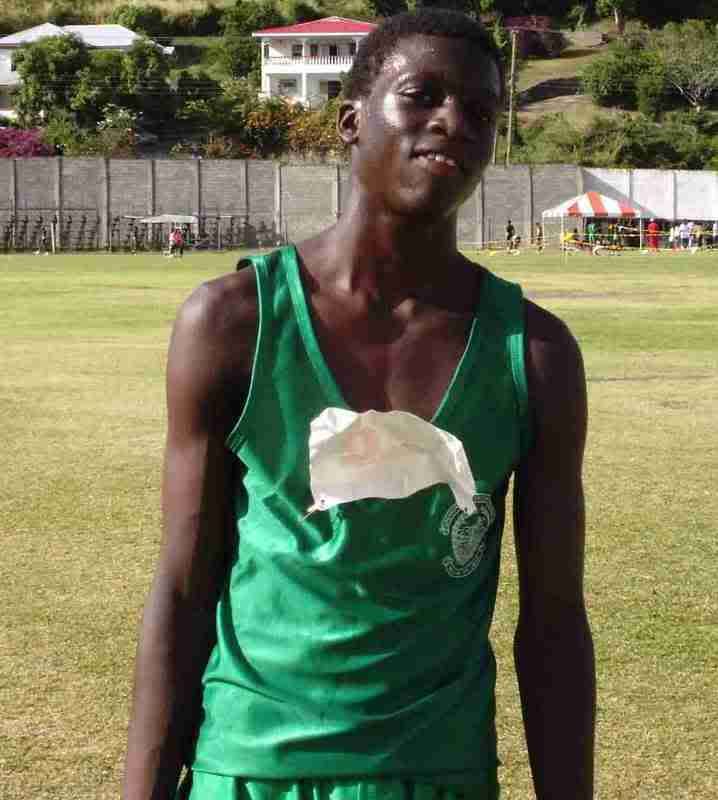 I really meant to congratulate Grenada's Kirani James for acheiving his country's first medal at the World Youth Games in the Czech Republic. Somehow, I got sidetracked with some other issues and completely forgot about it until I saw a clip of the race. Apart from placing second in the 400 metres his time of 46.96 was the fastest time ever ran by a 14 yr old. Seems like Grenada is making it a habit of pulling off some notable firsts. To the best of my knowledge she is the only OECS country to have won the Miss World beauty contest and also has the dubious distinction of having the first coup in the English speaking Caribbean. Let's not forget the great Malcolm X came from the womb of a Grenadian mother. Nuff respect Kirani and keep on making Grenadians and other Caribbean well wishers proud.
Monday, July 16, 2007
Buyout or not?
Am so fed up of the product called LIAT that anything that causes them some turbulence translates to bliss on my end. Call me Miss LIAT hater but am so happy to hear of yet another snag in the proposed buyout of Caribbean Star. This time some workers citing unfair dismissal are suing Caribbean Star hence a delay in buyout proceedings.

The Antigua based Industrial Court has issued an injunctive order that restrains Caribbean Star Airlines from conducting any further talks and discussions with LIAT or any other party, and also forbidding the sale or disposition of the assets and/or liabilities of Caribbean Star Airlines, until further order from the court.The order further restrains Caribbean Star from leasing or selling any of its assets to LIAT or any other party.

LIAT is currently leasing some of Caribbean Star's planes. Those aircraft not currently on permanent lease cannot go that route unless there is a reversal of the order. So LIAT finds itself in a bit of tailspin unless when the court meets tomorrow they get a favorable ruling. Any guesses what am hoping?

Credit to CMC for the details.

Saturday, July 14, 2007
Miss Thinking Blogger
Oh dear I 've somewhat neglected my blog this week. Blame it on lethargy post Carnival but am still around. Was catching up on some blogs and I saw where
my boy Leon
gave me some props for being a thinking blogger. For that am supposed to put the thinking blogger award button on my sidebar which I will do when photobucket allows me access.
Thanks to Devon and Devin for inspiring me to start a blog.Actually, it was more a case of wanting one as well when they announced they were bloggers. Thanks to Blogger for granting me the privilege of hosting my spot. Thanks to my loyal commenters who assure me daily that am not talking to air. Thanks to all those persons who encouraged me to keep scribbling my thoughts and places like Global Voices that give me a confidence boost. Jdid and Cranky hope this is satisfactory:)
In return am giving out one award to
Eemanee
. See y'all next week
Monday, July 09, 2007
Jouvert Jam
Party animal....no sleep at all. Well, not quite but those are the lines from a popular song that's ruling the party scene for Vincy Mas 07. Yes folks I shook off the cobwebs and ventured out to take in some sights and sounds of the Festival.Am still wearing some paint splashed on me by some over exuberant Jouvert merrymakers and somewhat tired from very little sleep last night. Anyways, I'll live so it's all good. Below are a few pictures from the scene this morning.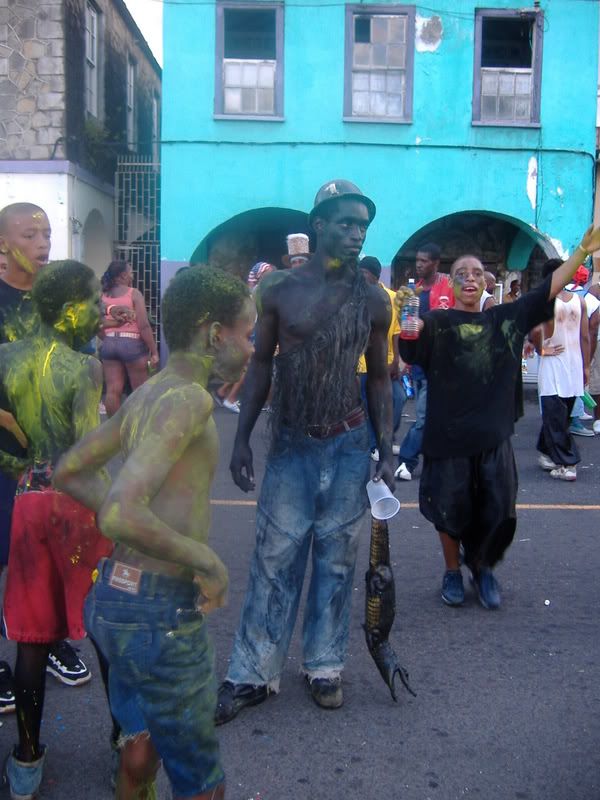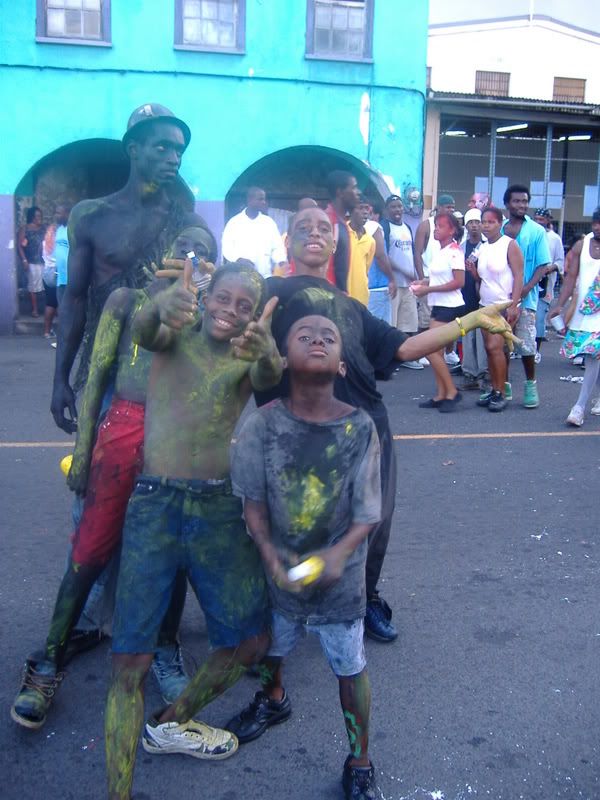 Traditional black paint.Getting rarer and rarer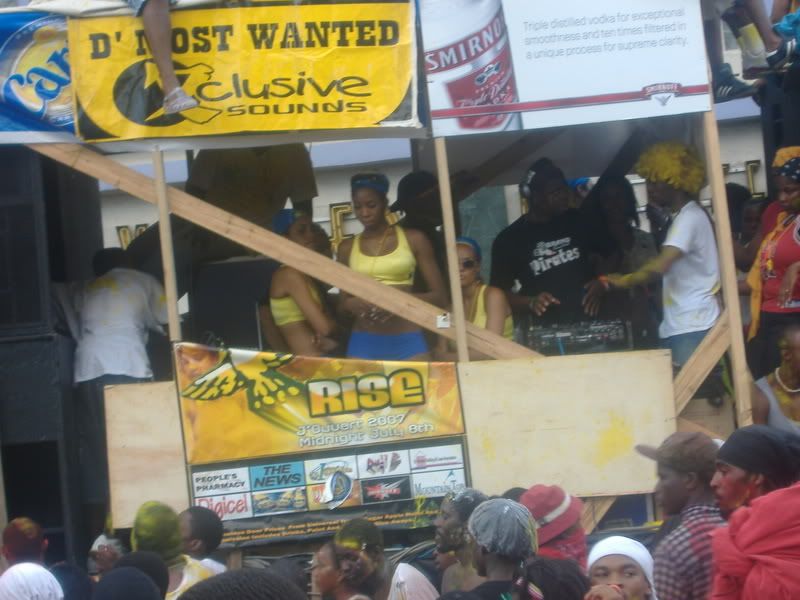 One the many trucks on the road
Ummm family member getting her groove on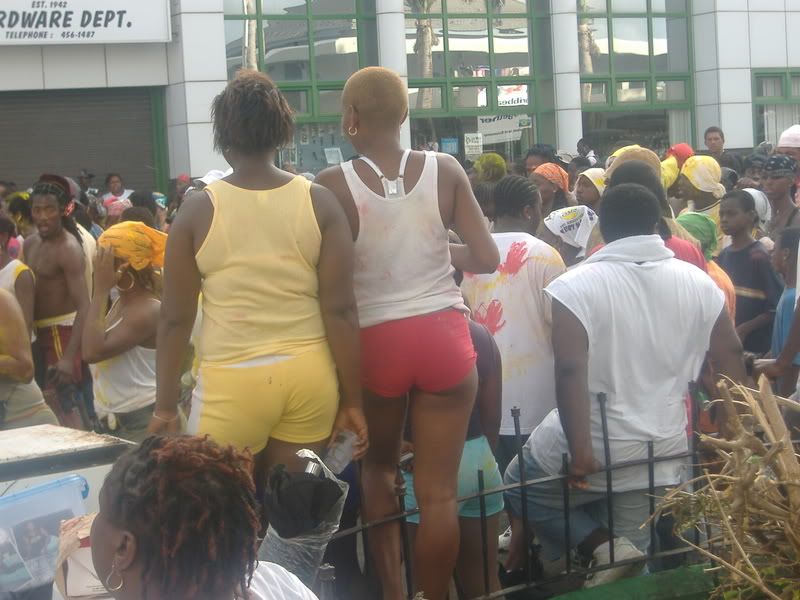 One of the boys liked the view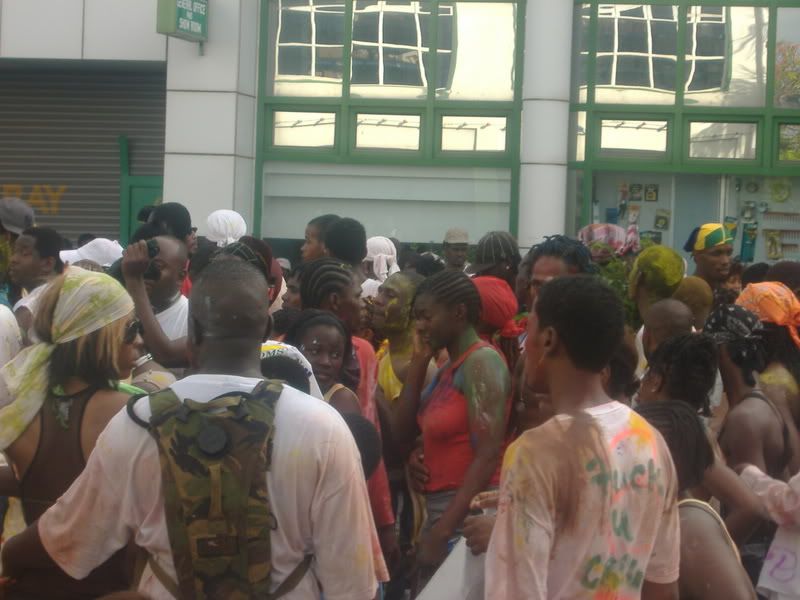 Random revellers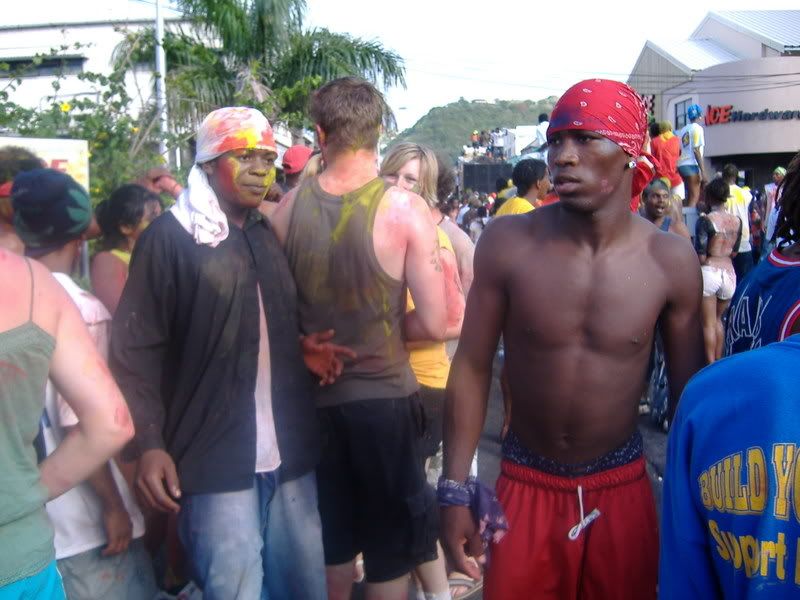 You shoulda seen those white Americans dancing up a storm. They got game
Thursday, July 05, 2007
Love Thursday
Tuesday, July 03, 2007
Enuff Arready
So Peter Ram came to SVG and performed at a show on Sunday night at Victoria Park. Apparently, he used an expletive or expletives during his performance and judging by the comments on some talk shows he has upset some sections of the populace. From all reports he was referring to a previous incident where gays in Trinidad were offended by his hit song when the expletive/s came out.

Am just wondering why an island with 19 homicides thus far in 2007 is getting bent out of shape because of an expletive or two. Am not saying it was the wisest or the best thing for the artiste to have done but seems to me we have way more pressing issues to address than an expletive or two. Enuff arready

Sunday, July 01, 2007
Vincy Mas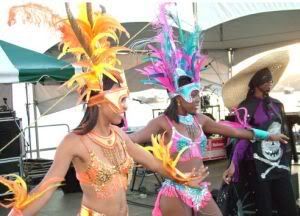 30 years of fun in the July sun is the slogan for this year's Vincy Carnival which kicked off on Friday night and will climax on Jul 10. It was 30 years ago that the festival was moved from pre Lent season to it's current slot on the Vincy Calendar. Back then many feared it would flop but 30 years later and the innovators can claim success.Lately though the CDC has been getting some stick from sections of the public who feel there is need for more innovation.
Over the years there have been the addition of two popular shows namely Soca Monarch and Miss Carival over the 10 day activities. Soca Monarch has grown so much that for the first time this year there is even a semi finals.

So far it's three days into the festival and I am yet to attend any activity. Hopefully, I can correct this before it's all over but lately am finding it harder and harder to drag my self to Victoria Park. Tonight, I was thinking of going to the Park to hear Peter Ram and Biggie Irie among others perform but laziness won out. Last year I dragged myself into Kingstown only because I had guests. Who knew that a day would come when I would not drop everything for Jouvert,Mardi Gras and Monday evening street jump.

Still,there is enough time for me to redeem myself and enjoy some of the fun in the July sun.