Tuesday, February 28, 2006
Shotgun wedding
Here in St Vincent if someone is caught having sex with an animal the matter often ends up in the court especially if the perpetrator is unwilling to agree to a financial settlement.The animal is usually killed since it is now seen as being spoilt goods and villagers may also stage a mock hanging.Read on to see how one village in Sudan dealt with a case of bestiality.

A Sudanese man has been forced to marry a goat after he was caught having sex with the animal.

The goat's owner, Mr Alifi, said he surprised the man with his goat and took him to a council of elders.

They ordered the man, Mr Tombe, to pay a dowry of 15,000 Sudanese dinars, nearly £40, to Mr Alifi.

"We have given him the goat, and as far as we know they are still together," Mr Alifi said.

Mr Alifi, told the Juba Post newspaper that he heard a loud noise around midnight and immediately rushed outside to find Mr Tombe with his goat.

"When I asked him: "What are you doing there?", he fell off the back of the goat, so I captured and tied him up."

Mr Alifi then called elders to decide how to deal with the case.

"They said I should not take him to the police, but rather let him pay a dowry for my goat because he used it as his wife," Mr Alifi told the newspaper.

Sunday, February 26, 2006
Athletics war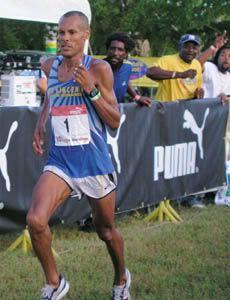 His name is Pamenos Ballantyne and he is the region's leading marathon runner.Hailing from Sandy Bay,the heartland of this island's Carib descendants controversy always seems to surround him.He has received as much accolades as he has condemnations throughout the length of his career.You may say it is practically a love/hate relationship between him and some sections of the Vincentian public.In the middle of all this have been some very public fights between him and the St Vincent and the Grenadines Athletic Association.Pamenos,in the not too distant past has even threatened to run under the Trinadadian flag where he would supposedly be better treated than by his compatriots.

The newest controversy in the long running saga stems from his ommission from the SVG team to the Commonwealth games.It is impossible to declare that SVG's best team was picked minus Pamenos Ballantyne and naturally eyebrows would be raised.Never one to back away from controversy,Pamenos took to the airwaves to speak about the vendetta launched against him by the President of the SVGAAA.Next up was the turn of the politicians with PM Gonsalves questioning Ballanytne's ommission while handing over the Sports Pesonality of the year trophy to him.Not to be outdone Sports Minister Glen Beache lent his voice to the debate during last week's sitting of Parliament.Since then the topic has dominated the airwaves with a petition drive being organised to ensure that Pamenos takes his rightful spot on Tean SVG's team.

While am yet to hear an official reason from the SVGAAA statements attributed to its President have been making the rounds."It is not advisable for anyone to compete in more than two marathons over a 12-month period as this will have a severe strain on their body," the AP quoted Joseph as saying."We cannot take such a risk because if we selected him and something is to happen - such as he collapsing during the event - we will have to take all the blame," Joseph was further reported as saying.Ballantyne,who was the winner of the Jamaica reggae marathon in December and 2nd in Trinidad's Clico marathon in January has dismissed the claim as rubbish.

I hold no brief for Pamenos who most times I find to be boorish,immature and guilty of being his own worst enemy.However,there is no denying that he has represented this country well and I would have loved seeing him on the team.On,the other hand if the President's claims are real then the decision is probably within his best interest.Unfortunately,with the hysteria that is taking place it may be nigh impossible to really find out exactly why he was omitted.Meantime,the debate is set to run a marathon course of its own
Wednesday, February 22, 2006
I hate cancer
I hate the way it robs one of their dignity.I hate the way you are forced to watch the physical body wither away,the way you die several deaths,the helplessness and anger you feel as you watch your once vibrant loved one reduced to a shadow.I hate watching the death mask and the smile that is now a grimace.I hate the pretence of conversations as if life is normal.I hate having to be the strong one when inside am breaking apart.I hate how am even unable to pray because something says its useless.Most of all I hate the long goodbye and that she is going to die.

PS,a lot is happening around me now so bear with me if blogging is a bit scarce.Hopefully,things will be back to normal in the upcoming week.Peace!

Monday, February 20, 2006
And now a gas war
If the multinational group Texaco has its way then the price of a 20 lb cylinder of cooking gas will increase by thirteen dollars.I have not heard any mention of the proposed cost for a 100lb cylinder but am sure an increase is also on the cards.

Now,eveything has come down to a deadline of Feb 25th with Texaco threatening to withdraw sales if they do not get their asking price.On the other side of the debate is the Govt who has asked for the justification in the proposed hike.Already,the man on the street is crying out about the exorbitant increase and contemplating a return to the coalpots.

I wonder if the Petro Caribe gas that came in from Venezuela a few days before elections is a factor in Texaco's stance.Those cylinders were retailed for $25 as opposed to Texaco's rate of $30.Unfortunately,there has only been two shipments and not even enough to begin to cover this country's monthly usage which stands at 20,000.Additionally there is no filling station if the gas from Venezuela was to seriously compete with Texaco.It really does look as if Texaco is holding much of the aces.

They say uneasy lies the head that wears the crown and PM Gonsalves must be feeling some pressure.In the 2 mths of his new term there has been the predictable rise in gas prices which has set off calls by the Minibus Assoc for a hike in bus fares.Let's not forget the steady rise in the cost of living and somehow he must avert the cooking gas threat without causing too much financial pressure on his constituents.At this point I surely won't like to be his shoes.

Saturday, February 18, 2006
Professional begging
Ever been stopped by a person begging for money? If so then you would have experienced some emotions ranging from annoyance to disgust to name a few.Whenever someone begs me I find myself wondering what happened in the person's life to bring them to this level.Is it a case of falling on hard times,abandonment by parents,lack of family support or just plain laziness? Every life has a story but unfortunately some never get told.

Anyway,this Friday am heading downtown when this old lady pulled me over.Being somewhat in a hurry I was reluctant to stop but then I decided to listen her story.She showed some prescription pills and informed me she was now discharged from the hospital and had no money to pay to get home.Well,I didn't see any bags or anything so a little caution bell began softly chiming.You see the new scamming style around here is persons using some sort of medical problem as a way to obtain money.

Another thing that struck me as odd was that she was with a grown grandson who appeared to be in his mid twenties.He didn't seem to have any discomfort in the fact that his granny was begging and my cynical self wondered if he was using her as a meal ticket.Rather than get over analytic I reached into my pocket and gave her some money.Would you believe the woman looked me in the eye and asked if I can't give her something more? At that point I was regretting giving her when the grandson stepped in to do some damage control.

I walked away feeling as if I was scammed.Maybe,maybe not but if I know I have a lecture planned if that lady runs into me again with the same story.

Wednesday, February 15, 2006
Wedding with a twist
Ever heard in the midst of life there's death? Well,am not even sure am quoting it properly but this story kinda makes it literal.This is just too morbid for me

SPRINGFIELD, Ohio (AP) - Daisy Judy and John Franko are getting married at the same place where they mourned the death of their spouses. The couple, both 62, selected Richards Raff & Dunbar Memorial Home as the place to get married.

They met there in 2004 while attending meetings of a grief-support group. Each was mourning the death of a spouse of more than 40 years.

"It sounds odd, but we've grown so accustomed to the place," Judy said.

Judy's husband, Joe, died about three months after being diagnosed with leukemia. Franko's wife, Kathy, had battled breast cancer for 20 years.

After attending the group meetings, the couple became bicycling partners and later passed evenings talking on Judy's porch.

"It just really grew from there," Judy said.

"We kind of are disappointed that we're not going to be attending the grief-support group, but we're not grieving anymore," she said with a smile.

Tuesday, February 14, 2006
My Valentine wishes
Today I wish for a world where HIV does not seem to be winning the war

A world where vaccines could be found for bird flu,HIV and a cure for cancer

A world where children do not have to fend off sexual advances from the ones who should be their protectors

A world where every child would never know hunger

A world where faminine,hunger and disease are things of the past

World Peace

A world where aid reaches the suffering people of the world

A world where persons are not discriminated against because of sex,religion,sexuality,wealth or class.

A world where you get more love than you can handle

Happy Valentine's day y'all.

Friday, February 10, 2006
Red and White Day
Well Valentine's Day is almost upon us and the usual arguments are raging re the usefulness of the day.Here's an interesting excerpt from an article I read online.

Most women I know couldn't forget about the existence of February 14 even if they wanted to, regardless of whether they happen to be alone or in a couple. Most men, on the other hand, wake up on February 14 thinking, "Omigod! I haven't gotten a card yet!" In fact,I read some study that estimated that roughly 86% of men don't think ahead when it comes to Valentine's Day.

How can this be? you wonder. After all, starting in late January, the world is knee-deep in glossy red hearts; candy stores lob chocolates at your head as you walk by; and you can practically buy a sappy card through your ATM machine. So why are most men oblivious to V-Day until the very last minute?

Any of you gentlemen want to take a shot at this? Ladies,you can chime in as well

Wednesday, February 08, 2006
Stressed
As much as I love my job the ever increasing violence has brought me to the point where am wondering if it's worth it.The truth is when I enter a classroom or the school compound I instantly worry about my safety.I feel as if am going to war minus arms which makes me real uneasy.That,my friends is the result of having witnessed one too many guns,one too many stabbings and other related incidents of violence on the job.

The question on everyone's lips is "what has accounted for the breakdown?"According to who you ask the blame is laid squarely at the feet of teachers for being incapable or unwilling to discipline the students.Others blame society,the church,parents,television etc.

I submit that the breakdown originates in the homes of these children.Now,am by no means absolving the teachers et al since ideally everyone should work towards a common goal.However,from my interactions with some parents it is obvious that too many have abdicated their roles.Far too many are more concerned with being their children's friends rather than being a parent.Small wonder then that no one wants to make the unpopular decisions.Instead we have children going their merry way and doing as they please.

Anyway,am amazed and often saddened at the behaviours I see exhibited.It appears as if a whole generation is being lost and all we can do is watch helplessly.Yesterday the tension at school was so high that you could cut it with a knife.Finally,am beginning to understand how distressing our own actions must have been for our elders.After all here am I in my mid twenties and being nostalgic for the good old days.Who would have ever thought it?

Monday, February 06, 2006
Reflections
If you are thinking the title of this post has something to do with Jah Cure then you would be partly correct.Over the weekend I received a letter from an inmate and as I read it I couldn't help thinking he obviously has been listening too much of Jah Cure's song.

Call me cynical,but when parts of the letter are lifted straight from the song then thoughts about his genuineness come to the fore.Right now am faced with making a decision because apart from apologising for his crime he wants me to come and visit him.

Truth is am so repulsed by his crime-robbery and rape of woman old enough to be his mother that part of me wants to distance my self.The other side while terribly disappointed with his actions still has a teeny soft spot for him.Maybe,am really a sucker for a sob story or I believe in redemption.The jury is still out but in the meantime what's a girl to do?

Friday, February 03, 2006
Thank God for cosmetics
Some celebs with and without makeup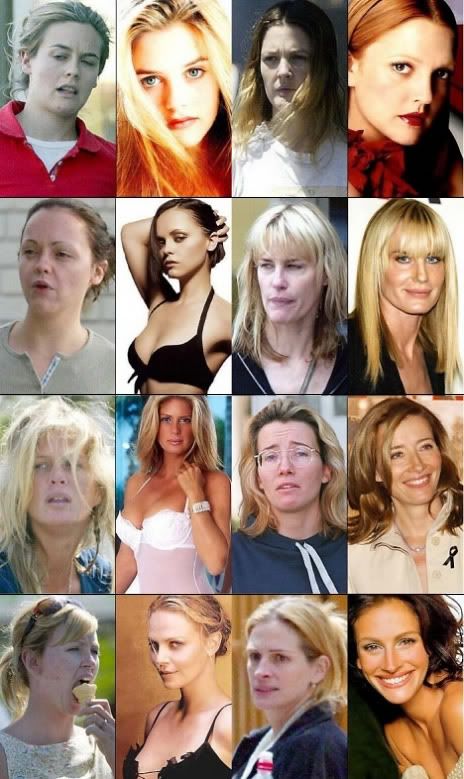 Left to right Alicia Silverstone,Drew Barrymore,Christina Ricci,??,Rachel Hunter?,Emma Thompson, Charlize Theron and Julia Roberts
Wednesday, February 01, 2006
R.I.P Coretta Scott King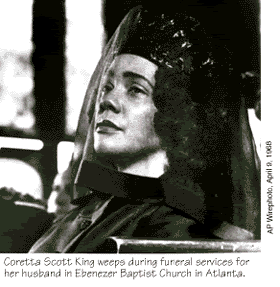 They say a picture tells a thousand words and there ain't no denying the grief captured in this one.I have always looked at it and felt the woman's pain as she sat at her husband's funeral with her children beside her.
Mrs King stood beside her husband during the turbulent civil rights struggle.His death in 1968 did not deter her from continuing his non violence campaign and in the subsequent years she kept the message alive while raising her four children.She also pushed successfully to have her husband's birthday recognised as a national holiday.
Rev Jesse Jackson sums it up nicely."Like all great champions she learned to function with pain and keep serving," he said, adding: "She kept marching. She did not flinch."