Thursday, April 27, 2006
Church and Condoms
It appears as if the Catholic Church is unwillingly being dragged into the 21st century.According to a news excerpt I heard on CNN the Vatican is discussing whether or not to relax their opposition to the use of condoms as a way of fighting AIDS.But before we get too excited there is a condition to it.The condition is that condoms could be considered a "lesser evil" if used by married couples when a partner had the HIV virus.

It may appear that this discussion stops short of combating the spread of AIDS.What about the unmarried persons who are not heeding the church's message of abstinence? According to the United Nations Population Fund, around 6,000 people between the ages of 15 and 24 catch the virus every day.So,when you consider the hardline stance the Church has on contraception then it is a huge concession that they are even entertaining the possibility of making an exception in their stance.

I look forward to Pope Benedict's ruling mainly to see if he would liberal enough to make a radical change in the way the church looks at sexual behaviour.Hopefully,am pleasantly surprised.

Tuesday, April 25, 2006
Panday jailed
I must admit to being really surprised that Basdeo Panday,Leader of the Opposition and Former PM of Trinidad and Tobago was handed a jail sentence for failing to declare his London bank accounts.According to news reports the accounts had around 10 million dollars.

I never thought I would see the day when a Caribbean Prime Minister is actually found guilty of corruption.Lord knows there have been many accused of corruption in high places.However,the practice is to have a host of enquiries(usually after a change of govt)and when all the posturing is done life goes back to normal.We may hear of the odd resignation but never of anyone paying back any money or worse going to jail.Mr Panday must be wondering if he really is in the Caribbean since the norm is that the laws only seem to apply to the poorer class.

I wonder if island states like mine will now hasten the introduction of integrity legislations.And more to the point will the persons who clamour for it be willing to walk the walk themselves? Will top civil servants,judges,magistrates,Board directors et al disclose their assets willingly? It seems to me that every time the talk of integrity legislation is raised most people think it has to do with politicians only.

Meantime,the Ottley Hall enquiry has suddenly aroused a little more interest.Is there a jail sentence in some persons future? So many questions,so little answers.

Saturday, April 22, 2006
Violence against women
If the reports are to be believed then at least seven women within the Belair/Arnos Vale area have been raped recently.It is unclear whether the rapes have been the work of one person so I will stop short of saying we have a serial rapist on our hands.Either way the situation is very worrying since rape inevitably leaves in its wake a host of emotional scarrings.Am not in any way discounting the physical scars but when those are long healed the emotional ones linger.
I have noticed that most times there is any mention of rape it always comes down to the woman being blamed.How many times have we heard "she was asking for it dressed like that".Or,the woman blames herself thinking she somehow may have provoked the rape or if she had put more of a struggle maybe it won't have happened.In all this the responsibility for the crime gets shifted and the perpetrator's life continues as normal.
So,it was pleasing to stumble on
this site
during one of my random web searches.It really is a group founded in D.C by a handful of men seeking to raise their own and the community's consciousness about men's violence against women. Today it is a concerned community of men and women of all ages, from many walks of life, working locally and nationally for peace, equity and gender justice.
From their mission statement comes these excerpts:
We do not believe men's violence is inevitable. We believe that rape, battering, and other forms of men's violence are learned behaviors, choices that men make to exert power and control over others that are reinforced by a society that defines manhood through domination.
We believe that men can unlearn these damaging lessons and live peacefully with women and other men. To do so, however, we must redefine what it means to be a man.
Thoughts,anyone.
Wednesday, April 19, 2006
Church peeve
Give and it will come back to you,good measure pressed down,shaken together and running over.

How many times have you had that quote thrown at you especially when your church is on a fund raising drive?Yes,we know giving is an act of love and money is necessary to carry out God's work.But seriously,a lot of times the fund raising drives are a major source of irritation to me.I may have just booked a one way ticket to the hot place for that blasphemy but on the other hand I may get some points for honesty.

The church I attend is currently building a Church Hall which is supposed to house functions etc put on by the Church.The members are supposed to raise the bulk of the funds for its completion and so far it is pretty much behind schedule.Then,there is the problem of the pews with quite a number of them needing to be replaced.Once more the members are expected to pull their weight and come up with the necessary funds.So far so good. we have two projects to work on.

Easter sunday arrives and we notice the entrance to the church has been graded.We pay it no particular attention until the steward announces that it is yet another project for us to fund.By now the murmurs are increasing but it gets better when she announces the fascia boards need replacing as well.

Truthfully,I don't mind contributing but it is biting off to much at one time.It gets even more ridiculous when you consider that the vast majority of the members are unemployed(non pensionable) and a sizable portion are children and young adults of school age.So really it is a bit too ambitious to hope to pull off all these projects simultaneously.Don't forget there are also little other ongoing projects.Small wonder people have the impression that church is or can be a huge money making venture.

Sunday, April 16, 2006
Shhhhhhhhhhhhh
Tight lipped takes on a literal meaning

BELGRADE, Serbia-Montenegro (AP) - A Serbian prisoner using needle, thread and safety pins stitched his lips and tongue together to avoid a scheduled court hearing in his robbery case, the Blic newspaper reported Saturday.

Zoran Raskovic, 27, in custody at Belgrade's central prison, is one of six people charged with a 2003 bank heist in the central Serbian town of Mladenovac, when the group allegedly made away with the equivalent of about $153,000 Cdn.

A prison guard discovered Raskovic on Friday morning after he had apparently sewed his mouth together overnight. The needle and the safety pins were likely smuggled into the prison, Blic said.

A prison surgeon was called in and removed the self-inflicted stitches, but Raskovic, who had lost some blood, subsequently was too weak to appear in court Friday.

Raskovic's lawyer, Sanja Radenkovic, told Blic she was "in shock" as her client had never been a "psychologically unstable" person.

"He likely wanted to protest the unfair length of his imprisonment pending trial," she was quoted as saying

Friday, April 14, 2006
Good Friday
Vincentians always welcome Good Friday with a bit of unease.It was on a Good Friday,27 years ago that they were awakened to the news that the volcano was making its presence known.
This Good Friday,I did not place the white of an egg in a glass,put it in a shady place and hope by day end it would take a shape that would determine my future.I didn't cut a peas tree hoping it would bleed,probably because there are no trees in my backyard.Am deathly afraid of snakes so there is no way am going to hunt down one and hit it with the hope of seeing its feet.Am not going to the beach today,not because I fear drowning but simply because I plan to go on Monday.
I did however eat some not too hot cross buns after coming back from church service.Later on today am going to eat the traditional Good Friday lunch which will be missing meat.I don't think I will be eating mackerel but definitely something in the fish family.
Oh,the funeral and wedding reception went well.I didn't feel the strain until the Thursday midday when tiredness overcame me.Here are a few pics from the reception.More will follow later.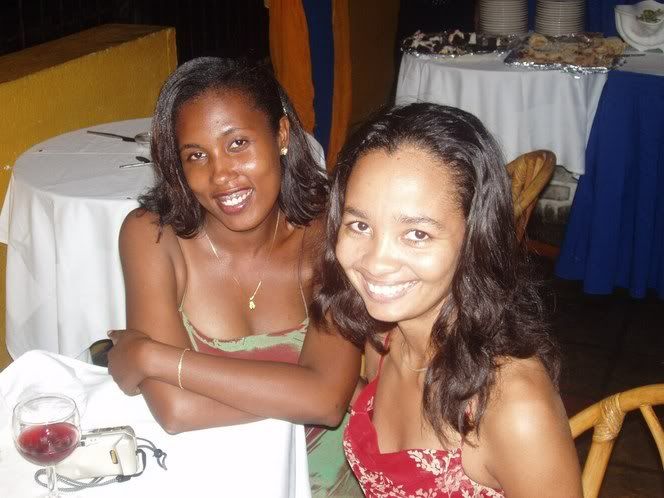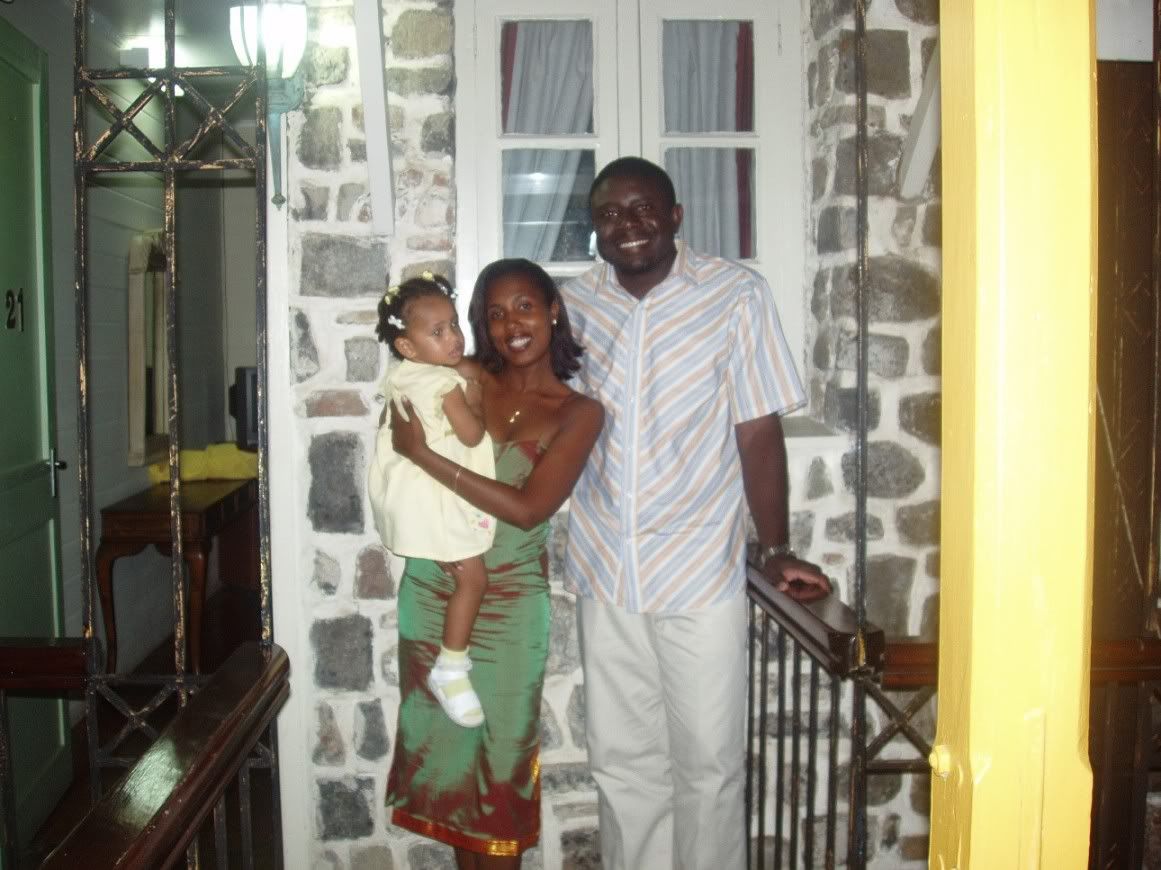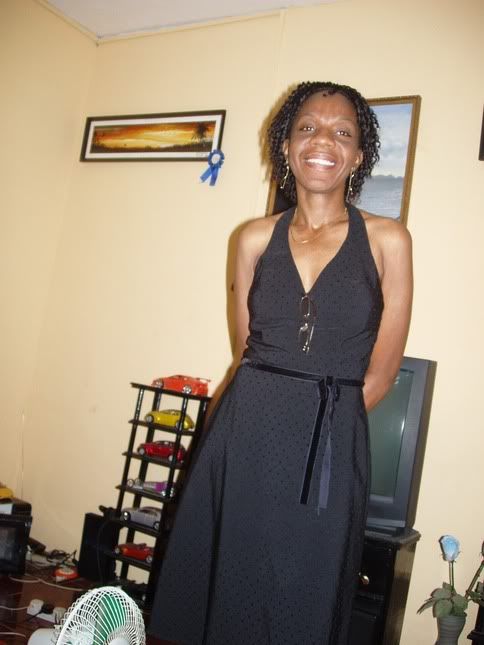 Tuesday, April 11, 2006
A wedding and a funeral
Tomorrow,I say goodbye to my friend and I also have a wedding to attend.Never,in my wildest dream would I have thought something like that would ever happen.But this is no dream and once more my emotions will be on a crazy roller coaster ride.Truth is really stranger than fiction!

Monday, April 10, 2006
Open marriages/relationships

Am not sure if any of you have heard about Will and Jada Smith's open marriage.Here is Will's view point "Our perspective is you don't avoid what's natural," the actor recently told a UK newspaper. "You're going to be attracted to people. In our marriage vows, we didn't say 'forsaking all others'. The vow that we made was that you will never hear that I did something after the fact"

"If it came down to it, then one can say to the other, 'Look, I need to have sex with somebody. I'm not going to if you don't approve – but please approve of it.'"

And all of this is coming to light because Will admitted to having sexual feelings for Eva Mendes while filming Hitch.And to think people thought this was the ideal marriage-well it is if you into swinging.

Ummm..okay so I take it an open relationship is where each person is given a green light to have sex with who ever they please.According to the sexperts this is supposed to keep things fresh and exciting(um.sure)The pro open relationship parties will argue that it is better to know before hand than than finding out after the deed is done.(ummm.whatever)

It gets even better.The person who is stepping out probably swears to have safe sex and to be sure the other party probably watches to ensure the rules are kept.(um...freaky)

Best of all there must be no emotional attachment.I guess this means a lot of one night stands.right?

Maybe,it is just me but how sick is this? Am thinking of my group of friends and the likelihood of one mentioning that their sex life is dull and if as a favour I could sleep with her boyfriend/husband.Just the thought is enough to make me puke.But,let's say I agreed won't that mean the end of the friendship? Or alternately the conversations would be just out of this world.Call me old fashioned but this is way too advanced for me.Maybe,when I grow up some more I'll be totally accepting but in the meantime excuse me while I puke.
Thursday, April 06, 2006
Goodbye
Just an update to let you know that my friend passed on this morning.Right now my emotions range from relief that her pain is over to sorrow at the loss.Even though I knew it was inevitable and I prayed for it to be over nothing prepares you for the hollowness you feel.But like R Kelly says "I know you're in a better place.And you know I can see your face.I know you're smiling down on me Saying everything's okay "

Wednesday, April 05, 2006
Congrats Sophia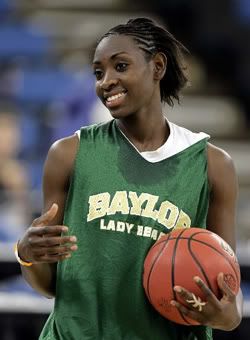 Her name is Sophia Young and she hails from the town of Layou in St Vincent and the Grenadines.Last year she led Baylor to a NCAA women's championship but there was to be no repeat in 2006 as they were eliminated by eventual winners Maryland.Despite failing to repeat championship glory there was much personal glory for the girl from Vinci land.She was named the Big 12 Player of the Year,AP All-American First team,finalist for Kodak honors and Big 12 Commissioner's Honor Roll (4.0 GPA.)Became just the fourth player in NCAA history to post career totals of 2,000 points (Young had 2,480), 1,000 rebounds (1,316), 300 assists (303) and 300 steals (315) -- joining USC's Cheryl Miller, and Tennesse's duo of Chamique Holdsclaw and Tamicha Catchings during the New Mexico win ... Not bad for a girl who never played basketball until she moved to the US at age 15 as part of an exchange student programme.Prior to this she was an avid netballer who in 1998 led SVG under 16 netballers to a Caribbean title.But best of all,today the news broke that Sophia was the no 4 draft pick in the WNBA.Bye,bye college scene and hello San Antonio Silver Stars.Knock them dead,Sophia!
Monday, April 03, 2006
Porn Addiction
After my last depressing post here's something to make you smile-I hope.

A frustrated German housewife called police because her husband would not stop watching porn movies.

The 44-year-old woman, from Aachen, dialled the emergency police number and told the dispatcher in a weepy voice there was an emergency.

But when officers arrived at the scene they found her pacing the apartment while her husband, 46, sat in front of the TV watching a blue movie.

She told the police: "Nothing will move him, not even if I offer him the real thing, and he has the TV on so loud I'm sure the neighbours can hear it."

She was told however that there was nothing the police could do in such a case, but refer her to a counsellor for help.

Saturday, April 01, 2006
The World is getting crazier
I have always maintained that cimes committed against children are the biggest blots on humanity.Then,as if I needed more justification on Friday morning I turned to CMC news and heard of the shocking murder of a little 6 yr old Trinidadian boy.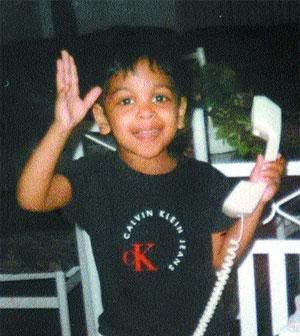 The decomposed body of Sean Luke was found in a Canefield near his Couva home.His killer inserted a cane stalk into his rectum and pushed it until it reached Sean's throat puncturing his lungs and other organs.And when I think it couldn't get worse news broke that 2 teenagers (one 14 years) have been arrested for this heinous crime.Can anybody out there can make sense of this?
I am simply lost for words.