Wednesday, March 21, 2012
Women rising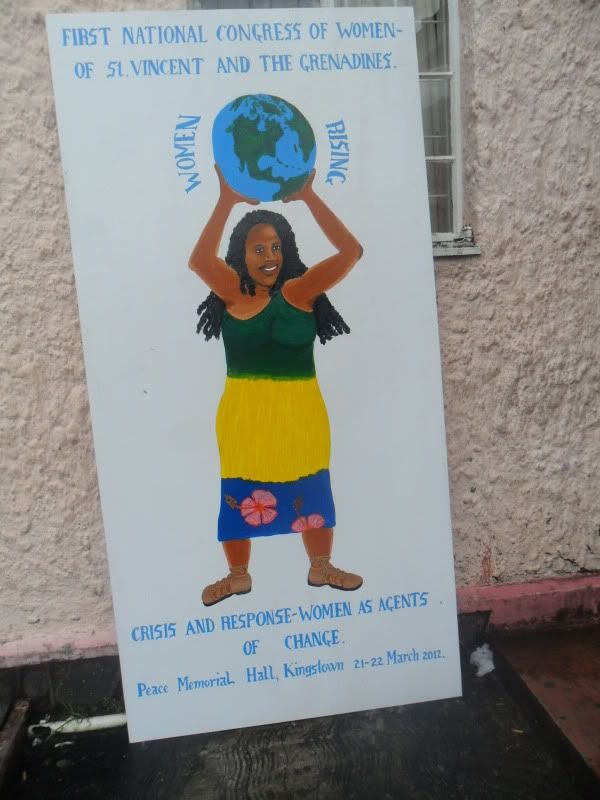 Earlier today the historic first National Congress of Women began in Kingstown. The Fourth World Conference on Women saw women as central to each country's development. A gender equality perspective is both efficient and effective as a development approach and a fundamental tool for the attainment of the Millennium Development Goals and other global summit goals and outcomes. It is against this backdrop that the National Congress of Women convened by the National Council of Women with technical assistance from the Venezuelan Embassy and the OAS is being held.
The objectives of the Congress are to
1. Create an understanding in women of their role in National Development, within the context of the Beijing platform for Action, the Commonwealth Plan of Action for Gender Equality, and the Millennium Development Goals.
2. Provide a forum for the voices of women in all sectors to be heard, including the concerns of rural, indigenous and Rastafari women, the disabled and youth.
3. Build national solidarity among women
It's very timely because in the words of keynote speaker Penelope Beckles this little island has far too many reported rapes and femicides. And there are many other issues that need a light shone on them. At the least this Congress will get the conversations started and who knows what will the be end result.
Thursday, March 15, 2012
R.I.P Rasum Shallow
It's late in coming but I must pay tribute to the late Gerard "Rasum" Shallow who died on 4th March, 2012. He was small in stature but a colossus on the Vincentian cultural landscape. In fact his contributions were not limited to culture as he also an educator and a former parliamentary senator. A prolific songwriter he wrote for many calypsonians before he decided to enter the calypso ring. Prior to that he was a lead vocalist for the band XADUS.

His songs were poetic demonstrating his mastery of words and imagery. Some critics complained that his songs were too wordy but I found them compelling with an added bonus being he could sing. In 1994, when he decided to enter the world of competitive calypso we were introduced to his signature song "Perseverance"- arguably one of the best written songs in Vincentian musical history. He placed 1st runner up but in the minds of many he was the monarch. I am not sure if that was his only shot at the monarchy preferring instead the band scene to competitive calypso. However, following his death a family member revealed that Rasum was planning a comeback in the 2012 Calypso competition.

In one of Rasum's more poignant songs "Take me" he sang:

"Take me ah beg you take me.Where we all can party as one big family
with no need to worry. As man continue to fight a war that cannot be won.
I want to be with you in music-land"
So when I was awoken in the wee hrs of Monday morning with the news of his passing I instantly thought he had gone to music-land. Monday the 4th, was a sombre day as Vincentians wrapped their minds around the news and took to the airwaves to give tributes. I couldn't help but think how we do not celebrate our artistes when they are alive, when they can hear and feel our appreciation. We must do better! Play on Rasum,play on. No doubt music-land is exactly as you envisaged it.

Take a listen to Rasum performing "Perseverance" at Vincy Homecoming in 2009


Sunday, March 04, 2012
Sound of Silence
Last Tuesday or Wednesday news starting making the rounds that telephone lines at police stations were disconnected. As the day progressed we also learnt that several clinics, schools and some government offices were without phone service. LIME, the telecommunications service provider had cut the disconnected the lines for nonpayment of bills.

Since then recriminations have been fast and furious. The Government seeking to do damage control blamed civil service management for the escalating bills which cost the government approximately 300k mthly. Opposition talk shows firmly laid the blame at the Government's feet for its mismanagement of the country's financial resources while those sympathetic to the government blamed inefficient workers. From where I sit, the Government has a lot of egg on its face. Although I agree with the PM that phones are abused it still is the Government's responsibility to pay its bills. The public does not see abuse but an empty treasury that cannot meet its bills. It's terrible publicity which any central government would rather not face.

Having said that I found it perturbing that LIME would take the drastic measure of cutting service from the police stations and to a lesser degree the clinics. While I totally agree that monies owed to them should be paid their action smacks of irresponsibility. It's like Vinlec disconnecting the hospital's electricity or CWSA its water. For every second the lines remained silent the country's security was compromised. While we often knock the Police they are the first place we turn to report incidents that threaten us or our loved ones. So couldn't they have allowed calls to go to the stations but bar those going out? It would have been just as effective in getting the message across. Anyway I guess all's well that ends well-at least for now since service has been restored. However, with bills in excess of 300k mthly it is safe to assume that unless phone lines are reduced and/or stricter controls enforced the Government will struggle to pay its phone bills. The sound of silence may well become a frequent occurrence