Saturday, April 26, 2008
Who is safe?
When one speaks of crime there are always some theories thrown around regarding its cause. People speak of poverty, breakdown in family values,the instant gratification sought by the young/materialism and lately the isssue of deportees and the linkage with rising hunger.

Last year we had 36 homicides and so far I think we have 8. When we hear of gun related crimes we tend to feel safe as we tell ourselves that we are not part of the gun or drug scene. Then last Wednesday,we heard of a body found buried in a shallow grave in the Belair cemetery and realised that no one is really safe. Here was a woman, retired public servant who according to the rumors gave someone a ride and never made it home.

It's particulary upsetting because just last Sunday, my girlfriends and I had to stop on the road and ask a guy to tighten the car wheel for us. We were so reluctant to do it but then there was the greater danger to consider. Since the latest homicide we just keep thinking that we easily could have come to some harm as well. Yes, we didn't but we trusted someone and that could have turned out to be a fatal error.

I don't even know what's next. Maybe,we have to become gun toting citizens and invest in personal security measures. It's a scary situation which seems like it will get worse before it gets better.

Tuesday, April 22, 2008
Congrats,Odini
Tuesday, April 15, 2008
Things that does get me vex
I am not a radio person so you won't catch me calling in on mornings to say what does get me vex. However, I can do the next best thing and write some of them here

1. When them big hardback men feel its their duty to introduce their daughters to sex. Fiyah bun allyuh!

2. Some parts of Vincyland resemble Gaza. Redemption Sharpes,you in the news too often. Put down the guns!

3. Those minibus drivers who make Lewis Hamilton look like a boy

4. When I stand up in a line for 20 mins and then some person comes in and gives the person in front of me some transactions to do.

5. When people say - girl,your weave looks good or worse run their hand in my head looking for tracks.

6. When you ask the minibus driver to turn down the volume and he pretends you didnt say a thing.

7. When the movie reach the good part and Bam current gone

8. When I turn on the computer and the internet connection decides it is on vacation

9. When you doing a group project and memebrs can't be found when it's crunch time

10. When the phone rings at an ungodly hour and the person on the other ends says wrong number

11. That I here blogging and watching cricket when I have work to do

Sunday, April 13, 2008
Hey
I have exams and loads of assignments to do which is why am hardly around.

Soon come

Tuesday, April 08, 2008
Flour hike
Tonight, SVG TV reported that the price of flour will soon be going up. I wonder if this is a plot to steer us away from flour and to more healthy living. After all, the Wellness Revolution is one of the buzzwords around Vincyland. All joke aside, this increase in flour price is serious business as it doesn't get much more basic than flour. Look how bread about to turn luxury on us!

I guess this means things like pizza, raisin rolls, patties and all the other things I live on will be taxing my pocket. Increase in NIS(National Insurance scheme) has already put a dent in the little 10% increase so this flour hike is not exactly good news.

It seems I have to get a liking for those veggies. Wait, they cost way more than the bread so I got no where to go. It appears I will have to love flour from a distance

Monday, April 07, 2008
Nudist colony sign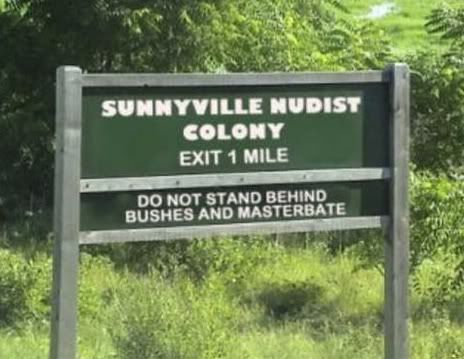 In Vincyland, we would say politicians will be prosecuted if they come within 300 yards of the colony
Thursday, April 03, 2008
Crime Summit
According to the World Bank and the United Nations Office on Drugs and Crime report 'Crime, Violence and Development : Trends, costs and Policy Options in the Caribbean,' murder rates in the Caribbean are higher than in any other region of the world, and assault rates are significantly above the world average. Narcotics trafficking is at the core of these high rates. Narcotics trafficking diverts criminal justice resources from other important activities, increases and embeds violence, undermines social cohesion and contributes to the widespread availability of firearms in the region.

Against this backdrop am very interested in what comes out of the Summit on Crime which opens tomorrow in Trinidad. Normally, I do not pay much attention to summits because after all the talk precious little is done. However, the crime rate is spiralling and even my little country like mine which was once safe and peaceful is changing before my very eyes. These days you hear about a murder or some shooting and it's almost as if it doesn't even seem shocking anymore. Sure, we mouth off the platitudes almost as if by rote but for the most part it's business as usual. We are becoming or run the risk of being desensitized to it all.

The news from the other islands is just as grim. I've seen headlines referring to Jamaica as the murder capital of the world, Trinidad riskier than New York and lest we forget the chilling pictures of the Guyana massacres. When I consider how easy it is to get an illegal firearm then I know that somehow, something has to be done.

Over to the leaders to see what they got in the tank. The cynic in me is wishing though that Superman and company were available for hire.

Tuesday, April 01, 2008
Adios......Goodbye
After three plus years of blogging it's time to pack it in. I am not going to do like Jdid who announced he was quitting only to be still blogging away. That's it folks,the blogging ride is over.

It was a pleasure interacting with all of you and I will always have fond memories of our link up at La Kabana,Kingston. Those of you who I have never met I still feel a connection to you through our interactions.

I will miss you all but the time has come for me to move on. Currently, too many issues are competing for time and blogging is beginning to feel like a chore rather than the joy it once was. I promise to still check your blogs whenever I can though. Y'all be good.Peace,Out!






Gotcha! C,mon admit it, Y'all fell for my All fools Day trick.