Friday, August 19, 2005
Ras Noah and the Hawk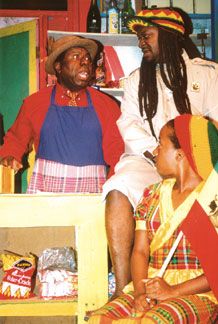 That's the name of the Oliver Samuels play that I went to see last night.The play,which begins with looting during the passage of Hurricane Ivan is a modern day tale of Noah and the Ark.Butcha (played by Oliver Samuels),dreams of a better life when his son Noah returns to Jamaica after completing his medical training.To his great surprise Noah returns with dreadlocks after spending the last five years in Blue Mountain.

To make matters worse Noah is convinced that he is the chosen one with a divine mission to save his people.Naturally,he is ridiculed and eventually cast out of the the villager after a run in with the local don.While in exile he receives a visit from God who sends him back to the village with a command to build the ark.

Well,some of the acting was not particularly strong but other parts were fall down funny.The audience was used as the source for collecting the animals and that brought the house down as persons were encouraged to moo,crow etc as Oliver analysed each in his inimitable way.

Of course some idiots had to keep their cell phones on despite being asked quite nicely to turn them off.So during the singing of the national anthem couple phones accompanied the rendition and two rows behind us an extended convo took place.Some people are really inconsiderate because she seemed oblivious to the fact that she was preventing others from hearing properly.Eventually,the growing murmurs of disapproval got to her and quiet reigned once more.Anyway,if the play comes to your part of the world you'd be guaranteed nuff laughs.
Comments:
We have a Jamaican roots play showing at the Kings Sports Centre here tonight too, its 'Bad Mind'. I don't think that I will be attending though, cuz I don't have a sitter. Cho! Anyway, I will be staying in touch with both my Jamaican and my Caymanian roots by partaking in an activity which is deeply ingrained in the culture of both countries... I am going to beat some liquor! :-)
Cell phones are good things. Its just that sometimes people use them for evil. ;-)
Jdid mentioned that he left his cell at home when he went to church... I remember one particular weekend when we were seemingly up s_it creek with regard to our billing system, back when I lived in Jamaica. An operator had some part to play in the implementing the solution to the problem. He went home pretty late Sat. nite, then got up and wentto church, and while he was there, he turned off the cell phone.
Well, it just so happened that the bosses tried to call him just then and couldn't get him. When he finally brought his cellie back online and saw that he had been called, he called in and they berated him soundly. "Not even in church you mus' turn it off!", they declared.
Well, my operator didn't say anything, but I'm pretty sure his cellie still gets turned off during Church. :-)
Post a Comment
<< Home