Saturday, April 16, 2005
Big up to Sancho Lyttle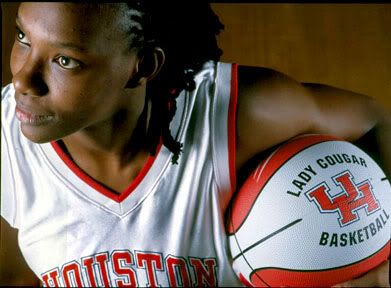 Senior Sancho Lyttle was picked Fifth in the 2005 WNBA Draft by the Houston Comets with their first pick of the draft.
Senior Sancho Lyttle became the second Lady Cougar in school history to be taken in the first round. The fifth pick is the highest a Lady Cougar has ever been selected. In 2004, Chandi Jones was drafted in the first round at the eighth pick.
Lyttle who finished the season leading the nation in rebounds. was chosen with the Comets first pick behind Janel McCarvel (Charlotte Sting), Tan White (Indiana Fever), Sanodra Irvin (Phoenix, Mercury), and Kendra Wecker (San Antonio Silver Stars) respectively.
While her classmates were crowding all-star camps and AAU tournaments in high school, Lyttle was running track and playing netball -- a game that resembles basketball in few ways, but the fact that one scores by putting a ball in a basket --in her native St. Vincent in the West Indies. A standout sprinter from the time she was 9 -- she once ran a blistering 54.55 in the 400 meters -- and a star defender on the national netball team as a 18-year-old, Lyttle didn't play basketball until her senior year of high school. Her track coach told her a scholarship from Wichita State was in the works, but an offer to play basketball at Clarendon Junior College in Texas came in first
Coach Joe Curl who was on hand at the Comets Draft party offering commentary on the draft picks with Cheryl Swoops said, "We are so glad that Sancho can stay close to home. We love that her fans from the University of Houston will get to see her play at the next level, where she will continue to grow as player."
Comments:
once again i tell you if ya wasnt into all this pseudo sports journalism you could have been a star too. lol
:-)
Post a Comment
<< Home