Sunday, May 15, 2005
And there were two
Am referring to the Digicel Rising Stars Competition that has been dominating the airvawes for the past couple months.
Now it is down to Kiokya Cruickshank of St Vincent and the Grenadines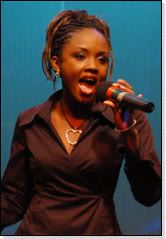 and Kimberley Innis of Barbados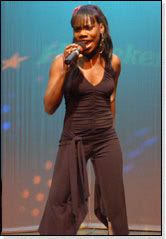 At stake is an international recording contract,5000USD and a trip for two to London.Kimberley got Kiokya beat on performance-she definitely knows how to use the stage.But Kiokya got the sweeter voice of the two and I'd go as far as saying she had the best voice in the entire competition.No,am not biased because she is Vincentian and I thought I'd mention that TC and Admiral the two Bajan studio judges agree with me.(that is for Jdid and Camp)
I found it amusing that each week Kimberley would complain of being hoarse but would sing with no audible signs of hoarseness.Tonight,unfortunately for her the voice was not at its best-definite sound of hoarseness.Come Sunday night after all the voting has been done(via a Digi Phone) the first Digi Rising Star of the East Caribbean version will be announced.Am sure going to miss my weekly fix of Rising Stars and the sometimes brutal comments from Admiral in particular.
Anyhow am gonna predict Kiokya will win it all.
Comments:
Admiral had brutal comments? who are the other judges? well good luck to both young ladies. since I never hear any of them sing I will cheer them both on although I wearing a bajn t-shirt right now :-)
Post a Comment
<< Home