Friday, May 06, 2005
Real Life Cold Case Solved
Kansas City authorities have identified "Precious Doe" as Erica Michelle Maria Green, age 3: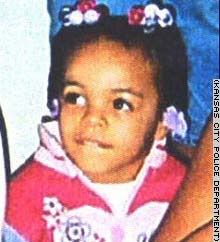 Her naked body was found lying in weeds alongside a dirt road in a wooded area on April 28, 2001.
Three days later, her head was found nearby, wrapped in a trash bag. She had been dead between 12 and 48 hours, police said at the time.
She was identified by her grandfather:
The break in the case came after a man who said he hadn't seen his granddaughter for several years responded to a newspaper ad placed by Alonzo Washington, a Kansas City-based missing child advocate and community activist, said Kansas City police Capt. Rich Lockhart.
Her mother admitted taking part in her death, but her stepfather is the main suspect:
Police said it was the girl's stepfather who actually killed her with a kick to the head and then used hedge clippers to sever her head. He was being questioned in Muskogee, Okla.
According to police, Johnson and her husband were with Erica in Kansas City when he delivered the fatal kick. Police said Johnson told them the couple let the girl lay motionless for two days, deciding not to seek medical care because there were warrants out for their arrests.
The mother told police her husband later used hedge clippers to cut off the girl's head. They discarded the pieces in a wooded area and a trash bin, according to a probable cause statement.
She was THREE YEARS OLD. They stripped her naked and beheaded her.
Why are so many children killed by their own parents? What has happened in our society when so many people view their children as not deserving of life.Wicked, simply wicked.Rest in peace little Erica.
Comments:
What a shame...she didn't even have a chance. Lock him tuh hell up in a dungeon for the rest of his life. The mother too.
What could a child that young possibly do, do deserve such an ending? if things get suh bad, all dem had tuh do was tuh leff she off at the church door ah Sunday morning.
Post a Comment
<< Home