Tuesday, May 03, 2005
Rest In Peace
It is always painful when someone dies tragically and even more so when the person is so very young.When I returned from Barbados the first bit of news I got was that 19 year old Jason Punnett(of my community)had lost his life when his jeep ran off the road in Kingstown.Jason died on the spot and the other 4 occupants of the jeep-his cousins,girlfriend and a friend remain in critical condition.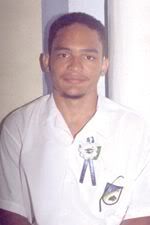 The accident is considered to be one of the worst in recent times and people are still amazed that they all did not die on the spot.One individual, who happened to witness the incident, searched for words to describe what he had seen. He said that what transpired was like an "action movie".
"I saw the jeep from the time it came around the corner; it was travelling real fast; it hit a bump on the road and ride the bank on the left side, then over-turned two more times before it stopped," the man, who prefers to remain unidentified, told The Vincentian.
According to the eyewitness, the occupants of the vehicle went flying through the air when the vehicle overturned.
"I saw two of the occupants rolling over crying in the street shortly after they overturned," the eyewitness said.
By this time, he said, persons travelling on the road and those awoken by the loud impact gathered at the scene and took the occupants to the hospital
Friends and relatives paying respects at the scene of the accident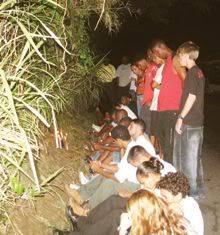 Jason was laid to rest yesterday but I could not make it to the funeral.I hope his soul is at rest and his parents find some sort of comfort.
Comments:
So sorry to hear bout the loss of your friend. So young indeed. My son is of driving age, and I'm so scared for him with driving alone and with friends.
Post a Comment
<< Home