Monday, May 23, 2005
And the winner is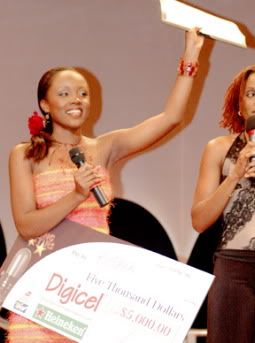 Eighteen year old Kioyka Cruickshank of St Vincent and the Grenadines who defeated Kimberley Innis of Barbados to win the inaugural Eastern Caribbean leg of the Digicel Rising Stars competition.The final show held at the Frank Collymore Hall in Barbados opened with a rendition of "Lean on Me" done by some of the finalists.Then the final two-Kiokya and Kimberley gave a rendition of Mariah Carey's "Miracle" before doing solo acts of their choice.
Kimberley's performance was way better than when final judging was done.This week her voice was at its best-no problems at all with hoarseness.We will never know how the voting would have gone had her voice been at its best last week.Both girls were fantastic and really highlighted how much talent is present in our part of the world.
Anyway,congrats to Kiokya.Now grab your chance to make a name for yourself internationally!
Comments:
Congrats to Kioyka (cute name) I thought of you when i read the article. SV&G making a positive name for itself on the national and maybe international stage.
Post a Comment
<< Home