Sunday, July 01, 2007
Vincy Mas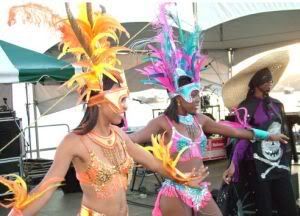 30 years of fun in the July sun is the slogan for this year's Vincy Carnival which kicked off on Friday night and will climax on Jul 10. It was 30 years ago that the festival was moved from pre Lent season to it's current slot on the Vincy Calendar. Back then many feared it would flop but 30 years later and the innovators can claim success.Lately though the CDC has been getting some stick from sections of the public who feel there is need for more innovation.
Over the years there have been the addition of two popular shows namely Soca Monarch and Miss Carival over the 10 day activities. Soca Monarch has grown so much that for the first time this year there is even a semi finals.

So far it's three days into the festival and I am yet to attend any activity. Hopefully, I can correct this before it's all over but lately am finding it harder and harder to drag my self to Victoria Park. Tonight, I was thinking of going to the Park to hear Peter Ram and Biggie Irie among others perform but laziness won out. Last year I dragged myself into Kingstown only because I had guests. Who knew that a day would come when I would not drop everything for Jouvert,Mardi Gras and Monday evening street jump.

Still,there is enough time for me to redeem myself and enjoy some of the fun in the July sun.
Comments:
Funny you should post about carnival. I was reviewing some notes regarding the Caribbean diaspora and reflecting on how important carinval is here to Caribbean people in South Florida. Some think that this presents the best opportunity to keep Caribbean unity outside of the Caribbean.
And then I open your blog and read your post........... :)
I am sure you will get out there and enjoy the occasion and am looking forward to your post about all the "fun you had in the July sun" :)
Post a Comment
<< Home