Wednesday, February 01, 2006
R.I.P Coretta Scott King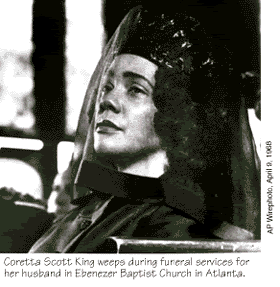 They say a picture tells a thousand words and there ain't no denying the grief captured in this one.I have always looked at it and felt the woman's pain as she sat at her husband's funeral with her children beside her.
Mrs King stood beside her husband during the turbulent civil rights struggle.His death in 1968 did not deter her from continuing his non violence campaign and in the subsequent years she kept the message alive while raising her four children.She also pushed successfully to have her husband's birthday recognised as a national holiday.
Rev Jesse Jackson sums it up nicely."Like all great champions she learned to function with pain and keep serving," he said, adding: "She kept marching. She did not flinch."