Sunday, August 28, 2011
Daegu 2011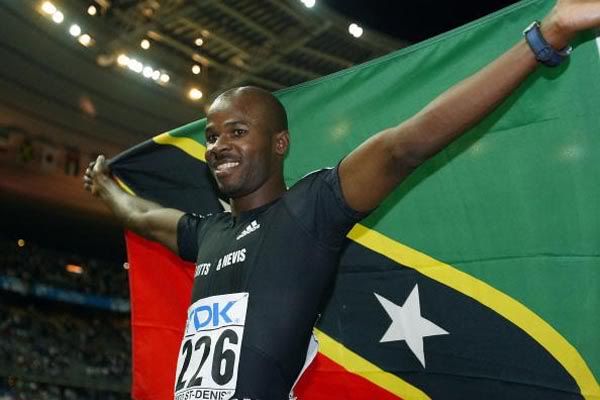 The big news from the IAAF
World Championships in Daegu was Usain Bolt's shock exit from the 100 metres. I always thought that the new false start rule which immediately disqualified the offender was stupid. Nothing was wrong with charging the first offence to the field then to the person if there was a second infringement.So thanks to the "wisdom" of the IAAF the biggest star of the games could not defend his crown. Johan
Blake,the eventual winner who ran brilliantly found his golden moment overshadowed by Bolt's mishap.
However,the main purpose of this post is to give props to Kim Collins the bronze medallist.Under rated but with big game temperament the old man of sprinting showed he was far from being a spent force. I like athletes like Kim Collins;the ones who perform better that expected and force you to take notice. They remind me of those people who are under the radar but nevertheless get their stuff done.
Nuff respect Kim Collins for doing yourself proud. So far the region is looking good and I think greater things are in store.
Comments:
Not that I do not appreciate your other blogs...but as a sports man and a Track and field enthusiast; I am quite pleased with your choice of topic for this blog.
Now, regarding the rule change on the false starts, DO NOT BLAME THE IAAF FOR BOLT BRAIN-FREEZE. BOLT BOLTED BECAUSE HE WAS OVERLY CONCERNED ABOUT BLAKE HAVING A BETTER START THAN HIM...BOLT HAS NO ONE ELSE BUT HIMSELF TO BLAME.
I know the IAAF would be pressured by the likes of the IOC to change the rules for London 2012...but personally, I will not change it...why? While this rule is the most extreme of all the other previous rules used; it is the MOST FAIR. The previous rule where the field is penalized, is woefully unfair and should not be revisited. The other rule is open to abuse by athletes who deliberately jump the gun to unsettle the other competitors.
Anyway, my favorite race thus far, was the women's 100m...I was backing Jeter and she came through like a bullet...it was a terrific race.
And yes NUFF RESPECT TO KIM COLLINS...I actually wrote him off before the semi-finals much less the finals...I never thought he would be in the reckoning for a medal...but he came through...the guy is a boss. Kim Collins for Prime Minister..lol.
The Region is definitely representing from Jamaica to Grenada...as for SVG...what can I say, I was looking forward to see Natasha run in one of the heats of the women 100m...lo and behold, she was slated to run...but was MIA at the start of that heat...not sure what was the reason...injured? disqualified?...You tell me.
Our sporting fraternity seem to be in the doldrums. Where is our Kim Collins? wey happen to we Vincy?
Post a Comment
<< Home