Sunday, October 10, 2010
Congratulations Natasha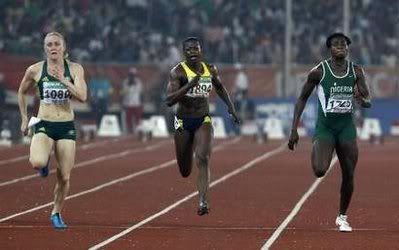 In the middle of this frame is St Vincent's very own Natasha Mayers en route to winning this country's first ever medal at the Commonwealth Games. This is a tale of redemption since in 2005 Miss Mayers was slapped with a two year ban after testing positive for banned substances in out of competition testing at her home in California.

Back then she was remorseful about the incident and looked forward to returning to competition after serving her sentence. She showed that she was back with a bang when she recorded the fastest time in the 100 metres heats.In the finals ran on Thursday 7th October she finished third behind Sally Pearson of Australia and Osayemi Oladumola of Nigeria. However, an appeal launched by the English saw Pearson being disqualified which meant Natasha was now the silver medalist. I would have thought this achievement would have generated more excitement but then again it's the season of red or yellow.

Nevertheless, I want to take this medium to say congratulations to Natasha for making yourself and your country proud.
Comments:
UPDATE:Natasha GOT THE GOLD...the Nigerian who got the gold after the disqualification of th English athlete; has been now disqualified for testing postive for a banned drug.
Lets hope, there is no further development, at least where Natasha is concern.
Congrats to Natasha...Vincy GOLDEN QUEEN.
Post a Comment
<< Home