Wednesday, July 11, 2012
Big Up Empress
In Bump-I's 2012 calypso he sang about women taking over St Vincent and the Grenadines. His calypso, which almost sounded angry highlighted the leading roles of women in all spheres of Vincentian life. As if to further strengthen his point a woman walked away with three of the big prizes of Vincy Mas 2012. This is no mean feat given the male dominance in calypso/soca fields.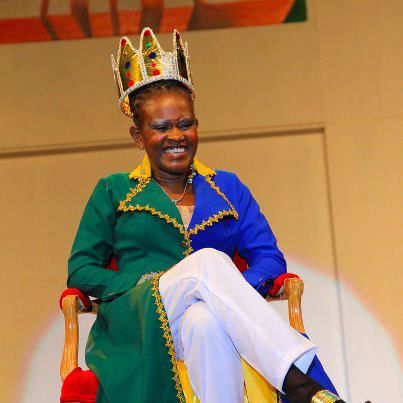 Lornette "Fya Empress" Nedd wrote her name in the records book by becoming the first person to win the Ragga Soca , Calypso Monarch and Road March crowns. For all I know this is probably the first time a woman has won the ragga soca and road march titles. All of this after being crowned earlier in the year as Trinidad's Queen of Calypso. In the Soca Monarch competition she placed second behind Skinny Fabulous with former Junior Calypso Monarch Shaunelle Mckenzie placing third making it the best showing ever for women . In recent years the Soca Monarch crown has gone to either Fireman or Skinny and though the Empress gave a spirited performance it was not enough to buck the trend.
2013 promises to be exciting. The women have served notice that they are a force to be reckoned with and the singers have to take note.Congrats to Fya Empress for cracking the glass ceiling
Comments:
Hey Abeni,whats up? Trust that you had an enjoyable carnival.
This is what i said on another site, when EMPRESS won the monarch...
[Ah can't argue with the judges…Ah did say EMPRESS was the "dark horse" in the competition. I think her singing prowess and stage management, swayed the judges.Her two songs were not lyrically strong…but she sang the hell out of them. I like her second song, a nice patriotic song for the ages. I thought poorsah had two wonderful performances, surprised he was not in the top three. Brother Ebony and others in the finals made a strategic mistake by not releasing their second song earlier to the public, so folks could get familiar with it…B.E second song went over people heads, including the judges.
Tajoe really gave away his crown….his two songs were too similar to last year's song especially his second song; I can't understand why he would do such a thing…I think the judges were being magnanimous in rewarding him with a fourth spot…he would have gotten the last spot in my book.
Congrats to the EMPRESS…she has dominated this Carnival like no other…I would not be surprise if she capture the road march title. The woman is on FYAH!
POSTED BY SAADISS | JULY 9, 2012, 21:58]
...Well, she was indeed the EMPRESS OF VINCY CARNIVAL 2012...Now if she was so dominant throughout, one has to wonder if SKINNY WAS RATHER LUCKY THAN GOOD...Is it possible that the judges cheated the EMPRESS? Mm.
As for the women taking over refrain...in your dreams Abeni.Nope, not happening, a few political appointees is not remotely indicative of women taken over. Here are few indicators that will suggest that women are indeed taken over:
A female PRIME MINISTER
A female Police Commissioner
A female DPP
A female SPEAKER OF THE HOUSE.
A female OPPOSITION LEADER
When these things become the norm rather than just a mere "CRACK IN THE GLASS CEILING"...then we can talk about women taken over...until then...in the immortals words of the great James Brown...THIS IS A MAN'S WORLD...ever more so in VINCYLAND.
Oh Abeni, ah saw you in the park and trying calling you..but you ignore me..that's alright...no hard feelings.But ah must say that outfit was slamming....this is a small world my friend...lol.
Lol,don't confuse me with Bump-I. We getting there sir but still far to go. Agreed that the songs weren't lyrically strong especially "I'm woman" but her performance was hard to beat.
I liked Poorsah's first song a lot.Tajoe had way too many props in that first song and while I didn't have him last I was surprised at the 4th place.
Soca Monarch I had Skinny so the judges and I were on the same page:)
Which show you saw me..Don't lie now:)
Post a Comment
<< Home