Saturday, June 10, 2006
World Cup Fever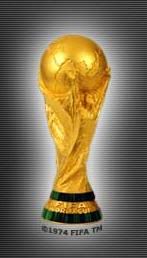 As everybody knows the FIFA Football World Cup kicked off yesterday in Germany.I used to be a big football fan but lately my interest has waned.Nevertheless,am still aware of who's who in the football world even though I don't follow them as fanatically as I once did.So,the big day dawns and I,of course am looking forward to the opening game.I switch the channel to 9(local broadcasting) and nothing.Ok,no need to panic let's just try another channel.Espn has tennis and ESPN2 is not part of regular cable package.What's a girl supposed to do? All is not lost yet,there is channel 68 which covers everything ranging from Intl cricket to beach volleyball.Surely,they must be carrying WC football.

Bingo!Game on,never mind the commentary is not in English it's all good.Then midway through the first half coverage suddenly disappears.The Gods of television programming are waging war against me and winning.So the bald facts are if I(and any other Vincy in this predicament) want to see WC football I got to purchase the box and the sports programme package from the local cable company.And herein lies the dilemna seeing that I have on a point of "principle" never intended to buy any more of the additional programming.But as I type,I can feel my resolve waning.Damn you,SVG TV!

BTW,Go Argentina. Update,ABC currently showing Eng and Paraguay so I may yet not have to succumb.
Comments:
As for me, I thought game 3 of the NHL finals was last night, so I was looking on each and every channel for it, but all I could find was soccer (or football, hehe, too many names for the same sport). I'm definitely a Brazil fan!
Post a Comment
<< Home