Wednesday, March 21, 2012
Women rising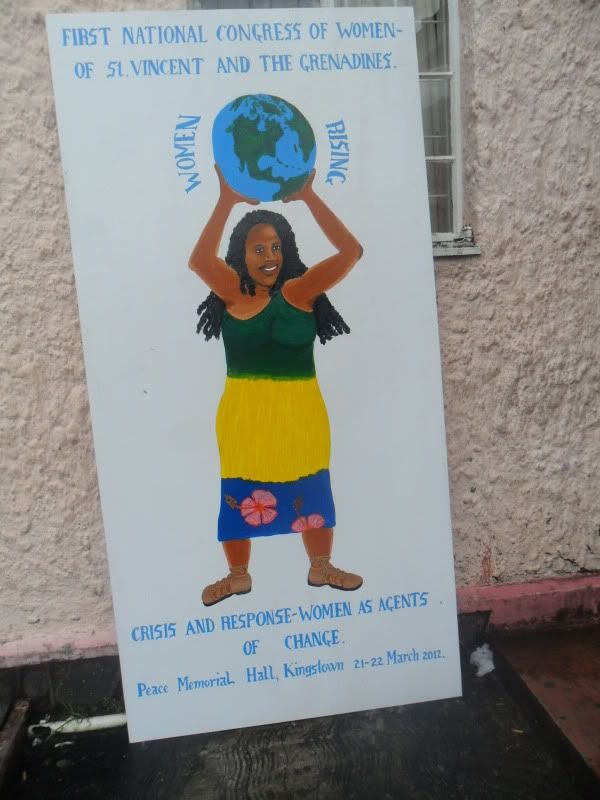 Earlier today the historic first National Congress of Women began in Kingstown. The Fourth World Conference on Women saw women as central to each country's development. A gender equality perspective is both efficient and effective as a development approach and a fundamental tool for the attainment of the Millennium Development Goals and other global summit goals and outcomes. It is against this backdrop that the National Congress of Women convened by the National Council of Women with technical assistance from the Venezuelan Embassy and the OAS is being held.
The objectives of the Congress are to
1. Create an understanding in women of their role in National Development, within the context of the Beijing platform for Action, the Commonwealth Plan of Action for Gender Equality, and the Millennium Development Goals.
2. Provide a forum for the voices of women in all sectors to be heard, including the concerns of rural, indigenous and Rastafari women, the disabled and youth.
3. Build national solidarity among women
It's very timely because in the words of keynote speaker Penelope Beckles this little island has far too many reported rapes and femicides. And there are many other issues that need a light shone on them. At the least this Congress will get the conversations started and who knows what will the be end result.
Comments:
This is good news, Curacao needs to copy what you folks are doing and especially since we connected closely with Venezuela.
It was a great idea and good execution all things considered.It's for women now to not be silent on the issues that concern us
This was really a great idea. Looking forward to reading more of your posts. I found your blog through a google search. Stop by a visit my blog soon.
Post a Comment
<< Home