Thursday, September 07, 2006
Goodbye to Patrice-Our Rising star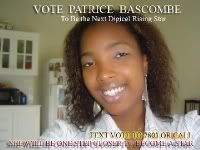 Just a few short weeks ago 18 year old Patrice Bascombe asked us to support her in her quest to be the next Digicel Rising Star.By the time the voting was completed she was one of the two finalists chosen to represent St Vincent and the Grenadines in the 2006 competition.

Already a household name on the strength of winning performances in Dance,Gospelfest,local pageants and regional talent shows she undoubtedly had visions of emulating fellow Vincentian Kiokya Cruickshank,the 2005 Rising Star winner.

Sadly,Patrice who was involved in a car crash on Tuesday succumbed to her injuries this morning.It's quite sobering when the fragility of life is driven home like this.We know we will die but the death of the young is even harder to come to grips with.Seems like my dream really had some meaning after all.

Rest in peace,baby girl.No doubt we are a little bit poorer now that your sun has set.
Comments:
wow.. so sad to hear...I caught a glimps of that show while in Barbados a few weeks ago. Good Caribbean talent.
Post a Comment
<< Home