Monday, September 04, 2006
The Best Of Marley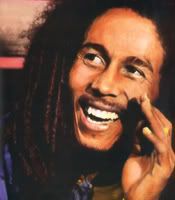 Yesterday,after listening to some Marley -(on what else but my new love the Ipod) a friend and I had a discussion on what would make our Marley top 5.Pretty tough ask,right? Anyway,at the risk of being blasphemous neither of us cared much for Redemption Song or One Love. We both agreed that "ride natty ride" and "so much trouble in the world" would top our list.We parted ways on "crazy baldheads" and couldn't decide if "exodus" which we both liked would make the cut.

I decided on the following 5 as my favorites:

Ride natty Ride

War

So much Trouble

Crazy baldheads

Zimbabwe

Just outside of the five would be:Is this love,Exodus and Africa Unite.Your job now is to list your top 5.Let the fun begin.
Comments:
W/o fear I say this: IF YOU DO NOT LOVE Redemption song then you do not know your history as well as you should: that song speaks to me everytime I listen to it "Pirates yes they rob I...merchant ship" true words automatically my number 1.
In no particular order the others are
-Exodus (cause of the movement of Jah peoples)
-No Woman nuh cry
-3 little birds
-Waiting in vain
(a bonus since it is so modified: the ATB mix of 'Sun is shining' if you have not heard it yet check it out and then let me know what you think - it always gets my feet tapping.
An aside: Abeni NY is not mad cause they have her man NY is mad because she is CRAZY
Post a Comment
<< Home