Saturday, November 26, 2005
Peekaboo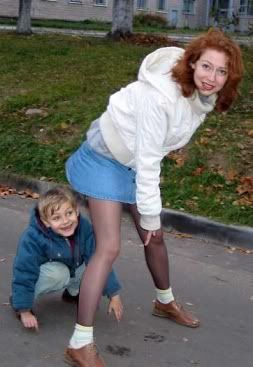 Remember doing this growing up ritual? That boy is a bit young but it was a common thing amongst teenage boys and some precocious Junior 5/Grade 6 boys.In secondary schools boys refined it to using mirrors or placing themselves in strategic positions whenever girls were using the stairs.In some cases the young cute teachers were targeted as well. Bringing back memories? You can confess:)Anyway,it was always fun listening to stories from girls who went to coed secondary schools.
Friday,I had to go to the Prisons and unthinkingly wore a skirt.About half way up the stairs to go to the classroom I became conscious of some prisoners who were milling about the yard.I looked over my shoulder and yeah you guessed it-a couple of them were trying to get a look up my skirt.According to my friend,they are the only male grouping with a valid excuse.
Enjoy the weekend-am heading to a wedding this afternoon.
Comments:
let me tell you...when i was in the 5th grade, there was this girl that used to pump me one the swing. she was the same age as i, but she had breats the same size as mine are now. then i was flat chested...now...when she used to pump me up, i used to look up at her and i could see her chest. at first i thought it was funny because she didnt know her shirt was blowing out like that. she aint had on no bra. i wished that i had breasts that size...now i am 22 with breasts those...and well these joints aint that damn big.
Post a Comment
<< Home