Tuesday, September 13, 2005
Cosby Family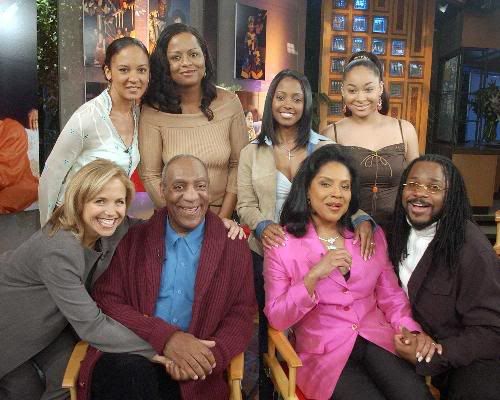 Found this during some very random web surfing.First time I've seen a grown up photo of the cast and am wondering where is Denise(Lisa Bonet).Seems like this girl in somebody bad books. Doesn't Sondra(Sabrina Le Beauf) look amazing for some one in mid 40's.
On another note I used to love watching the show as a child and still like the idea of showing a black family that was successful.But,nowadays I can't even sit and watch more than five minutes of any one of the reruns.Olivia was truly an annoying child and Mrs Cosby and that smile grates on my nerves.Even back then I resented how Olivia just appeared and suddenly there was no more Rudy.Granted Rudy had left the cute kid stage but still it was as if she was put out to pasture.
Speaking of Rudy many Cosby fans feel let down(maybe too strong a term)that she appeared in a rap video in her skimpy oufit.Disturbing,is the way one my male friends describes it.True we grew up watching this wholesome little girl but I had to point out Rudy was just a character seeing he was taking it so personal.Keshia Knight Pulliam on the other hand is real, grown and doing whata lot of young women her age would do if given the opportunity.If she had done a porno flick like that little girl on Family Matters he probably would have needed counselling.
Anyway its good to see the grown up cast.I see Malcolm Jamal Warner on a sitcom,Raven has her show and last I Tempsett Bledsoe she was hosting some talk show.But where in the world is Lisa Bonet?
Comments:
Lisa always lived in an alternate universe...bohemian rasta pot- head...buogie girl with all the trimming, just tripping...I don't know if it was anymore drugs than Lenny that she did but they were always out there somewhere...She seems to raising her daughter with Lenny and doing nuffing else...she was in that Bikerz movie with Lawrence Fishburne and Lorenz Tate the last time I saw her...The Coz would not be able to tango wid real life grown up Lisa just like he could not deal wid his real daughter who was a dope-fiend. The Coz himself appears to live in his own alternate universe these dayz anyways.
Post a Comment
<< Home