Monday, June 27, 2005
Weddings,Weddings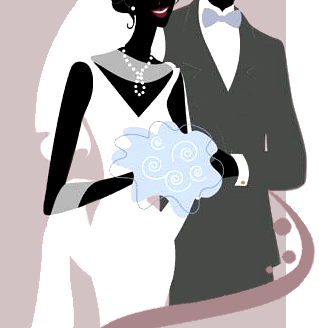 Saturday I went to this wedding and it was beautiful.Everybody was nicely dressed,the service was inspiring and the reception well organised.So what was wrong with this picture? Nothing,except in the back of my mind I was wondering how long will this marriage last.Now,these people have been together for as long as I can remember,so much so that people actually think they are already married.So given that history it was rather "strange" that I should have been even wondering if their marriage would be a success.Or is it?

Well,it seems getting married is not the hard part but rather the staying married.The statistics if you bother to check for them are quite daunting.Some time ago I heard that about 50% of marriages in the States end up in divorce.Not sure what the statistics are for the Caribbean but from an informal study I did(in SVG) it seems that while some couples remain married many have a significant other that is public knowledge.It makes me wonder if monogamy is dead or if people just adopt a businesslike approach to the matter and decide that some things they can live with. On the other hand you see people breaking off marriages that are 15,20 years old only to hook up with a younger new model. Not too encouraging for a young person is it? So much for the happily ever after bit.

It brings me to my next question:Is marriage over rated or have we just lost the respect for the institution? A few weeks back I was looking at CNN and they were doing this feature on Infidelity and it was quite revealing how views have changed with respect to infidelity in marriages.It actually seems to be the norm rather than the exception.So much for the forsaking all others bit.When you think of it marriage is really one huge commitment.Imagine agreeing to stick with this one person through thick and thin for the rest of your life.And because it is natural for people to change overtime the person you married a couple years ago more than likely will be different in many ways.A wise person once told me that if you love enough you will conquer anything but the same wise person also told me that my generation is a selfish one. So maybe we are doomed but I really hope not.
Comments:
My dear Kami, why yuh had to come so hard on a Monday morning. MArriage and staying married is a tricky thing. It works for some and not for others. We all believe that once we get married that we'll stay happily ever after, until the realities of life set in and then that happily ever after don't look so happy after all.
I know a couple that were together for over 20yrs, had a child, decided after all that time to get married and within a year they were fighting and seperated. I also know of a couple who got married rather short within knowing each other and they are still married. Are they happy, I don't know. So it all depends on the different variables in the couples lives.
Don't give up hope on marriage. just do your thing and it'll work for you.
Post a Comment
<< Home