Saturday, June 11, 2005
Rodney "Chang" Jack Appeal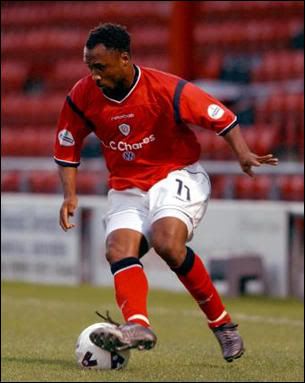 The St Vincent Football Federation has launched a benefit appeal for arguably one of the finest footballers produced by this country.Chang Jack, according to the Federation's release was released from his club Oldham,because injuries he sustained in this country's WC qualifying game vs Mexico prevented him from being available for his club duties.In an interview earlier this year Chang spoke of his frustration

"I damaged the medial ligament in my knee while on international duty with St Vincent for a World Cup qualifier against Mexico in October, and it has been an uphill struggle. The ligament seemed okay, but then I got another injury.Now I'm hoping to play in a reserve team game against Stockport County on Wednesday.After that I will be pushing to get my place back in the first team.I came to Oldham with high hopes and it has been a very frustrating time for me."

So the Federation is promoting the sale of Vincy Heat(SVG football team) shirts with all proceeds going to the now unemployed Chang Jack.I think its a commendable effort and a way of saying thanks to Chang for representing Vincyland well.Vincy people,go out and buy the shirts!

On another note this blog got its 10000th hit today-something I had predicted would happen approximately one year after I started.Well,I got there 2 months earlier than predicted so am celebrating my little milestone.