Tuesday, June 14, 2005
Not Guilty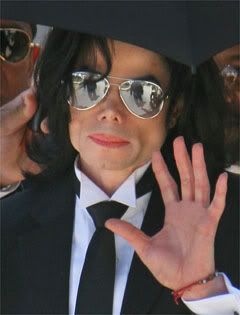 With those words Michael Jackson walked out of court a free man, or free from charges of child molestation. On the other hand he remains trapped in a world of self loathing that saw him mutilate his body and one where he refuses to grow up.
Although freed of legal charges the "victory" comes at a price. Jackson, now has the daunting task of trying to pick up the pieces and rebuild his life away from the media portrayal of him as a pedophile.Yet another chapter in a turbulent life.

Love him or hate him there is really no happy ending here.Pretty sad commentary for one of the musical geniuses of our time.Nothing else left to be said.

Comments:
MJ should thank God that the boy's mother was a worse candidate for idiot award than he was....otherwise different story. Heck, him better nah even mek him own pickney dem sleep in his bed now. Some people need to be punished for their degree of stupidity...paid out $20 million, never touch the bwoy and never learn nutten!!!!!
Post a Comment
<< Home