Tuesday, March 08, 2005
Things Caribbean
For most people outside the region the Caribbean is seen as a place of endless sea and sand.Those of us who live here know it is much more than a tourism brochure with many real problems like crime and the rate of HIV infection on the rise.Whilst we share a common culture there is something that distinguishes each island from the other.Take the simple matter of accents that serve to identify where each person is from.One may be forgiven for being unable to readily identify the Leeward Islands accents but there is no way you can miss the Barbadian,Trinidadian or Jamaican accents.
Apart from the accents,has anybody ever noticed that certain names originate from a particular island ?For example Callender is a Bajan surname as is Headley,Gayle is Jamaican,Liburd is Kittian or Nevisian etc.In St Vincent there is the situation where certain surnames are linked to races or even a geographical area.Names like Lavia,Ballantyne,Baptiste and Nanton to name a few are associated with those of Carib descent.Stapletons and Ferdinands originate from the village of Rose Hall,while Hoopers live mainly in Petit Bordel on the Leeward end of the island.
Then there are the various types of food that are served around the region.Windward Islanders have a taste for wild meat viz iguana,manicou and mountain chicken.Am not supposed to say this but some Grenadians eat monkey. Shhhh,don't say you heard it here.One thing though,Cbean food is noted for its spiciness,highly seasoned foods and the use of stuff like coconut milk.Jamaicans speciality is jerk,the Guyanese pepperpot and of course doubles is Trinidadian.Added to that there are countless sweets like sugar cakes,fudge and tamarind balls to satisfy any sweet tooth.Did I mention all the exotic fruits like sugar apples,my personal favorite golden apples, mangoes, sapodillas,plums,plumroses,guavas and others too numerous to mention? I think I'd better stop before I make myself too hungry.
Any mention of the Caribbean is incomplete without mention of the music.From reggae/dancehall originating in Jamaica to the soca sounds born in Trinidad the beat is enough to keep us moving in a way that only Caribbean people can.Oops,I almost forgot the chutney (sorry Devin) and the zouk of the French Islands.The festivals of the Caribbean is a whole other blog so am not even going to mention them.Let's just say Caribbean people love a lime(party/hang out for my non Cbean readers).Let's hear your observations.
Pic of the plumrose(could not get it posted below)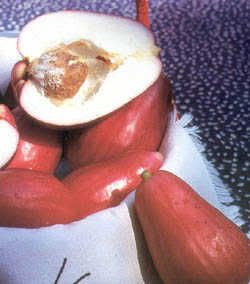 Comments:
Yeah, Kami, what you have pictured there is the otahiti apple and it is well well irie! I used to have a monster tree in my backyard when I was between 9 and 18 and I tell you, I spent many happy hours up in that tree, picking apples and eating them, throwing the seed away and stretching out my are to pick another and begin the cycle all over again. Thats the tree that I jumped out of, incidentally, when one time, when I stretched out to pick an apple, my eyes made four with a very large, saw backed green lizard. :-o
Anywayz, those apples are good stuff.
As for lastnames, I am not sure that I would select any last names that are "jamaican" in the sense of how you are talking about names. Jamaica is full of all kinds of names, so its hard to single any out as "originating" from Jamaica...
Cayman, however is another matter.
Caymanian names include Bush, Bodden, Ebanks, McLaughlin, with Bodden and Ebanks being the most prolific and with Ebanks being perhaps number one
Post a Comment
<< Home