Sunday, February 06, 2005
Marley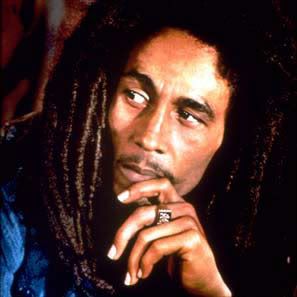 We remember the brilliant and evocative music Bob Marley gave the world; music that stretches back over nearly two decades and still remains timeless and universal. Marley has been called "the first Third World superstar," "Rasta Prophet," "visionary," and" "revolutionary artist." These accolades were not mere hyperbole. Marley was one of the most charismatic and challenging performers of our time.
Bob Marley's career stretched back over twenty years. During that time Marley's growing style encompassed every aspect in the rise of Jamaican music, from ska to contemporary reggae. That growth was well reflected in the maturity of the Wailers' music.
Bob took ill in 1980 and cancer was diagnosed.Marley fought the disease for eight months. The battle, however, proved to be too much. He died in a Miami Hospital on May 11,1981.
A month before the end Bob was awarded Jamaica's Order of Merit, the nations' third highest honor, in recognition of his outstanding contribution to the country's culture.
On Thursday, May 23,1981, the Honorable Robert Nesta Marley was given an official funeral by the people of Jamaica. Following the funeral -- attended by both the Prime Minister and the Leader of the Opposition -- Bob's body was taken to his birthplace where it now rests in a mausoleum. Bob Marley was 36 years old. His legend lives on.
Comments:
Great post, Kami! Bob really did de whole Caribbean proud. His messages are even more relevant today than they were decades ago. An' at 36, there was so much more that he might have done--although what he already did is far more than many people do in many life-times. Big up to Bob! (P.S. Ah like de picture! BTW, ah heed your encouragement but mi Blog still sound kinda bitter 'bout Rita!)
Post a Comment
<< Home